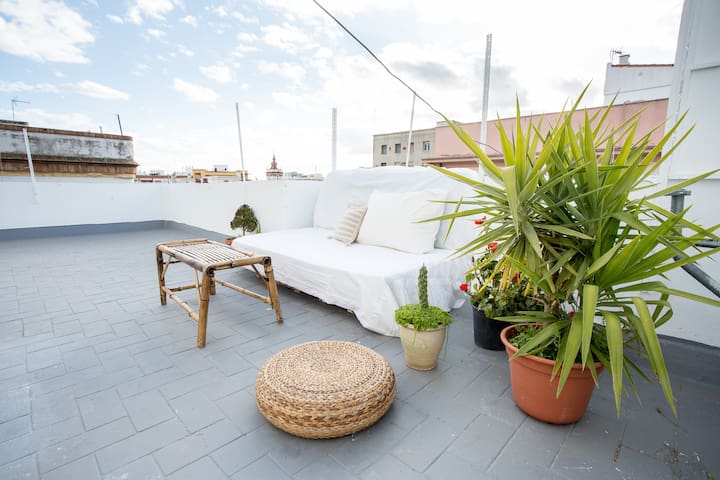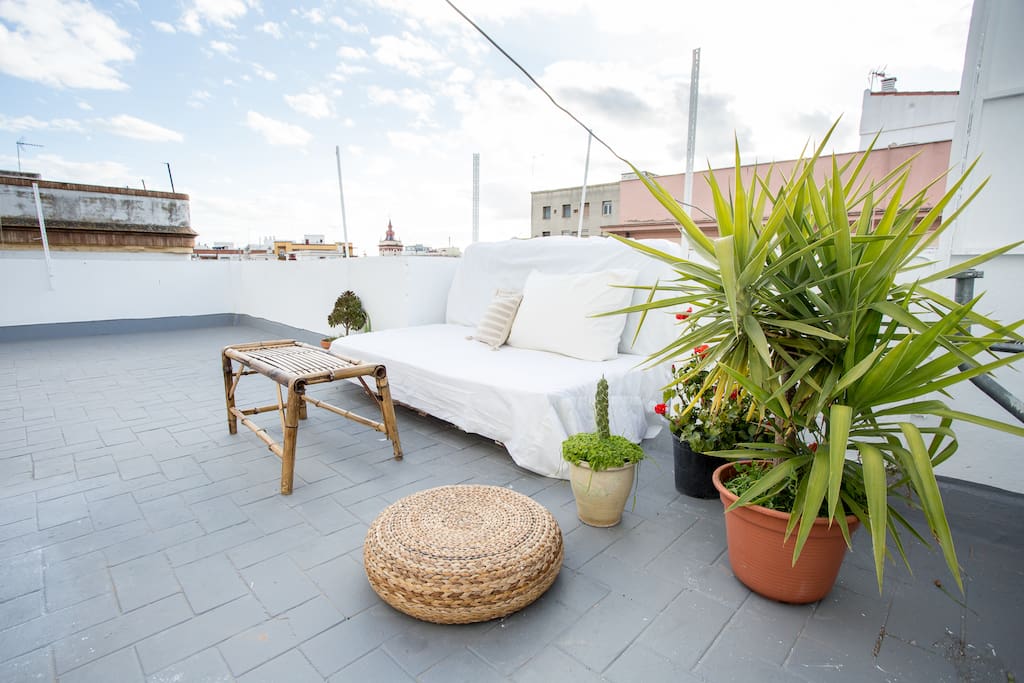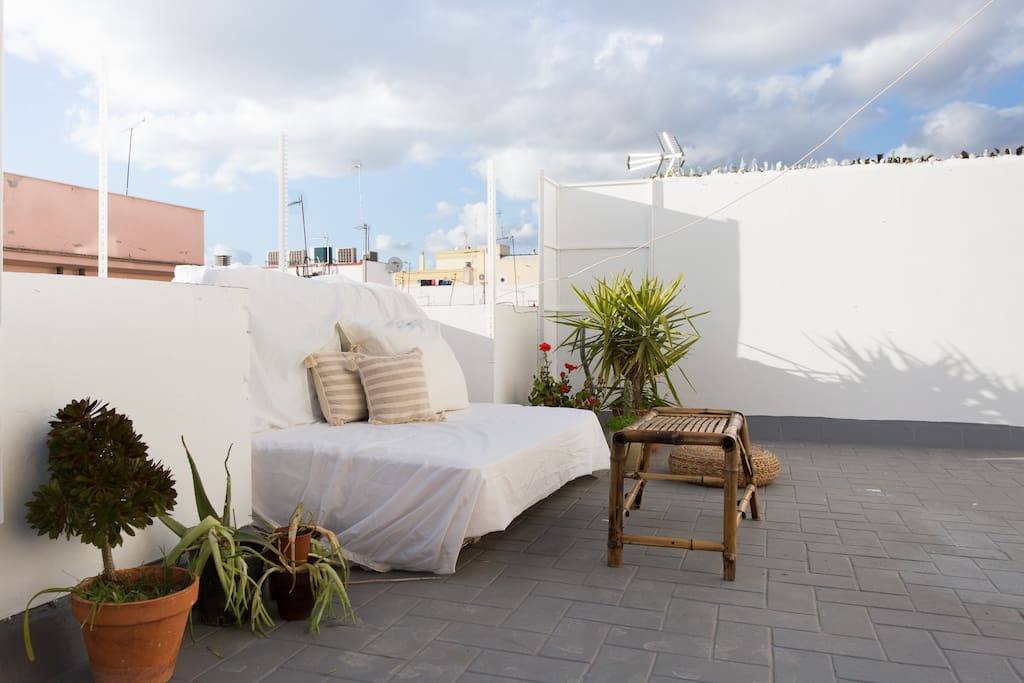 Great flat with terrace center!!!
Great three bedroom apartment with great location: in the center of Seville and close to the Santa Justa train station. Surrounded by a large shopping area: shops, supermarkets, restaurants, taxis, bus, shops, etc.
房源
Great three bedroom apartment with great location: in the center of Seville and close to the Santa Justa train station. Surrounded by a large shopping area: shops, supermarkets, restaurants, taxis, bus, shops, etc.
房客使用权限
Guests can access the service sheets, towels, shampoo . Several lines of buses and taxis.
与房客的互动
I recommend places to visit, try a meal, and other important information. I try to spend a good stay at Sevilla and I care about them before and during your stay for any questions or problems they may arise.
---
Silvia and her father were as kind and gracious as hosts can be, bringing us a bottle of her favorite wine and enthusiastically urging us to visit various sights and restaurants (all excellent suggestions) in the city she so obviously adores. The same goes for other residents in the apartment building- when we couldn't figure out how to turn on the stove the first morning, the next door neighbor made us coffee in their place and brought it over. So I feel bad about saying that this, but this is a shabby apartment with nothing of quality- electrical outlets hang out from the walls, the bathroom door is a jerry-rigged board hanging from the wall and even the corkscrew broke apart when we were trying to use it. Furniture is Salvation Army quality, table lamps are too weak to read by. WiFi is spotty, a real problem if you are trying to book an airline or check a bank account. Apartment is about a 25 minute walk to center of old town such as the Cathedral or Alcazar. Plusses are a large patio which, although equally unesthetic, was a pleasant place to sit morning and evening. This is a place for 18 to 20 year olds traveling on a budget, but not for older travelers used to better surroundings.
Dear Greatchen, It was actually a pleasure to meet both of you. We apologize for the inconveniencies you have found in your last stay in our flat about the electrical outlet and several things you posted (some of them because of a real short time we have between the previous checkout and your check in) . But you founded the key in your comment: this is a place for young people or low cost limit/per person. In that sense, we have to say that we could have offer you another place we have but more expensive and better, or you should have chosen another better quality apartment on the net. However, the furniture, in general, comes from IKEA, and its status is new; as well that the pictures showed on the site are exactly corresponding with reality; that the comfort and cleanliness is excellent. The price of everything is a balance with the things, the place, the commodities, and its state of use. You are right with the WI-FI, we must fix it and we are in it. In any case we appreciate your comment in order to try serve better to the next customers, and we wish you had enjoy our city in terms of fun, culture and people . And if you decided to turn back to Seville, in or out any of ours apartments it will be a pleasure to see you again and take together a beer or coffee.
---
Logement intéressant pour sa localisation entre vieille ville et centre des congrès (arrêt de bus ligne n•27, 2 rues derrière). Magasins ouverts tard le soir (21:30) et il est facile de trouver des petits supermarchés pour acheter de la nourriture. Ld tout Terrasse est comme décrit et l'appartement sans être grand ou moderne fut confortable pour mon séjour de 3 jours. Silvia fut très disponible. The flat is well located between congress center and the city center. (bus stop line n•27 2 streets behind). Shops are open late in the evening (21:30) and it's easy to find supermarkets for food. The roof top terrace is as described and the flat may not be considered as being modern or big however comfortable. Silvia was really helpful.
---
Recommandé ++ ! N'hésitez vraiment pas à choisir cet appartement. Il est hyper bien placé, ultra fonctionnel, et la terrasse.... magnifique. Silvia est restée très disponible durant tout le séjour. Elle est venu m'expliquer les endroits a voir, m'a fait part d'(URL HIDDEN) et de tout ce qu'elle savait. Sincèrement l'échange était tres agréable avec Silvia, ainsi qu'avec son mari. Vous ne regretterez en rien d'avoir choisit cet appartement. Moi et mes amis en gardons un très beau souvenir. Merci encore a Silvia et son mari, et a tres bientôt ! Recommended ++ Do should not hesitate to choose this flat. The location is perfect ! The flat is also good, and the terrace ... amazing. Silvia and his husband was so available for us, and the exchange with her was so kind. You for sure dont have any regrets about your choice with this flat. Me and my friends will keep a really beautiful memories. Again thanks to Silvia and her husband, see you soon ! ¡ Recomendado ++ ! ¡ No tienes que dudar, tienes que elegir este piso ! ¡ Su ubicación esta perfecta, muy cómodo y su terraza ... Preciosa ! Silvia estaba disponible durante todo la estancia. Nos explicó como funcionaba la ciudad, lo que hay que visitar siempre con mucha alegría. La comunicación con Silvia y su marido fue muy agradable ! ¡ No tendras ninguna decepción de tu viaje en Sevilla ! Con mis amigos guardamos recuerdos estupendos. Otra vez, muchas gracias a Silvia y su marido. ¡ Hasta pronto !
---
Esta muy bien situado. Los monumentos turísticos mas alejados están a 15 min andando. El apartamento para 4 persona esta bien. La terraza genial. Único inconveniente, el baño es demasiado rudimentario. La anfitriona muy maja, no nos pudo recibir pero un familiar nos vino a buscar. Nos dio mucha información para visitar zonas y restaurantes para comer y pubs para salir de fiesta. Hemos estado una semana muy a gusto.
---