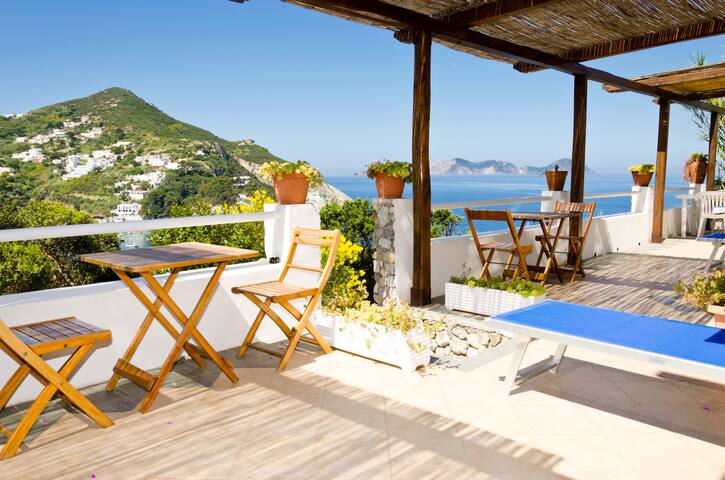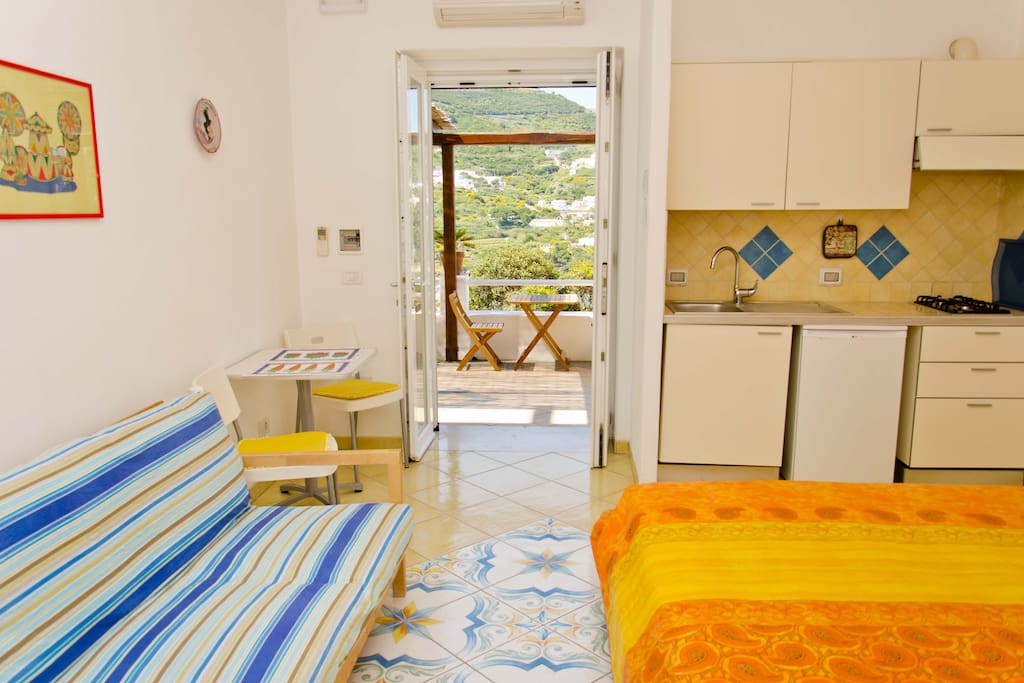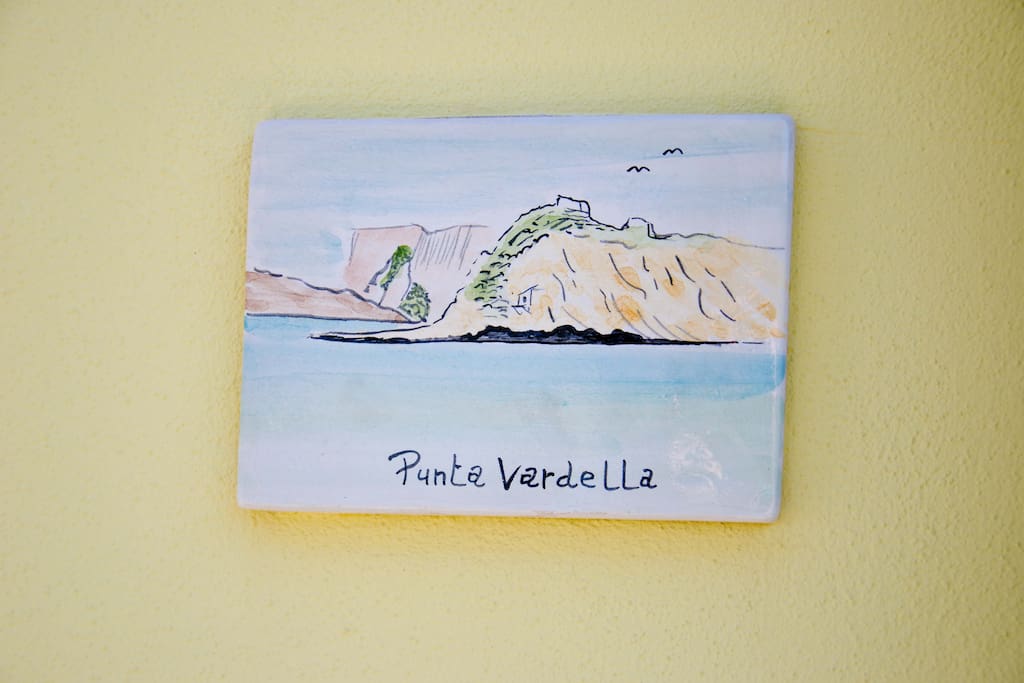 房源
NOTE: For your convenience, execept for the mounth of May, please note that our bookings are from Saturday pm to Saturday am. and that due to popular Italian vacation periods, prices are subject to seasonal change.
During the mounth of May you can book your vacation for less of a week, obviosuly if you book for a week you can save money as well.
Punta Vardella is a large room set among the gardens and terraces of Sunset Village, Ponza which is perched on the edge of the cliffs above the bay of Cala Feola, famous for its Piscine Naturali.
The Piscine Naturali are clear blue pools and rock formations all of which is accessible within a 10 minute walk from Punta Vardella. In fact some of our photographs are of the view from Punta Vardella, of Cala Feola and the pools below.
A 10 minute walk will bring you to the church and the collection of bars, restaurants, shops, scooter hire and bus stop. The buses arrive every 30 minutes along the single route around the island. A short 15 minute ride will get you to the port of Ponza.
Punta Vardella is one large room with a double bed, kitchenette and en-suite bathroom. There is a TV, air conditioning and access to free wifi.
The French doors of Punta Vardella open onto your portion of a large communal terrace with a view of Cala Feola bay and the Mediterranean sea with Palmarola Island in the distance, where you can dine 'alfresco and enjoy the relaxed lifestyle of Mediterranean.
There is a very large, terraced garden with a BBQ and outside shower facilities
NOTE: Prices are subject to seasonal change.
Our home is your home and at the end of the day, crack open a bottle of Prosecco, sip on limoncello, relax among friends, enjoy the outstanding natural beauty of Ponza and watch the sun set over Palmerola Island.
Please join Sunset Village, Ponza, on all the social networks to find out more.
CROSSING:
You can book your boat crossing on line with a company called OK Ferry.
HOW TO GET TO THE ISLAND
To get the very best out of your stay on Ponza, we recommend not bringing your car onto the island especially when it can involve longer travelling times due to having to use the car ferry and parking can often be very difficult.
CROSSING:
You can book your boat crossing on line with a company called OK Ferry.
GETTING AROUND ON THE ISLAND
Once you have reached the island you can hire all sorts of different types of transport from small cars to scooters, boats and dingy's, or use the excellent and often entertaining public transport. A bus from the port will cost you 1.20 euros regardless of how far you intend to go, and is 2.40 euros return trip. The buses run regularly every 30 minutes.... and of course you can always walk. There are some beautiful paths, and plenty to explore on foot.
If you take a taxi, all cost around 20 euros. We highly recommend Alex, his name sits proudly on the taxi and he knows exactly where we are.
For more details or help, you can find us on line and the social networks at Sunset Village, Ponza
FAST BOAT (aliscafo) FOR TRAVELLERS ON FOOT
Many people can't wait to get here and choose the hydrofoil or 'aliscafo' which takes about 1 hour for the crossing.
From Rome you can either drive or take the train from Rome Termini to Anzio. If you take the train, one leaves from Rome every hour starting at 5.07 AM. If you go by car, parking will cost you about 10 euros per day. Which ever route you choose to reach Anzio, please organize yourselves to arrive at least 1 hour before boarding. Seating is limited and there are often queues to buy tickets, especially during the months of July and August, and over the weekends.
We have the detailed aliscafo time table at Sunset Village, Ponza to help you organize your trip ahead of time.
By train, get off at the station after Anzio Colonia (the 11th stop), which takes about 1 hour. From the station at Anzio, the port is just a 10 minute walk away and you will find directions to PORTO from the station.
The aliscafo (fast boat) leaves the port regularly from the port to Ponza and you can purchase the tickets either at the port or online. For those of you who don't speak Italian well, ask us for help or buy your ticket at the port. It is then an hour and 10 minute boat ride.
ROME TO FORMIA IF TRAVELLING BY CAR
WITH A CAR:
If you do decide to take your car, the only way onto Ponza is by ferry from Formia. It is a very comfortable and relaxing 2 hour and 30 minute crossing. There are 2 ferries per day, one at 9 am the other at 5 pm.
You can buy your tickets on line. We are unable to give you the link here (those are the Airbnb rules) but you can find us at Sunset Village, Ponza where you will find the information you need. Alternatively, arrive at the port and buy your tickets there but arrive at least 1 hour ahead of time to avoid missing your boat. There are only 2 a day!
If you take the car from Rome, you will take highway A1 to Naples, follow the Green signs (Naples). You will collect a ticket at the toll and drive for about 1 hour until you reach the exit for Cassino.
Pay the toll which is abour 10 euros, then take the first road off of the roundabout (right), to Formia/Gaeta. Follow it to the very end (30 minutes) and it forks to the right onto the coast road. Please pay attention to the speed traps and cameras along this road. They are clearly marked. You are also advised to ignore the way that the Italians drive, they are extremely aggressive drivers. Drive carefully and within the law.
Once on the coast road, follow the sign Rome-Formia-Gaeta- take that road. If the traffic is not too bad, you are about 15 minutes away from the port depending at the time of day.
Traffic circle 1: 2nd exit (straight ahead)
Traffic circle 2: 2nd exit Rome/Gaeta. You will begin to see the sea and the port to your left.
Traffic circle 3: 4th exit will take you along the opposite side of the road you just came down. Folow this road for a short distance and turn right into the Port entrance and follow the signs for the ferry.
YOU MUST ARRIVE 45 MINUTES BEFORE THE FERRY LEAVES FROM FORMIA.
Please join us on the social networks at Sunset Village, Ponza!
---
---
---
For the comfort of everyone sharing our Ponza Paradise, smoking is not permitted inside. You are welcome to smoke outside.

Children are welcomed when accompanied by a guardian.
---
---
Gianluca was a wonderful host and this room with a view was fantastic. The views from the property are the best in Ponza. There are many areas on the property to sit and enjoy. There is special place to watch the sunset over Palmarola. You even get a great view from the room itself. The room is bigger than expected, clean, comfortable and fit all of our needs for preparing small meals. You can easily walk to the beach or natural pools and the walk is so beautiful. There are several markets and a few shops nearby. Once we figured out the bus it was very easy to get back to the port. Above all, Gianluca was a superb host with excellent communication throughout our stay.
---
Amazing place with breathtaking views and very good service! Gianluca helped us with all arrangements, small and big questions. Island is so beautiful, and apartment is in the best place when it comes to views. You see beauty of the nature first thing in the morning and last thing in the evening, can sip wine and enjoy sunset. If you feel lazy, you can take sun baths in the terrace, or decide to walk down the hill for a swim.
---
Sunset Village è un angolo di paradiso! L'atmosfera è piacevolmente familiare grazie alla speciale accoglienza di Enzo, Susie e Ada! Il panorama è mozzafiato, gli ambienti super gradevoli, la terrazza una finestra fantastica sul mare di Ponza! Regalatevi i più bei tramonti mai visti prima!! Carlotta e Paolo
---
We work with Sunset Village, Ponza, and we look forward to sharing our little known paradise with you.
语言:
English、Español、Italiano