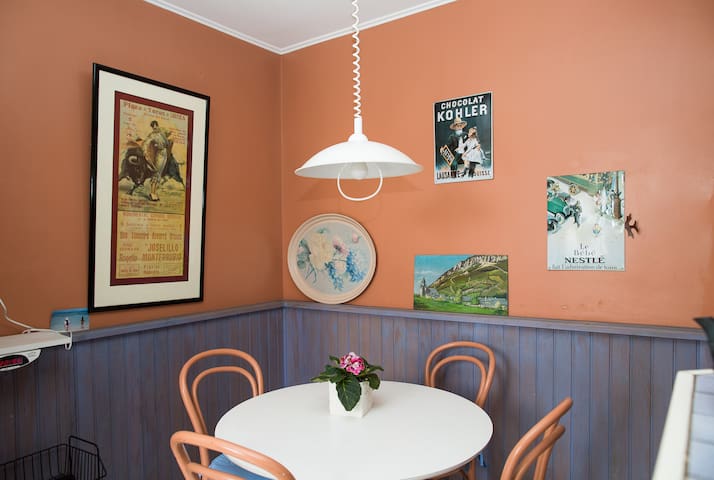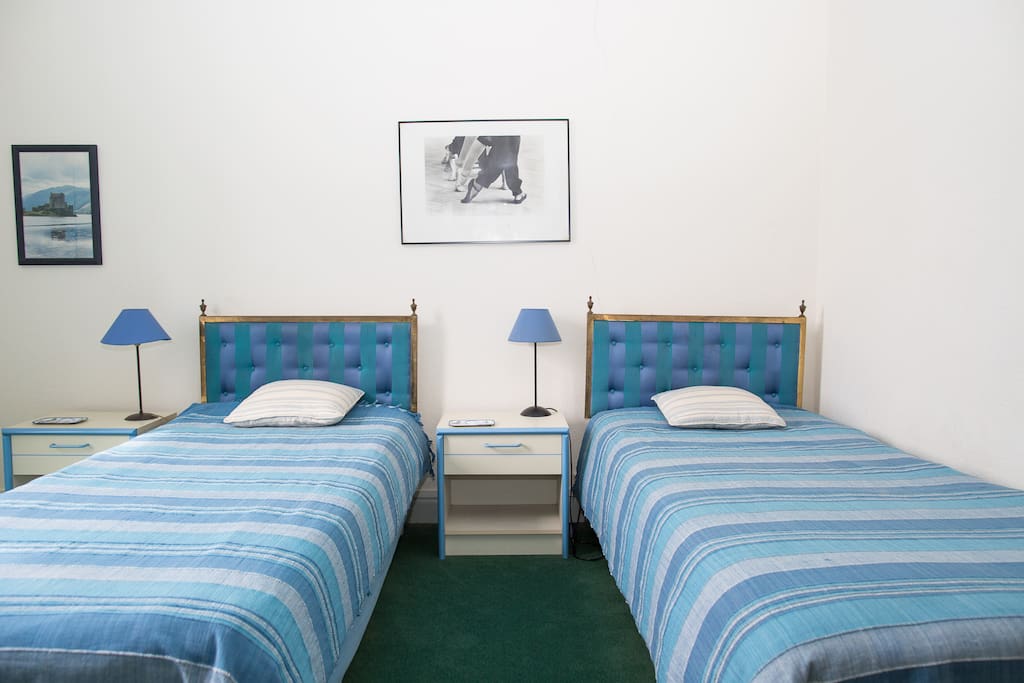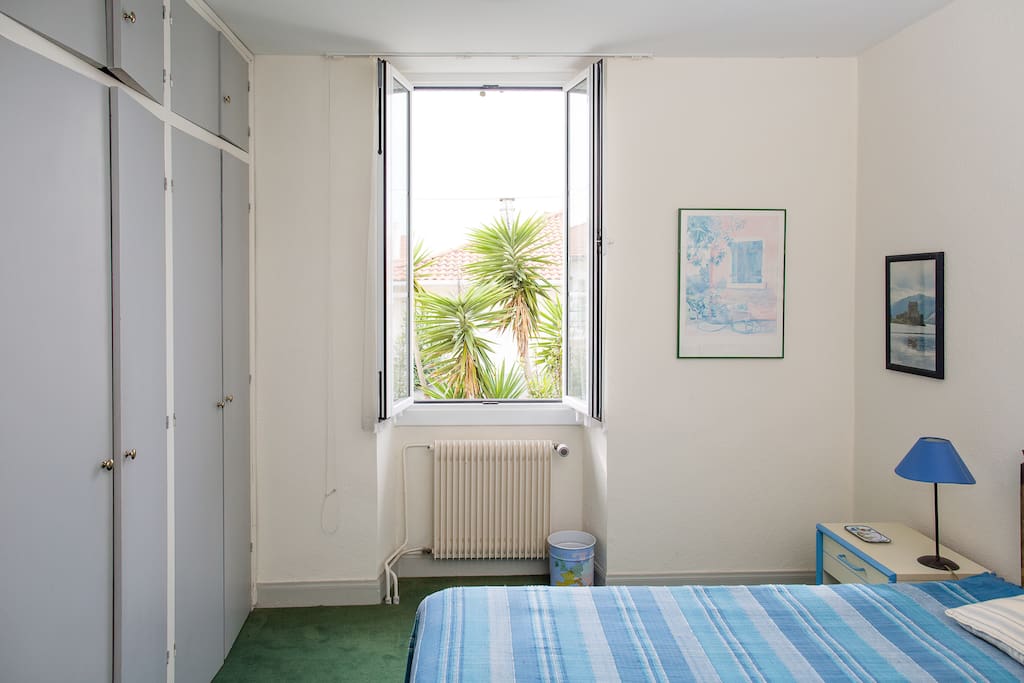 Sea, sun, golf, and relaxation
This room has twin beds. Plenty space for your clothes in a large cupboard, and a wash-hand basin behind doors. Bathroom on the landing. You can park in front of the house, free of charge. Just 100 meters from Biarritz golf club, with its bar, restaurant open to visitors. If you walk down the road you are in Biarritz and a free "navette" will take you down to Biarritz center and beaches in no time at all and FREE of charge. Use the same navette from Biarritz to Anglet!
房源
You will be welcome in our traditional house close to Biarritz Golf course. (50 meters away). Quiet environment in a private street. Free private parking, right in front of the house.
We have two cosy double rooms available, both overlooking our small quiet garden, one with double bed and one with twin beds. The bathroom is on same floor. AND the bathroom now means one of those walk-in, wall to wall showers that we call "A l'italienne" (bless them!).
We said goodbye to our large bath which had served us well indeed with its tiny shower. Now, we have both a LARGE shower head and a hand held one which I love as well.
Generous continental breakfast is available downstairs or in the garden; served up to 10 a.m. and is included in the price of the room(URL HIDDEN)
From the nearby lighthouse (our favourite evening walk) one can enjoy the views of Biarritz beaches or those of nearby Anglet. This is particularly pleasant when the sun sets or at night.
Talking about beaches, you can walk down to the 7 beaches of Anglet very easily; it's a great ten minute walk downhill. Therefore it is all... uphill on the way back unless you take a bus!
There's free shuttle service to Biarritz from our nearby shopping area where you will find: two pastry-shops, four or five restaurants and a couple of great informal cafés serving good, inexpensive snacks and meals, a chemist, a fruit and vegetable shop, a newsagent, post-office, four banks, you name it...and all within walking distance from rue de la Brise and Anglet's beaches.
Looking forward to meeting you here and showing you around !
房客使用权限
Guests can use the garden to hang their wash or relax. Access to the washing-machine (2 EUR) and dryer (2 EUR). There is a clothes-line too.

与房客的互动
We love showing our guests round a few of the nearby sights, such as the lighthouse , a 5 minutes walk for a fantastic view of Biarritz, Anglet and even further. A very romantic place at night. Very pleasant snackbar with a great variety of drinks and dishes.We love it.
We also welcome chatting with you and hearing about your plans from day to day and then getting your views about your discoveries. We do think that Airbnb breeds a certain kind of "tourists" and it is without any doubt the kind we like! Exchanging on various subjects is always a stimulating treat. We know you will probably never be back because the world is your oyster, but it is a great pity.
其他注意事项
Down the road there is a GREAT shopping area. All small shops and superettes where you can find all you need for food, bread, drinks etc. Also a chemist shop.
---
---
---
We expect our vistors to be normally polite and to behave as one expects: no loud music, no loud talk not to disturb other guests, etc... In fact we have been very lucky and met only great people whom we had great pleasure to meet and would love to meet again!
You will have a key to the main door. Our sitting-room and study are out of bounds. No equipment or items other than your travel luggage are allowed in the rooms.
---
---
---
When we were not at home, Clau visited our room many times and moved around our stuff. Before leaving she claimed that we destroyed her antic table in the bedroom. We were forced to pay 50 Euro cash in advance for a future repair. During our stay it was pretty cold, but Clau did not have any warm blanket for us. To get toilet paper and towels we had to ask. It was not allowed to drink anything in the room. We could not get hot water for tea.
Indeed I do not appreciate fresh grapes dripping on my English antique table. One would think it would be normal to ask for a plate to hold the fruit, particularly as the kitchen is open to anyone, with its fridge and table and chairs, as well as plates too. One wonders....why one has to use a mahoganny table to drip damp grapes on. There were blankets and if they did not suffice why did you not ask me for more? I have plenty...but so far no one had any need for more. Of course anybody could get hot water for tea downstairs, why have it in the bedroom?. I serve breakfast and tea or coffee every morning downstairs and the garden is also available with table and chairs.... Nobody has ever had to use the bedroom and its mahogany furniture to be able to drink!!! Sigh....
---
Clau es una anfitriona muy buena, le gusta charlar mientras te sirve el desayuno. Su casa es agradable, tiene un lindo patio que se puede usar. Esta justo detrás del faro, lo que te permite llegar cómodamente caminando tanto a la playa de Biarritz como a la de Anglet. La habitación es tal cual dice el anuncio.
---
Unfortunately it's my first bad experience with Airbnb. It was very hard in sense of communication and understanding, and after the third night of my staying it got so tough, that I should complain to Airbnb managers, request a money back and leave urgently to another place. (Luckily, the service worked perfectly, very fast and polite, and I'm giving my big respect to them). They recommended me to write a maximal honest review, so here it is. - Wifi internet at house didn't work for some reason, but worked with host's computer. Clau wasn't interested to solve this problem and maintained that it's something wrong all 3 of my gadgets. I should ask really a lot to do anything about that. - At last I heard disrespectful comments about me and an advice to look for internet in the city. That was a final reason for me to move out from this place asap; - - Clau picked me up from the station after my arrival to Biaritz, which I found very kind of her. But during 10 min of our way to her place we twice almost had car accidents because of her driving skills. I was scared and nearly asking to stop the car and let my go out; - The house definitely needs renovation (what actually explains a cheap price) - carpets are very old and dirty, there is smell in house; - - All the doors in house are kept unlocked around the day, what means that your stuff is unsafe and doesn't have any security. Clau's explanation was that the area is very quite and no one will come inside here, and as well that guest loose their keys too often; - - Some of my food just disappeared from "my" shelf in fridge. I cannot recommend to stay at this place, if you don't want to spend your vacation in stress.
---
Clau is a very warm person and a lovely host. She even offered us breakfast in the morning! The house is very cosy, the room overlooks the lovely garden. The house is a bit of a walk from central Biarritz, but there's multiple buses going nearby, also the Biarritz Lighthouse and beaches are within 5min walk. Couldn't have wished for a better place to stay, wishing all the best for the future!
---
Clau est toujours presente et mets à la disposition des voyageurs 3 chambres et une salle de bains partagée. La maison est très calme et très propre. Clau tient a ce que les voyageurs respectent les parties privees de la maison ce qui est tout a fait normal vu qu' elle vit la. Ce n est pas une personne envahissante loin de la. Au contraire elle est très discrète et sympathique. Le fait qu' il y ait pas de clef n est pas gênant vu sa présence quasi perpétuelle. Le petit dej est simple et suffisant. Merci a Clau pour son accueil et ses précieux conseils d orientation...
Eh oui! Effectivement je ne me sens jamais si bien que dans ma maison et mon petit jardin. Et je m'étonne que l'on ne comprenne pas que B and B signifie Bed and Breakfast et non pas "prêt de maison". Ayant vécu longtemps en Grande-Bretagne je sais ce que BnB signifie et c'est exactement ce que j'applique. Il y a toujours une maîtresse de maison dans un BnB....
---
Très bon emplacement pour les adeptes de plages et surf. Jolie, typique mais vieillissante maison basque. Nous avons partagé la salle de bain non pas juste avec l'aimable propriétaire Clau, mais aussi avec 2 autres chambres louées simultanément. Et malheureusement le petit déjeuner n'est pas non plus à la hauteur (1 café et 2 madeleines)
---
Je suis professeur d'anglais à la retraite et mon mari est traducteur.
Nous aimons la musique sous toutes ses formes, la lecture, les longues promenades en front de mer ou au bord d'un lac, le jardinage, et bien sûr retrouver nos enfants et petits-enfants à diverses occasions. Nous allons souvent en Espagne pour la journée, nous sommes membres d'une association culturelle d'Amérique du Sud. Nous parlons anglais, espagnol et français. C'est avec grand plaisir que nous ferons votre connaissance pour rendre votre séjour agréable.
Personnellement, je pourrais me passer de tout, ayant vécu la dernière guerre par les récits de mes parents et mes lectures, puis ayant fait du scoutisme. Donc, bien que j'apprécie énormément ordinateurs et téléphones portables, en tant qu'outils de communication, je sais que là n'est pas le plus important. L'important c'est ceux qui partagent notre sort sur terre sur terre en ce moment et les connaissances que nous faisons grâce à AirBnB nous apportent beaucoup hors de toute mondanité, dans le cadre de notre habitation en France. Le fait de partager temporairement cette maison nous révèle à nous-mêmes et nous oblige à avoir des rapports de confiance - je ne pourrai pas l'imaginer autrement - et d'amitié immédiate. Le temps d'une saison, sans bouger, le monde vient à nous dans notre cadre familial. Mais nous savons qu'il ne vient pas pour nous mais pour notre région, d'où nos échanges matins et soirs qui nous apportent leurs points de vue sur tout ce qu'ils ont découvert et aimé ou non. Il n'y a pas deux visiteurs semblables: chaque jour amène des découvertes toujours intéressantes que nous voyons partir avec regret et parfois chagrin.

Une grande première: nous allons faire l'expérience d'AirBnB nous-mêmes en tant que voyageurs. Nous traverserons la frontière espagnole et ferons le périple classique: Toledo, Granada, Sévilla et Cordoba. A notre tour de nous faire cajoler...
语言:
English、Español、Français