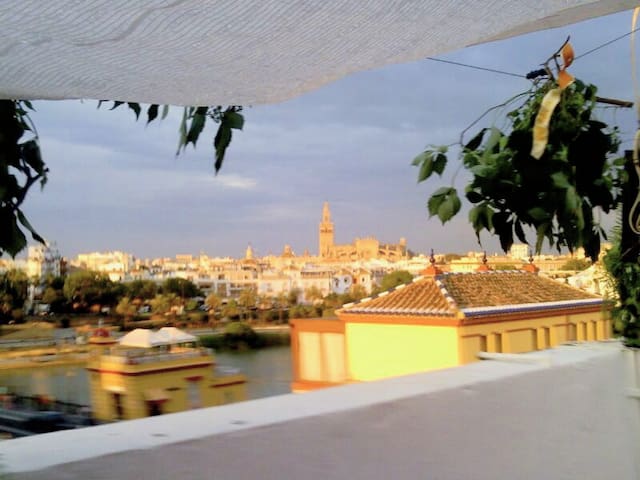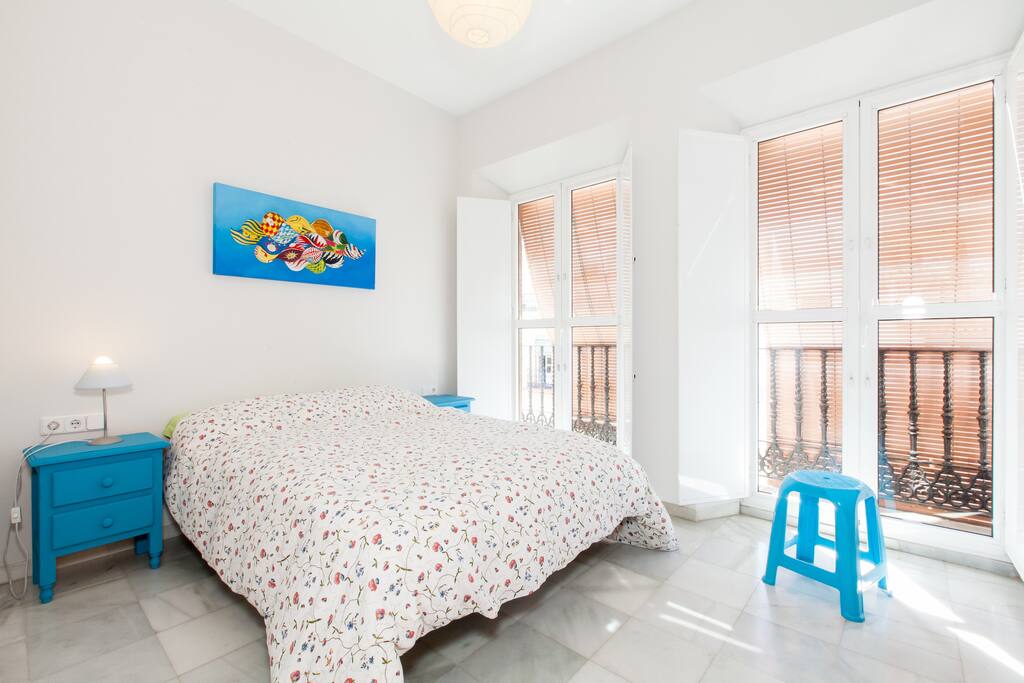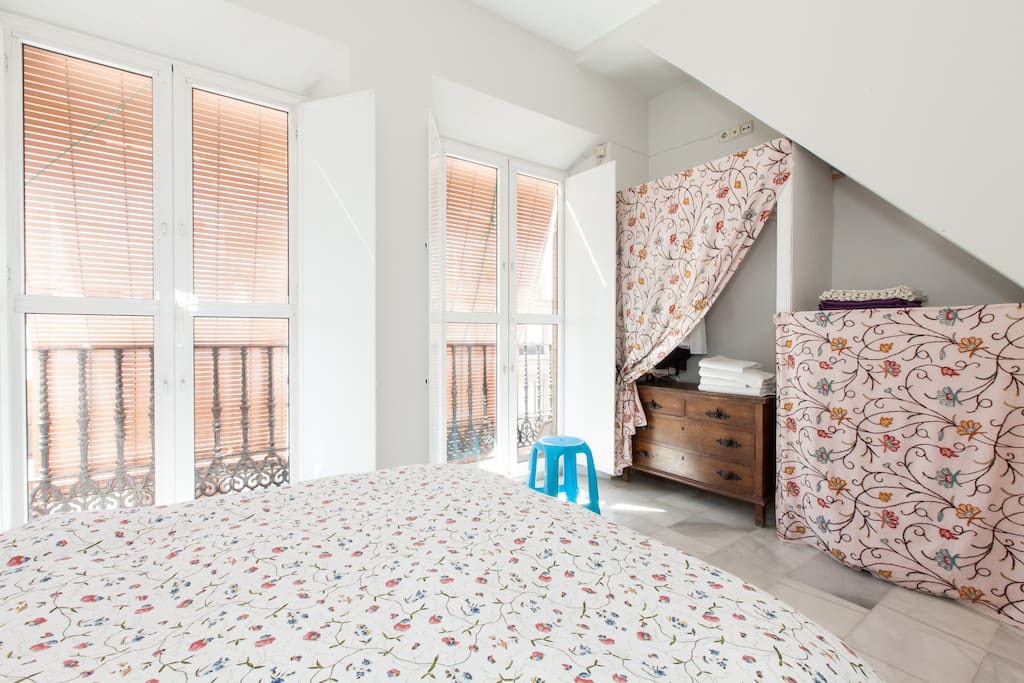 我们舒适的数据库房位于一座古老的Sevillian宫殿内,建在St. Jeorge旧城堡的墙壁上,就在埃菲尔铁塔旁边的美丽的伊莎贝拉II大桥旁,坐落在Triana的barrio弗拉门戈市中心。享受美食厨房,
Our comfortable db room is located in an old Sevillian palace built on the walls of St. Jeorge's old castle, right beside the beautiful Isabella II bridge designed by Eiffel just in the heart of the barrio flamenco of Triana. Enjoy a gourmet kitchen,
房源
选择将您的业余时间花在城市最好的弗拉门戈大街上:世界着名的Triana区。我们舒适的数据库房位于一座位于圣约瑟堡旧城堡墙壁上的旧塞维利亚宫殿,毗邻埃菲尔铁塔设计的美丽的伊莎贝拉二世桥。在河边摇曳,充满了令人难以置信的风景,您将在这里找到所需的所有友好环境。我和你分享我的生活和知识城市及其迷人的地方。 为什么选择斧头最好的房间? 1)在房子下停车。 2)一个非常舒适的房子,充满了光,窗户和这么多空气....在塞维利亚不是很频繁! 3)欧洲电话给你的父母:"你好,我们刚到!旅行很好,这个地方太棒了!" .... 自由。 4)房子坐落在圣豪尔赫古堡城堡的塞维利亚宫殿内。 房子是一个复式,房间靠近浴室,床是一个双尺码的西班牙语,比我们的小一点,对于重达80公斤的人),有一个柜子,例如短。 5)3欧元/人之后,第一张床单和毛巾是免费的 6)浴室配有坐浴盆和浴缸/淋浴,与我分享,一定要注意卫生。 7)享有壮丽景色的露台。 8)早餐:咖啡/巧克力/茶,牛奶,橙汁,好烤面包(黄油/奶油/蜜)4€/ 9)WIFI可以与房子的手机一起提供。 10)没有电视,你不需要它,记住你在度假,你在弗拉门戈和小吃最浪漫的城市! 11)您可以通过在整个城市配送点的策略性计划中组织的公共自行车步行o访问塞维利亚。门的输出有一些正确的一个! 12)在房子下,你拥有一切,最美丽和最大的覆盖市场,非常新鲜的水果,肉类,鱼类,你也可以在那里吃寿司和新鲜的牡蛎,或者只是用小吃喝一杯"cerveza"(迷你部分的东西好食物),然后进入他们提供弗拉门戈不同表演的小剧院。 13)一个非常好的地方,早餐,午餐,晚餐,开胃菜或佛兰明高表演有很多,都非常好。我的最爱? "DuoTapas"C / Calatrava。 14)银行,药房,商店,油漆,足病医师,理发师,电影院,旅游渡轮,桨船,公共汽车.....所有在房子下....甚至鸭子与他们的小鸭子! 15)距离不到300米,有一个中长途汽车站。 16)穿过埃菲尔铁塔设计的着名的"伊莎贝拉二世"的桥梁,将Triana与塞维利亚联系在一起,您将在Plaza de Toros广场,Maestranza剧院,金塔和机场停车站前进行。大教堂的80英尺的正面,非常封闭,但整体上的美丽,也许从我们的露台看到,唯一的其他事情,使我们提供住宿,在这里我呼吸我的指甲!
Choose to spent your spare time in the best flamenco barrio of the city: the world famous Triana district. Our comfortable db room is located in an old Sevillian palace built on the walls of St. Jeorge's old castle, right beside the beautiful Isabella II bridge designed by Eiffel. Rocked by the river and filled the eyes with an incredible landscape, you will find here all the friendly enviroment that you need. I sharing my life and knowlege of the city and its charming places with you.
Why chose the Ax's best room?:
1) Parking under the house.
2) A very comfortable house, full of light, windows and so much air .... it is not very frequent in Seville!
3) Europe phone call to your parents: "hello we just arrived! the trip was nice, the place is fantastic!" .... free.
4) The house is situated in a Sevillian palace built on the walls of the ancient castle of San Jorge.
The house is a duplex, the room available is close the bathroom, the bed is a double-sized Spanish, a little smaller than ours, for people who weigh up to 80 kg), have a cabinet for instance short.
5) The first change sheets and towels is free, after 3 euros/people
6) The bathroom have a bidet and a tub / shower and is shared with me, certainly attentive to hygiene.
7) Access to the terrace with breathtaking views.
8) Breakfast : coffee / chocolate / tea, milk, orange juice, good toasted bread (butter / marmelllata / honey) 4 € / pers.
9) WIFI available with the handset of the house.
10) There is no television, you do not need it, remember that you are in holiday and you are in the most romantic city of flamenco and tapas!
11) You can visit Sevilla by walk o by public bicycles organized in a strategic plan with a distribution points in a throughout the city. the output of the gate there is something right one!
12) Under the house you have everything, the most and beautiful and largest covered market , very fresh fruit, meat, fish, where you can also eat sushi and fresh oysters or just drink a "cerveza" with tapas (mini portions of something good food) before entering the small theater where they offer different shows of flamenco.
13) A very nice place where to have a breakfast, lunch, dinner, appetizer or with flamenco shows there are a lot, all very good. My favorite? "DuoTapas" C/ Calatrava.
14) Banks, pharmacies, shops, paint, podiatrists, hairdressers, cinemas, tourist ferries, paddle boats, buses ..... all under the house .... even the ducks with their ducklings!
15) less than 300 meters there is a bus station in the long and medium range.
16) Crossed the famous bridge designed by Eiffel the "Isabella II"'s bridge that uned Triana to Seville, you're in front of the Plaza de Toros, the Maestranza theater, the Gold Tower and the airport stop bus. The cathedral with its 80 feet of frontage, has very closed however the beauty as a whole, perhaps best seen from our terrace, the only other thing that makes our offer of accommodation, and here I breath my nails!
其他注意事项
我们受过教育和干净的人们友善,我们点了同样的。 在家里不要吸烟,但是在露台上是。 对于重量超过85公斤的人员,禁止发现问题 禁止在不存在主机的情况下进行烹饪和洗涤。 请负责任地使用光和空调 需要了解到达时间。如果有任何变化请AVAYADNOS,但我们将失去生活等待为您。
We are educated and clean people friendly, we ordered the same.
No smoking at home, but yes in the terrace.
For problems found are prohibited reserved for people who weigh more than 85 kg
It is forbidden to cook and do the washing without the presence of the host.
Please make a responsible use of the use of light and air conditioning
NEED TO KNOW THE TIME OF ARRIVAL. IF THERE ARE ANY CHANGES PLEASE AVISADNOS BUT WE WILL LOSE LIFE WAITING FOR YOU.
---
---
---
Somos personas amables educadas y limpias, pedimos lo mismo.
Está determinadamente prohibido fumar en casa, aunque si se puede en la terraza.
Por problemas ya encontrados se prohíbe reservada para personas que pesan más de 85 kg
Está prohibido cocinar y hacer la lavadora sin la presencia del host.
Por favor, hacer un uso responsable del uso de la agua, luz y el aire acondicionado
NECESITAMOS SABER LA HORA DE LLEGADA. SI HAY ALGÚN CAMBIO POR FAVOR AVISADNOS SINO VAMOS A PERDER TODA LA VIDA ESPERANDO POR VOSOTROS.
---
---
Alexandra was an AMAZING host! My girlfriend and I stayed for 2 nights in Sevilla in March of 2016 at her apartment and had an absolutely WONDERFUL time. Alexandra offered to show us around town to some of her favorite bars and restaurants and we ended up meeting some of her friends and had a great time. We were there during Palm Sunday for a once in a lifetime experience that we will remember forever. She went above and beyond to make sure we enjoyed our short stay. Her apartment is at a great location on the river within a short walk of everything. If you are in Sevilla, I would HIGHLY recommend staying with Alexandra. Just writing this review makes me want to go back now.!!
---
Ax was a great guest! She was warm, welcoming and so available to answer my questions and help me with planning my trip, and suggesting places to see and visit. Her place was beautiful, the location was very central and the view was stunning, being right by the river. Ax even spent an evening with me showing me the sights and sounds of her city. She made my trip to Seville so memorable!I would highly recommend staying at her place if you want to enjoy Seville from the eyes of a person who loves hosting, and loves her city!
---
Ax has an incredible spot in the heart of the Triana neighborhood in fabulous Sevilla!! Located right in the middle of the action, you might have a bit of a tough time sleeping if you are a light sleeper, but otherwise, you can't beat the location. Be sure to check out some of Alexandra's incredible artwork all over the city!!
---
Alex's daughter gave us a very warm welcome and showed us our room and the living arrangements. Provided us with a map and made a few suggestions of her favorite spots in the city. In our travel we have found that great things come in tall spaces! Staying in existing buildings in old districts of cities brings great views, kind people and good exercise! Climbing to the top of the stairs was a nice way to end the day and see lighted bridge and city beyond. Alex and her daughter accompanied us to a local restaurant which was DELICIOUS and affordable. We were able to do our laundry for which we were very grateful! And overall enjoyed the time we spent in our host's home.
---
Alexandra is a very nice host! If you don't mind walking up 4 flights of stairs, and sharing the bathroom with her, this is a nice room in Triana. You just cross the bridge to get to Sevilla. Alexandra took us to a couple of local places with food, drink, Sevillana music and Flamenco like I had never seen before! We had a great time!
---
Alexandra was a great hostess. The room was large and comfortable, and the location great (right next to the river)! She did her best to make sure that it felt like home, and was very kind in including me in activities, conversations and meals with friends. Overall, I think anyone would be pleased with the decision to stay with Alexandra!
---
¡¡Hola a todo el mundo!!
Intento ofrecer el mejor servicio que sé para que vuestra experiencia en Sevilla sea un grato recuerdo. Gracias a todos por confiar en mí. Soy dinamica, alegre, sociable e independiente, y estoy acostumbrada a compartir. Yo me ocupo personalmente de todo el proceso así que el check-in y el check-out no serán ningún problema, soy muy flexible en eso.

Me gusta cuidar los detalles y hacer que todo esté perfecto para que vuestra experiencia sea lo mas agradable posible. Si necesitas un lugar tranquilo, limpio, acogedor, independiente y espacioso donde pasar unos días en Sevilla, estaré encantada de recibirte.

语言:
English、Español、Français、Italiano