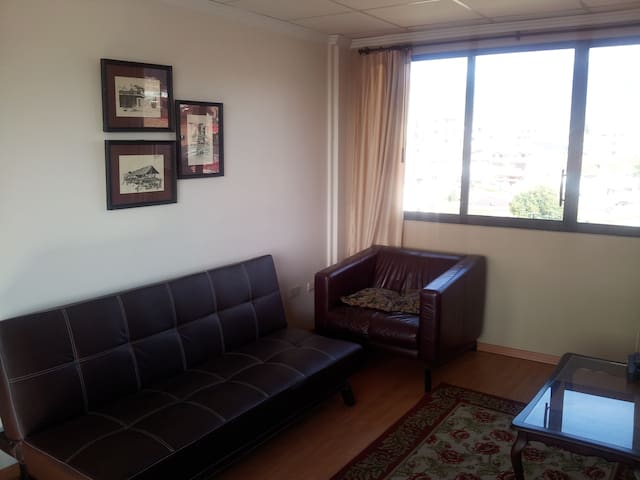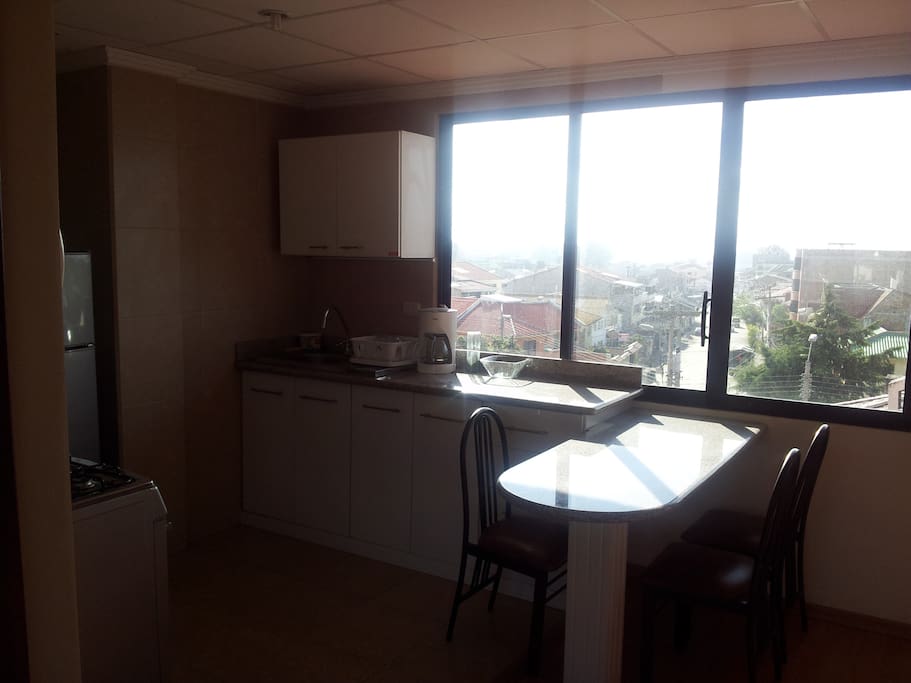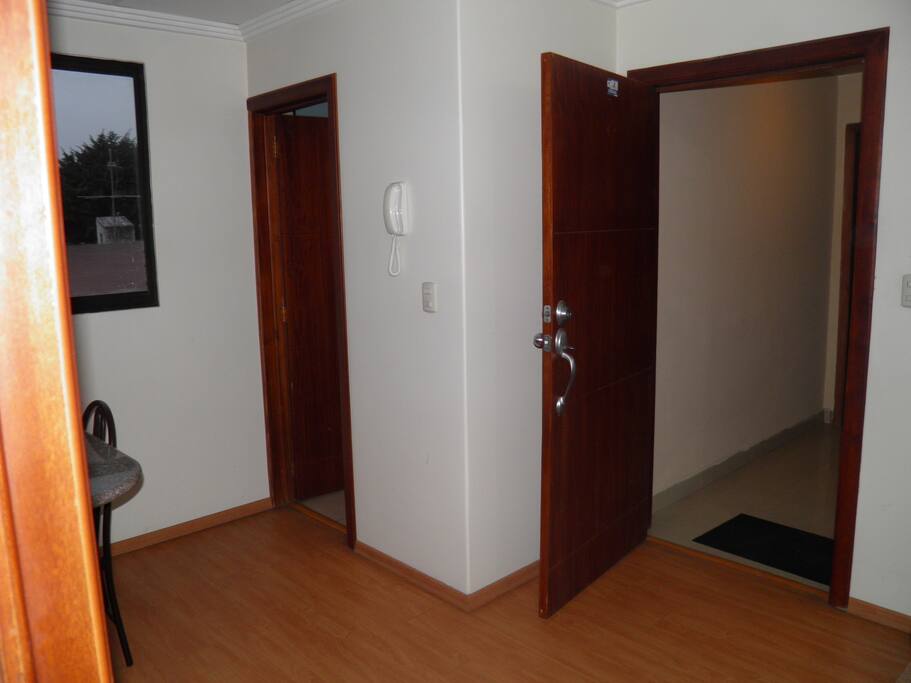 Beautiful one bed/bath apartment with great views of the city. Access to shared terrace with 360 views of the mountains and city. Perfect for short and long-term stays. Easy access to public transportation.
房源
Furnished One bedroom, one bathroom apartment short or long term rental. Modern, includes all utilities, Wi-Fi and Direct TV. On bus line (8 min ride to el centro). Close to Supermaxi, outdoor food market, banks, pharmacies. Safe area. Small apartment building with stairs. English/Spanish speaking.

房客使用权限
Guest have access to a rooftop terrace with 360 views of the mountains and the city. Great area to take a little break or socialize with other tenants.
与房客的互动
As much or as little as they want. I am only a phone call away.
---
Each interaction with Jenny and her son Juan was so easy and comfortable. The owners of the store on the ground level were awaiting my arrival and met me with open arms. I stayed at the conveniently located condo while transitioning to an apartment and it was great. Juan was very responsive to any questions or concerns , even offering to take me get my Ecuador phone straightened out. My time there was short, but very comfortable and enjoyable. Thanks for everything!
---
Great hosts, great place to stay and great location. Everything you need is within walking distance. Need a cab? Just walk to the front of the building and you'll find one within minutes, Need a bakery? Walk to the end of the street and there it is? Need to buy groceries? Walk short 6 blocks and you are in one of the largest open air markets in town where you virtually find just about anything you will need. Jenny is great. She is warm , inviting, curious...a great host. We moved to Ecuador to immigrate and she ended up renting one of her other houses to us!! Great lady. (You HAVE to meet Myra, who owns a small tendita downstairs. She will talk you head off!) What I liked most about this place was that it was Ecuadorian....not some trumped up American style apartment. I wanted to experience how Ecuadorians live and Jenny's small group of apartments gave me that experience. If you want to experience the warmth of Ecuador and i'ts people, come stay with Jenny and her great little apartment complex.
---
This is the second time that my husband and I have rented from Jenny. Prior to staying at this apartment, we stayed at her apartment in the downtown for about five weeks. We stayed at the apartment that is being reviewed here for almost seven weeks. The apartment is in the Puerta del Sol neighborhood. It is about a 5 minute walk to Feria Libre and a 15 minute walk to the Supermaxi. Other reviewers mentioned walking to downtown, but it is a significant walk of 45 to 50 minutes. We used the bus to get around, with an occasional taxi. The apartment is on the third floor, so there are a significant number of stairs to climb as there is no elevator. We were perfectly fine with this, but it may be a consideration for some. The area surrounding the apartment is noisy. There were a lot of barking dogs and car alarms going off at all times of the day. The bedroom in the apartment faces the street, so you may want to use a white noise machine for sleeping, which is what we did. The best thing about this apartment, in my opinion, is the views. The apartment is small but has a lot of windows in every room, which makes it feel a bit bigger than it is. The views of the mountains are amazing. The roof top deck is also incredible. The next best thing about the apartment is the price. Jenny is also very easy to work with and was responsive to any questions we had. The other tenants living in the building are friendly. Many of them are long-term tenants and are willing to share their knowledge of the city. As mentioned in other reviews, Maya and her husband are also available downstairs to help with any questions you have, but they don't speak English. It's a good opportunity to practice your Spanish! The biggest downside to the apartment was that we did not have access to a clothes dryer. Because we stayed at the apartment for almost seven weeks, we really could have used a dryer. This situation was particularly disappointing because the apartment was advertised as having access to a dryer. It made it especially difficult to wash our sheets. Also, there is access to a washer, but it is up on the roof deck. This was not a big deal to us but it might be a concern for others as it involves climbing more stairs. The apartment was also lacking a few small kitchen items (for example, a can opener) that I would like to have had. I am sure that Jenny would have supplied them if we had asked, but we chose to buy them ourselves. Overall, I would definitely rent from Jenny again. She is a wonderful person to rent from! However, I am not sure that I would rent this particular apartment again for any significant length of time unless there was access to a dryer.
---
After a very long day, Mike and I found ourselves at the Cuenca airport with a bunch of luggage and two dogs in tow. Due a mistake on OUR part, we arrived without a confirmed reservation. Using the free Wi-Fi at the airport, we were able to call AirBnB and explain our somewhat scary situation. The AirBnB representative promised to start researching immediately to find a place for us to stay He also said that he would call us back every ten minutes to let us know that we were not forgotten. Within an hour, with a few reassuring phone calls back from AirBnB, as the US-based representative had promised, we received an email from Gabriela. She explained that she was not in Cuenca, but not to worry. She let us know that husband would be leaving work to come pick us up at the airport very soon, and that he drove an SUV that would accommodate us, our luggage and dogs. Gabriela's husband was at the airport picking us up within 15 minutes. Juan helped with the luggage, spoke perfect English, and fully understood our situation. He seemed genuinely glad to be of assistance. Once at the rental unit, Juan introduced us to his brother-in-law, and his brother-in-law's girlfriend. We were both greeted with smiles and handshakes AND a hug and a sweet kiss on the check from !!Viviana What a way to forget a bad day!! We were given a tour of the unit. The Wi-Fi password for our phones and laptops was provided and contact info was given, if we had any questions or concerns. Our welcome was so warm, and the company so nice, we were both sorry to see everyone leave. The unit itself was a sight for sore eyes. Full kitchen, comfy living room with a wall mounted TV and DirecTV, including English programing. The bedroom had a nice bed, plenty of closet space and wall to wall windows with a view of the neighborhood and of the greenbelt that is the Tomebamba River. The unit also included a wrap-around patio/balcony that was home to even more views, and a full washer and dryer. The neighborhood is very safe, convenient and walkable. The street our unit is located on has a nice mix of homes and small businesses. There are more than 10 tiendas (small mom and pop stores that seem to carry a little bit of everything) in a five block stretch from our unit. The unit is also an easy 10-12min walk to the Feria Libre Indigenous Market, a must see. During our stay, Gabriela's mother dropped by the unit to check on us. Jenny is small lady, with a huge personality. We had the best time visiting her!! She even brought us a nice colorful map to of Cuenca to keep. Such a sweetie!! Our only regret staying at this unit is that we didn't get to meet Gabriela. But her family certainly made wonderful replacement hosts! Guy, Mike, Sparky and...
---
We are a Family team originally from Cuenca - Ecuador. We work together to make sure our guests feel at home in any of our properties in the city or at the beach.

About Jenny:
My husband Juan and I have been married for 32 years and have 3 daughters and 1 son along with 3 beautiful grand kids. Our kids/grand kids are spread around the world with two kids in Spain one in the U.S. and one home.
Juan and I caught the travel bug a few years ago and now that all the kids are gone we try to get away every change we get!
I enjoy meeting people and showing them a bit of our city and culture. My kids tell me I can talk to anyone and they would be right! :D
语言:
Deutsch、English、Español、Français、Italiano、Português