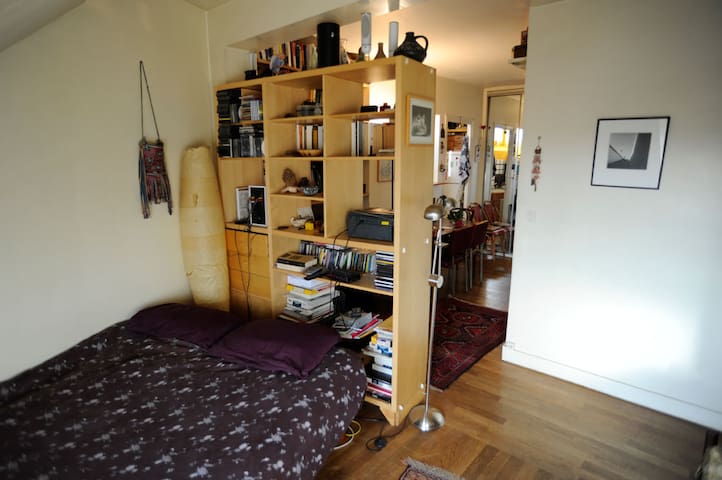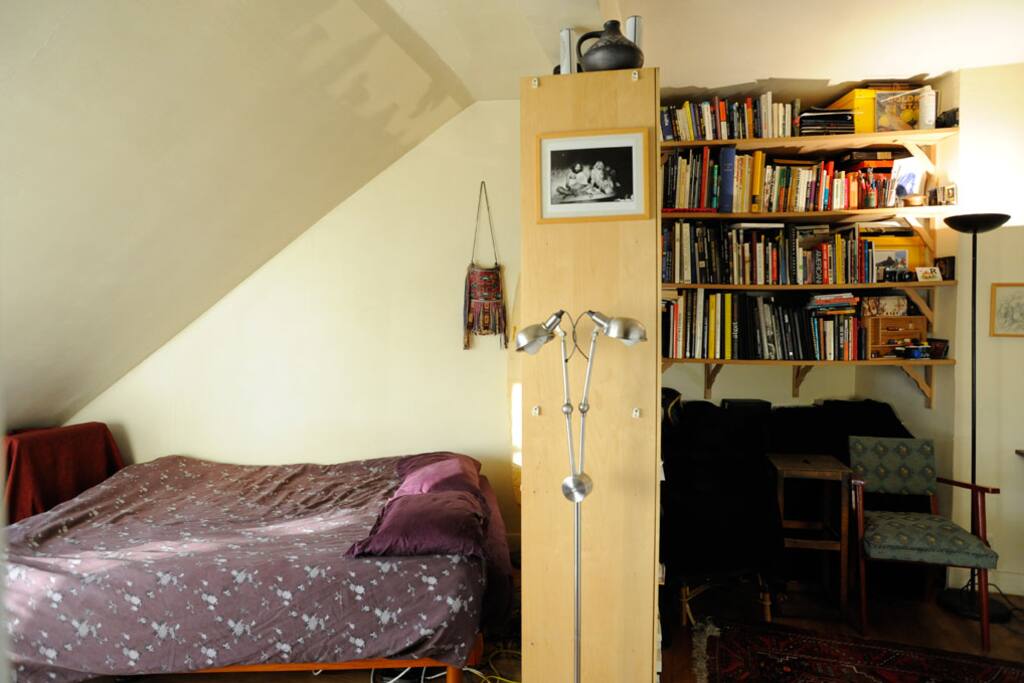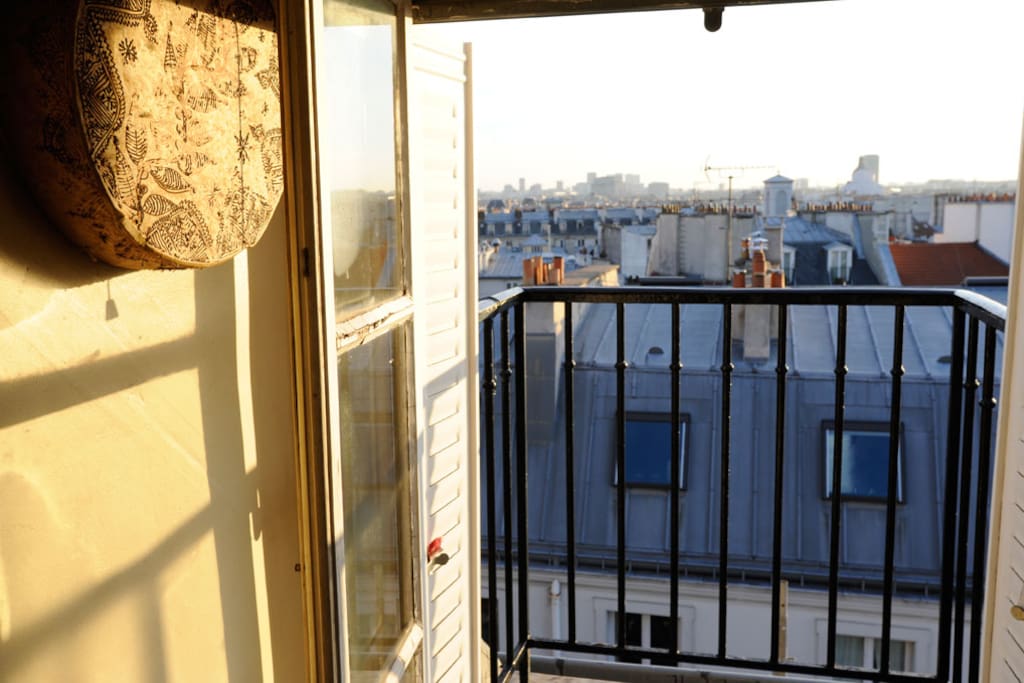 Arty and cosy apartment with wonderful views over all of Paris. Centrally located in a trendy Marais area. Average rates : 500 euros a week, 1300 euros a month all bills included except the Airbnb commissions.
Please don't hesitate to get in touch with me before booking to confirm the availability and price adjustment for the stays over 20 nights and less than 28 nights. Please do not hesitate if you have further questions.
房源
My 30 square meters apartment (322sq ft) is in the heart of Paris right on the metro stop Saint-Sebastien Froissart. Located in a typical parisian building 1900 on the 6th floor with elevator, it has wonderful views of Paris and a little balcony. You can see the Eiffel tower, Centre Pompidou, le Panthéon and many other major monuments. Little bedroom with a very comfortable bed for two, little dining room, well equipped kitchen, comfortable bathroom with a bathtub. Wooden floor. There are art books, WiFi internet, cable TV, washing machine and all the necessary in the kitchen. It is convenient for one person or a couple.
The area has a lot of art galleries, a street market and many bistros and restaurants. It is a safe and highly demanded neighbourhood.
The average rates : 500 euros a week, 1300 euros a month all bills included except the Airbnb commission.
Please get in touch with me before booking to confirm the availability.
If interested, please write a little bit about yourself and do not hesitate if you have further questions. I will be glad to help.
---
This was a great place to stay. Cornelis and Irina are wonderful, friendly hosts, and the apartment is perfect for a solo traveler or a couple. You have an amazing wide view of the city, and a small balcony on which to take it all in. The apartment itself has an lovely cozy feeling to it, with art/photography/film books, cameras and prints all around alongside the literature and nonfiction (with works in several languages). There's a nice wooden desk, a small but perfectly functional kitchen including a washer machine, a spacious bathroom with large bathtub, and ample heating in all three areas if you stay when the weather's cold. In addition to the balcony, there are also 3 smaller windows throughout the apartment that you can open in to air things out or simply enjoy the light and the sounds of the city coming in. Speaking of the city: you are perfectly well situated in Paris, close to the Marais, Oberkampf, Place de la République (about a 10-15 minute walk), a metro station almost immediately outside the apartment (line 8, with a quick transfer to others via République & Bastille or walking to Oberkampf), 15-20 minutes walking distance to the Centre Pompidou & Les Halles, the Musee Picasso, many other galleries, also 15-20 minutes to walk to Hotel de Ville and on to sites like Notre Dame and Sainte-Chapelle, then the whole Latin Quarter & Saint-Michel areas are also in reasonable walking distance (30 minutes or so). There's a Monoprix just a block or so down from the apartment, and a nice boulangerie (Dupain) across the street, plus several good cafes within just a couple minutes. If you're a photographer and need any equipment, there's a camera store just next to the apartment as well. The building itself has a nice entryway, a well-working lift, and feels very secure. I had a wonderful stay in Paris and this apartment was no small part of that. Cornelis and Irina were both extremely warm and welcoming hosts, easy and quick to communicate with, and very happy to answer questions or help if you need it during your stay. I look forward very much to visiting again!
---
À Magic place, right where stuff happens in Paris, a nice view above the city a brand new bathroom, and art books, the host is a photographer. If you are not already hooked to the Parisian scene, he will tell you about secret places, where to hang out, away from touristic dumps, he might even tell you about art show openings... The place has a soul. It is comfortable and real, the elevator takes you up to the sixth floor were used to be the maid accommodations, and now the best flats in the city, The host has a real sense of hospitality without being invasive and will do his best for you to get the nicest stay, making things easy. I got a glimpse of his "bohemian" lifestyle, thanks to his address book, I have to come back, with a princess, perfect place for a sweet stay. Thank you !
---
I am a translator mostly in film and entertainment industries. I am lucky to live in Paris for many years now and will be glad to help my guests around in this beautiful city. Please do not hesitate to contact me for further questions concerning my apartment and I will get back to you as soon as I can. Thank you

语言:
English、Français、Русский