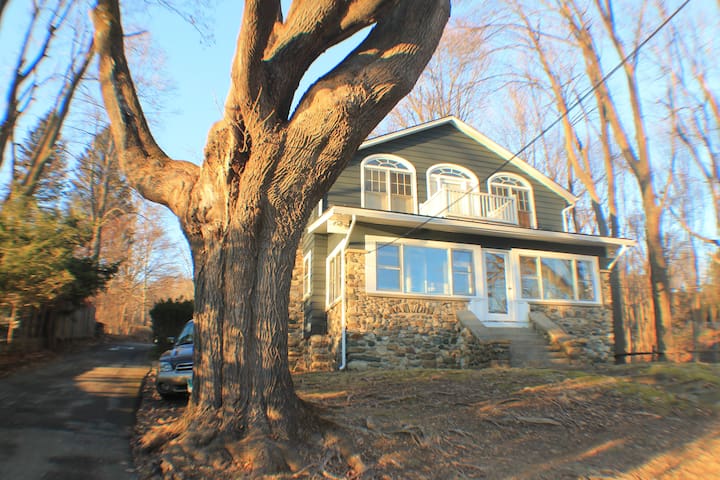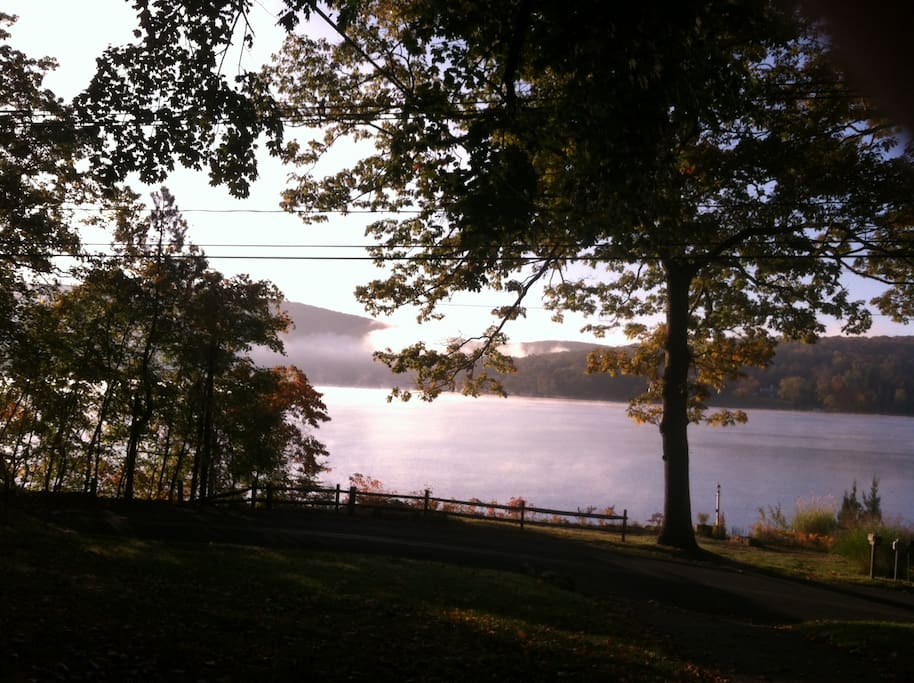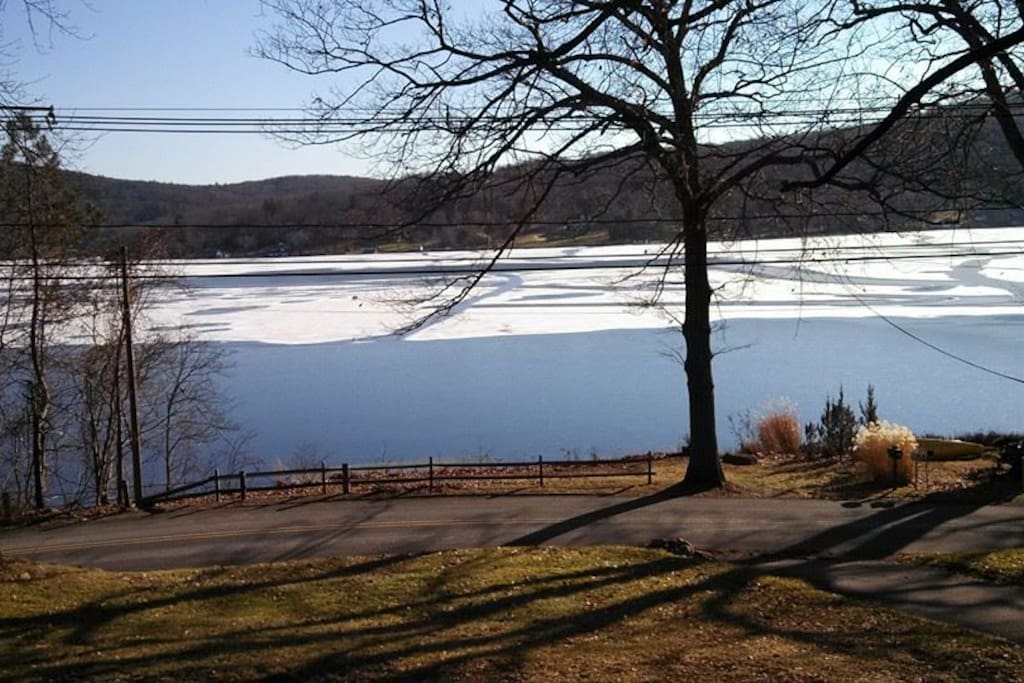 Scenic lake cottage with cabana
房源
Welcome to MaWink's House!
The area has certainly developed since my German barber and hairdresser great grandparents bought this house over 60 years ago! But with three generations still living in the area and using this as our central meeting spot, we still lovingly refer to it as MaWink's house.
The home, a stone built 'cottage' built at the turn of the century, is four bedrooms/three bathrooms and sits a hundred yards from our cabana and doc on scenic Lake Waramaug.
THE UPSTAIRS
* Master bedroom with a four post bed, private balcony to admire the perfect view of the lake, private sink, and a shared bathroom with...
* Second large bedroom with stunning views of the lake, private sink and three single beds.
THE DOWNSTAIRS:
* renovated kitchen with back door entrance (leads to car parking area and garage) and breakfast bar. It's open plan with...
* Large living room/dining area that includes a large flat screen TV, dvd player, stereo and collection of dvd's.
* The front closed in porch (my favorite area!). There is a table that sits 6 where we usually eat and a sitting area to admire the views.
* The den/library - a smaller room off of the living room with windows to the porch and a sleeper sofa for extra guests.
* The back bedrooms/bathrooms:
*** There are two cosy back bedrooms that we call MaWink and Gaga's rooms after my great grandmother and my great aunt. Always the host, MaWink never slept in the big bedroom upstairs, but instead kept that for her constant flow of guests coming to the house! MaWink's room is en suite with bathroom with shower and queen bed. There is an additional bathroom with full bath in the hallway for Gaga's room which has two single beds;)
THE CABANA:
With one of the few cleared views of the lake from the street we always have bikers and walkers stop to take a picture... but don't worry, the cabana is set below on the lake so you'll barely notice them! A two room cabana with gas grill, fridge, prepping space and sitting area. Two wood docs - one attached to the cement based area and one that we float to swim out to! You can climb down to the 'beach (water height dependent ;) ) to play in the water or just get thrown in from the doc! Lots of comfy furniture including lounges, wicker table and chairs and a outdoor couch!
AMENITIES:
Washer/dryer in basement
full kitchen/appliances/dishes etc
linen/towels/blankets included
Digital Cable, large DVD collection, stereo, telephone (cell phone reception is not great around here)
Wireless internet
THE AREA:
We are based on Lake Waramaug, in Warren, CT. Litchfield county was ranked one of the top 1000 places in the WORLD to see before you die, and I can attest to it. With rolling hills, adorable villages, hikes, rivers, lakes, antiquing, art, fantastic restaurants... its a dream getaway only 1.5 hours from NYC. At the foot of the lake is New Preston, a small village filled with quaint antique shops, a couple lovely restaurants and a nice cafe/bakery. Kent town center is a ten minute drive and famous for its adorable high street and art scene. If you want to hang out with the townies (from the billionaires to the gas station attendant) head to GW's in Washington depot for great food, live music and plenty to drink. If you don't want to drive anywhere, take a five minute walk up the road to Hopkins Inn, restaurant and vinyard for some wine tasting and traditional Austrian cuisine.
As a family we feel so lucky to have this home and while my mother now owns it (and will retire there and move from NJ) my grandparents, aunts and uncles all put their love, time and energy into the place so you might run into one of them as they mow the lawn or trim the hedges! I am now based in London (see my other listing) but I take every opportunity I can to head home for the tranquility of Mawink's house!
---
So I have two properties up here - one for my partner and my flat in London and one for my mommy in the US. Both are my homes, very different in many ways but both reflect many years of love, energy, devotion, creativity and hardwork!

LONDON: We have owned our flat since 2010 and have spent countless weekends gutting, renovating and generally putting a lot of love into it. There is always another project around the corner (like sewing new curtains!).
Outside of our labour of love, Matthew works as a camera person and at a university teaching production. I am a mix of an academic and filmmaker.
We love our home but we also love travelling. This includes a lot of trips to the states as I am originally from there ;) hopefully if you are reading this you are considering renting our home and that is one step closer to our family holiday!

CONNECTICUT:
This house has been in my family for four generations. My great grandparents (immigrants from Germany) bought it and my mom inherited it with MaWink's passing in 1998. In keeping with the tradition of my great grandparents love of hosting, this house has been a home away from home for not just my extended family (many of whom live a few miles from the house) but also countless friends throughout the years. My mom will be retiring there in 5 years and hopes to run a bed and breakfast, but in the meantime we are opening the doors to renters. We have been renting it on and off for quite a few years through realty companies - often for the whole summer. My mom has recently begun doing week long rentals and I convinced her the airbnb community would welcome her with open arms!