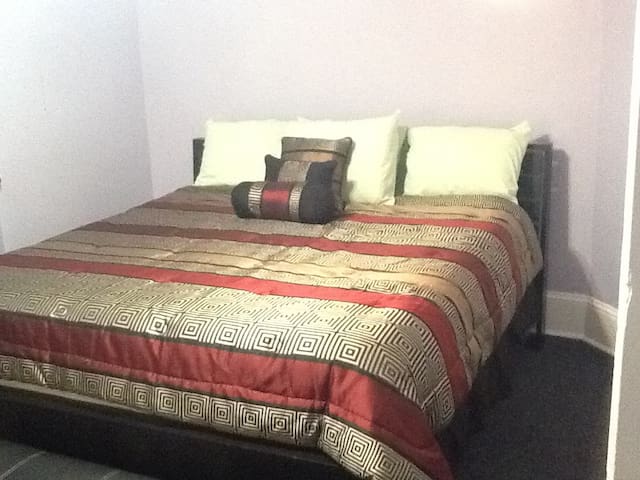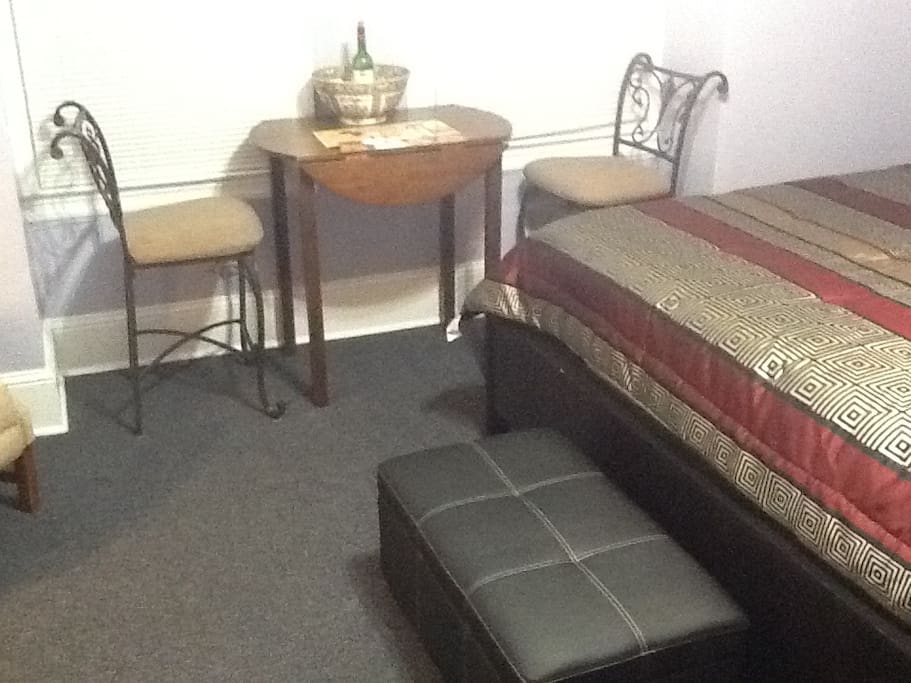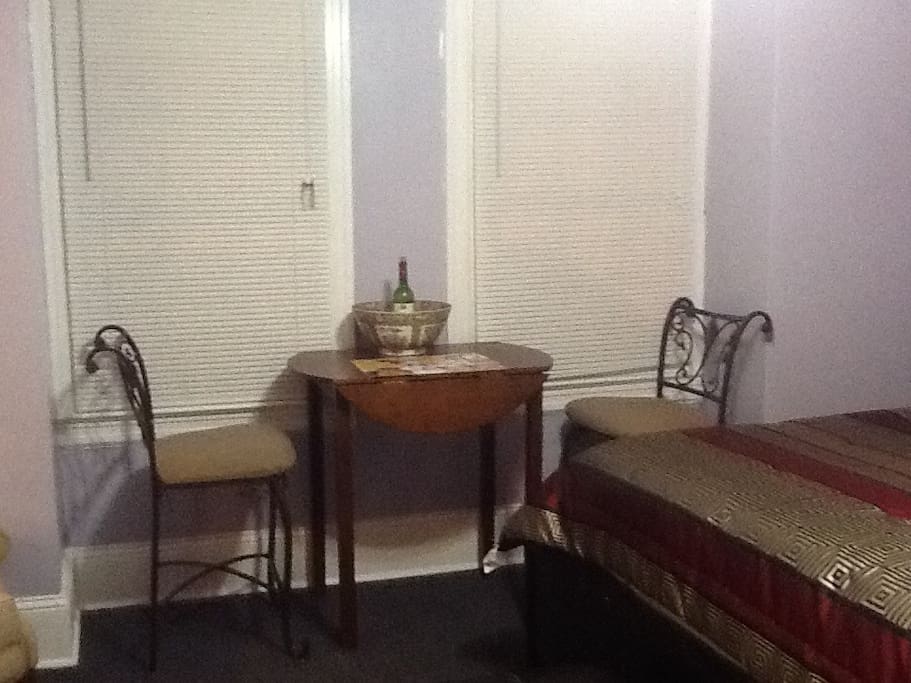 此房源的描述已由谷歌翻译从英语翻译成您的语言,但谷歌翻译并不能保证翻译的准确性。
为客人提供了一个优秀的私人空间,更加精致的旅游风格,爱上更多的空间,热爱自己!这间卧室位于这栋房子的顶楼,提供了一个美妙的(前后)"阁楼"感觉。
房源
这间"上层套房"提供最大的私密性,位于这个大排屋的三楼。它还有一个额外的空间在私人外甲板上娱乐。从城市喧嚣中享受您的平静,并享受DC的顶楼公寓生活中的终极目标。适合商务旅客或会议与会者。
房客使用权限
客人可以通过前门和整个三楼的空间进入。此外,洗衣用地下室的共用空间是可用的,
与房客的互动
隐私是这个套件的关键。但是,也可以在地下室的公共区域进行任何活动。
其他注意事项
贵宾特惠:如果有的话,房子后面有私人停车场,折扣在我们其他客人入住这间客房的定期费用的20%。
如果到达DCA或联合车站,我们将根据您的要求安排您的接送服务。
---
---
---
始终通过爱彼迎进行交流
为了保护您的账号隐私和付款安全,请不要相信其它任何平台的折扣或优惠券代订,并始终在爱彼迎站内转账和交流。
了解更多
---
在我的列表中查看完整的房屋规则说明:"想要在DC中长时间租赁?"
绝对禁止吸烟的政策或财产或邻近建筑物的非法毒品。我们期望您尊重我们的其他住所和客人。您的住宿旨在让您享受和放松。不过,我们期望您对自己的日常整洁负责。
如果你自我检查:
当你到达时,得到我离开你的指示,并按照进入房子。关上前门并锁定内木门的旋钮。来到三楼(3rd Fl),把你的行李带到最后一层。房门应打开或解锁。你的钥匙在餐桌上,观看佛罗里达大道上的房子前面。
你的浴室在走廊的中间(我们可能已经离开了门)。当您进入时,灯开关位于水槽的左侧。确保在每次使用后关闭灯开关以关闭通风电机。另外,不要将地板弄湿,不要使用水槽或淋浴,也不要将地板垫放在水面上。每次使用后,将垫子和毛巾挂好。您的责任造成的任何损失都可能导致AirBNB收费。
通过致电我们的房屋号码(PHONE NUMBER HIDDEN)通知我们,让我们知道您在。而且,互联网信息和密码:(将在签到时给予您)。
我们要求您考虑到我们的家庭规则,以便自己清理。例如,每次使用淋浴时,都要清洁它(不要让头发脱落,任何可能在后面的人都可以追踪到你)。特别是确保水不留在地板上。如果您随时在地板上水,请立即清理。
使用后请务必拿起浴垫并冲洗干净。每个使用后,将淋浴门上的任何湿地板放在干燥的地方。每次完成使用浴室时,请关闭灯泡,以确保电风扇不会持续运行。如果电机因为运行而被烧毁,AirBNB可能会收取费用,因此请注意。我们希望浴室仍然是保护区,它旨在逃离外面忙碌的日子。
不要怀疑住宅或其他客人的区域。在采取不在您指定区域的任何东西之前,请确保您问。在假设您有权使用任何未在入住时讨论的事情之前询问。
如果您决定拥有超过您注册的客人数量,请提前通知我们,以对您的预订进行调整。
我们要求我们的客人限制任何朋友或其他访客从这个房子,除非我们在抵达之前批准它们。您可能有任何客人将您丢弃或接送。只要不经事先要求和批准就可以进入房屋。
另外,在适当的情况下,继续遵守我们的"房屋规则"关于保持关闭和锁定的规则。我们非常感谢您的合作。
让我知道,如果你想让别人以外的家人或朋友留在这个单位,以便我们知道谁在财产上,他们知道房子的规则。您将负责任何额外的清洁,维修或其他服务,如果您或您的客人离开所有"垃圾",我们可能需要收取费用。
垃圾拾取位置和细节应遵循每周。延长住宿客人每两周提供公寓清洁服务。如果需要,清洁费是$ 55。
自助结帐指示:
当您收集物品时,请确保您完全整理房间。把你的密封垃圾放在房子后面的垃圾桶里(如果你有很多的话),否则一个小包可以放在任何前街的垃圾桶里。清理您所使用的任何厨房区域。
离开后,您应该确保前门和门打开并解锁,并将您的行李从您的房间内离开钥匙,并避免被锁上房间(以防您在那里离开)。你可以离开"卧室门"打开。将钥匙留在桌子前面的窗户或桌子上。但是,当您退出时,将房门锁定在门外,并将其关闭。当你离开的时候,关上你关闭的门。 (你不会有钥匙锁住房子,很明显,但我们稍后会这样做)。给我们留言,你要离开或已经离开了。
同时,您可以快速回到家中或到达目的地。
---
---
---
---
We had a wonderfull stay at Edmond's house. The bed is huge and super confortable. Our room was in the third floor, but it's not a long stair, so it's easy to go up. We met Ms gerald, she was so kind and help us in everything we need. Lovely home, lovely hosts.
---
MAKE ANY OTHER STANDARD VACATION STAY BOOKINGS FOR MORE THAN EIGHT NIGHTS AND GET ONE NIGHT STAY FOR FREE! BOOK AT LEAST $1000 WORTH YOUR STAY AND GET $100 OFF YOUR TOTAL BOOKING. (Not to be combined with another offer. Does not include occupancy taxes or Airbnb fees).

ALSO, GET SPECIAL REDUCED MONTHLY PRICING. ASK AND WE WILL TAKE OFF CLEANING FEES ON MOST OF MY LISTING, BASED ON NIGHTLY RATES ONLY, FOR VACATION STAYS MORE THAN A MONTH.

FOR NEWLY BOOKED STAYS ONLY!

MENTION THAT YOU STAYED WITH US BEFORE AND RECEIVE AN ADDITIONAL 20% OFF YOUR TOTAL BILL, NOT TO BE COMBINED WITH ANY ABOVE SPECIAL.
==============================================================
I was born here in Washington DC and love the beat of this city. I've had several businesses; most lasting for more than 45 years. I know a lot about DC history and love telling interesting stories of yesteryear!

I am very friendly but have a great knack at serious business. It all began in 1969 when me and Hilton Felton, my music director, started our youth singing group named "Ed Gerald Gospel Sounds". Consequently, for more than 23 years I produced a local (Metropolitan DC) Gospel Show called, "Spread a Little Sunshine", on TV - WTOP, WUSA--CBS Channel 9. Simultaneously, I recorded and produced gospel music; started Paradise Productions Studio next door to this building, then obtained the current building in 1995. This current building produced records under the labels "Paradise Productions", "Energy for God Record Company", Gospel World of E.G., then "EG Record Company." Many notable gospel artists were produced in this building, including the Dorsey Team of Dr. Clayton Hannah and Dr. Thomas A Dorsey.

People who have stayed at my property have had a pleasant fun stay and usually don't like leaving on-time which is ok with me too!

Each of my rented rooms are arranged for your privacy as much as possible (even the few rooms with some shared spaces). These rooms will have some significant historical meaning of my times in DC during the years of TV or Radio producing or recording music or shows that were also performed and presented in metropolitan Parks and Recreation.

If you ask not you receive not, is my favorite motto! Be encouraged...life is truly too short.

Before booking: Link your Airbnb profile to a social network, verify your phone number; and complete your Airbnb profile. If your profile is not complete, upon checkin, expect us to ask to view a photo ID and possibly make a copy for our private records. The purpose is for emergencies and security, like hotels would expect.

After booking: Make sure you send a note letting us know when we will expect your arrival. You may give us your travel itinerary, for instance. It will be helpful in arranging your checkin, if you plan to arrive within our usual 4pm checkin timeframe. If you expect to arrive more than 1 hour later than the estimated time you gave us, call or send a text updating your arrival time. If we have waited longer than an hour and don't hear from you, you may get charged $20 cash when you check in, for arranging to return or getting someone else to let you in.

When you get the opportunity to stay as our guest(s), make sure you read the online House Manual for clarity in your stay and especially your checkout procedures. The Manual is located near the description of the room you selected and booked. Please read details so that you don't get locked out, for instance.

With some locations of the rooms there might be noises that you are not familiar with. This building is located on a busy travel street also. If you are sensitive to noise, we suggest you bring ear plugs.

Remember that Airbnb is not for guests expecting perfection, but for travelers who appreciate getting to know a host and our surroundings, and bonding with the neighborhood and who appreciate saving money. There are many hotel locations in DC but are two to three times or more the price per night.

This whole area of DC experiences very high volume of so many people from around the world, throughout the year. Security around this area in the District would most often have very active metro and other security police, secret service police, CIA, FBI, etc., to monitor and guard all types of politicians and especially our President and his staff and family. This includes the citizens and visitors who are here too. Therefore, DC is not going to be a sleepy little town that a lot of people may be used to living. You can not compare DC or other larger cities, to your own quieter hometowns. However, if you are a conscience traveler and use your common scenes and stay alert, you will adapt to our many unique neighborhoods and people the longer you stay.

We expect you to keep your room(s) and immediate areas as tidy as possible during your stay. This will help you to follow checkout procedures, avoid additional cleanup fee charges, and when you leave, possibly avoid leaving anything behind.

You may text or call us anytime before, during, or as you check out with any questions about your visit. Thank You and Welcome to Our Nations Capital, DC!

#########################

We can arrange to schedule a basic driving tour of NW DC including Smithsonian, NatL Archives, Air & Space Museum; Iwa Jima Memorial, US Capital, Supreme Court, White House, Washington Monument, and a few more popular sites around NW Washington. We charge $45/hour for your group, up to 4 people. By the hour charges only apply (no halfs calculated). This Is daytime 9-6. After 6pm til midnight, $55/hour basic evening/night tour. Ask about our airport transportation service or other arrangements as well. I operate in all the metropolitan airports. If you're interested in the above, let me know in advance what you prefer for scheduling.

If you are driving and want to know what to do about parking in our neighborhood, there are some options. There is free street parking. However, its imperative you follow street signs for areas that require you to move your car during street cleaning times. You must watch the dates and times when its restricted. Also, watch "Residential Zone" parking. Hefty fines are issued if there are violations and/or you may be subjected to towing. Make sure you do not fail to adhere to DC's parking restrictions. The restrictions are lifted for street cleaning between Oct 31 thru March1, each Winter season, however.

If you expect to stay and park in our neighborhood for longer than two weeks with another State license plate, you need to go to DMV to get a temporary parking permit. (The District's Parking Enforcers will keep track). There are also downtown parking lots and garages. You can find them on a "Parking Panda" App. If you don't want to be concerned about the parking, i also rent a parking space behind the home and I would need to schedule you, if its available during your stay.
语言:
English