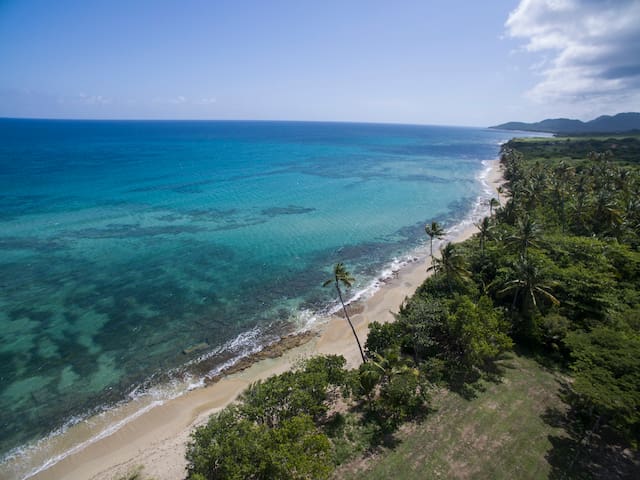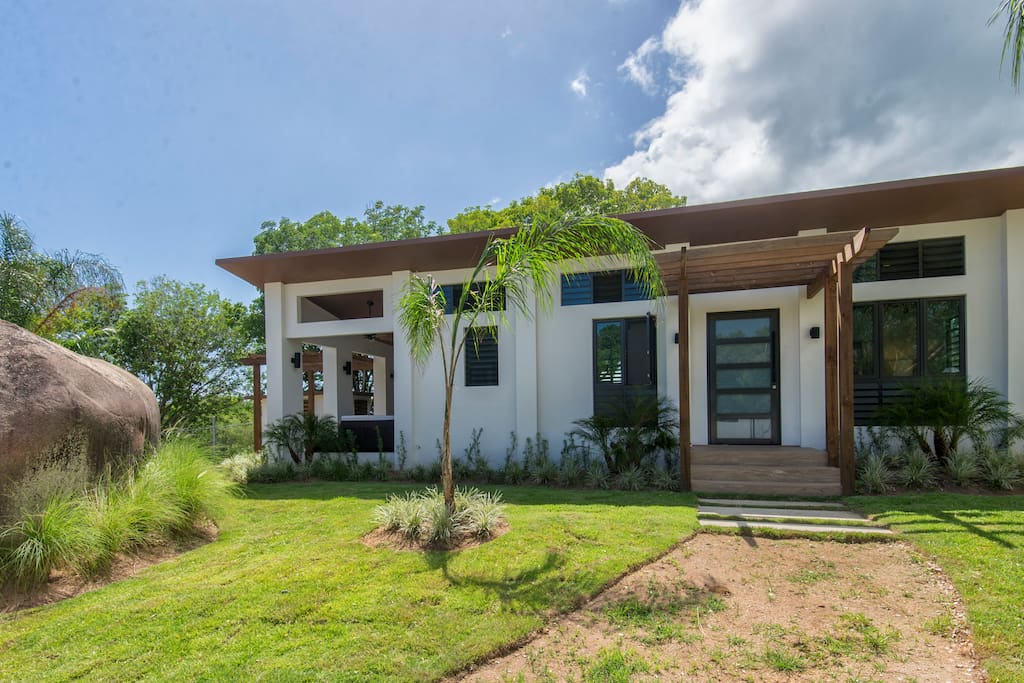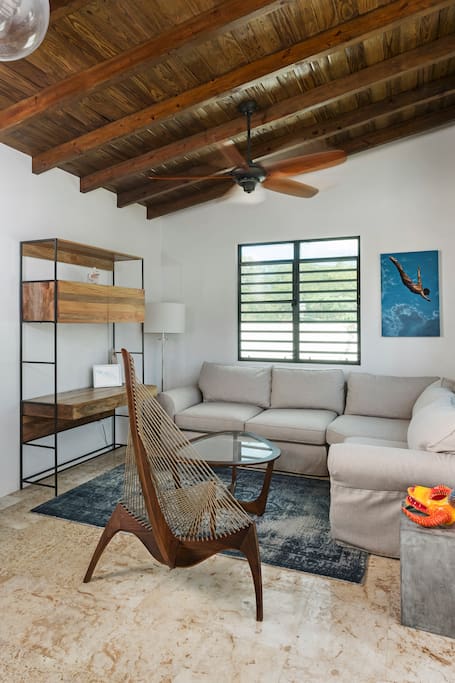 Encantada别克斯岛是一个五英亩的庄园,毗邻加勒比海,就在别墅的南边的世界语西边。这家是豪华装修的2br / 2bath casita,位于华丽的可可海滩上。该物业包括电子门访问。在这个新装修的豪华住宅,并步行到自己的海滩,这是真正的维多利亚的秘密游泳集。你从未见过更好的日落。是的,来到别克斯是的,留在这里你不会后悔的。
---
My stay in the casita at Encantada Vieques was excellent. Karen, the property manager, was waiting for me at the airport upon my arrival. She took me right the house, and showed me where everything was. There was a useful booklet at the place with great suggestions on activities, where to eat, the best beaches, and lots of helpful facts. The house was just like the pictures, if not better. The interior design and amenities were top notch. It truly felt as if I was staying at a hotel, in that I did not have to go out of my way to get anything. The house had everything I needed: AC, Wifi, bug spray, paper towels, cutlery, every kitchen tool imaginable, beach chairs, towels, soap, etc… you name it. It is clear that Daniel has anticipated everything a guest might need during their stay. There was even a white noise machine in my bedroom. I didn't end up using it, and loved sleeping to the sounds of nature but I can imagine some people might find them useful at night. The location of the property was outstanding. It is right up the road from the Malecon (a short drive, or even a walk during the daytime). You will hear the cars drive by sometimes, but it is not too loud. There is a convenience store down the road as well. Cocobeach is just a short walk down from the Casita. On days where I didn't feel like driving to other beaches, I just walked down to Coco beach through the gates of the property, and was able to relax on this secluded beach. If you walk a few minutes down the beach you'll find the best spot for swimming & snorkeling. Overall, I would highly recommend this place. You can't beat all the amenities, the great communication from Daniel and Karen, and the wonderful location. I am looking forward to coming back here again next year! And I look forward to exploring more of what Vieques has to offer.
---
Wow, where do I even begin. My time in Vieques was an absolute treat! Daniel was a fabulous host. Upon arrival at the casita, I was taken back by how stunning how the property was. The pictures DO NOT do it justice. The décor was straight out of a travel magazine. Great artwork, a cozy couch, and beautiful high ceilings. The landscaping around the casita is great. There is also a patio in the back with a couch, an outdoor table and there is an outdoor shower too (perfect for washing off sand after the beach!). They are building a beautiful house further down on the property, but the land is large and you will not be disturbed by the construction, you won't hear or see it at all. The best part about the property: the proximity to the beach!! If you walk down the lawn, you'll get to "Coco Beach". Its very quiet and beautiful - makes for great pictures (and Instagrams!). This was my first time in Vieques, and I was concerned I wouldn't know how to navigate the island. I was also worried about staying in Airbnb instead of a hotel, but Daniel made the trip extremely smooth and I felt like a "Viequense" by the end of my tip. I definitely overpacked - you don't need to bring much! They have everything you could possibly need from beach towels, soaps, basic cooking ingredients, and anything you might need to cook your own meals. We actually ended up making almost all of our lunches & dinners. They even had baking tins/measuring cups for baking! If you're going to Vieques, DEFINITELY stay at Encantada! You will be walking distance to town and the beach, you will have a fabulous host with an insider's perspective on the island (no seriously, there is a "guide" at the house with tips on what to do and eat in Vieques), and you will have the most beautiful, comfortable place to stay in too. This would be perfect for a couple, a group of friends, or even a family to stay in. Thanks for everything Daniel!!
---
This house is breathtaking! Seem's smaller in the pictures but once you arrive to this minimalist modern (with a touch of industrial) design you realize you have everything you need. The house is so well equipped you really just need to bring your clothes because this is the perfect escape for anyone who wants to get away from it all. The beach is beautiful and Karen is the best! She's very attentive and sweet. We had a wonderful experience and hope to visit again sometime.
---
Daniel created a beautiful space for our family to make memories!! I had originally begun with reservations at the W, but changed to Encantada after learning that the beaches on the Southern part of the island were better than the Northern part! That was a great decision!! We spent everyday discovering new beaches. One day, we went to 4, all within a few miles from Daniel's place!! Our breath was taken away by all!! Karen and Daniel have a great system in place making our stay enjoyable and relaxing!! We flew from Ceiba to Vieques upon Karen's suggestion, making transportation easy! We rented a golfcart while on the island!! Our stay couldn't have been more enjoyable!! We will return!
---
We only had one night in Vieques and I could not imagine of staying anywhere else but Encantada! The house was just like everything in the pictures and them some. It was very modern and comfortable for everyone. Daniel and Karen were great. Karen is wonderful and helped us beyond our expectations during our short stay. The beach is very private and secluded. The view of the ocean and all the Palm trees lining the shore line was just stunning. I am looking forward to staying at Encantada again!!!
---
I'm an entrepreneur based in Boston with a passion for health, traveling, learning and fitness. I love warm weather and being outside, which led me to create the property I host in Vieques, Puerto Rico. If you plan on traveling to the Caribbean be sure to check out Encantada Vieques! My team located in Vieques is outstanding at what they do and you will truly be in the best of hands from the moment your puddle jumper sets down in paradise until the moment you are sadly forced to leave. Let me know how I can help you have a great trip to Vieques!