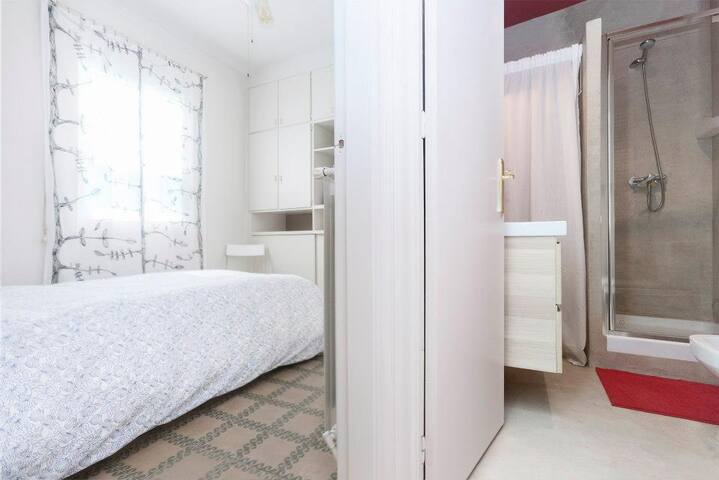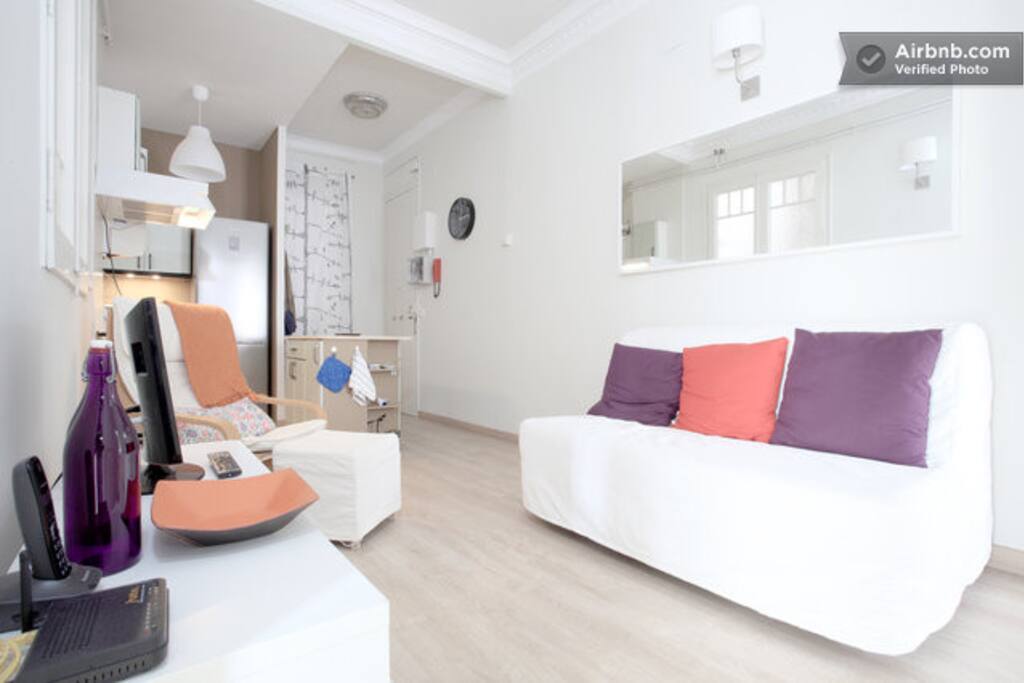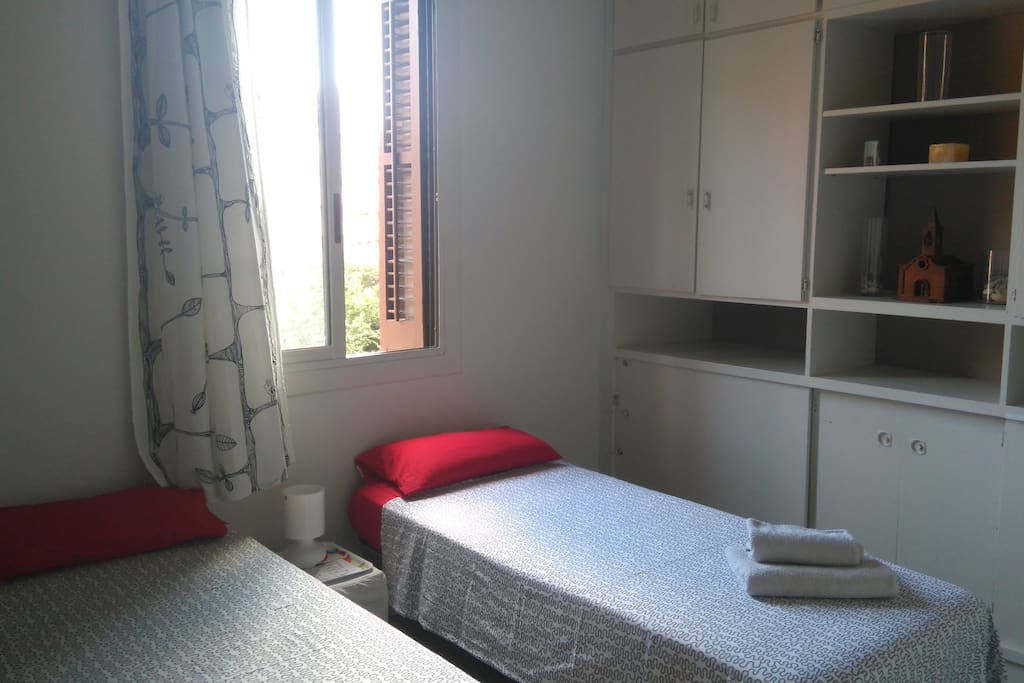 Private double room in Sagrada Flia´s chaflan
在一个美丽的加泰罗尼亚沙夫兰(典型的角落),您会发现一座经过翻新的修复建筑,拥有翻新的平房,让您住宿愉快。距离圣家堂教堂只有150米!
In a beautiful catalan chaflan (typical corners) you will find a luminous restored building with a refurbished flat to enjoy your stay. Only 150mts away from the Sagrada Familia Basilica!
---
---
---
---
Es un piso reciclado para poder compartir en las áreas comunes..
No se puede fumar dentro del piso y no se aceptan mascotas.
Las normas son las de convivencia normal. Al no haber lavavajillas, se pide que dejen las cosas como las encontraron (limpias y en su lugar) para beneficiar al que llega luego.
RULES OF THE HOUSE
We are very happy to share our apartment with you and we hope you will have an unforgettable time with us!
Please take a few minutes to read our rules and regulations that we kindly ask you to respect while you are in the apartment:
1.Arrange with us your arrival/departure time.
2.Be careful with silence. Everyone should have to respect the other guests and the neighbours.
3. There shall not be loud music or loud noise, specially after 10pm, to respect the privacy of the neighbors in the building. If you after 10pm, do it with headphones.
4.Be careful with the lights and the water. We have to respect the environment!!! Towels will be provided, but not replaced unless you leave them to be washed when you consider it´s necessary.
5.There is a fee for using the washing machine more than once in short stays. You can ask us.
6.Smoking is not permitted in the apartment.
7. Pets are not allowed.
8. Please keep our home secure and lock the door when leaving the house. You also have a key of your own room.
9. Please do not adjust the heater settings yourself, ask me and I will happily do it for you.
10. If you use the air conditioner in "cool" mode, check the bottle in the balcony and empty it every 8 hours (approximately) in the toilet.
11. Please do not invite strangers into our home; if you would like to invite a friend over, just agree it with me in advance.
12. The land line only admits free calls to all Spain but no mobile phones or paid calls to numbers starting with 90……
13. Please enjoy your stay and treat our house as you would do it with your own home!
•Remember that this is a no smoking apartment.
•Pets are not allowed.
•Always remind to take the keys of the apartment with you. If you need to ring the intercom, please make sure it is the right one, in order not to disturb the neighbors.
•Parties are strictly prohibited. The city has an incredible nightlife, so please, don´t have parties at home! If any neighbor calls us reporting noises, we will be forced to ask you to leave, without any refund. Some of the neighbors may also call the police and you can get a ticket, so pay attention on this! Noises can´t be made from 22hs onwards, including music, TV, washing machine, etc. If you after 10pm, do it with headphones.
•Please respect the other tenants of the building. Don´t make noise in the common areas of the building, when going out or coming back home at night.
•Trash must be deposited in the rubbish bins outside the building. Should never be left inside the building, or outside the door of the apartment.
•Pay attention not to throw anything but toilet paper in the WC.
•Turn off the lights and all electronic devices when leaving the apartment.
•Do not adjust the heater settings yourself, ask us and we will do it for you.
•Do not invite strangers into our home; if you would like to invite a friend over just agree it with us in advance.
•No additional guests are allowed under any circumstances without our authorization.
•Please don´t take the towels to the beach.
•The land line does not communicate with mobile phones or paid calls to numbers starting with 90…… (only admits free calls to all Spain).
•We are not responsible for any lost or stolen objects left in the apartment as you have the keys of your own room.
Please, before the check out, be sure that the apartment is in good conditions: wash your plates, throw away your garbage and leave the towels on each bed.
Respect the basic and mostly unspoken rules of living together
---
---
---
The flat is really close from sagrada familia. It s really central with the métro L5. It s ont really big but ok. Thé show er is great and everything clean. Besides Jordi is a nice guy.
---
Wir hatte ganz schöne 3 Tage bei Jordi in der Wohnung und in Barcelona generell gehabt. Jordi ist ein sehr netter, gastfreundlicher, hilfsbereiter, pünktlicher Gastgeber! Die Wohnung war ganz sauber, gemütlich, angenehm. Ich kann mir schon vorstellen, nächstes Mal auch wieder bei Jordi zu bleiben. Die Wohnung liegt 7-8 Minuten Fußweg von Sagraga Familia. Die Lage ist zentral, auch für Bushaltestelle und U-Bahn ganz günstig! Danke lieber Jordi für eure nette Gastfreundlichkeit!
---
I am a sociable guy who likes to travel, get to know new people, learn about their cultures...
I am an actor and a psychologist and I speak several languages as to communicate somehow with almost everybody looking for a meeting point by talking...
Love to go to the cinema and food from everywhere!

语言:
English、Español、Français、Italiano、Português