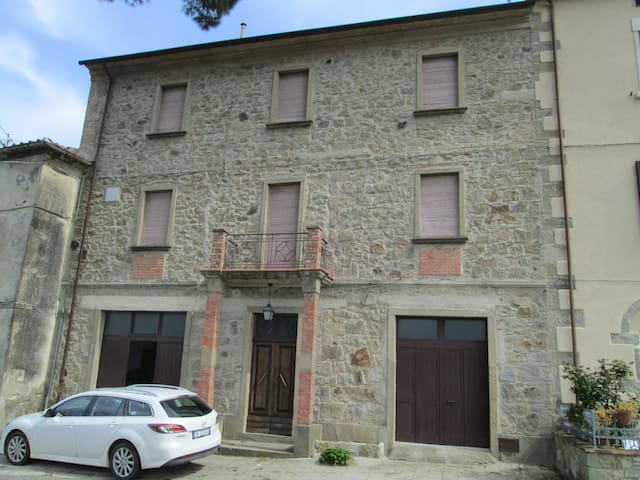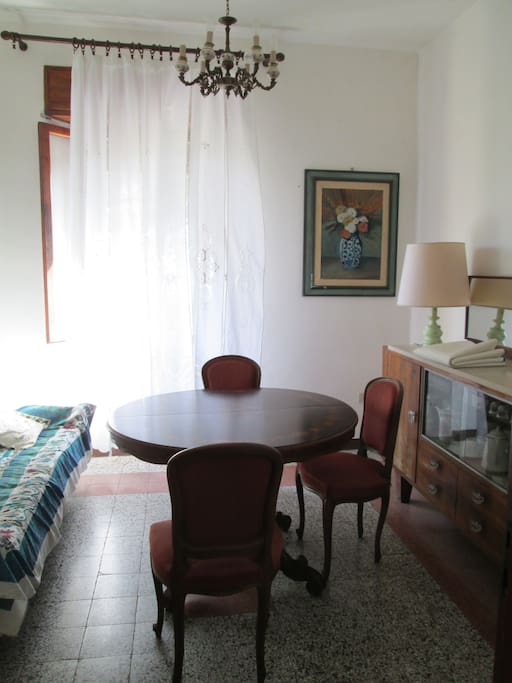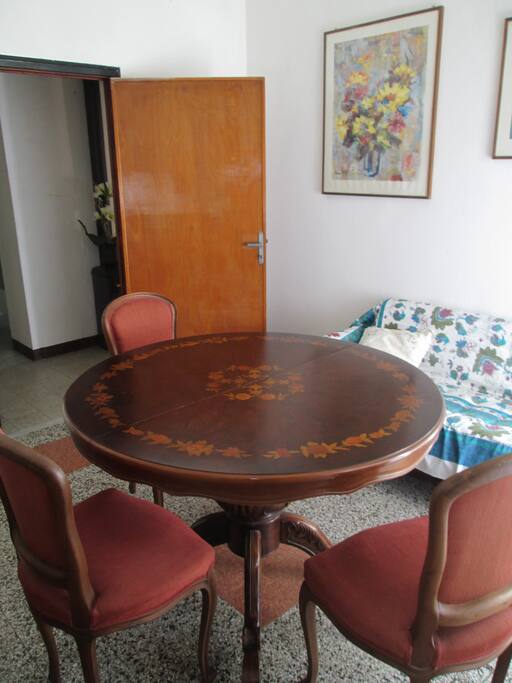 Apartment on the Old Tuscan Hill
A fresh, silent old fashion, charming, flat in a huge house full of history (the building used to be a well known hotel back in the 50s) provided with a multiple levels garden which will make you forget all the stress and the worries of your daily life.
---
This is a large, old and cool apartment, with the friendly owner Guido. During daytime it is very light and spacious, but overnight we found it a little bit creepy. This is mainly because the rest of the house is unoccupied, only the second floor is used for rental, all doors on the mainlevel and the first floor are locked. The pictures showed on the site, are beautiful and completly according to the truth, but some parts of the description do not match. (There are no 3 bedrooms, a washing machine or tv, in the kitchen you don't cook really well because there is no hot water and very little cooking/kitchen equipment.) But: the garden on the firstfloor-level is beautiful and a nice place to eat or relaxe. In addition, the apartment is located in a beautiful place, close to the medieval village of Roccatederighi. This is a very nice village, where when we were there, there was a fairytail art exhibition throughout the whole village! From this location you can easily reach the beach, but also city's like Siena or Massa Maritima, so it is a good place from which you can explore the surroundings.
I thank Janka for her review and for having underlined all the mistakes in my description which I have amended. There are no Tv and no washing-machine in the house and the boxes of these facilities were selected by accident. By contrast there are 3 bedrooms in the flat, but we decided to rent just 2 of them (we thought that 5 beds were enough) and we use the third room as a storage room which is of great help in dealing with the rentals. I amended this part as well. Following Janka's recommendation we are planning to make some work to bring hot water in the kitchen (among all our guests no one has never complained about it before and I have to admit that I barely see any connection between hot water from the sink and cooking. It is really useful to wash the dishes though and that s why we plan to make this improvement). I respect Janka's opinion, but I reckon that what was "creepy" for her is charming, relaxing and peaceful for others. The "locked doors" at the ground floor are the entrance of the garage which is full of old dusty pieces of furniture that I don' t see why should interest the guests. The first floor is not occupied since it is our private flat and I have always thought that guests prefer to have their privacy and having full access to the garden than sharing the space with us.
---
Casa immensa e tranquillità garantita. Roccatederighi è un bellissimo borgo che si trova a pochi passi dalla struttura. I genitori di Guido ci hanno accolti meravigliosamente (facendoci assaggiare peraltro il loro olio delizioso). Guido è una persona cortese e sempre disponibile. Tutto perfetto, insomma. Grazie!
---