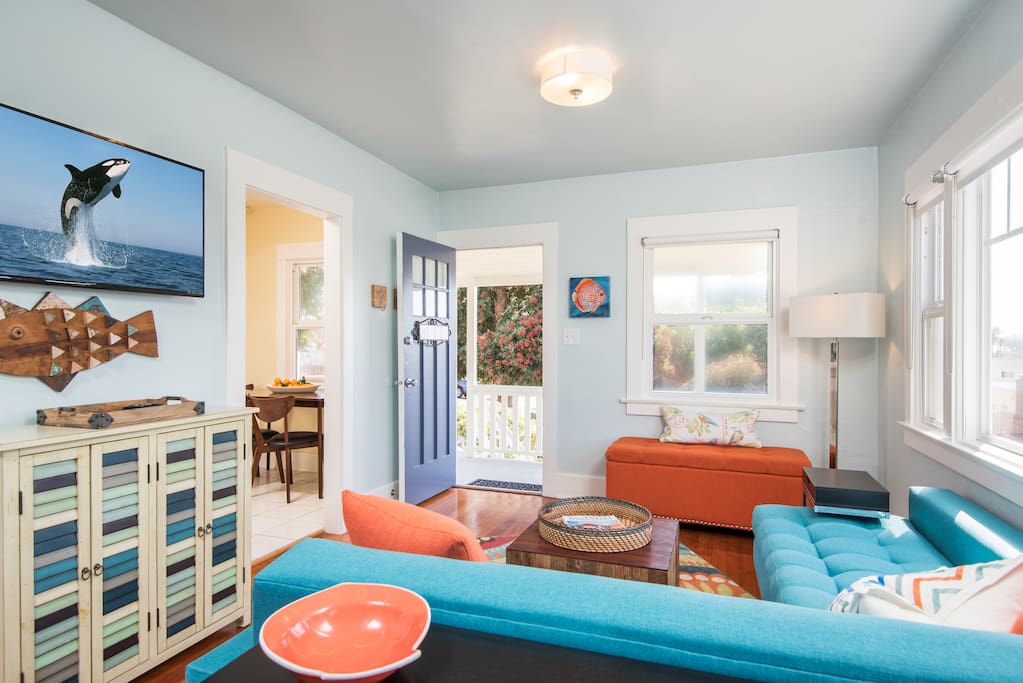 These two beautifully appointed beach cottages share the same lot in San Diego's coastal neighborhood of Ocean Beach. The cottages are business and family-friendly, centrally located, and sleep up to 8 guests (4 each cottage) for true hospitality.
房源
Welcome to Ocean Beach, where the sun sets on San Diego!
These two bright and breezy beach bungalows whisper "summer" all year round and are a short walk to beaches, shops, restaurants, and weekly farmer's market. Cottages are tastefully furnished and offer all the elements of classic coastal living, inside and out, and combined include 4 bedrooms and 2 bathrooms - and sleeps up to 9 guests for true hospitality:
- Sunset Cottage (front) offers 2 bedrooms, 1 bath, and sleeps 4 guests
- Garden Cottage (rear) offers 2 bedrooms, 1 bath, and sleeps 4+ guests
Each home features a designer's touch, smart space planning, abundant light, smart-TV's, and complimentary high-speed internet, WiFi and Netflix. The beds are super-comfy and linens are ultra-soft and cozy. The kitchens are well stocked for planning family meals. Other amenities include:
* Indoor and Outdoor Dinning and Lounging
* Barbecue Grill (2)
* Laundry Room (2) with Washer & Dryer
* Bathrooms offer combo bathtub & shower
* Complimentary beach chairs, umbrellas, sand toys, and boogie boards for guest use
* Family amenities upon request: High Chair and Pack 'n Play/Travel Crib
Cottages are non-smoking and pet-free, and available (together or separately) for nightly, weekly and monthly rental.
Come relax, work and play at the Garden and Sunset Cottages and celebrate the moments of your life!
Enjoy your visit!
Rodney
Home Owner
Member, Ocean Beach Town Council
房客使用权限
Guests have full access to property; including both homes, two front courtyards and gardens, and a rear garden patio.
与房客的互动
Whether you enjoy the ease and independence of a Vacation Rental where you simply pick your spot and push a button, or you prefer a Vacation Rental where you can interact with the owner in one-on-one discussions before booking - through post departure, you deserve the very best experience.
We appreciate and offer good, old fashioned customer service - and aim to delight our guests. Lost your way in unfamiliar surroundings? Call me. Unsure about local romantic or family-friendly restaurants? Text me. Forgot your anniversary and need something special right away? Email me, I'm here to help and available to you throughout your stay.
Enjoy your visit!
其他注意事项
Extend Your Stay (option):
An early check-in or extended check-out time can often be arranged with prior notice and coordination - and a great option for when planned arrival and departure times may not align with standard check-in (3:00 PM) and check-out (10:00 AM) times. Extend your stay options are possible by blocking the night before/after your stay and are based on availability:
~ Get a head start on your vacation and arrive as early as 8:00 AM ($129 +tax/per cottage)
~ Enjoy the sun and beach and extend your check-out till 5:00 PM ($129 +tax/per cottage)
You may also LIKE and follow the OCEAN BEACH COTTAGES on the popular social network. Get access to recent guest reviews, property photos and updates, and a guide to planning your trip to San Diego - what to do, what to see, and where to go, including 50 things that are absolutely FREE.
San Diego City Permit #610541
---
---
---
---
Welcome!
We are pleased you have chosen to spend time in our home for your visit to San Diego.
Perhaps the greatest benefit is the pleasure of residing - even for a short stay - in the seaside neighborhood of Ocean Beach. You will be among many permanent residents who value the look and feel of a quiet and safe place to live. They, and I, will look to you for your help in preserving that special sense of peace and quiet.
Please note: this home is not suitable for parties, events or gatherings greater than occupancy limit.
It is important to be a good neighbor - whether you are at home or in a vacation rental. Our House Rules include provisions of the City's Vacation Rental Ordinance. A call from a neighbor to the City will bring an Officer to the home. Two of the most common complaint calls made to the City are practical ones that respect local sensitivities, Quiet Hours and Outdoor Music:
1. Quiet Hours are 10:00 PM - 10:00 AM. Please consider moving indoors after 10:00 PM.
OUTDOOR PLAY is one of the most popular activities to enjoy in San Diego. Please be thoughtful and keep voices and activities to a reasonable level. Continued and ongoing screaming for an extended period of time can disturb the neighbors. Please be thoughtful.
2. Outdoor Music of any kind - and at any time - is forbidden.
Please note, a call to the City, Police or Home owner, or any violation of House Rules, can result in immediate disengagement of reservation, and cleaning fee and nights not spent are not refunded.
House Rules, continued:
3. Please abide by Occupancy Limits
~ total overnight occupants = 8 (4 occupants per cottage)
~ total daytime occupancy = 8
4. PUPPY LOVE! Sorry, NO Pets permitted in home or on property.
5. Indoor music may not be audible from the curb of the property.
6. Home is not suitable for parties, events or gatherings.
7. Home and property is designated NON-SMOKING.
8. All guests must be 25 years of age or older or accompanied by their parent or legal guardian.
Check-In: Have your identification at hand. This can include your Driver License or Passport. Make sure the name on your identification and passport match the name on the reservation. Mismatching names can make it difficult or impossible to check in. Note, a copy of your ID is required prior to check-in and is kept on file for the length of your stay.
Home Security: Security on this vacation rental includes a home alarm system and outside video cameras. The home alarm is armed upon arrival and guest access code is provided at or prior to check-in.
Departure: A departure checklist will be provided prior to check-out; additional charges may apply for stains on carpet, furnishings, bedding, and excessively dirty ovens, stove-tops, BBQ grills, dirty dishes, and excess trash in the home. Items needing extra cleaning at departure may be charged to guest and deducted from guest deposit.
Thank you for entrusting us with your vacation rental accommodations.
Enjoy your stay!

San Diego City Permit #610541
---
---
---
---
I would highly suggest another property if you plan to have more than 8 people at the home at any given time-- that means no delivery people, friends swinging by to say"hi," children or babies. A group of my friends and I ( there were 8 of us) were kicked out at 9pm at night for having an 8 week year old and a 3 year old with us that exceeded the max limit of 8 guest. He claimed there were 14 people on the property --my friend's husband dropped her off and had their 1 year old son, neither were staying. I also had a postmate drop off groceries, they were not staying either. I am almost positive this host will write a review back stating there were more people than 8 staying on premise and he will most likely say we disobeyed other house rules -- both are untrue. Furthermore, he will watch you through his video cameras throughout the house ( beyond creepy.) I am extremely disappointed in the way Airbnb and the host acted in this situation, both were extremely unhelpful in getting reimbursed and finding additional lodging. Honestly not worth the hassel-- save your sanity and book a hotel or through (SENSITIVE CONTENTS HIDDEN).
I'm sorry you were not able to complete your stay in our cottages as planned, for we had hoped it would be a delightful experience for all. | Regretfully, there were a series of events that took place leading up to your stay and on the day of check-in that had us increasingly uncomfortable with the reservation - leaving us anxious for the safety and security of all guests, adherence to local vacation rental laws, and concerned about the care of my neighbors and the preservation of property alike; thus, our subsequent and somewhat immediate request for disengagement. | I'm happy we were able to quickly find you more suitable lodging for your expanded group.
---
This "host" is exactly what you do not want from an Airbnb. My partner invited a couple of my friends, my parents and my grandparents out from Chicago to surprise me recently. He rented these beach cottages, paying over $2000 for 2 nights. Everything seemed nice the first day; the property is beautiful and the location is sweet. This facade shattered when we were awoken the next morning at 7am with calls and text messages from the host saying he was cancelling our reservation. The host openly referred to having video taped our group coming back at 10:30pm, apparently breaking a strict 10pm curfew, for which he was displacing us. (We later confirmed with an Airbnb Team Member that no noise complaints were made.) I am still blown away by the fact that my family, including my Grandma who is in a wheelchair, were displaced mid-vacation. If you are into the whole Authoritarian thing, this place is perfect... But if you're looking for a welcoming, family friendly beach vacation, look elsewhere. This rental is the antithesis of the OB vibe and culture. Also, remember how I said we were filmed? How creepy is that.
Guests Violated Multiple House Rules | We LOVE to have a good time. And, most importantly, we love our guests to have a good time. However, after years of successfully hosting wonderful, kind and thoughtful guests, these particular renters blatantly violated one contractual rule after another - and the next day we had no choice but to request that this particular guest—along with their dozen of party-goers—leave the premises. Action had to be taken to protect the property and permanent residents of the neighborhood - and preserve the vacation experience for future guests. Sadly, not only were we wronged—as multiple videos demonstrate (please contact me directly if you would like to view these images, which include a dozen of thirty- something women and men enjoying some late-night revelry.) —but this particular renter is now falsely claiming our property is handicap accessible. | Our house rules, which are reasonably designed to protect our guests, neighbors and property alike, are clearly stated via Airbnb—and guests agreed to these rules in advance. We regret that they chose to violate the terms of their agreement, but we wish them well in their future endeavors. | Observance of House Rules ★ / one star Communication ★ ★ / two stars
---
If you're looking for local Ocean Beach charm look no further. Two well very maintained and comfortable small cottages that give a great feel for true local Ocean Beach living. The landscaping of the small yard it truly noteworthy. Rodney was an excellent host every step of the way. Great communicator and always checking in to make sure we were comfortable and happy and many wonderful local tips. If you are not familiar with San Diego and Ocean Beach / Pt. Loma it's a great location but there are potential drawbacks depending on your tastes. The neighborhood is charming and a bit eclectic - much like ocean Beach itself. This is not "resort" San Diego but is authentic "beach town" San Diego. Another item that "might" be a concern for some is the proximity of San Diego International airport as you will notice planes taking off starting at 6:30 am - 10pm. The noise is not too significant, however, it may be bothersome for some. We know San Diego well and this is definitely on our list to return to in the future.
---
Our stay at Rodney's place was wonderful! A group of us was staying in San Diego for a conference and found it challenging to find a place that could accommodate all of us. Staying at Rodney's place was not only cheaper than the conference hotel, but much nicer! Each bungalow can sleep 3-4 people comfortably, and they both have full kitchens with plates, pans, even a dishwasher in one of the bungalows. Every room is tastefully decorated, and the beds are super comfortable. Check-in was easy and quick through a lockbox, and Rodney kindly texted me every now and then to give recommendations and ask if we needed anything. This is definitely one of the easiest and most comfortable Airbnb stays I've had. Extremely highly recommend!!
---
The pictures of this property don't do it justice! These two cottages are so beautifully decorated with stunning views of the ocean. They had every amenity we needed, and were so perfect for our group of friends celebrating a birthday. There was plenty of space, but our favorite part was hanging out in the backyard. Host was very communicative and the check in process was extremely easy and well organized. Rodney even left some sweet treats for us upon arrival - very thoughtful! I would stay in this house anytime. Thanks Rodney!
---
Welcome!

My family and I have lived in San Diego for over eighteen years and we are grateful for the opportunity to share our beautiful coastal desert city with family, friends and guests who travel from near and far.

Happiness is calling, so come relax, work or play, and enjoy the moments of your life.

My favorite quotation:
WE TRAVEL not to escape life, but FOR LIFE NOT TO ESCAPE US.
语言:
English