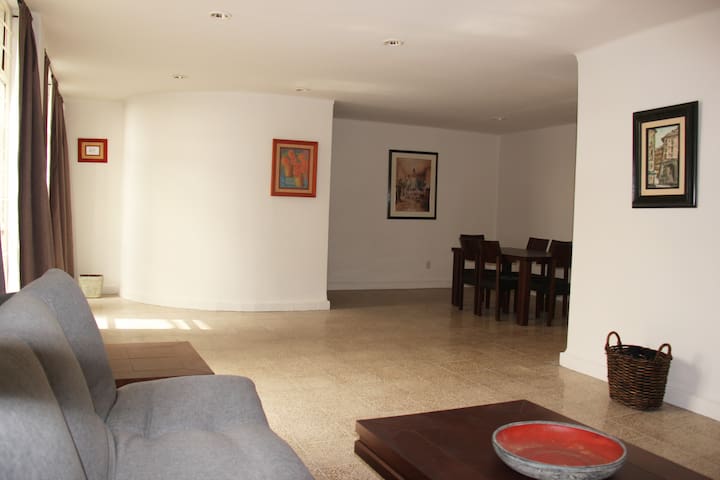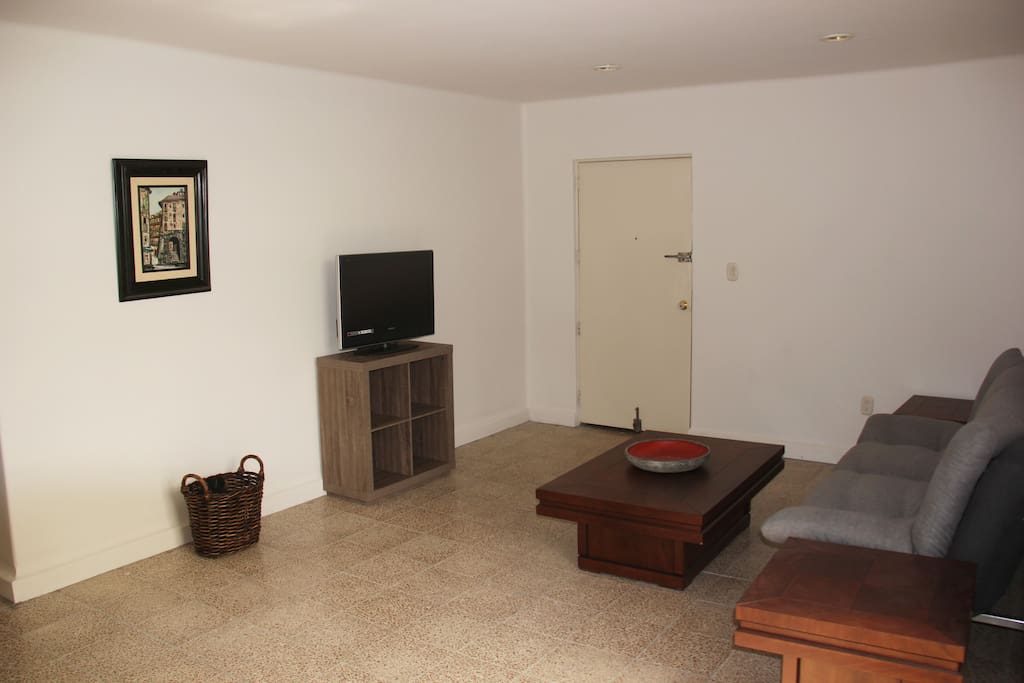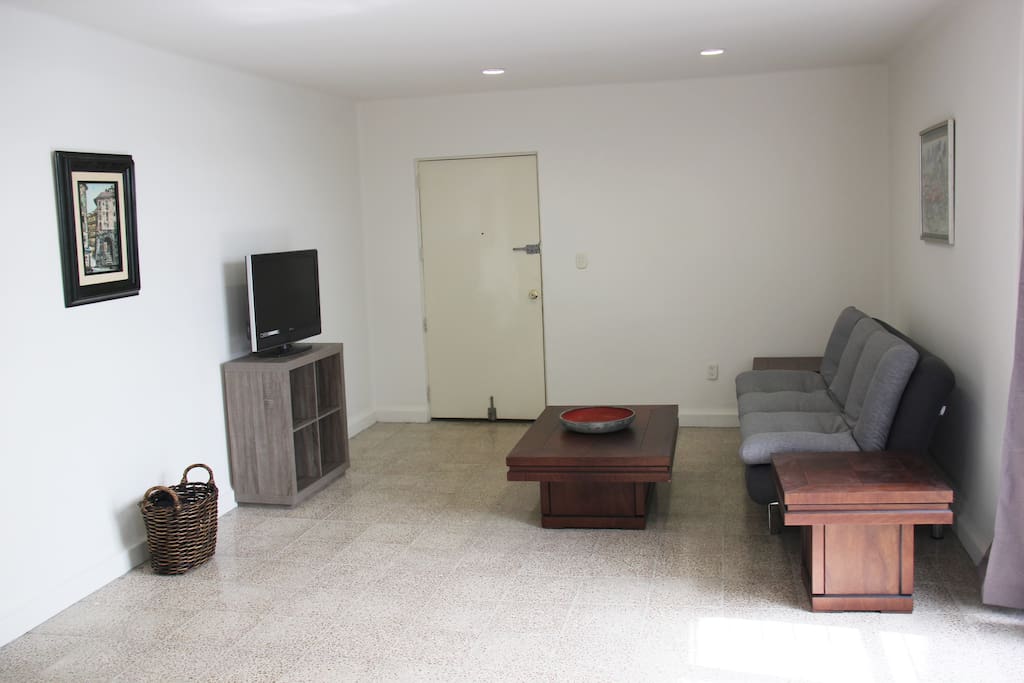 Newly renovated and refurnished 2 bedroom apartment. Extremely comfortable and well located in the heart of trendy Condesa, one of Mexico City's best neighborhoods. You can walk to numerous restaurants, bars, and parks.
房源
The apartment is extremely spacious. One can say that it is too big for a 2-bedroom apartment. A lot of natural light during the day and blackout blinds to use at nights. You can count on having up to 8 people sleeping in comfortable beds. (2 individual air mattresses can be placed in the spacious living room, just mention that you will have more guests in your booking).
The queen bedroom has a private bathroom, while the twin bedroom has direct access to a bathroom that can also be accessed from the common areas. Extremely comfortable and well designed.
Everything from kitchen appliances to the beds is brand new!
与房客的互动
I can get involved as much as you'd like. I'm always available in case you need anything. A few family members also live in the building in case you need any assistance.
其他注意事项
I'm a frequent Airbnb user and was just able to set this place in order to be a host. I understand the needs of travelers so everything is set up for you to have the best possible experience.
---
---
Behave as if this was your own place.
---
The location is great! You have access to lots of places to eat within walking distance!! The building is old, as most in the area, but the apartment is clean and well equipped. Everything was ready upon our arrival and the instructions on how to access the apartment were very clear. The communication was basic and limited to the necessary, but that was enough for us. Since it is an old building in a busy area you can expect a lot of noise. I´m a deep sleeper and I could still hear a lot of the noises coming from the building. If a neighbor come and goes you will know. We did feel observed by the neighbors all the time. The structure of the building is such that you end uf facing other apartments all the time and we were not able to close the curtains all the way, specially in the living room. Take into consideration that it is a 3rd floor and the elevator may not work, it didn't half the time we were there. Not a big deal until you have to carry luggage up or down. We were a little disappointed with some some of the amenities, toilet paper in particular. We stayed 3 days and definitely didn't have enough for the time and the group size, specially since we were charged extra for an additional person. It didn't take much to go buy some extra but it is something you expect not to have to worry about. In general it´s a good place. Well located, safe, clean and spacious. I´m sure Michel will take into consideration any feedback and you´ll be more than comfortable there.
---
Michel was great and pretty easy to get a hold of. The apartment is very large and minimally furnished; for a group that needed a cheap place with no frills, this was perfect. It is in a great neighborhood: close to restaurants, bars, and the supermarket (all within maybe 10-15 min walk). The place is a bit awkward to get to (can't turn onto it so all of our Ubers had to take a U-turn); however, almost every time, that was not a problem for Ubers. Just set your location as the yoga studio next door and you won't have a problem (Michel mentions this in this instructions as well)! Check-in was super easy; you don't have to wait around for the host to give you keys. When you go into the garage, go past the open area on the right (don't accidentally go into the probably open door, it's someone's apartment lol) and the building door is near the wall behind the parked cars. As a warning, the elevator is small and really quiet until it reaches a floor and it jerks. Scared me half to death the first time but you get used to it. I can only speak about the apartment and location itself, we didn't use the parking and didn't have pets. We also didn't use the kitchen so we also can't speak to that but honestly, you're in Mexico, go out and eat the local cuisine! As mentioned in someone else's review, the shower took a moment to figure out since it starts off cold either way. Just point it at 7/8 o'clock and you'll have nice, hot water. There was drinking water in the kitchen; I liked seeing that because I know another review said there wasn't any, which means Michel does take criticisms and tries to fix them. There were some things I let Michel know about (shower head fell off and there was a strange odor in the kitchen) but I have no doubt that Michel will look into these. Again, the apartment was perfect for a group of young adults who wanted a place to sleep that was close to a lot of stuff. If that's what you're looking for, this place is great!
---
Great place to stay. I really enjoyed how close coffee shop and restaurants. Uber picks up fast but I mean fast tops 3minutes. Clean and big apartment. Security was great. I loved the kitcken. I am recommending this place to my friends.
---
We were looking for a unit for our visit to Mexico City with my parents. We found this unit and it looked perfect. In a safe part of town, allows pets, parking on site, good reviews. We booked the unit early and the host contacted us the next day to confirm our dates and welcome our stay. In this review I will explain the good and the not so good. The unit is in a nice part of town, so we felt safe during our stay. Unit is large and easily fits 4 people and pets. The living room has a futon and if you use air mattresses you can fit more. There was a large table in the living room that wasn't in the pictures. One of the wall pictures was sitting on the floor, it looked like it fell off the wall. The beds and toilets were clean, however the floors were dirty with dust and hair. We found a couple of long black hairs under the bed sheets in the queen bed and in the shower and bathroom floor. The kitchen was mostly clean, but there was something all over the windows, as if a gallon of milk exploded and no one cleaned it. There were old buckets and mops in the corner which may make the kitchen look dirtier than it was. There was no drinking water in the unit, but there is a 24/7 Soriana market within a 5 min walk. The listing stated all new kitchen appliances but the coffee maker does not work and the toaster oven didn't have a tray so we couldn't use it unless we put the food straight on the heating cylinders. It was noisier than what we expected, based on reviews and description, but it's not the host's fault for the parties next door. We were never greeted by anyone when we arrived to be given a run down on how things work. We saw the hot water was pointed at "caliente" so we assumed it was on. A freezing shower later we realized it's not on, and eventually figured out how it works, but a heads up or an explanation on things would have been nice. The doorman didn't know we were coming. Parking stated "on premises" which it was downstairs under the building but we didn't know that we had to leave the keys with the doorman. There were 3 different doormen on different shifts, none of which knew which house we would be staying in. we left our keys with the first doorman but when we came to get them to leave a few days later, it was someone new and we just said it was a Toyota key and he got them. Anyone can come and take a car from this lot, especially when we would come back in the middle of the night and no one would ask who we were or where we were going. Not to mention someone wrote on our...
As Saman described, this is a large apartment with the best location in town. I'm experienced Aribnb host and traveler and I love when the keys are ready to go and I don't have to bother nor depend on anyone to access my AirBnb. With that said, I am always available to solve any questions you may have, as it was the case with Saman, who had trouble understanding the building's rules for the garage which is completely safe.
---
I am almost 30 and recently married! Wulp! I have some businesses in Mexico City. I really enjoy travelling. I have lived in the US, Canada, Australia and of course Mexico.

My family owns a perfectly well located building in Condesa, the heart of Mexico City's. After travelling all over the world and staying in many AirBnb locations I convinced my family to try AirBnb with a few apartments in the building.
语言:
English、Español、Français