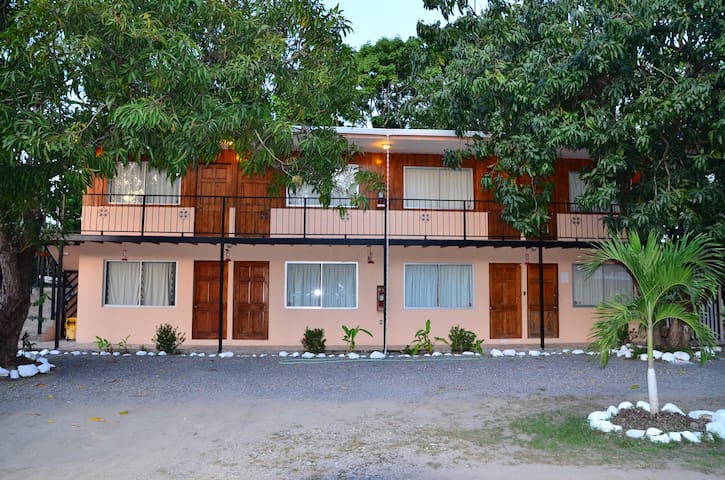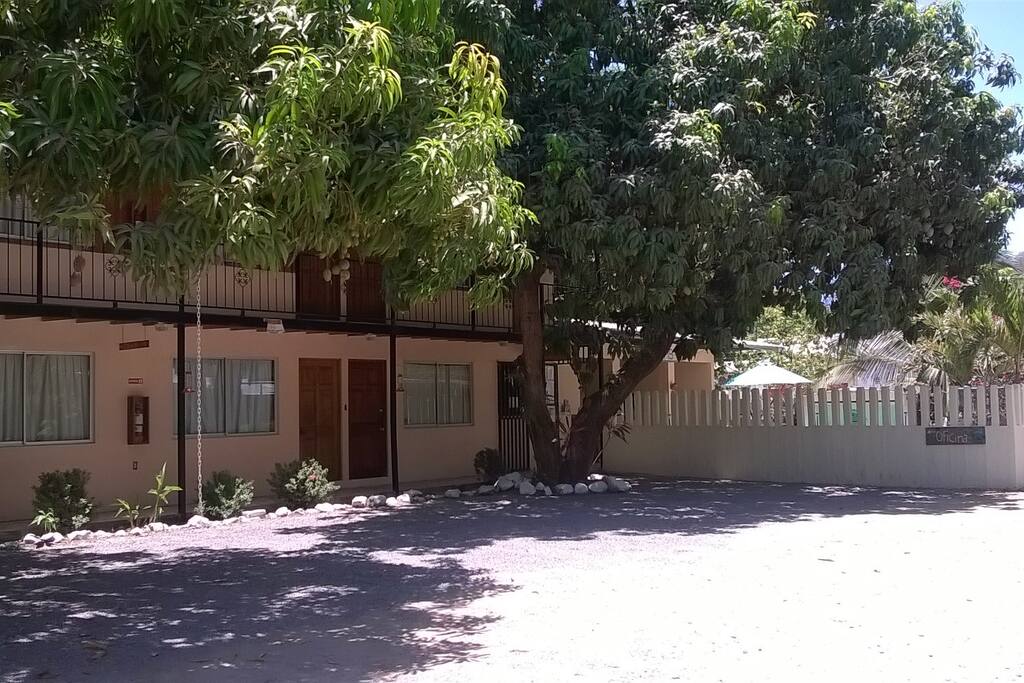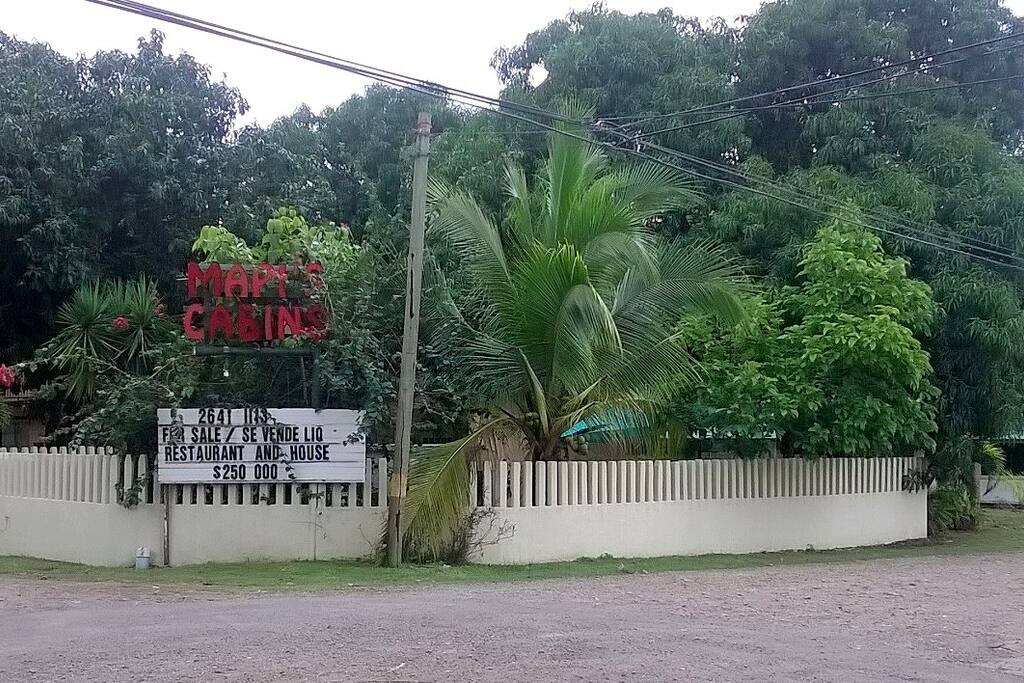 #5 of 16 NON SMOKING BASIC CABINS: Has AC, Hot Water, Mini Fridge (NO Kitchenette), Cable TV, WiFi, Daily Housekeeping, Body Soap & Shampoo, Clean Linen & Towels. SMALL Jetted Pool with Waterfall, OUTSIDE/Public SEMI Kitchen BBQ Area with Picnic Tables and Hummingbird Feeders. In this remote area, that's a lot to offer at a "budget" accommodation & still having an authentic experience in Paquera. Also because of your ratings "averaging over 4 stars" is why we're still here, we THANK YOU!
房源细节
CABIN #5 is end cabin on 2nd floor next to stairs. It has a big closet and office desk drawer comfortable for business trips or longer stays offering Hot water with Full Size bed (NO Kitchenette). What makes our place unique is the peaceful atmosphere, unless we have the fiestas held just across the street, which most look forward to anyways... The main attraction on our property is the beautiful hummingbirds visiting our feeders located on the bottom floor which you still can see them from above and in reach of mango tree!
房客使用权限
Everything... you're welcome to stroll around the entire property and help yourself to any of the organic seasonal fruits we may have growing (mangoes, guava, bananas, noni, papayas, sugar cane, coconuts, soursop/guanavana and hopefully avocados one day)!
COMPLEMENTARY microwave use at the office and coffee is served in the morning or made upon request.
与房客的互动
Our main residence is in the USA, we randomly travel back and forth to oversee the business and may by chance meet. But we have FREE Magic Jack available in the office to reach us or make any other FREE USA calls... Feel free to approach any of our staff, for maintenance or housekeeping issues.
SPANISH is the country's main language, so our staff is limited in speaking English, it's also difficult to find bilingual workers in this remote area. But rest assured, I'm only just a phone call away and my friendly staff won't let the language barrier, stop them from making you feel at home. So please feel free to have them call us, if you feel lost in translation, otherwise my staff would want to respect your privacy.
其他注意事项
WHEN CHOOSING YOUR CABIN:
Please be advised, to pick a cabin according to number of people to number of (size)beds. For example Cabin #1 has 3 twin beds for 3 single people or Cabin #3 is a Full Size Bed for a couple (2 People sharing the bed). If you don't choose your cabin accordingly, we'll have to change your choice of cabin, to match the number of your party with exceptions: if there's not an available cabin to the number of your party or if the same gender and prefer separate beds or unless you agree to pay an up-charge of $10pp/pn for the unused beds. Also the calendar, only shows availability for THIS cabin, we have other cabins available, on same date. So if THIS cabin is not available for you, please check the availability of my other 14 cabins.
RATES:
AGES 0-3 YEARS OLD ARE FREE.
Please add $10 for each additional guest, after 1 person. If particular rooms reach capacity according to beds, we also have available sponge foams, to sleep on the floor (at same additional guest price) but when booking, you'll see a pop-up, stating room exceeds number of guests. So you would need to pay us when arriving for the additional guests on foams. We also have special rates for GROUPS (6 people and up) or if you want to rent all 16 cabins, you would have to contact us direct for special booking group rate prices. Airbnb is not set up to do this unless you want to book them all from Airbnb at "as is" rates.
LOCATION
~ Downtown- Aprox 5-10 min walk
~ Paquera Ferry- Aprox 10 min self drive
~ Beaches range from 20 to 40 min self drive
To Playa Organos, Playa Pochote, Playa Pajaros, Tambor
~ GOLF Los Delfines Golf & Country Club in Playa Tambor 35 min
~ Bahia Rica Tours- prox 10 min self drive
Offering a variety of excursions: Sport fishing, Sea kayaking, Boat
Tours to Isla Tortuga and Isla San Lucas, Bioluminescent night tour
Kayaking, Snorkeling and monkey boat tours, to seasonal whale and
dolphin watching tours!
~ Bus Stop across the street, takes you to and from Ferry or other *cities:
*Tambor- 40 min self drive(URL HIDDEN)Beach Front Resort offers All Inclusive Day Passes
*Cobano- 45 min self drive
*Mal Pais- 1Hr- 1½ Hr self drive
*Santa Teresa- 1½ Hr self ldrive
*Montezuma- 1½ Hr self drive(URL HIDDEN)Offers Butterfly Farms, Zip lining and IslandTours(URL HIDDEN)fees, you can check them out on their websites.
~ Curu Reserve- Aprox 30 min drive (MAIN ATTRACTION/75 ACRES)
Adult Entry Fees $12pp subject to change please call Reserve for Info(URL HIDDEN)At front entry gate of Curu Reserve, you pay guard CASH (colones or
dollars) because of unstable electricity, he doesn't have a credit card
machine, this also makes technology and the credit card machines
spotty or unreliable. Welcome to 3rd world issues! You don't pay the
guard for ANY tours. You'll be requested to write your names and
where your from in a Guest Book which is mandated by and sent to
SINAC (National System of Conservation Areas) which is part of the
Ministry of Environment and Energy or MINAE of Costa Rica who is the
administrator of the nation's national parks, conservation areas, and
other protected natural areas. You'll see monkeys, other native wildlife
and or random exceptional animals that need rehab... Tours offered by
Turismo Curu could include Daily Tours to Isla Tortuga, snorkeling or
diving on the way there and the Bio-luminescent are just SOME of
the things offered, see what's more on Turismo Curu website.
The park has about 9 nature trail/hikes, a few ending at beaches.
PLEASE NOTE: Turismo Curu Tours are independent from Curu Reserve, though operating out of Curu Reserve. Their office is in Paquera which take credit cards and may add Curu's Reserve Entry Fee, to their Tour packages but it's your choice, to pay the TOURS at the Reserve or at Paquera. But if looking for most convenient reliable credit card transaction would be paying at Paquera. I mention this, in case credit card machines are not working at the Reserve, you have enough cash on hand, as to not waste your time, to go back into town for it... They also offer Mapi's guests, round trip transport, ONLY available at 7AM, for 1000 colones/$2 pp each way, reservations required. Once entering the Reserve, you drive aprox 2KM, to reach Reception Center or Turismo Curu. If you don't have time to see the Reserve, the entry fee is non negotiable. It's up to you to decide, what's most time/cost effective to your circumstance. These are our *suggestions as to get the best out of your time at Curu:
* Spend ALL DAY, to see the Reserve(URL HIDDEN)Take tours another day with another Tour Company, like Bahia Rica and
pay entry fee to Curu to spend your DAY there...
* See only PART of the Reserve in the MORNING.
Early morning when most animals are active and coolest to hike. It
took me 3 hours, taking my time and did the Toledo, Finca de Monos,
Cangrejal and Mirador trails (brought ONE bottle of water and
finishing Cangrejal, I got another bottle of water to continue Mirador
Trail). Then I did an afternoon tour to Isla Tortuga $30pp, leaving
12:30PM returning to Reserve when it closed. The price included
snorkeling on the way, plus fruits and refreshments at the Island.
* See only PART of Reserve in the AFTERNOON.
By choosing a morning tour but most people enjoy their time at tour
and refuse to return to Reserve mid day, which means they come back
at the end of the day when Reserve closes then not have time to see
it. Regardless, Curu Entry Fee won't be reimbursed or negotiated
because it's payment to ENTER the Reserve, it's your choice of how
much time, you want to spend there...
STAR RATINGS & REVIEWS:
We're only a 2/3 star "category" Budget Hotel and Casita, we appreciate that in your reviews reflect this and not on improvements, to be a 5 star "category" that we're not... There are some things we cannot change or not within our budget, as to meet High End attention to detail accommodations, nor we have control over 3rd world issues etc... It doesn't mean you can't still give us a 5 star review, if you focus on cleanliness, service and if listing is "as described" etc. We depend on your 5 star ratings/reviews to succeed but understand, we need to EARN it, please give us that opportunity, to make that happen while you're THERE. Thank you for understanding.
VALUE:
We supply you with the ESSENTIALS you need for your comfort, passing on the savings to you:
~ Clean towels & Linens, Toilet Tissue
~ Daily Maid Service (except for Sundays)
~ Mini Fridge
~ AC
~ Body Soap and Shampoo
~ Hot Water
~ Cable TV
~ All Rooms have private entries and bathrooms
~ Onsite Hummingbird Sanctuary and Chicken Coop
~ Open Semi Kitchen BBQ Area (Basic pots, pans, utensils upon request)
~ Jetted Pool with Waterfall (See Pics, this is NOT a large Pool)
~ One public bathroom with outside shower by pool & office
~ Complimentary Seasonal Fruits growing on property
~ Local Menus offering Express/Room Delivery are placed in cabins
~ Security Cameras
~ FREE Parking
~ Complimentary Coffee and Use of Microwave at Office (by request)
~ Laundry (may be available for additional charge ask front desk)
~ Nearby Beaches
~ WALKING distance to Downtown and Bus Stop across the street
~ Refundable Deposits on Beach Chairs, Coolers, Fishing Gear, Etc...
CAMPING:
Bring your own tents, toiletries and gear!
$5 pp/pn plus Additional Cleaning Deposit Fees start at $25-$175 depending how many are in the party. Upon evaluation, deposits will be returned. Airbnb is not set up for this, please contact us, to make arrangements.
OPEN SEMI KITCHEN BBQ AREA:
Is available to all our guests at "first come, first serve" basis. Please be advised to not leave any personal cooking items behind, we or other guests, will not be held responsible for it. Please show consideration for the next guest by cleaning up your area... KITCHEN WARE BOX is available "first come first serve" basis with a refundable $30 deposit. Included in the box is BASIC pots, pans, with other cooking utensils, gadgets like can opener and even sponge and dish-washing soap. Please return when finished, so as to give the opportunity for others to use or avoiding it to fall into the wrong hands, if left behind, resulting in loss of your deposit...
MAPI'S RESTAURANT:
It's with great sorrow, the Chinese Restaurant that was at Mapi's has closed and relocated to center of town! But if you've been dreaming about a Restaurant business in this country or ANY other business of your choice, you can easily transform this building! Check this out while you're here and make it your reality! We have it up for Rent or Sale, the Sale price includes Liquor License and The Cozy Casita 3B/1B House on the back for only $250,000! =)
HUMMING BIRDS:
You're welcomed to participate in the unique experience of hand feeding these beautiful mesmerizing tiny birds! Ask the girls to give you a small hand feeder... Best time to try this, is asking when they bring down the feeders to clean them because that's when they're swarming looking for a feeder and may be enticed to feed from your hands!
TIP: Stand still and as quiet as you can
ACTIVITIES & TOURS:
We will try our best, recommending and/or calling to reserve for you, popular local tours & activities, according to your interests. There is a book at the office which is filled with different places to see and do in the area...
MASSAGES:
We also offer in-room massages (subject to if therapist is in town and her schedule). She's not just a certified massager but a Physical Therapist, she's the BEST I ever had (dealing with lymph issues, not many therapists are familiar with lymph massages, she's not only familiar with this but executes it very well) . When I thought maybe it was my personal viewpoint, I had another guest who is an avid travel cycler and seen also many massage therapists, being his legs get tight and cramped, also claimed she is the very best he had too! The reason, she's out of town is because she also teaches her techniques outside the area... It will be a special treat, if we're able to make an appointment for you! And I find her prices to be reasonable, for in room service. =)
BEST SEAFOOD:
Highly recommend "Las Vegas" also known as "La Puruja" (about 2 minutes down the gravel road from us). Don't under estimate its unique atmosphere, it's the best fresh fish, I ever had with very large portions, that you can share or ask for the smaller portion.
STANDARDS OF COSTA RICA:
~ Cold Water is the standard and so most prefer it that way (we have 10 units with Hot water and 6 that have cold water).
~ AC, is not the standard because many parts of Costa Rica are quite cool but our area is quite HOT, don't be fooled and make sure when offered AC, they're not offering just floor fans or ceiling fans which will just circulate hot air, we offer true AC.
~ Gratuities or Tips are not standard in Costa Rica, therefore you're not under any obligation but if you feel you have been given exceptional service, it will not jeopardize our employees to accept it, on the contrary, it will be appreciated being standard wages are low... We do suggest to check your meal tickets when dining out, to avoid double tipping being some establishments will already add it in, in form of a % service fee.
~ Septic Tanks are standard so most places have garbage next to toilets, not just for diapers or sanitary pads but to actually throw ALL used toilet paper. We have septic tanks and this is the custom, it does help but we understand not all our guests will be doing this, regardless, we still have our septic tanks cleaned year round...
DISCLOSURE:
We can only suggest and recommend other businesses we feel are doing well. That doesn't mean we are affiliated, taking commissions or discounts from them, we work independently from them. We feel we're doing our part with word of mouth, to support this little community and as a good Host, I believe in sharing, the high lights of what I know of the area with you. We are also aware of how hard it is here for many businesses and they may begin to totter, being we're so busy running our own business, we may fall short to those expectations being we have little time to continue visiting these places. That said, WE can't take responsibility of how they run their businesses, how they treated you or liable for what happens to you, if you decide go there. We do WELCOME to listen to your experiences bad or good, as to update our listings, as to still mention them or not, to our future guests would be all we could do...
不适合儿童(0-12岁)入住,或不能为儿童提供安全的住宿环境
Not many... don't worry, be happy, enjoy and relax take in the Peace.
This is a family run business, we respect our guests privacy and value their comfort of REST, therefore please restrict parties, music or noises to 11PM max. All rooms are Non Smoking but permitted outside, please place cigarette butts or any other trash in their designated receptacles, which will contribute not only to keeping areas clean but benefits everybody's well being. Thank you!
Overall our experience at Mapi's did not meet our expectations. While the staff was helpful, the rooms had A/C and the showers had hot water, we found the description of amenities inaccurate. When reviewing a location, Airbnb prompts us to assess the accuracy of a listing's description and the photos taken. We found the post very misleading and sometimes false. There is not a kitchen; there is a camping stove on a counter with no cooking utensils, cleaning supplies or food storage space. You really need a car to stay here; it is a drive to the beach and the ferry. A pool with a waterfall is advertised, yet it is as long as I am tall and very shallow. Mapi's is useful for a very brief stay passing through the area. I would not recommend it for more. We asked for a refund for our last night as we did not wish to stay and Frank followed through on the refund, which we appreciated. He also stated he would update his listing. We are hopeful he will.
We're sorry it did not meet your expectations. You could clearly see in pictures, that it's a small jetted pool with waterfall. We never stated you didn't need transportation, to get to "nearby" beaches, if you look at Detail/Other Things To Note, we described even the minutes of "self DRIVE" it would take to get to beaches. Also in the description we called it an OPEN "SEMI" kitchen, you could SEE the picture OPEN "SEMI" kitchen, it has outlets, lights, sink, yes a 2 burner gas stove top and bbq area (the rooms have mini fridges so there's not a fridge there) but it's not set up with supplies being the property is OPEN and easily accessible to the public, having anybody walk away with supplies and obviously, it's not meant to be set up with food "storage" space being Costa Rica, all sorts of critters would get to it! LOL Leaving , "ASKING for pots and pans from the office and to return them when finished" as the only thing needing updating on our listing. I also contacted our staff right away, as to supply you with them and being we do strive for customer satisfaction. I contacted Airbnb as soon as we knew you were not satisfied, to see how WE could refund your night stay being I was blocked to do it myself. They tried to mediate with you but they were not able to reach you and after reviewing our listing, they did NOT find it misleading, instead I was pleasantly surprised, when THEY refunded your night stay, on our behalf! We do apologize for kitchen supplies but this is the first time, we have had this issue arise being most "nationals" CostaRicans are acostumed to bringing their own supplies to have a cook outs and most vacationers want to eat out, not that I'm trying to justify this but you can see all our reviews our guests have not complained on this issue or the other issues, truly being this the first time, it's been brought to our attention and happy you did, giving us the opportunity to address it, so we can make it better for our guests! Thank you! =(URL HIDDEN)
---
Muy cerca del Ferry, me brindaron información de la zona y de todas las actividades que hay para hacer. Un lugar muy económico para quedarse si se va a realizar alguna actividad cerca de Paquera
Gracias Johel por sus amables comentarios públicos, pero quería destacar sus comentarios privados con el fin de mostrarle nuestro sincero deseo de que nos de otra oportunidad que regrese y para otros que nos visiten puedan tener la mejor experiencia posible. Usted comento: "el ruido era como de unos camiones pero me imagino que eso es por estar cerca de la carretera principal." La solución a esto es que hay MÁS cabinas bien retiradas después del #8, quedando más lejos de la carretera que se le podía cambiar. Pero entiendo, si llegan a última hora o se quedan UNA sola noche, no da oportunidad de cambiarlo. Pienso por ser UNA noche en sí, podía haber sido algo aislado o por otro lado, se conoce que entran camiones en el último ferry pero para las 11pm, ya no hay casi tráfico. Por general los huéspedes están a gusto pues tenemos cortinas de bloquean sonidos y luz. Pero entendemos algunas personas son más sensibles al ruido y por eso recomendamos que entonces escojan de las cabinas más retiradas. Su otro comentario: es que "había hormigas en la habitación." Estamos sorprendidos que diera 4 estrellas en cuanto a limpieza, alegando eso como razón que las hormigas están allí, cuando la mayoría de comentarios alegan lo contrario en cuanto nuestra limpieza. Creo mejor la razón es debido que estamos tan cerca de la naturaleza es un reto de controlarlo 100% pues hay estaciones de lluvias y los instintos que promueven buscar refugio o alimentación dentro las cabinas. Nosotros fumigamos regularmente, pero aun con todos nuestros esfuerzos de sellar las puertas y tener mallas en las ventanas de vez en cuando logran entrar. También los huéspedes tienen que tener cuidado si cae UNA migajita de comida o dulce, se presentan enseguida sin invitación, ¡no sé cómo se las arreglan para entrar! Créame no estoy buscando excusas para justificar esto o culpándolos tampoco. Nos da vergüenza que de vez en cuanto esto sucede fuera de nuestro control y en vez de esconderlo, decidí relucirlo para darles solución que sería dejárselo saber a la mucama/oficina enseguida. Con mucho gusto, evaluaran la situación para encargarse de limpiar el área o hasta se le cambia de cuarto para fumigar. Por favor le pedimos en vez de reflejar estas cosillas, dándonos 4 estrellas en sus evaluaciones de Airbnb, mejor darnos la oportunidad de remediar la situación mientras están allí. Muchos no entienden como esas calificaciones nos afecta a todos. ¡Es buenísimo de recibir 4 estrellas, nosotros de veras quedamos agradecidos y orgullosos de eso! Pero Airbnb, son estrictos, exigiendo un "promedio mejor de 4 estrellas" sino nos REMUEVEN. Eso viene siendo SERIO, pues significaría menos promoción de Airbnb que limitaría a OTROS huéspedes encontrarnos en este sitio tan remoto y también limitaría el apoyo a nuestros empleados nacionales de esta área. El punto es, ¿si no quieren que nos REMUEVA de Airbnb, que hay de mal en dándonos una estrella de más en vez de 4 en las "estrellas de calificaciones"? Tampoco en ningún momento estamos pidiéndoles que nos regale 5 estrellas en sus evaluaciones, nosotros entendemos que tenemos trabajar por ello. Por eso sus "comentarios" privados como público son CLAVE para nosotros rectificar o aclarar cómo mejorar su experiencia con nosotros, siempre queremos que se sientan libres de expresarse. Por el momento, quedamos muy agradecidos por su apoyo hasta ahora, reconociendo SUS evaluaciones es la razón porque seguimos aquí... Gracias! Nilda ~ Esposa de Frank
---
It is a good enough place to spend a night. Not nice enough to spend a couple of days. The room has a bed and is clean. All other amenities are OK. Did like the hummingbirds and the communication with the owners is super.
---
I enjoy fishing on my time off or making time for fishing, I found my niche in Costa Rica! I'm a family man and felt Paquera Costa Rica, was a peaceful place to relax and made it our second home. I believe you don't have to break the bank when traveling and staying at Mapi's Cabins, gives you that possibility, offering the basics, we pass on the savings to you, so you can afford to go out exploring, fishing, zip lining etc. Spending time with family and making memories is what life's about, it's no wonder it's "Pura Vida" in Costa Rica!
语言:
English、Español