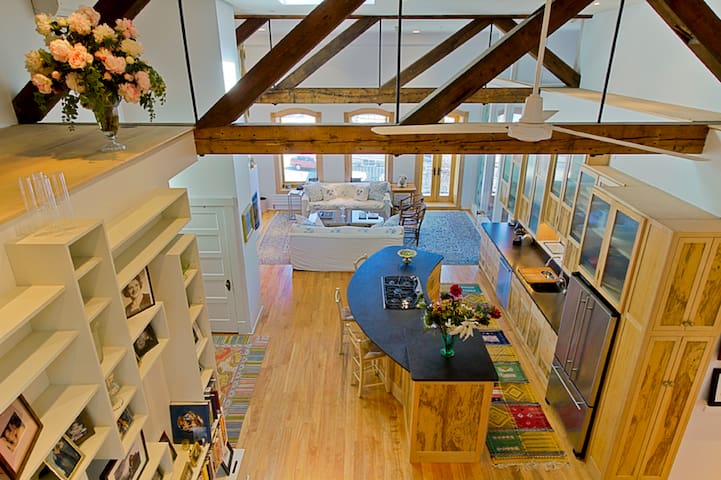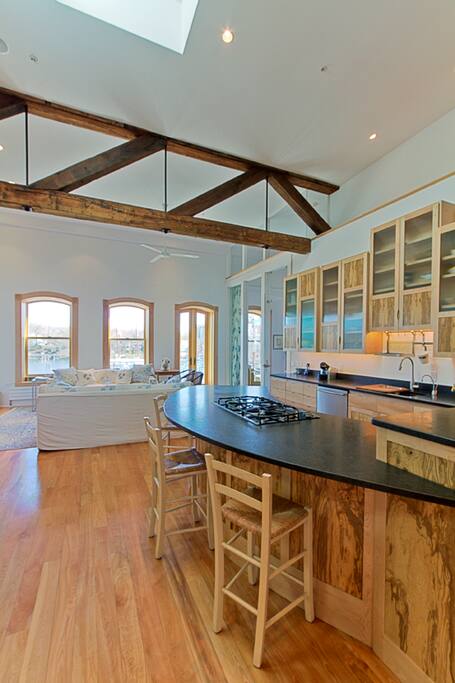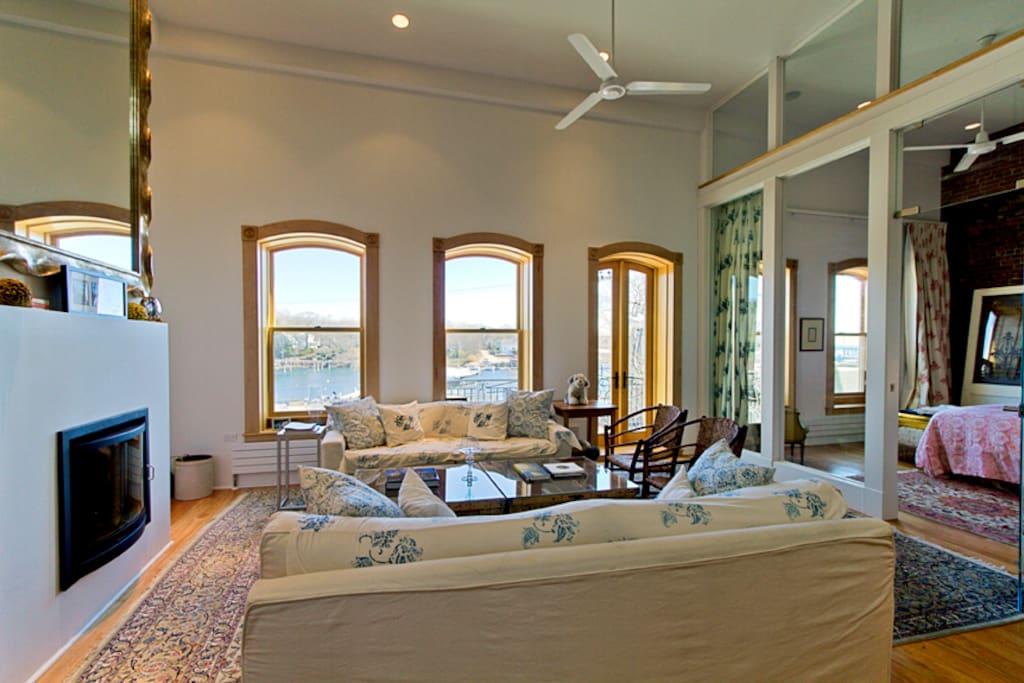 Located in the heart of lovely downtown Camden, this unique property has breathtaking views of Camden Harbor and the Camden Hills. Camden Harbor Loft is located on desirable Bayview Street, in the midst of restaurants, galleries, shops, and parks. The Loft looks out onto the public landing and has 180 degree views spanning the Camden Hills, Camden Harbor, and out into Penobscot Bay. Explore by foot all that Camden has to offer; walk across the public landing and schedule a day trip on one of the schooners, or rent a bike and explore the surrounding towns.
Loft - 1st floor:
Camden Harbor Loft is a stunning loft apartment with soaring ceilings, well-worn beams, and is the perfect blend of European style and Maine craftsmanship. Enter into a ground floor foyer and up a flight of stairs to the second floor. Open the door and enter into a light filled open living area and kitchen. A large wall of windows showcase the Camden Harbor views. The kitchen and bathrooms are all custom built and of the highest quality. French doors in the living room open to a small deck; perfect for enjoying a view of harbor activities. The living room has a gas fireplace for cozy nights and beyond the living room curtained glass doors divide the master suite from the living area. The master suite also looks out over the public landing and Camden Harbor. The master bathroom includes a dressing room, tiled shower and large soaking tub. All details are considered including towel warming racks. The two other bedroom/bath suites are located toward the front (Bayview Street side) of the loft. Each room is custom designed to make the most of natural wood and light. This loft was featured in an issue of Maine Home and Design magazine. As this is an intown Camden loft there are numerous parking options within walking distance. Please ask for more information.
Loft - 2nd floor:
A stairway leads to a second floor den that overlooks the open living area. The den includes a flat screen television and large sectional sofa.
Amenities Include:
Cable TV
Dishwasher
DVD
Fireplace
Full Air Conditioning
Microwave
Washer-Dryer
Wireless Internet
Pets: Pets are not allowed on the premises.
---
Our trip to Camden was made perfect by this stunning, open, airy, beautifully furnished loft apartment strategically located right in town with wonderful views of the harbor and water. The master bedroom is stunning! All of the bathrooms have gorgeous, modern tile. Expertly stocked kitchen. And we really enjoyed our coffee and cocktails on the patio! The whole layout is relaxingly luxurious and comfortable. So glad we found this gem ... the apartment alone makes us want to come back to Camden!
---
Wow! Jennifer's loft is amazing! Very clean and comfortable with everything you need for a great stay. Fully stocked kitchen, comfortable beds, and very spacious. The location is perfect looking out over the harbor. We loved the yoga room too! Jennifer was great! She sent us a text to see how we were settling in and helped us find good lobster. You can't go wrong with this property!!!
---
This place is amazing. The location couldn't be more perfect, as you have a harbor view and you're right in the middle of town. This was very convenient, so that different family members could go out at different times and come and go as needed. It's also helpful for all the boat trips that leave right out of the harbor (sailing, lobstering cruises, kayaks, etc) as you can just walk out your door and be right there, and then after the trip, it's so easy to pop back in the loft to change for dinner. One time, while waiting to get seating at a nearby restaurant, we even popped back into the loft for a glass of wine on our balcony overlooking the harbor while we waited for our table, since we were literally only steps away. The space is beautifully appointed, filled with light, and the kitchen has everything you could need. The bathrooms are also fantastic, and it's really helpful to have laundry. The loft is spotlessly clean and so comfortable for a family to spread out in. In fact, the only caution is that the master bedroom gets a lot of sunlight in the morning even with the curtains drawn, so if you like to sleep in, you might want to factor that in. If you choose to stay here, be sure to pop in to the rooftop bar next door at The View (at the 16 Bayview Hotel) as it's spectacular. Camden is a perfect town for exploring the Mid-Coast region. During our week's stay, we spent time in Rockport (4 min away), Rockland (15 min away), Lincolnville (5 min away), and also did a day trip to Boothbay Harbor (1 hour away). There's so much to do in the area, and of all the towns we visited, we liked Camden far above the rest for its easy walkability, great shops and restaurants, and beautiful public spaces (parks, library, boat landing). Hiking in the area is good (especially for the view of Mt. Battie) and there are so many options for things to do that you won't be able to fit them all in with a week's time. After staying active most days, it was wonderful to know that we had such a beautiful home base to return to. Jennifer was great to work with, and answered all questions promptly. She even checked in by text right after we arrived. If you choose this property, you won't be sorry!
---