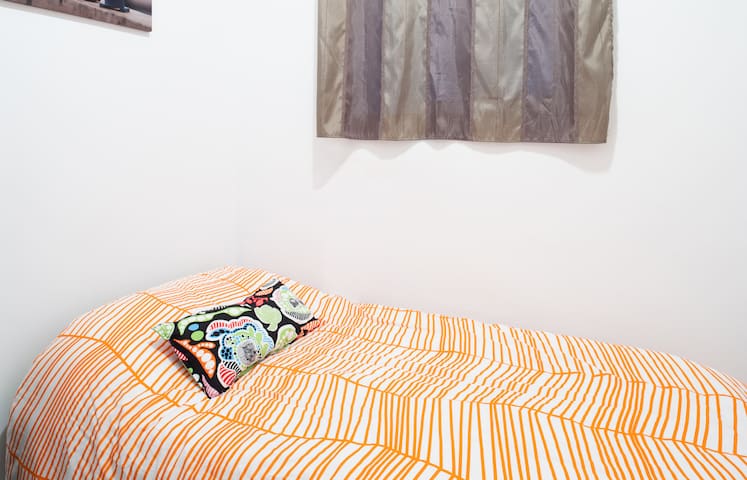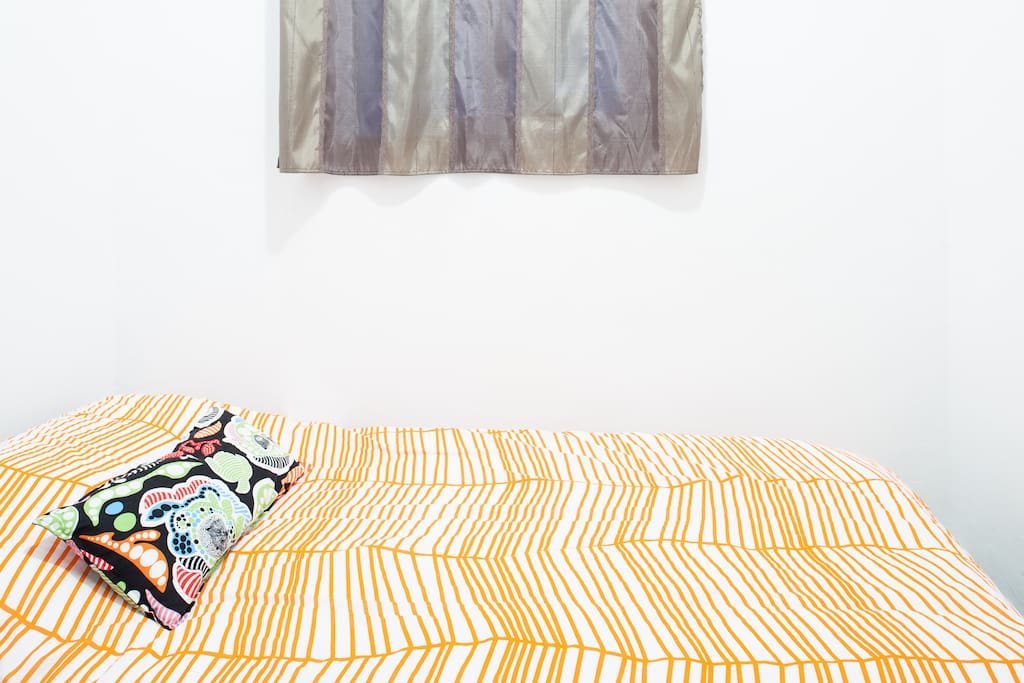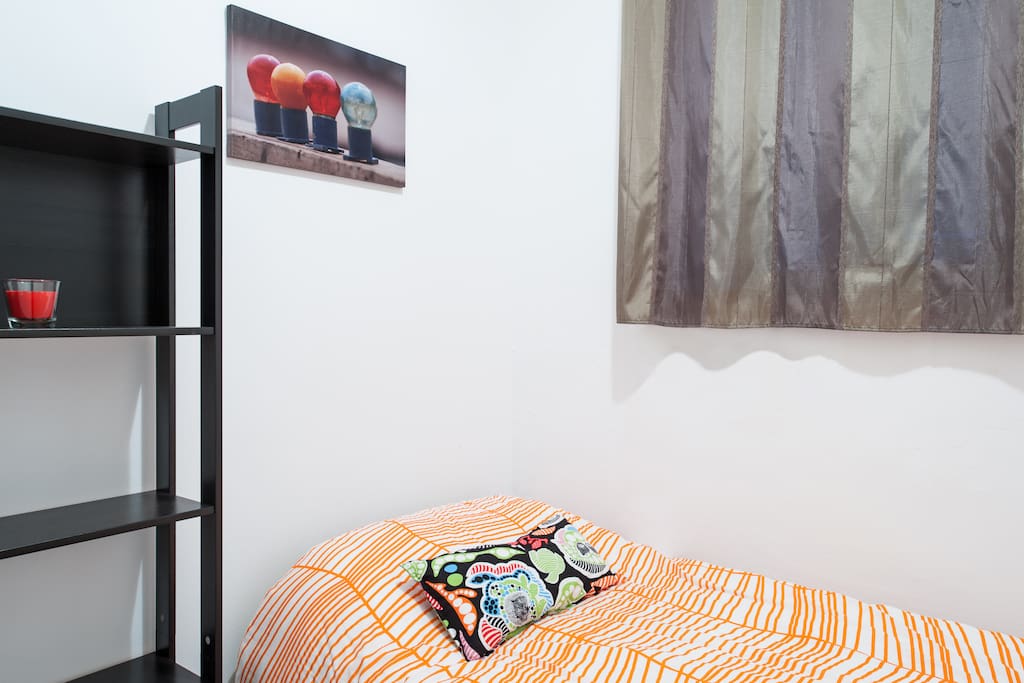 super sauber, nahe Metro Anbindung, direkt am Plaza de Espana! Das Preis-Leistung -Verhältnis hat vollends gestimmt. Wenn man auf Durchreise ist oder nur einen günstigen Platz zum schlafen suchst, sind die Zimmer von Jessy und Alex super!! :-) ich würde bei meinem nächsten Barcelona Besuch gerne wieder dort buchen! Vielen dank für alles!!
---
The room was very small, had only a bed and a shelf. But it was nearly as shown in the pictures. So you could not expect more. It was very hard to sleep there because it was so warm and stuffy. It seemed that no fresh air came through the small window which also let no sunlight in. For a two or three nights stay it is enough. The location is absolutely perfect to explore the city because you can reach nearly everything in the city center by walking and metro station is very close. The communication has not worked well to be honest. I would prefer more clear way to communicate. Then the landlord told me before that this place is not a hostel but people came in and out every two nights. Jessy and Alex were not living there. There were strict house rules (no cooking for example). You had to keep it as secret that you are in an Airbnb flat because the neighbors didn't like it. So all in all, I have to say it was exactly like a hostel and not an Airbnb room. If you just need a place to sleep without any kind of extras, it's a good choice. But I wouldn't go there a second time. Jessy told us to represent ourselves like friend, but when I asked her for a favor she didn't acted like a friend and even charged me for an extra sheet and a towel. This is exactly what I have experienced in hostels, not in Airbnb accommodations. But anyway thank you for your hospitality :-)
This Review is a shock for me. _ You came here to find a place to live (find a room in Barcelona to live), I spend more that 1h explaining the city, the prices of rooms in general, which neighbourhood is better, showed you on the map. We went together to see one room in the neighbourhood. I took my time free to do this for you! (you call this bad communication) - I don't understand how does work the communication for you? You have sent me several messages and I answered all of them, when you wanted to meet me I was always there for you. I saw you many times in the flat and when I asked you : How is everything? Your answer was: This place is perfect, it is just what a need, a central, place, bed, shower because I will be out searching one room all day. - Before you make the reservation I explain how the apartment works! This is a flat for sharing with others guests doing an Airbnb as you did! What is the problem with the guests coming every 2 day? It is an Airbnb! You decided to stay even knowing that! And you took the smallest and cheapest room I have. -You can read the rules of the house before booking the room. All information is written in the description that means that you red it and you accepted it! One of the rules is: to cook is not allowed! So you complain for something that you already knew. -About the neighbours? Is not just me! In general in Barcelona there are problems with this! You can find this information reading the news ( Even in English) and try to understand the situation here ( we talked about this) will be interesting because you are living here now. I told you about the neighbours and the reason is that some of the guest, drunk calling at the neighbours doors, screaming in the stairs etc. Hopefully not my guests but others doing airbnb in other flats. The worse part was this: You ask for a favour and what was the favour that you asked? You didn't write that, so honest are you. Because you will move to your new room in Sants and there were 2 more nights of your stay in my house ,so you wanted that your friend stay in my house instead of you because you already paid ! What was my answer: No problem your friend can stay, I don't mind! But you want me to prepare a room again for him? So I ask for 10 euros to give you all the clean line bed this is the minim ! If we are a Hostel how you said, then is not allowed to change the person that made the reservation and bring a friend. For me your profile is to be in hostel, hotel etc... I was so kind with you, I took a lot of my free time answering questions for your own benefices! And it was not about my house because every time that I asked you: How are the things in the flat your answer was: perfect! Everything is great! You make That I don't trust in people! For me you are so false and selfish! Good luck in Barcelona with this behaviour!
---
The room is very very small, but it works if you're only there to sleep. The room also shares a wall with the main bathroom, so if you're a light sleeper you'll probably be woken up a lot (I was). However, it is clean and in a decent area of Barcelona and easy to catch a bus to the city center.
---
I stayed at this place for one day only and Jessy and Alex i met only once, Alex - when i arrived, he showed me apartment, my room and explained everything i should know about their place. Jessy i met the same day in evening. Both of them were very welcoming and kind, great hosts. Their apartment is located in very good place, close to airport so this is a good place where to stay if you have an early flight or if you just want to be at airport in time (with Aerobus which stop is few minutes walk away from apartment till airport is only one stop). The room i had was very small but since i had to stay there only one night i was ok with it. Good and cheap place where to stay if your trip is on a budget.
---
That was the cleanest airbnb i've ever stayed in my life. The place is so close to everywhere and public transit is just around the corner. The only thing is that, since there is one shower and more than four rooms, sometimes you may need to wait for a long time until your turn comes. It would be great if the hosts can limit the time that the guests can spend in the shower (like 10 min or 15 min for each person etc.)
---
此房源的描述已由谷歌翻译从英语翻译成您的语言,但谷歌翻译并不能保证翻译的准确性。
房源
我们有一个单一的房间舒适的那些谁是经过或那些谁想要一个便宜的住宿,但良好,干净,一个漂亮的公寓。
步行15分钟到加泰罗尼亚广场,距离SANTS站有10分钟路程,步行3分钟即可抵达西班牙广场,美丽的购物中心"Arenas"和Montjuic的魔法喷泉。
这个地方通过地铁和总线连接,绿色和红线在拐角处。
公寓非常宽敞145米
这是一个儿童友好的公寓
免费WIFI
整个物业的互联网接入
我会为你提供:
清洁线床
- 毛巾
- 凝胶
-洗头
-conditioner
在这间公寓有4间客房。
如果这个房间很忙,我有另一个,非常好的,看看我的个人资料。
我希望你在这个美丽的城市过得愉快。
房客使用权限
关于厨房:
您可以将食物储存在冰箱中,使用微波炉,制作比萨沙拉或三明治。
不允许烹饪
23:00后不允许淋浴。
22时00分后抵达15欧元。当您到达公寓时,付款必须是现金。
与房客的互动
如果我没有在公寓里找到,我总是可以回复消息。虽然我工作
如果您需要紧急事项,我们可以见面,因为我总是检查一下在公寓里正常工作,让您的逗留愉快。
关于我们
22时00分后抵达15欧元。当您到达公寓时,付款必须是现金。
其他注意事项
记住这是一个家庭,我尽力做到最好,但请谅解,我不是一个酒店。
请不要打电话给我的邻居的对讲机/对讲机,只有我的。
---
Hello!
I love meeting people from different countries, is enriching. Airbnb helps me make it happen. When I travel I use Airbnb, so I know what people expects at holidays! also I will try to help you with all the best advice to discovery the city for a great holidays!
语言:
English、Español、Français、Svenska