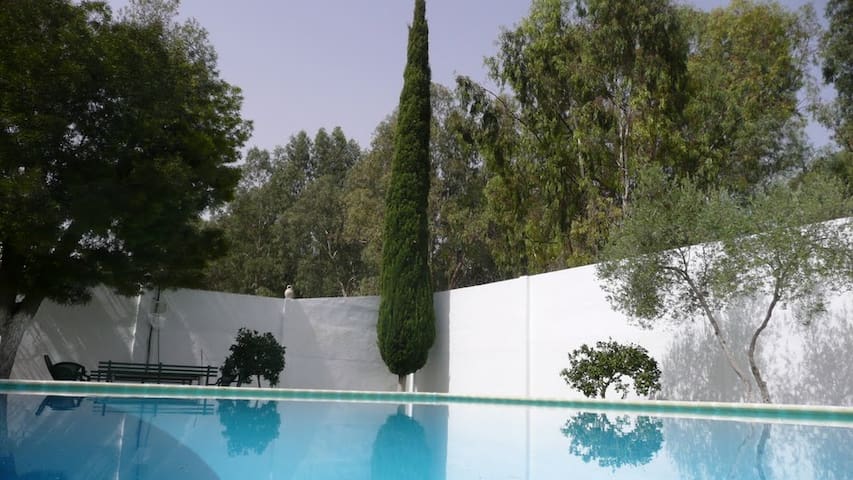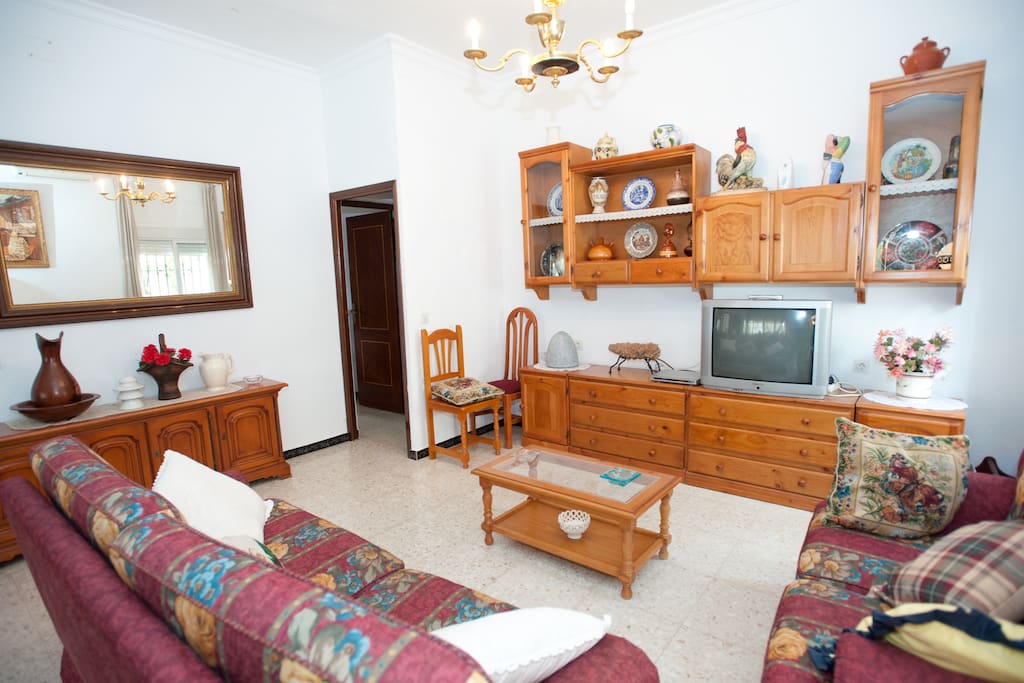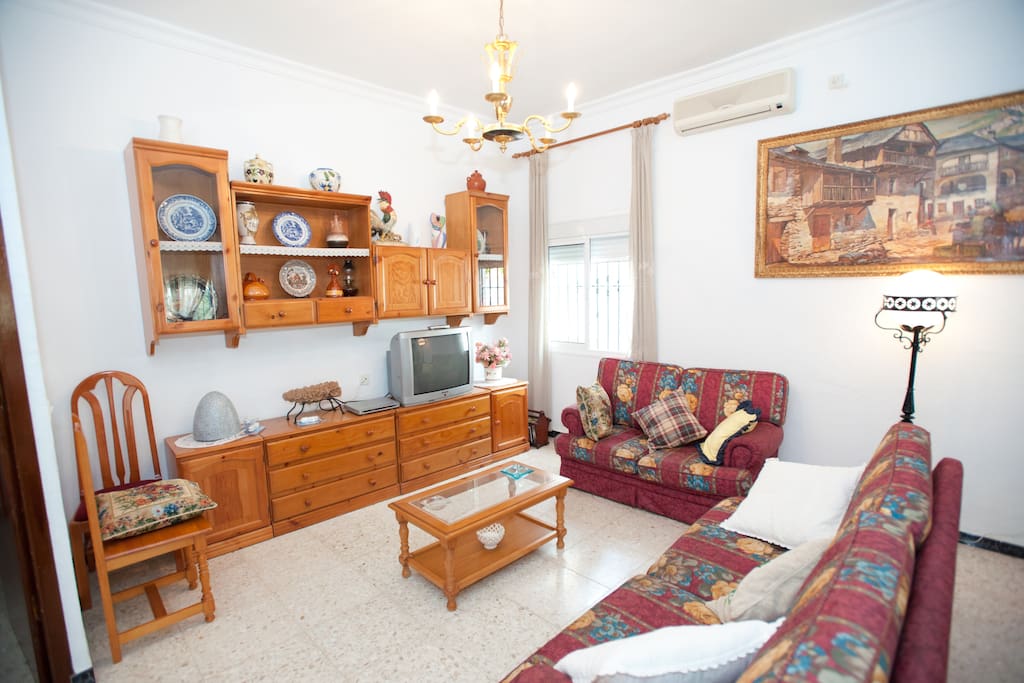 A great location, a large garden
We were greeted by Santy's mother (the owner of the house) and her nephew. The mother does not speak English but the nephew did. The greeting was quite rushed and not very informative about anything more than the house itself. However, since we were there during the Feria de abril de Sevilla ("Seville April Fair"), Santy's nephew gave us a great tip to avoid potential traffic when driving into Seville. The house is a short trip into central Seville by car. We parked in Seville Este and took the #22 bus to the center. It was a 30 minute bus ride and costs about 1.20 euros. The house itself is very suburban with little charm as was the neighborhood. It seems that almost every house had at least one dog and the dogs loved to bark (and bark and bark) virtually all day and night. We were not sure how people could sleep, either for their seista or at night! There is a saving grace in the middle of the neighborhood -- a social club/community center which is only a couple of minutes walk away. The folks there were extremely nice, the food is good, the coffee excellent. It reminded us of our time spent in Latin America. Aside from that, there is nothing else around. We were told that there was a supermarket only 1 km away but we never found one. Instead, we had to drive to the closest Carrefour which was about 15 minutes away. We located another supermarket in Seville Este near where we parked our car so that saved us some time. Cordoba is only about 1 1/4 hours away and we took advantage of that to see the Mosque/Cathedral, the old Roman bridge, etc. Very much worth the trip. We also visited Carmona, an old town only 22 kms away. That was a treat and highly recommended. The beds were on the whole not very comfortable. Also, the advertisement for the house said it included internet but we were provided with a portable internet "key" that was loaded with only 700 megabytes. That does not last long and the signal was very weak. The pool was clean on arrival and stayed that way with minimum work the week we stayed. However, the last morning we woke up to find the pool covered in a film of scum and yellow stuff on the bottom. We guessed that the filter had stopped working overnight. There is a small bbq on the side which we used. The gate into the driveway is quite narrow so if you have a big car (like we did) you will have to park on the street.
---
We were in the house for a week, 6 adults and 3 young kids. It was just perfect. House is clean, all the rooms and bathrooms, bed sheets, towels etc... are in good conditions and clean too. The garden and the pool are big, good playgrounds...!! There is a need to improve the Internet access in the house, and an updated, bus number 126, time schedule will help the people going to Sevilla Center by bus (to avoid losing time waiting for the bus at the station). Thank you to Santy and her Family for the welcome, and for making our stay comfortable.
---
Dear Santy. We had a lovely time in Seville. Your house was more then big enough for us. Family of 5 and a small dog. Thanks to all the oranges in the trees we have had a lot of vitamine C. You were responding very quickly to our questions. We had a warm welcome the first day with explanations where we could eat in the neighbourhood, opening times of shops, what to see, etc. Thank you very much for making it for us a very enjoyable stay in Seville. We really recommend your house to anyone. Hopefully in future we will meet again. Kindest Regards, Esther
---
Santy and her family are lovely people. They were very helpful and responsive, even providing us with a much needed chilled glass of water on arrival - 36 degree heat! The house is clean, spacious and has every convenience you could need, right down to a spare hat. But the jewel is the pool, big enough to do laps, deep enough to jump in and enclosed in its own elevated area behind the house. What's more, the villa is only about 20 minutes from Seville and less than 10 minutes from the local town. We loved our 2 week stay and recommend it to everyone looking for a simple, laid back Spanish break.
---
Very nice house in a residential neighbourhood. Furniture a little bit dated, but complete with all appliances from microwave to dishwasher and washing machine and most importantly very clean. Beautiful garden with patio for bbq. fantastic pool! 10-15 min.from historical center but must have a car. Overall, perfect for two families like us with children. thank-you Santy!
---
Hi my name is Santy and I want to welcome you to my beautiful Houses in Sevilla!
I am a nature lover, experienced traveller, book lover and a teacher. My husband loves gardening and sometimes the rest of the family help him. yo can see in the photos how hard we work. My children love eating out, so we have many advice about tapas bars and restaurants. We live in Seville, a city with so much to offer that you will always want to come back.Everything you dream when you are on holiday is here or near here. We have History, beaches, mountains, nature, good nightlife,food and wine..... What are you waiting to come and discover by yourself?
语言:
English、Español