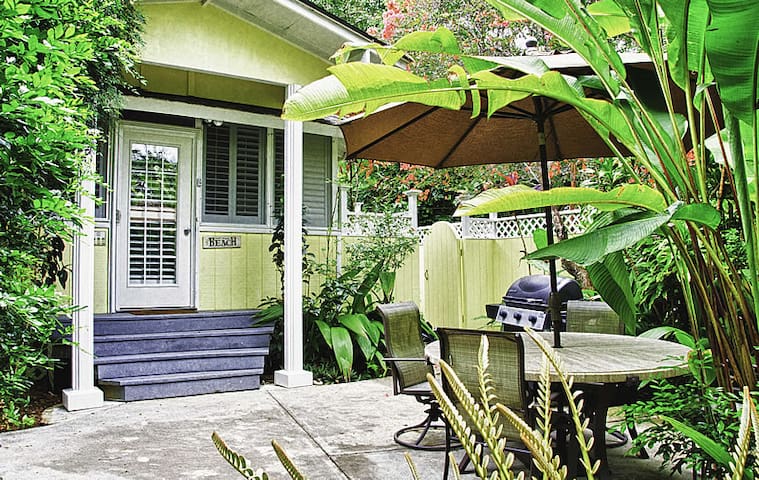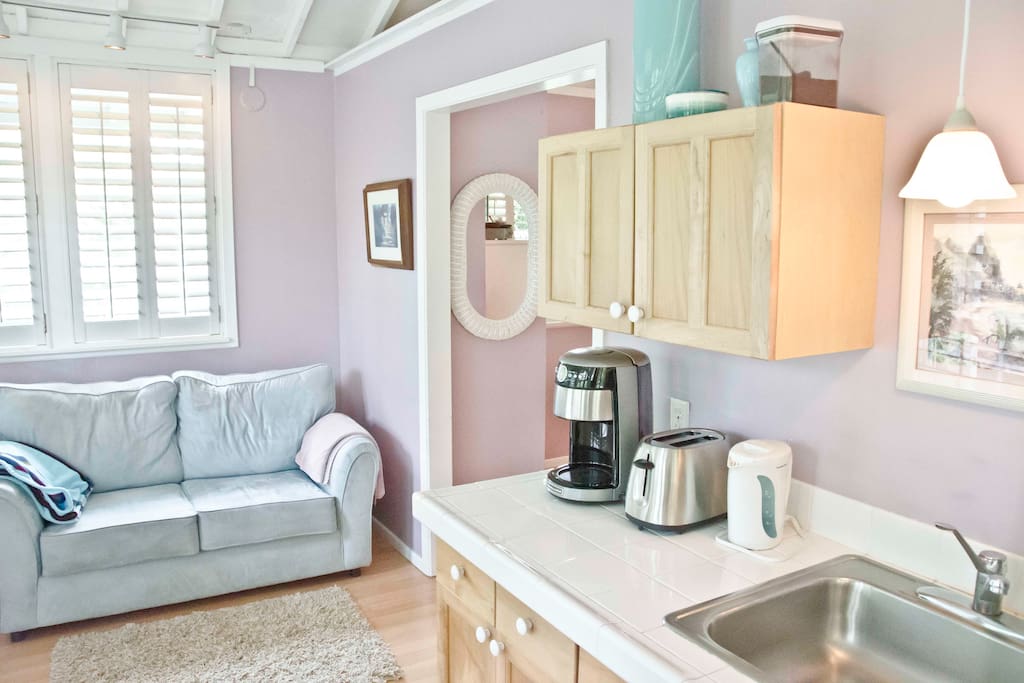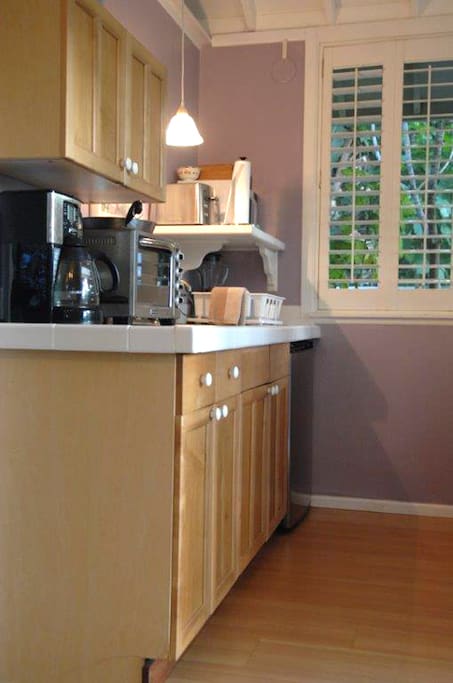 房源
Colleen's Dream Cottage Kauai Vacation Rental Description:
The perfect Country accommodation for a couple or single person, Colleen's Dream Cottage is located on the East side of Kauai, on the Rosewood Estate in Wailua Homesteads just three miles to beaches and store. This quaint and romantic one bedroom, one bathroom cottage with kitchenette is beautifully decorated with white wicker furnishings and fully equipped with TV, WiFi internet access, refrigerator, toaster, coffee maker and microwave. The Cottage has hardwood floors throughout, a king size "heavenly" bed, high thread count linens and down pillows.
Colleen's Dream Cottage has an outdoor private garden shower. There is a shared gas grill for garden cookouts. A welcome Basket of breakfast items is provided on the day of check in. Colleen's Dream Cottage is located on the same property as the Rosewood plantation home and estate.
We have a large variety of vacation rental properties, we're sure you'll find a property that is just right for you! Rosewood Kauai has been featured and recommended by Frommer's, Fodor's, Lonely Planet, Best Places to Kiss, A Call to Hawaii and won the "People's Choice Award" for 2007 & 2008. We look forward to welcoming you to Kauai with Rosewood's award-winning, unique style of aloha.
Our holiday rates apply from December 15 to January 15, with a 10 night minimum stay.
---
---
House Rules and Manual available at check in
---
We booked a last-minute stay at Rosemary's secluded cottage. Perched at the back of a large yard over a fishpond in a rural tropical area, it was a great getaway, but had WiFi! The kitchenette served all of our needs, and we would have used the grill if we'd been there longer. The outdoor shower was delightful, and we were amused (and sometimes serenaded at odd times) by the local feral chickens, who are a feature of Kauai. The ceiling fan did a great job of keeping the cottage comfortable without AC. If you want to experience a taste of what it's like to live in the rural tropics without the bother of your own homestead, stay here! P.S. The gift basket of goodies were delicious!
---
This was exactly the quaint, picturesque stay we expected in Kauai. The property is absolutely beautiful and I don't think I'll ever forget the peaceful sounds of the crickets, toads and rain at night. Mosquitoes were a bit of a nuisance outside so just make sure to get a citronella candle or wear bug spray!
---
Rosemary and Norbert were wonderful hosts and we loved our 6-night stay in the cottage. The cottage was cozy and clean and sits within a wonderfully landscaped yard with lizards, frogs, exotic flowers. The cottage has many windows and we enjoyed the fresh breeze both day and night. The location was perfect for us. Lots of great local hikes (we recommend Sleeping Giant hike!) and Kapa'a is centrally located for access around the island (for hikers, we particularly enjoyed the Alaka'i Swamp in Waimea Canyon and the Kalalau trail up to Hanakapiai Falls). Also a beautiful 10-minute drive past a waterfall to get to east coast beaches and its shops, restaurants, markets. The neighborhood is quiet except for the occasional noisy car passing by. Birds and morning light consistently woke us up at ~5:45 am, which we enjoyed but might be a bit challenging for others. The outdoor showers were fun and refreshing. We found that showers are best taken anytime except the early evening when mosquitoes are most active. Note that while the cottage does have a microwave, toaster, toaster oven, refrigerator and outdoor BBQ, it doesn't have a stove. Thanks for your kind hospitality, Rosemary and Norbert!
---
The property is beautiful and Rosemary and her family are so kind and accommodating. Tons of nice amenities are available - snorkel gear, boogie boards, beach chairs, and tons of towels to name a few! The space is comfortable - the bed is especially nice! The only issue we came across was that we had some geckos and ants in the unit. Nothing too crazy and we just removed the 3-4 geckos each day and moved them outside, but we would have liked to have known about this before booking. This is what happens when you stay in nature, I guess! There is also a loud thumping that happens throughout the day and night - we think it was a water pump. Overall we enjoyed our stay despite these few issues.
---
Cute place. Very clean. Set in a beautiful garden, with lots of birds, roosters, and geckos around. Comfy bed. Some traffic noise during the day, but peaceful at night. Convenient central location. The included beach chairs, towels, and cooler were nice extras. Kitchen was set up with everything you need less a range, but there is a nice propane grill just outside the door.
---
This cottage is PERFECT for honeymooners. Everything from the romantic and secluded set up to the private outdoor shower, it was an unforgettable experience! The open shutters make for romantic and relaxing evenings as well. We rented a car, so staying at the cottage allowed for us to explore different parts of the island in a way you can't get from staying at a resort. It was very comfortable. Rosemary and her husband are very kind and hospitable! Absolutely wonderful experience :)
---
We have a large variety of vacation rental properties, we're sure you'll find a property that is just right for you! Rosewood Kauai has been featured and recommended by Frommer's, Fodor's, Lonely Planet, Best Places to Kiss, A Call to Hawaii and won the "People's Choice Award" fo…