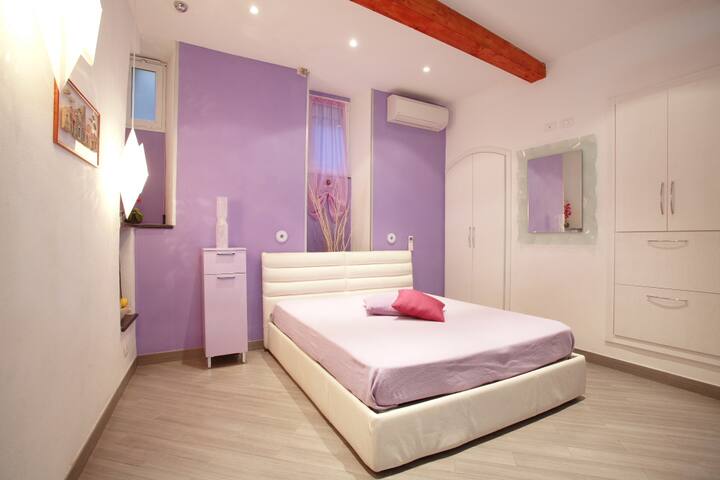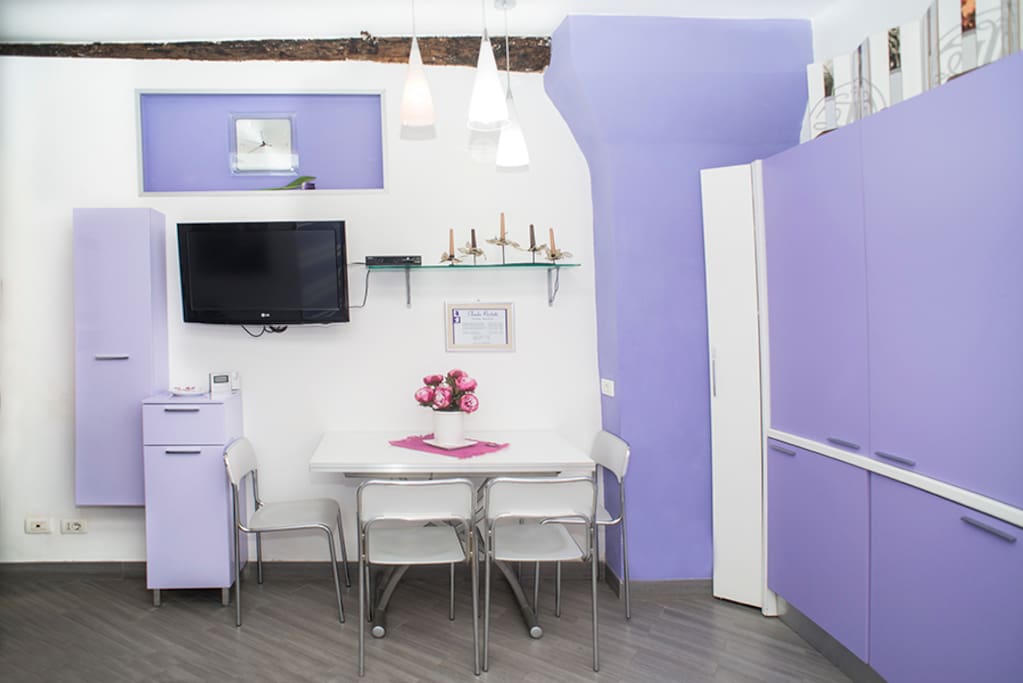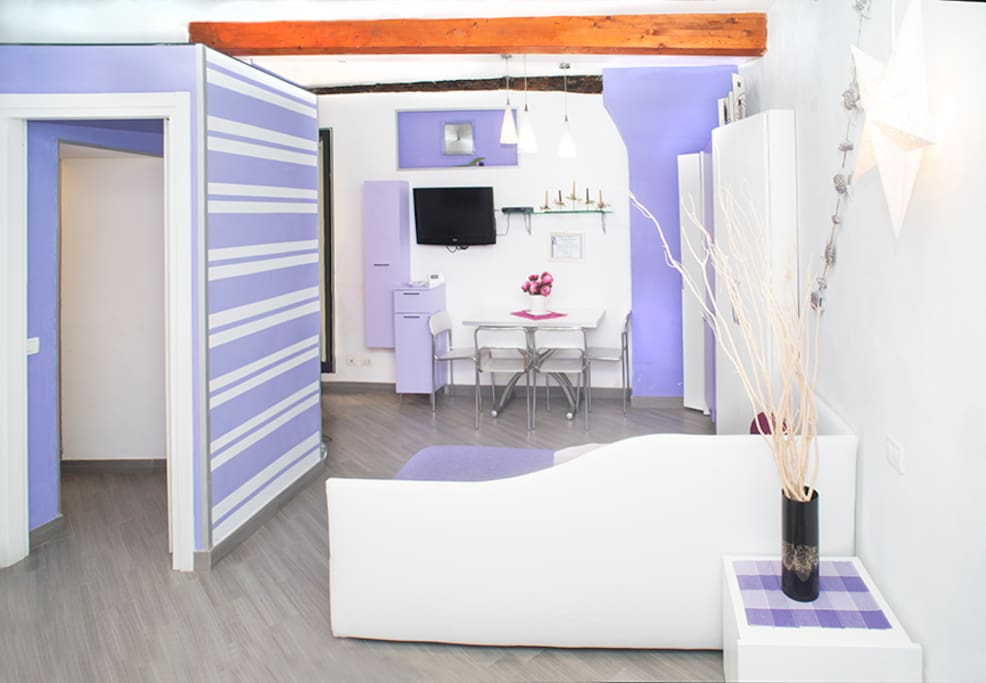 房源
"I Coralli""Purple Gorgonia"公寓位于Monterosso al mare的心脏地带,是历史中心的特色狭窄小巷之一。它最近精确恢复和现代家具。公寓已经给了他的墙颜色的名字。 "紫色Gorgonia"配有厨房,空调,带淋浴的私人浴室,暖气,冰箱和电视。 每日清洁房间,每3天更换床单和毛巾。
"I Coralli" "Purple Gorgonia" apartment is situated in the heart of Monterosso al mare, in one of the characteristic narrow alleys of the historic centre. It's recently accurately restored and modern furnished. The apartment have been given the name of his wall colour.
"Purple Gorgonia" it's equipped with kitchen, air conditioning, private bathroom with shower, heating, refrigerato and TV sat.
Daily cleaning of the rooms, change of bed linen and towels every 3 days.
---
When we arrived, Claudia did not meet us as she said she would and she left a key for us under the rug. When we entered the aparment it was not the room we booked. There were three of us traveling and we booked a room that had a picture of 1 larger bed and a set of bunk beds with a kitchen and dining area. When we entered into the apartment t was not the room we booked. It was a one bedroom room with barely enough space for two people let alone three. When I called her to ask why we were placed in a different apartment she explained there was a hot water problem and air condition problem. We had to stay in the 1 bedroom room for one night and then we were able to move to our place originally booked. It seemed as though she double booked the room and tried to place us somewhere else hoping we wouldn't notice. The air condition also did not work in either apartment. The location was really great but I was disappointed with the situation.
---
The location of the apartment is great - right in the heart of Monterosso and close to the gorgeous hiking trails of the Cinque Terre. Claudia was easy to contact, helpful in regard to things to do and where to eat in the area, and let us keep our bags in the apartment for several hours after the official check-out time. However, I have one major complaint: the apartment we were given was not the one depicted in the photos of the apartment I booked. The photos showed multiple beds and when we arrived we were taken to a different (smaller) apartment with one bed and one ottoman. When I mentioned that the reservation I made was for a place with two beds, Claudia said the ottoman in the corner unfolded into a bed. She did return and make up that bed for us (and offered us a complimentary bottle of wine), but nevertheless I was disappointed as I had not been expecting to sleep on what was essentially a heavy-duty cot in a corner. I probably wouldn't even have mentioned this in my review, except that I read in another review that something similar happened to someone else. So just be wary that there are actually multiple, several-looking apartments and you may be given something that is similar, but not identical to what you think you are booking (i.e., something slightly smaller, with fewer/smaller beds).
---
The apartment was great!! The location is really central and Claudia was fantastic about meeting us at the apartment once we got into town. There was not bunk bed, but she did add a third bed for us!! Claudia was very responsive, even when our train was delayed getting in, and allowed us to extend our check-out an extra hour. There isn't any wifi, but there is a wine bar down the street where you can get on the network when needed. All in all it was fantastic and the location can't be beat.
---
Claudia was very welcoming and warm. She responded very quickly to calls and was at the apartment within 10-15 minutes of our arrival. She also let us leave our stuff in the apartment after checkout time so that we could hike the Cinque Terre without our big backpacks, which was great! The only problems we had were that she said our room had flooded so she placed three of us in a room for two people (yellow gorgonia apartment) and we had to share the bed--it was king sized, so still okay. When we arrived at our original booked apartment (purple gorgonia) though, we had met two people that she had given our room to, so I don't think our apartment was actually flooded...she just gave two people the three person room and three people the two person room. I don't think she expected us to meet the people she gave our room to. We also tried many times to get hot water in the shower (by turning the dial in the water heater control closet) and were only able to get lukewarm to cold water. The location was fantastic though and the restaurant that Claudia recommended and gave us a 10% discount to was one of the best I've been to in Italy (seafood spaghetti was fantastic). Overall decent experience. We only stayed for one night.
---
I would not stay here again. Unfortunately, I did not have the same positive experience Renee, Kelly, & Thomas had. Here's the deal: I've been to Cinque Terre before (Vernazza) in a beautiful B&B overlooking the water. Trying to switch things up, I looked here for a place in Monterosso. The recommendations were positive, the pictures were bright, and the place looked big. I emailed Claudia that we would arrive on the 7pm train. She said she'd meet us and show us a place for dinner. At booking, she was very responsive. The day of arrival? Emails/texts went unanswered, we stood by the door looking for anyone to help. Finally, with no sign of Claudia, we let ourselves(!) into the apartment, got situated, and hunted out dinner. Claudia only responded halfway through our dinner without any explanation and said she wanted to meet us "tonight or tomorrow". Ok. Did she want to meet us at the restaurant (just down the street)? No, tomorrow. Ok. 10am she came in while we were still sleeping (two very early mornings and late night travels back-to-back), said hi I'm Claudia, and left. The next emails were us asking if she had any towels, her responding yes - and then asking us when we would leave. I said 11am the next day (check-out). She showed up at 10:45 seemingly exasperated and told us "I need to clean! I need to clean!" Ugh. The apartment was clean and safe. Most everything worked. But the photos (and the price) are a bit misleading (last photo is the most accurate). There is no twin bunk bed. The loveseat is much closer to the bed, is the size of the purple small wall, and you can grab a chair in the kitchen when you're laying down. This is a DARK apartment without the lights on (think garden level unit) that's "studio size" by NYC/Chicago standards. Small water heater. For high season, the price might be ok - but for off season? This was expensive, we felt a bit cramped, and the host made it awkward.
---
hi!! i'm claudia i would be happy to welcome you
语言:
Deutsch、English、Français、Italiano