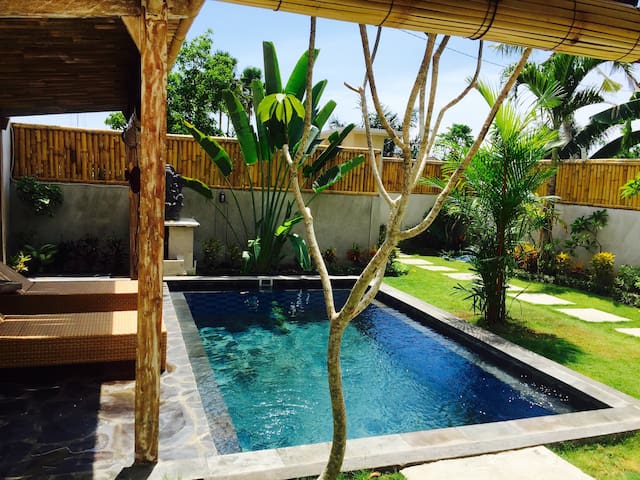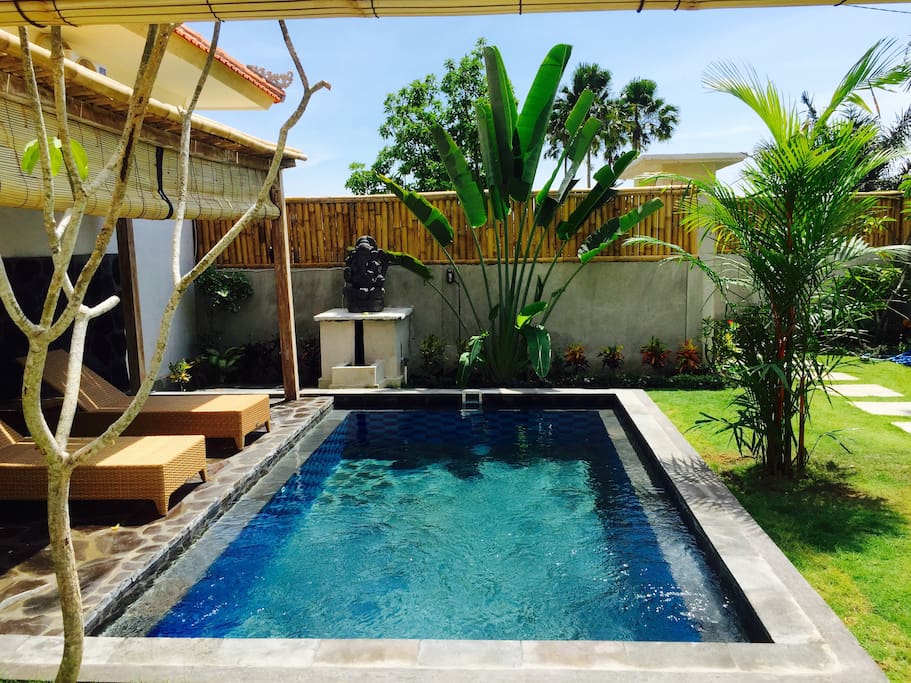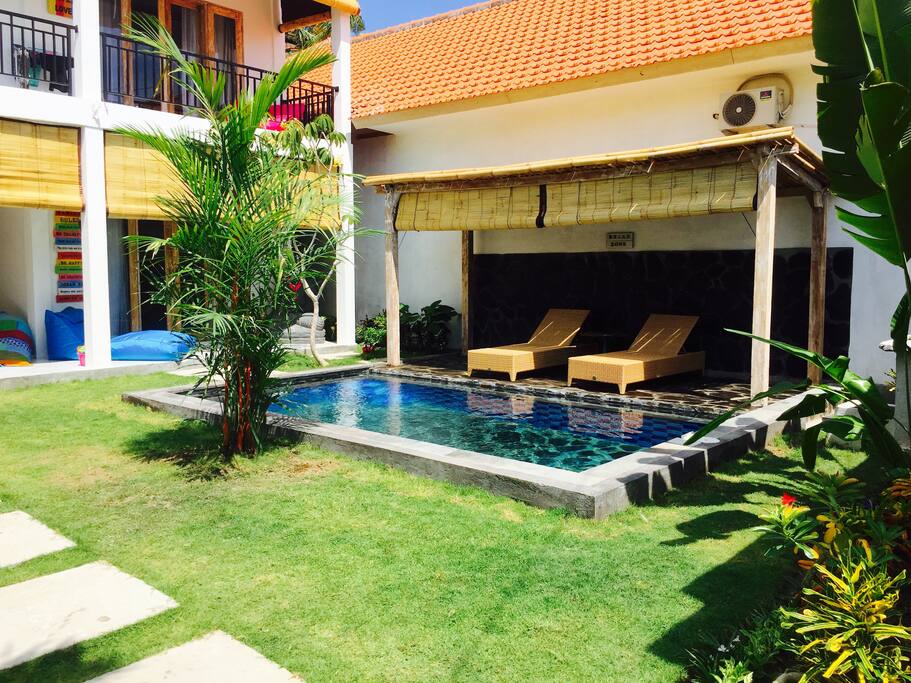 Brand NEW! Villa Living Yoga
Villa "Living Yoga" is a beautiful 3 bedroom brand new Villa located in the heart of Canggu - at the end of a very quiet street, across from a rice field.
---
---
---
---
This is our home. We've worked hard to make it beautiful and we're happy to share it with you. Please treat it with respect. All equipment in the house was collected with taste and symbolism and therefore we ask you to handle it with care.
1.Please do not smoke cigarettes inside the house, only on the balcony or in the garden.
2.Using drugs in the villa is NOT allowed. Any evidence of using drugs will result in a demand to immediately vacate the property and relevant charges will be made for cleaning the premises..
3.Please always close and lock the main entrance door on your way in or out.
4.Pets are not allowed since we already have 2 dogs called Sky and Pinkie for security.
5. No parties are permitted. Respect of quiet time is very important to us (between 11h pm-8h am).
6.Please do not throw any sanitary napkins or material of such kind in the toilet.
7.Please turn AC and light off when leaving and lock bedroom doors.
8.Guests are requested to keep the villa tidy. Guests are asked not to move, remove, or change furniture, pictures, wall hangings or other room decorations without our consent.
9.Please keep the volume down on any television, radio, audio system or musical instruments. We reserve the right to require these items to be turned off if they are disturbing the neighbours. Excessive noise and disturbances will result in us having to ask you to leave and pay for your whole visit.
10.Please take care of our accommodation. You are responsible and liable for any damage or breakages which you cause to the accommodation or its contents. Any damage to the villa will be charged.
11.All windows and doors must be closed when leaving the villa.
12.If you lose the key of the apartment, please contact the villa manager immediately. In case of loss, please pay to have another key made with our villa manager. Any breach of above mentioned will result in us having to demand you to vacate the property. The deposit and total lodging costs will be forfeited. Any relevant additional costs will be charged to the guest(s). This includes but is not limited to cleaning / repair costs.
13. Please turn AC and lights off when leaving the room for a long period, to avoid electricity waste. Electricity production is very polluting (coal produced) here in Indonesia please help us use electricity cautiously.
When using AC please close your door.
14. It is recommended to lock your room door + bathroom door everytime you leave the villa. We are not responsible for lost items in rooms.
15. Water supply is at your expense, you can ask our staff for refills.
16. Electricity is at your charge for any long term stay (more than 7 days). You can ask our manager to fill in the meter for you.
Welcome to Villa Living Yoga!
We wish you a pleasant and peaceful stay •
---
---
---
Annie Langlois
Co-founder and President, Mon Yoga Virtuel inc.
600-hour Certified Teacher, Hatha-Vinyasa-Kundalini Yoga

The instigator and founder of , Annie Langlois is passionate about fashion, and a graduate of fashion marketing from LaSalle College. Having worked in the field for over 15 years as a model, designer-entrepreneur and stylist, she served as the designer for two clothing brands, a stylist for several TV shows, as well as the artistic director for various fashion projects.

For over 10 years, Annie has been interested in nutrition, alternative medicine, fitness, and especially the intrinsic self-healing power in every human being. A strong interest in yoga and meditation became a passion that led her to participate in several teacher trainings and obtain certifications in Hatha, Vinyasa, and Kundalini yoga, which she now teaches.

In 2008, Annie and her partner Yantsi experienced the most determining event of their lives: the loss of their first child when Annie was six months pregnant. The months that followed were the most difficult period they've ever experienced. After this huge shock, Annie suffered from severe anxiety and fibromyalgia. The call of yoga became louder and its practice greatly contributed to healing the wounds and gave meaning to all their suffering. The years that followed were filled with encounters and experiences related to almost all facets of health and wellness. Today, life has taken on an entirely new meaning and the couple lives each day with love, gratitude and compassion.

In 2013, they launched their common life project, which they had both nurtured since the very beginning of their relationship: establishing a wellness platform where one can find everything required to exercise in the comfort of their own home, and work towards optimal health… For Annie, represents a return to life, and a way to give back all that she received on a larger scale, by reaching and helping as many people as possible through yoga and fitness. Annie's mission is to inspire people to make their health a priority by sharing gentle techniques they can integrate into their daily lives. The happy mother of a wonderful little 4-year old girl named Shaya (which means "life"!) who fills her with happiness, every day, she thanks the universe for this precious gift and welcomes every second of happiness with a heart overflowing with gratitude… Namaste