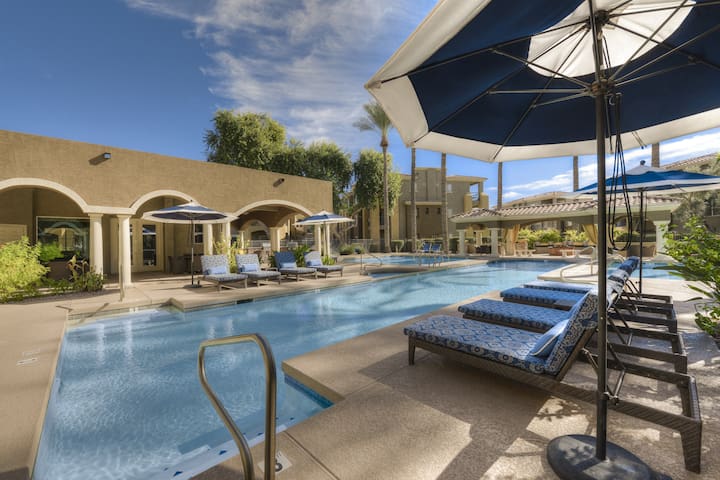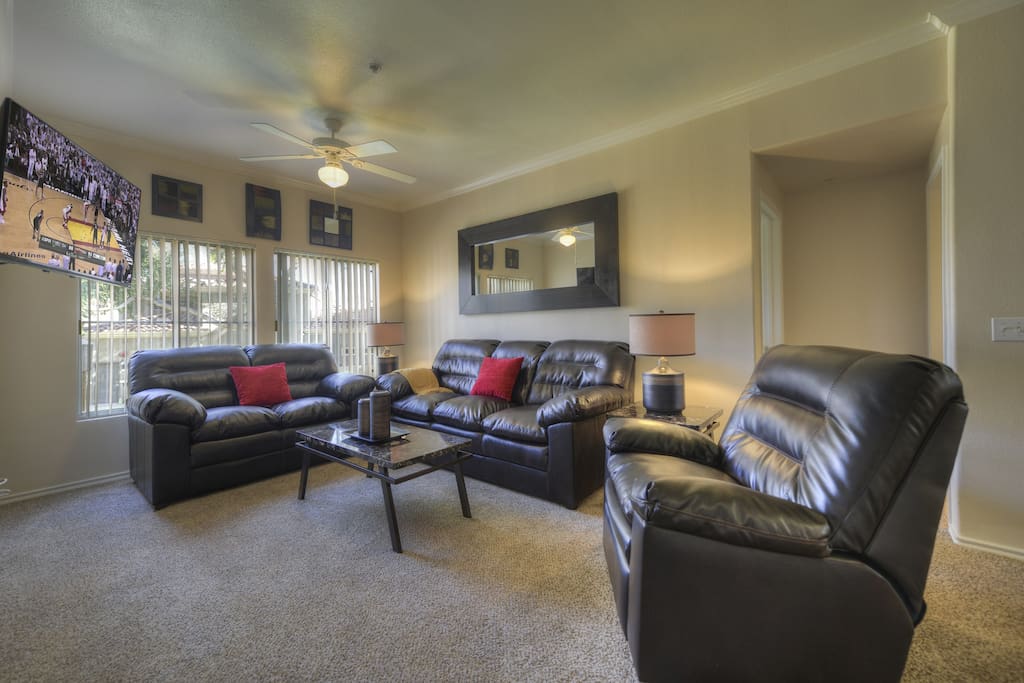 Ranked #1 on Trip Advisor this is the ultimate vacation rental, combining resort style amenities with the comfort and convenience of an over sized condo. It features modern designs with an open floor plan for socializing.
Anyone in your group looking to play golf? We offer discounted rates and unlimited golf at Arizona's top golf courses. We also offer discounted rates on rental cars at the airport with Alamo Car Rental.
---
Let's start with the positives - the condo is in a nice community with golf course views. The common area is well maintained and the employees are very friendly. The layout of the apartment was great, with three BR's and two baths - plenty of space for three couples. The decor was nice and the furniture was comfortable. Unfortunately we experienced quite a few problems: the fridge has an odor of rotten seafood that permeated the whole condo - we left after the first night because of this gross smell and the lack of fridge. Second issue: the master BR toilet seeped water all over the floor during the night. Next up was a 16" yellow stain on the air mattress and another brown stain on the blanket. We encountered several smaller issues as well (i.e., paint peeling in shower, vertical blinds falling off, etc.). The team at Meridian CondoResorts's was very fast to respond to our complaints and the housekeepers and maintenance staff worked hard to fix things, but this was our three day vacation we lost a full day messing with all these blunders. We did as the management for a refund of our first night but we were turned down. We were told however that they "felt horrible about all the difficulties" and that "it had never happened before." Our advice - find another place to stay.
来自Meridian CondoResorts的回复:
For over 21 years Meridian CondoResorts has taken pride in providing the ultimate experience with our vacation rentals. Not only do we provide a luxurious condo, but we offer amazing amenities and the highest level of service including discounts on unlimited golf at many of the best courses in Arizona, discounted rates on rental cars, and much more. There are occasions where issues come up and when this happens we do whatever it takes to remedy the situation. In this particular case there was an issue with an odor in the refrigerator. We were not aware of this problem until the morning after our guest checked-in and since we couldn't get the odor out quickly we immediately offered to move them to another condo. We upgraded them for free to a nearby Meridian 3-Bedroom condo, at the same property, that overlooks the TPC Scottsdale Champions Golf Course. This golf course view condo has a higher nightly rate because of the incredible view. The guest happily accepted and they were able to enjoy the remaining 2 nights with us. The day they moved to the upgraded condo, we also allowed them to use both units so they didn't feel rushed to move their belongings to the other condo. Unlike most Airbnb suppliers, Meridian has a local office just a few minutes away from our condos and a 24 hour number to call with immediate assistance. Since we are available 24 hours a day, we wish the guests called us the night they recognized the odor, so we could have moved them that night. One of the things people really like about Meridian is that we have a very large inventory of condos in the Phoenix/Scottsdale area. So, we are able to offer very fast and easy solutions when the occasional problem occurs. Unlike other AirBnB rentals, if something goes wrong, you may be dealing with a homeowner out of state and nothing can really be done during your stay. With Meridian, we offer many solutions and we will always go above and beyond to take care of our guests! In the case of this guest, we take full responsibility for the issues brought up and we did everything in our power to resolve them quickly. We take great pride in our customer service and we wish that this particular guest appreciated the efforts we made for them, to make their stay enjoyable. We all feel really bad that they were inconvenienced and we did everything in our power for them to feel compensated for their troubles. We will learn from this experience and continue to improve our product and our service so that our future guests will experience the vacation of a lifetime on their visits to sunny Scottsdale.
---
When my sister passed away, I knew my kids & some of their children would want to accompany me to Scottsdale for our bittersweet reunion. The condo was just as discribed, spacious,clean,convenient with amazing amenities. Steve was very prompt in answering all of my questions. I would definitely return to this property!
---
My name is Steve and I am the Sales Manager at Meridian CondoResorts. Ranked #1 on Trip Advisor we provide the ultimate vacation rentals, combining resort style amenities with the comfort and convenience of an over sized condo located in one of the best areas in Scottsdale. A…
语言:
English、Español