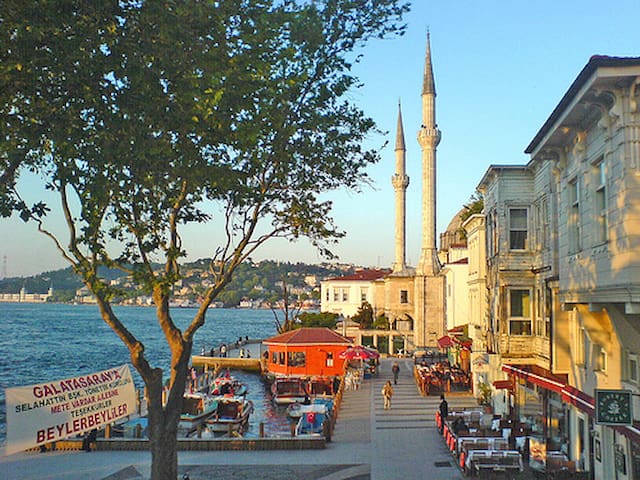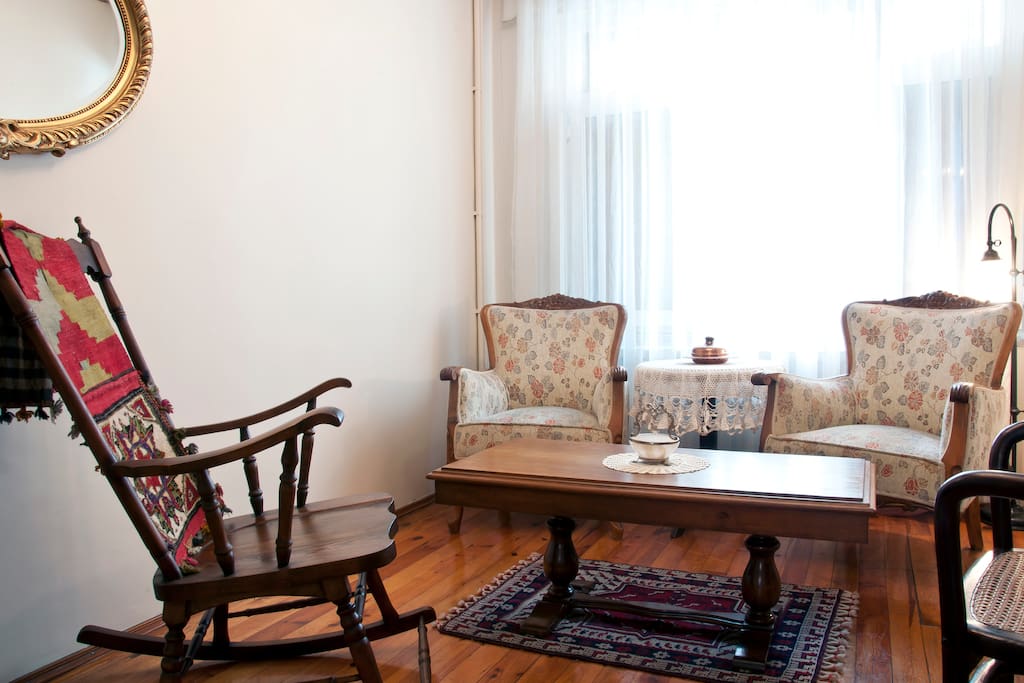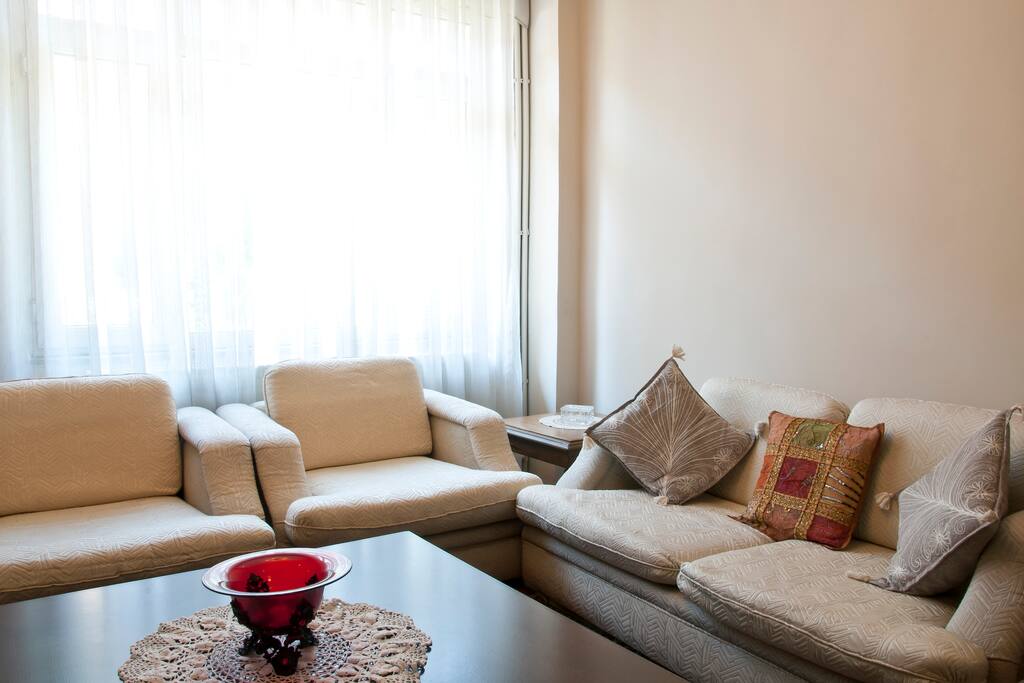 此房源的描述已由谷歌翻译从英语翻译成您的语言,但谷歌翻译并不能保证翻译的准确性。
房源
我们明亮,迷人,干净,设备齐全,新近装修的独特奥斯曼酒店为您提供一个真正的家庭的舒适。它有4个地板,有4个卧室和2个浴室。
一楼设有大型设备齐全的厨房和用餐区,一楼设有休息室和起居室。 2层较高的楼层共有4间卧室和2间浴室。一,二,三房有双人床;第四房有单人床。每层楼均设有带淋浴和卫生间的独立浴室。浴室和厨房新装备。房子还有2个阳台,其中一个可以看到博斯普鲁斯海峡大桥的一部分(晚上的博斯普鲁斯海峡大桥是美好的)。房子后面有一个小花园。它有天然气中央供暖和空调。
这个房子非常接近海运,博斯普鲁斯海峡和贝勒贝伊宫(Beylerbeyi Palace)(Beylerbeyi Palace花园里只有7欧元的全套早餐)。从Beylerbeyi,在早晨20分钟渡轮可以到达Eminönü从哪里Topkapı宫殿,圣索非亚大教堂,蓝色清真寺和大巴扎可以轻松访问。渡轮,巴士和出租车站也非常近(步行距离)。巴士很频繁。您可以穿越桥梁轻松到达欧洲一侧。奥斯曼帝国时期也有一座着名而优雅的清真寺。博斯普鲁斯海峡附近还有附近的杂货店以及美味的餐厅,咖啡馆,面包店,步行范围内。
贝勒贝伊(Beylerbeyi)是一个更安静的城镇的中心。我们的主要目标是为客人保持清洁,安全和方便的环境。
贝勒贝伊历史:
博斯普鲁斯海峡亚洲岸上的贝勒贝伊地区自拜占庭时期以来已经解决了。根据历史,康斯坦丁在这里建立了一个大金黄十字架,之后这个地区被称为伊斯塔夫罗(十字)花园。在奥斯曼帝国下,这个地区是皇家公园或Hasbahçe(苏丹家庭曾经散步)。历史学家认为,在16世纪,Beylerbeyi的名字被赋予了这个地区,因为举行了beylerbeyi(总督)的称号的MehmetPaşa在现场建造了一个乡间别墅。
设施:
高速上网,收音机
32英寸液晶电视与国际连接
冷气机
洗衣机,烘干机
传统毛巾和床单,肥皂,洗发水,淋浴,吹风机
古董
铁和熨板
天然气加热
2阳台
花园
完全配备的基地:板,餐具,眼镜,酒杯,烹饪用具,冰箱,冰柜,洗碗机,烤箱,水壶/水壶,烤面包机,咖啡机,烤架
睡眠安排:卧室(2位客人),1张双人床
卧室(2位客人),1张双人床
卧室(2位客人),1张双人床
卧室(1位客人),1张单人床
可选服务:入住期间的家政服务:10美元/小时
停车:10美元/天
---
---
不要喝自来水
请只是家里抽烟的院子里
动物不被接受
如果你要来,并采取房子的垃圾koyabilirsiniz.görevli前面。
家居用品,如家具和摆设都是你仔细seçilmiştir.kkullanınz
---
Hatice is an excellent host. She was very quick to respond to any question we had. She was always happy to help us with anything we needed. I've never had a more accommodating airbnb host. She was willing to buy anything we needed for the flat. She even wanted to take us to the doctor when our son was ill. The house itself is a four floor Ottoman house with a lovely garden. It's fully equipped with everything you might need during your stay and plenty of linen. There are two newly refurbished bathrooms with showers. The top floor is like a master suite. The Beylerbey area is very nice with shops and restaurants. The apartment is just up the street from the waterfront and ferry port. This house is great value for money. You
---
Charmed in Beylerbeyi! First of all, Istanbul is a fantastic city! We were truly enriched by our experiences there and the people we met, not to mention entertained, educated, and fed well. Our family group of six stayed in three different parts of Istanbul during our multi-week visit – two on the European side, plus Hatice's place in Beylerbeyi, on the Asian side. Beylerbeyi is a ferry stop or two beyond Istanbul's most beaten paths, and affords a less frenetic, yet no less vivid perspective on Istanbul. Headquartered at Hatice's Charming Ottoman House, one is walking distance from a nice pocket of harbor-front eateries, convenient ferries and busses, and a neatly compact enclave of shops, grocers, bakers, and corner stores. Any service you're likely to need is a quick stroll out the front door – from a Turkish beard-trim-and-wash (highly recommended by my brother) to that inevitable late-night baklava-or-Bomonti run. Anywhere you want to go in the whole of Istanbul is but a ferry stop or two away. Of course, the best thing about Hatice's Charming Ottoman House is not it's exact location in lovely Beylerbeyi. Nor, that the house is comfortable, well-equipped, and tastefully appointed with every modern convenience (which it is). The best thing is not even the two full bathrooms with walk-in showers; nor the fourth floor porch view of the Bosphorous; nor the reasonable tariff. No, the best thing about this Charming Ottoman House is Hatice's hospitality and her personal care in orienting her guests to her home, community, and country. Hatice greets you upon arrival and shows you all the rooms and features of her vertically-oriented, 4-floor house. She provides you "house slippers," ferry schedules, a good WiFi hookup, a supply of bottled water and homemade jams, and points you toward several resources for learning more about the area and the multitude of attractions in Istanbul. Then, she charges out into the immediate neighborhood with your whole party in tow and advises on everything from the best nearby fruit stand to her favorite place on the waterfront for a late night bite. Any question you ask will be answered, much good Turkish advice dispensed, and this level of hospitality and care will be continued throughout your visit. It is like having a sister in Istanbul. Need anything? Give her a call. Yes, we were surely charmed by Hatice, and we thoroughly enjoyed the comforts of her fine home in Beylerbeyi! Thank you, Hatice. Thank you, Istanbul! Thank you, Turkey!
---
It was a great pleasure to meet Hatice and to stay at her beautiful house. She was very warm and also very knowledgeable about Istanbul and Turkish history. She was kind enough to accommodate us with an early check-in. The House is ideal for 6-7 people. It has a very well furnished kitchen. It is located at a residential area in the Asian side of Istanbul. With 5 minutes walk you can be by the Bosphorus and enjoy very good local restaurants and cafes. With the same distance, you can make it to the ferry terminal and get to the European side. My family and I enjoyed our stay very much and cannot wait for another trip to Istanbul to stay at Hatice's house.
---
It was a pleasure staying at Hatice's very comfortable, clean, fully equipped house in the Beylerbeyi neighborhood north of Uskudar on the Asian side of Istanbul. My brother and his family, my father, and I met for a week long family reunion. Hatice met us on our arrival (30-40 min taxi drive from the airport) and not only showed us her house but also gave us a tour of the neighborhood. Hatice is also very knowledgeable about Turkish history, art, and culture. There are no bars or clubs in the neighborhood; it's a low key family area, but a short walk to the Bosporus with many cafe and restaurants. We enjoyed shopping and eating in the neighborhood. A 20-30 min ferry ride will take you to all the tourist destinations but after your excursions it's nice to come back to a less hectic area for meals and relaxation. I cannot recommend Hatice's place enough. It's a gem. Shadman and family.
---
Hatice was so welcoming and hospitable despite our late arrival due to a flight delay. All previous positive reviews are so true. She is very informative, gives a short guided tour of her neighbourhood, her home is a lovely place to stay and just 5 minutes walk to Beylerbeyi ferry for a 30 minute journey to Istanbul. We are a family of seven adults aged between 50 and 64 and all agreed how wonderful Istanbul is and particularly Hatice's home in Beylerbeyi. We arranged a mini-bus transfer from Ataturk airport to Beylerbeyi, which was great, but now know Hatice can also arrange this for you at a better price A fabulous week in Istanbul.
---
My experience of living in the Hatice'house was very pleasant.Residence located in the prestigious area of Istanbul, is an example of Ottoman architecture was very suitable.We arrived in Istanbul early in the morning and Haticce waiting for us from 6 o'clock morning so that we can settle, and we leaving evening and she let we stay in the house until evening and helped taxi because we had 6persons and it was hard to find a suitable car.In day of our arrival Hatice showed us all area attractions, restaurants, places for walking.progulok. Hatice for me was the most hospitable hostess for all my travels and I certainly recommend it to anyone who is going to go to Istanbul.
---