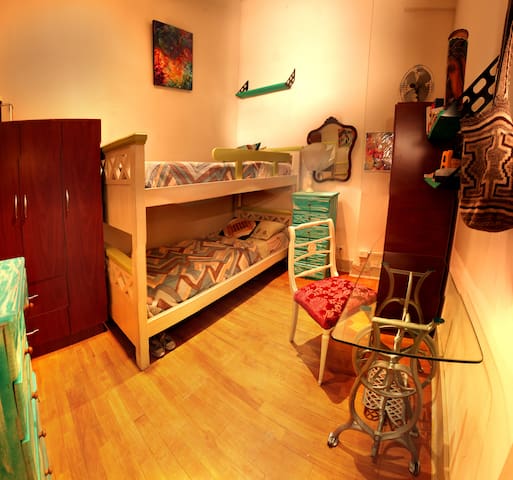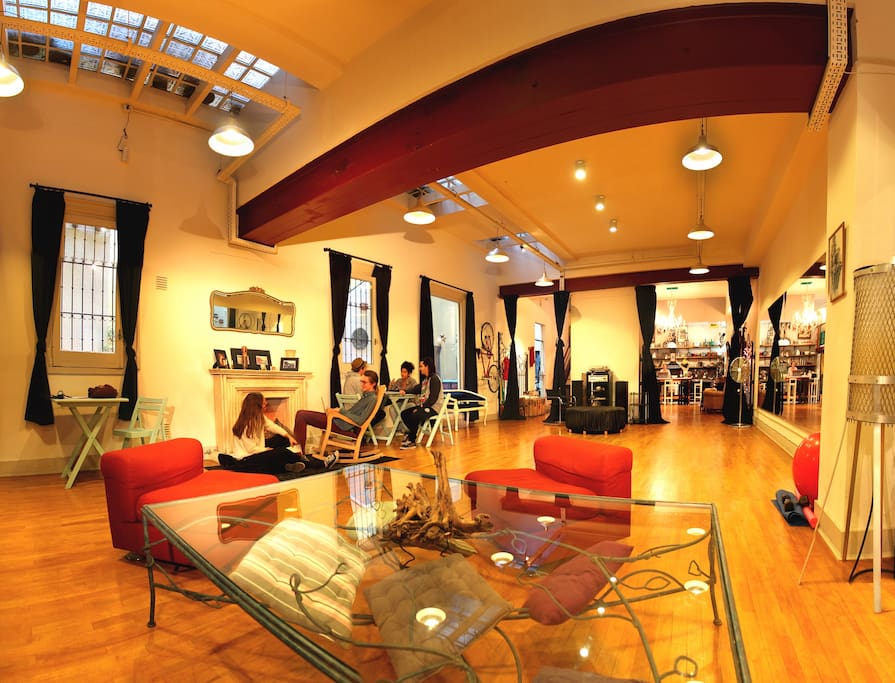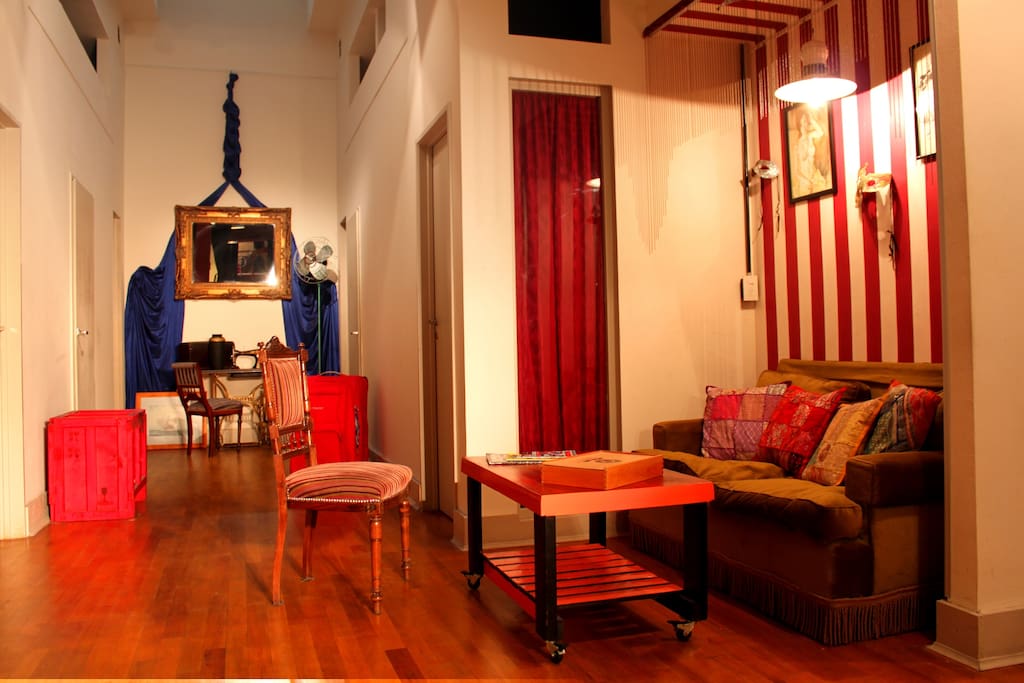 BUNK BED AT PISO COMPARTIDO AT SAN TELMO!
Amazing unique pop style loft of 350 m2. Open kitchen fully equipped for cooking, huge antique windows throughout the building and ceiling, beautiful old & pop deco style, high class furniture, big dance room, wooden floor, colonial courtyard, jacuzzi, lots of amenities, two big living rooms . Room cleaning & laundry service included. Bicycles and car available. Excellent vacation area surrounded by clubs, bars and important universities such as UADE, UCA, FUC & very close to Puerto Madero!
房源
Hi, my name is Fabio i am the owner of the house. the ambience is relaxed and chill with everything you may need to feel comfortable during your stay. The big spaces will assure you can relax, study, play or chat with other people, make new friends, or if you prefer have your own space to study and relax alone. The house has an open kitchen, two big living rooms, a big patio full of beautiful plants, and a saloon were you can dance or do yoga. Wifi works perfectly all over the house, you are welcome to invite people and you manage with your own key. In the summer the house has a very nice cool temperature, which is important since summer in BsAs usually gets pretty heavy, and during the winter we have and excellent heating system to keep the house really warm in the cold days of winter. We have lots of games such as ping pong table and foozball, also musical instruments such as guitar or bass. The kitchen is fully equipped. All of this makes the house a wonderful choice for your stay, we provide tango and Spanish classes upon request. We also offer travel car service. The house is located in the best vacational area of San Telmo and very close to Puerto Madero. We help people discover the best of BsAs and give them all the tips and info they need to assure they have a great experience during their stay.Please inquire for savannah blankets and towels.
房客使用权限
Full access to the house and all its facilities, such as bicycles, ping pong table and library.
与房客的互动
We enjoy helping our guest to learn Spanish language, give them tips about the best places to go out like milongas, museums, bars, restaurants, partys touristic places, shopping, travels or where to study in our country. We do our best to make them feel comfortable at the house and feel "at home", nevertheless there are some basic rules about cleaning and order that have to be respected for the benefit of all our guest.
其他注意事项
Attended by the owner. Tango and Spanish lessons available upon request.
Free yoga classes, bicycles also available for free! We take you to exchange money at the best price.
Please consult prices for long stays.
We offer private transfer service from and to the airport at the same price as a taxi, where we wait in person holding a sign with your name. We also organize customized road trips to places you would like to visit, or transfers to where you need. Consult our fee!
---
---
---
不适合儿童(2-12岁)入住,或不能为儿童提供安全的住宿环境
Basic rules of common sense and respect towards the house and other guests. You get your own key, visit allowed.You can also ask that we send to your mail our basic rules of the house.
---
---
Der Wohnbereich ist unglaublich groß. Es gibt es gut ausgestattete Küche und viel Spaß um zu kochen. In den Wohnbereich ist ein Bereich integriert, der sich auf Grund der Spiegelfront sehr gut eignet sportlich aktiv zu sein. Es wohnen etwa 10 Personen dort. Es kann abends deswegen auch mal lauter sein, wobei man dann auch um Ruhe bitte kann. Die Lage ist für mich wegen der naheliegenden Bars und meiner Arbeit sehr gut.
---
First of all, we would like to stress that we had a fantastic time staying in Fabio's apartment, though this was mainly to do with the good friends we met here. The apartment is a unique place in the city which is perfect for meeting like-minded travellers, students and young professionals, and as everyone is generally settled for at least a month you get to know everyone well. We do not think our experience in Buenos Aires would have been the same anywhere else. Sadly, however, there were a few things that made our stay here very uncomfortable. I'm sure we happened to be there at a particularly bad time as Fabio was going through some personal issues, but he seemed to be unable to separate these from the business and this negatively affected our stay. The flat itself is beautiful and exactly as advertised. San Telmo is a great part of the city to be in and, although we had heard things about the area, at no point did we feel unsafe here. The rooms are relatively small but more than made up for by the communal areas. However, we often felt unable to use these areas as Fabio was asleep on the sofa until around midday, and actually went so far as to pitch a tent on the living room floor for over a week having booked out all the rooms, including his own. Fabio also took us out for drinks one night and showed us some bars and clubs. Though it's nice he makes an effort to get to know people, he was later driving us around the city having consumed far, far too much alcohol. This was a situation in which we felt both unsafe and uncomfortable trying to get out of, which is an unacceptable position to put your tenants in. Although we had no money problems with Fabio ourselves we had to hear him arguing loudly with others, meaning we felt unable to approach him about any issues we had. It's a shame because Fabio was mainly a lovely host. He was thoughtful and recommended interesting bands and places to go that we would never have found otherwise. The apartment itself is fantastic and we met some great people. However, there were some extremely unprofessional moments, and this would make us hesitant to rent a room here again.
dear jess: i can't believe you are been so unfair about your review, you are lying so much and overreacting!!and worst than this , during your stay you never complain or say a single word about all of this you complain now!, first of all: you say almost at the end of your review that i am :MAINLY A LOVELY HOST jajajaj!then it doesn't make sense at all you review!!!but i suppose you say this cause may be i was worried about you and your friend in all their needs or because i always treated you correctly? or always ask you about your needs? or perhaps because every time you were ill i was worry and polite with you two that now you are stabbing a knife at my back without any notice and without any complain before, completely unfair from you. !!further than this i would like you to tell me what personal matter or problem you had with me to do this! you or your friend during your stay!!!anything!! just say it!!...you say that one night(one night!!) we went together!! ONE NIGHT!and i had alcohol , but no one obliged you to be in the car with me , did i fight to anyone? did i crash? did i talk to you bad? NOOO!, you were drinking wine every single nights i ve never say anything! you also say! you were very uncomfortable with your stay!nothing more far than the truth, you were laughing and having a good time all your stay!! you say that you couldn't uses the common areas??????????? no one was ever awake at the house at morning, i never meet you at morning at home , tell what time you were at home at morning? never!! also you know perfectly that i leave my room for the other host to make her a favor cause his boyfriend was coming! and i did it so they could be together sleeping in my room!so for making a favor to other host you criticize me? , i suppose this make a bad host too right! ooh but no! I AM A LOVELY HOST, tell me please cause i don't understand! how can i be a lovely host! as you said and then you trough all this sh.... it on me . i was studying for my exams at night ,sleeping in a tent to make a host a favour that thanks to you i will never do it again! i can't believe you are so blind and selfish to say such a things! you left my house with a smile i walk with you to the street helping with luggage and stopping a taxi , till this very moment you were such a false snake to me and to the house were you stayed!! smiling and saying everything was great! this is the kind of host you are ! a fake childish person? you say you weren't able to use the common areas? you lyer!! you spent your whole stay watching tv at the living rooms , you play foosball you stay all time in the kitchen!! it's amazing how you can lie without consciousness, and if you pay attention to the most of my reviews I DON'T NEED AN EFFORT TO GET ALONG WITH MY GUESSES take a look and you will see ,i've had wonderful times with most of my guesses this is just you that apart from being a liar and overreact lots! seem to be that you are very childish !! also the one!! day you heard me arguing was precisely because there were a coach broken i had to notice myself cause no one said anything and no one wanted to take responsability of this!!and i should charge for the repair and i didnt!! further on if you have a complaint about noise you just can come and say it , but no! you say that you couldn't talk to me, right? so i was able to get you a tea whenever you felt bad with cough ,and also to recommend you lots of places and also to accompany to your taxi when you left and give you a kiss , but yeah!! for sure you wasn't able to talk to me ! you are really a snake as a person and as a guest! good bye , and ho!! you say you hesitate ! about coming to my house again!? jajajaja for sure you are not coming back to my house again!! NEVER!
---
Hola, me llamo fabio, soy el dueño de la casa , soy sociable, limpio, ordenado y respetuoso, soy profesor de yoga , me gusta leer, escuchar musica, salir con amigos, me gustan los animales y los espacios verdes, tambien me gusta la noche y los viajes independientes, el camping, la montaña, la playa, pero no con mucha gente, prefiero lugares mas alejados, me gusta que en la casa haya buena onda y respeto por los demas y limpieza,me gusta compartir una comida todos juntos o una salida a un club,mis lugares favoritos para salir de noche son los lugares underground, los dias de semana estudio y trabajo asi que no me acuesto tarde ,me gusta tambien realizar practicas de meditacion, espero conocer mucha gente de todo el mundo y hacer nuevos amigos a quienes poder brindarles mi hospitalidad y compania, puedo informarles ampliamente a mis visitantes , los mejores lugares de bs as para comer, salir de noche o pasar el dia, me gusta mantener la casa en excelentes condiciones y siempre mejorando el servicio y la comodidad!
语言:
English、Español