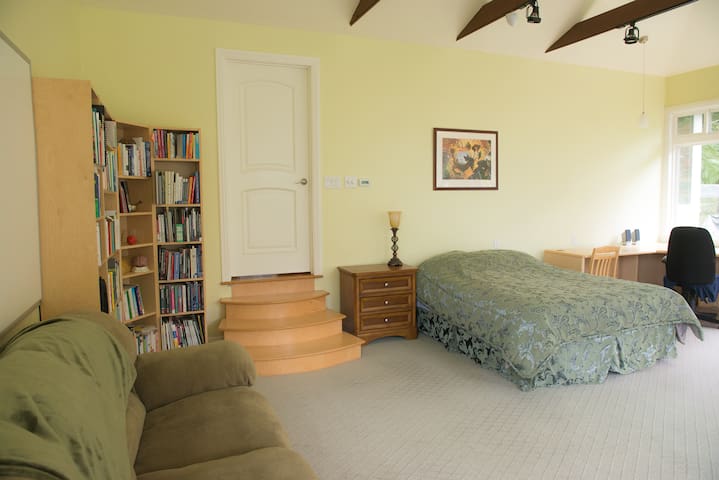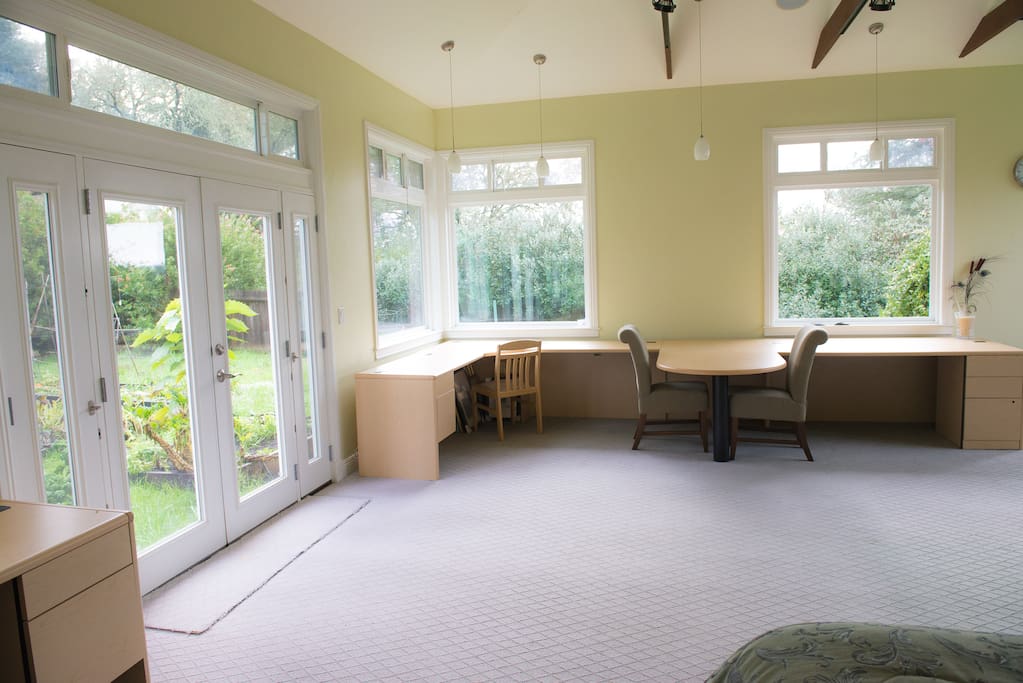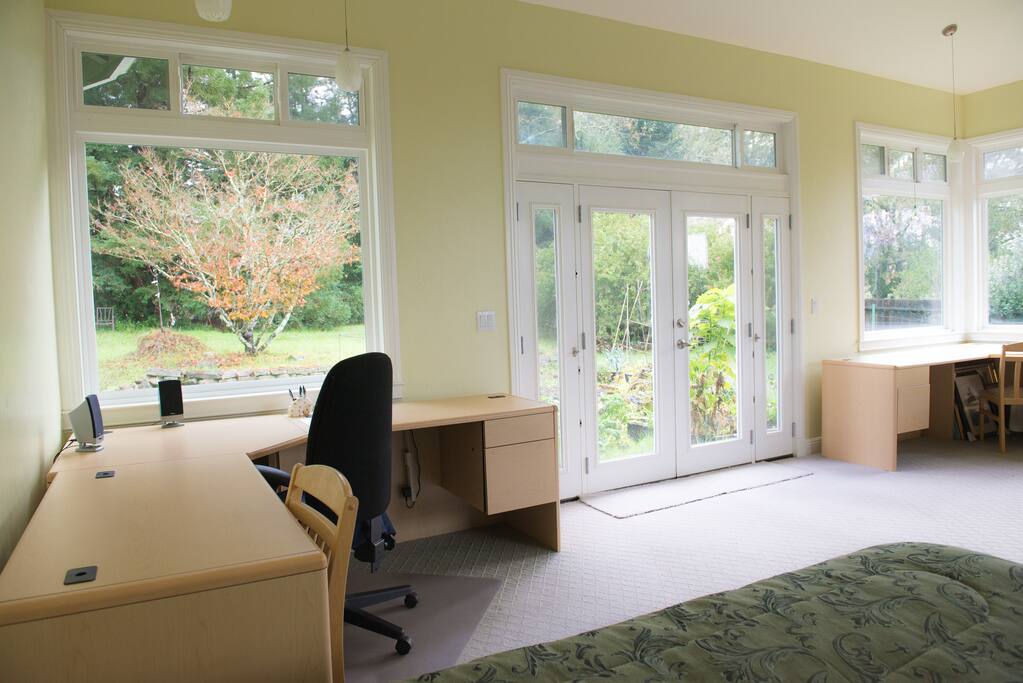 This quiet room is spacious with lots of light and is surrounded by greenery and a lovely sunset view. Your retreat is on a quiet private road and is not far from walking and biking trails, a beautiful state park and is a 20 minute drive from the beach. It's on the outskirts of town, where you'll see the stars and hear crickets sing in the evening, but it's still walking or biking distance to downtown restaurants & tea house, farmer's market, movie theater, yoga classes and more.
房客使用权限
You have a private entrance to your room and can come and go as you please. The private bathroom is through the door to the adjoining main house, just across the living room (we would love to meet you if you want to say hello). There is tea and filtered water available for you in your room, along with lots of desk space for your laptop and a cushy sofa for watching a movie on your laptop. You're welcome to use the fridge or microwave in the kitchen.
与房客的互动
We're friendly and also respectful of your space, if you don't want to socialize. We can tell you about the best spots to visit, eat at or hike to, depending on your interests. Our toddler takes up most of our attention, but we do enjoy meeting friendly new people and want to help you savor all the simple pleasures and amazing things to do and see while you're here. In general, we'll leave you to your day unless you want to come in and say hello (at which point our toddler will bombard you with questions and ask you to read her a book). Our super friendly 'welcoming committee' cats may want to come in to visit you (we can bring them inside if they bother you). Our kind request for you is to tell us if you have any issues with the room (text or in person) so we can try to help - we're responsive and want you to enjoy the space.
其他注意事项
Here's our list of caveats to help you determine if this is a space you might have an issue with. We're early to bed and early to rise because we have a toddler (she's the greatest thing ever, which makes up for her hours). We are quite friendly ourselves and appreciate it if you aren't mean. This is a family home, not a hotel. The yard is not much to look at this fall after a hot dry summer, and we're redoing our landscaping so there are no manicured gardens to enjoy (but it is peaceful and quiet). The big sunny windows let in lots of gorgeous light all day long! But there aren't any big curtains to close out the moonlight (don't worry, there are no neighbors who can see in, just a big backyard). There is a lot of iron in the water here in Sebastopol and we're on a well, so it sometimes tints the water.. The carpet in this room is wool, which apparently a few people can smell quite well (I can't smell anything offensive at all, and almost all guests don't). Based on past guests, it's probably not the ideal place for you if you're allergic to cats or you're going to be out late drinking or want to sleep late in total silence. It's also not a great place to have people over. All that said, we'd love to have you if you think this sounds like a lovely spot to land for a night or two.
---
---
We have a little one in the house so quiet hours are after dark while she's asleep.
---
Kendra was a wonderful host and her place was perfect. I came into town for a wedding with my daughter and we wanted a clean, quiet, friendly place that was close to town. The room was spacious (like not kidding) and comfortable. The windows were bright and the views were lovely. And we had a visit with one of the kitties, who loved to cuddle. The bed was warm and supportive and the couch was super comfortable too. Kendra was so great with recommending a coffee/breakfast place and would have offered more if I had more time to explore. I will absolutely come back again and stay here. I'd highly recommend!
---
This room was exceptionally peaceful and healing! So wide, big, open, spacious, clean, and bright, with big windows. Plus, something about the "feng shui" or "vastu" of the space made the energy feel just right. Also: super silent, gorgeous view, wonderful selection of books, and, yes, though I only got to meet one of the two cats (Tig), he was so awesome!
---
You are getting just that--a room, with no privacy to the neighbor across the street. The host's cat will cry and scratch at the door if you don't let it in. You'll need to shut off all the lights in your room before it will finally give up. Nice location, but not worth what you pay.
Gentle Guests, here is how to not have a good AirBNB experience: Don't tell your host when you have an issue and then leave early without ever meeting them. It's easy for me to bring the cat in and nobody can see into the room beyond the ceiling. I would have liked to have made it more pleasant for you, Michelle!
---
We loved Kendra's comfortable and open space accomdations, located very close to downtown Sebastopol. Her description and House Manusl were accurate and helpful. Kendra was kind, welcoming and helpful. I highly recommend Kendra's place for a single, or couple, traveling to attend a local event, or intending to explore and travel around Sonoma County.
---
I'm a health researcher from the North Bay Area. I love photography, cycling, dogs and babies, good conversation and trying new things.