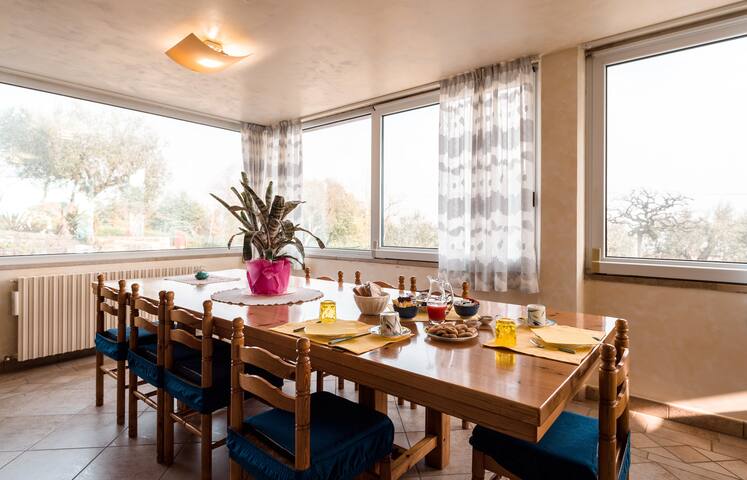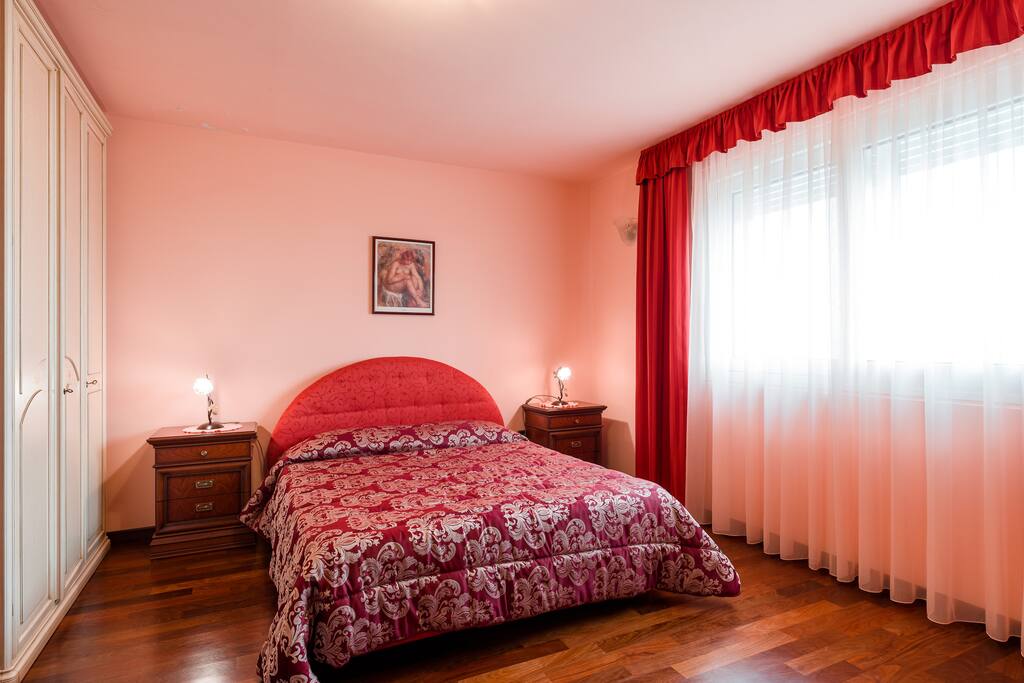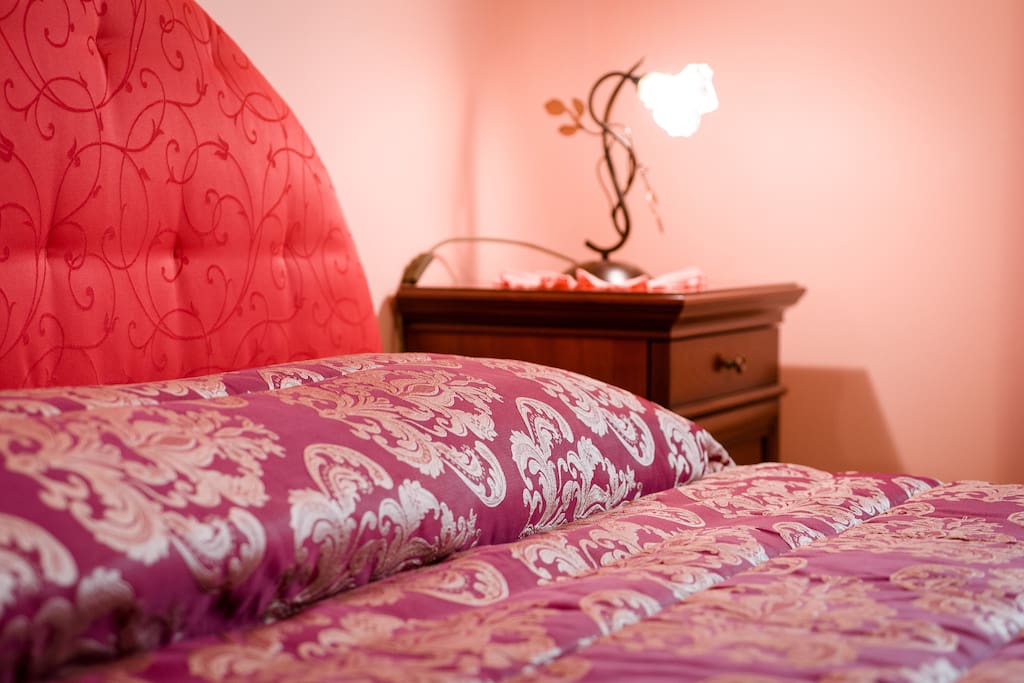 房源
Located in a private park just outside Tavullia, the home town of Valentino Rossi, surrounded on one side by the hills of the Marche region and on the other by the hills of Romagna, the "La Torretta B & B" offers comfort and relaxation in a calm, serene environment, in contact with nature. From the terrace you can enjoy panoramic views of the Pesaro and Monte San Bartolo sea front, as well as castles and medieval fortresses in the surrounding hills, as far as the Apennines with views of Monte Catria and San Marino. Located only a few miles from the beaches of Romagna and the Marche seaside and from some of the most famous art cities in the area, the "B & B La Torretta" is the best place to start any type of holiday.
The building is surrounded by a large garden and has its own private car park. At the rear there is a covered and heated swimming pool, which can be used in winter and summer, it is equipped with a lift which was installed to help people who have difficulty entering and exiting the water. The pool overlooks a garden, the ideal place for reading, sunbathing and relaxation.
A generous breakfast is served in a large, illuminated room overlooking the garden with views of the sea and the city of Pesaro.
The "B & B La Torretta" has 3 double rooms, with the possibility of adding a third or fourth bed; the elegantly furnished rooms are located on a separate floor. Each room is equipped with private bathroom and shower, towels, bathrobes and courtesy products. All rooms have air conditioning, digital TV and Wi-Fi Internet connection. Entrance to the rooms is independent and it is possible to use a lift to access them.
---
Sono stata a casa di Mario con i miei amici per tre giorni ed è stata una bella vacanza per noi. La casa è bellissima! C'è una meravigliosa vista panoramica nel terrazzo dove si può vedere l'alba e tutto quello che circola la città di Tavullia. Noi abbiamo fatto un carino aperitivo qui. Mario è stato un gentile host, molto disponibile e ci ha aiutato moltissimo con tutto. È stato un' esperienza completamente piacevole, non vedo l'ora per tornare!
---
Mario and his family were fantastic hosts nothing was to much for them. The accommodation was fantastic/excellent and also catered for wheelchair bound guests really well (a hoist is available at the pool). The views from our rooms were lovely. There are plenty of places to visit although you do need a car or some transport to reach them. The breakfast was freshly made and locally sourced and very tasty. I would recommend staying here to anyone who wants a fantastically relaxing holiday.
---
It was the 2nd time I visited Mario's beautiful place and it has been amazing again! He and his family are super guest friendly, it really feels like visiting good friends. Mario knows everything about the area and likes to tell you about it. The home made breakfast is wonderful, so is the house with al its facilities. Thank you again Mario for a fantastic stay in Tavullia!
---
Io e mia moglie abbiamo passato una settimana bellissima presso la struttura di Mario. In realtà tutto è stato sopra le nostre aspettative: camera grande, spaziosa, ben arredata con TV, aria condizionata e Wi-Fi. Possibiltà di fruire della piscina riscaldata, ampio parco dove rilassarsi e terrazzo per prendere il sole con splendida vista a 360 gradi. Non ultima la gentilezza e disponibilità di Mario e della sua famiglia che ci hanno coccolato con delle splendide colazioni preparate da loro. Mario ci ha fornito preziosi suggerimenti e consigli sui luoghi da visitare e sui ristoranti provare. La casa é situata appena fuori da Tavullia in una zona tranquilla dove è possibile riposarsi, però è in posizione centrale per partire alla scoperta di Pesaro, Urbino e di tutti gli splendidi borghi della zona. Insomma, è stata la nostra migliore esperienza con Airbnb e assolutamente la consiglio a chi vuole visitare questa zona.
---
Es war eine tolle Woche bei Mario und seiner Familie. Zimmer, Frühstück, Aussicht und Pool waren super und er hat sogar extra nochmal (SENSITIVE CONTENTS HIDDEN) für uns zum Frühstück geholt und haben alles dafür getan das es uns gut geht. Wir würden jederzeit wieder unseren Urlaub bei Mario und seiner Familie verbringen.
---
We had a very nice stay at Mario and his family. The view from the room and the roof was amazing, a very good spot for Valentino Rossi fans! When we arrived, we had a nice dip in the pool, which is beautiful with a lot of windows. Every morning we woke up to a delicious breakfast, with a lot of home made stuff, like 'confettura di mela cotogna'. Thank you so much for the hospitality!
---
The welcome and the communication with MArio worked perfectly. The rooms were clean, spacious and had everything to offer what I needed to feel confortable. The pictures are perfect and display exact reality. The sorrounding (parc, pool, landscape) were beautiful and welcome you to stay longer and to relax The breakfast was excellent - MArio asked always what we want and when we want to eat. He arranged everything possible to make our breakfast most confortable and pleasant. MArio also provided us with excellent advices and tips where to go, what is possible to see, what cultural possiblities are around (there are a lot!). We experienced with Mario and his Wife and his daughter a complete new Italy with heartwarming people and food. Overall I really have to thank MArio and his family for this great holiday. I will definately revisit Mario and see how things are developing.
---