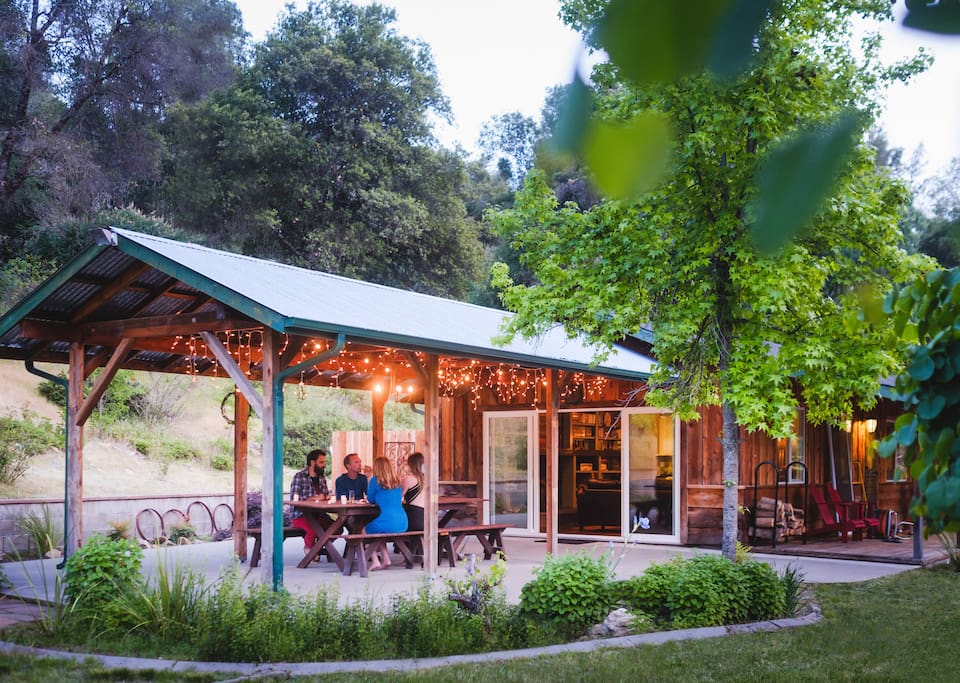 House on river, near Yosemite
欢迎来到我们现代化的乡村别墅,坐落在私人的橡树点缀的10英亩处,一条穿过酒店的河流。优胜美地山谷距离酒店有45分钟的路程,全年开放,可通过美丽,野生和风景优美的梅赛德河峡谷驱车前往四季游玩。我们距离Mariposa的商店和餐馆有8分钟的路程。
Welcome to our modern rustic house, set on private, oak-dotted 10 acres with a river running through the property. The Yosemite valley is 45 mins away and accessible year-round, for 4 season fun, via the beautiful, wild and scenic Merced river canyon drive. We are 8 mins to the shops and restaurants in Mariposa.
---
We had a spectacular time visiting the Copper Lodge. The house was spacious, clean, beautifully decorated and had every amenity you could think of. There were plenty of interesting books, magazines, DVDs and games. We would go back in a heartbeat! Natalie was very responsive and …
---
Great place for exploring the Sierra foothills and Yosemite. The house is clean, comfortable and well stocked with all the supplies you'll need for a ~week long stay. The property has many comfy places to relax and enjoy the beautiful surroundings, although the hike down to river…
Hi Justin, thanks for the great review. We're very happy that you enjoyed your stay. We also appreciate the feedback on the trail and have updated our listing to let people know that it's currently an ungraded trail so they know what to expect. One of our winter projects this year is to create a new, more graded trail to the river. We hope you can come back to visit again and see the upgrade!
---
Natalie was wonderful to work with - very good at communicating the details of their beautiful property and everything I'd need to know to have a wonderful stay. I'd seen the pictures online, but when I walked into the house, I was surprised at how perfectly decorated and perfect…
---
This home far exceeded my expectations and it is exactly how the pictures show. It's so beautiful and by far one of the best Airbnb I've stayed in. It's secluded and quiet, and about an hour and a half drive from Yosemite National Park.
Hi Sharon, thanks for the great review and we're so glad you enjoyed the house and your stay! Please come back any time. :-) You're right, travel times to the park are definitely longer at this time of the year, given the number of visitors and heavier traffic. I hope it didn't impact your trip too much. Best, Natalie
---
Our stay here exceeded every expectation. The property was off the beaten track which ticked the seclusion box for us perfectly. The house is beautifully furnished and equipped with everything you could possibly need to be entertained (books, games, ping pong, hammock, river... t…
Hi Jenna, thanks for the great review, we're very happy to hear that you had a wonderful time! Totally agree with you on the seclusion–that we're easily accessible to Mariposa and Yosemite, but tucked away down a quiet road so we can have peace and quiet when we need it, is what drew us to the place. Please come back again, anytime! :-)
---
Hi and very nice to meet you! My husband Jon and I are looking forward to welcoming you to our river house in the woods and doing everything we can to make your stay as comfortable as possible. I grew up in England, and moved to California for art school in my early twent…