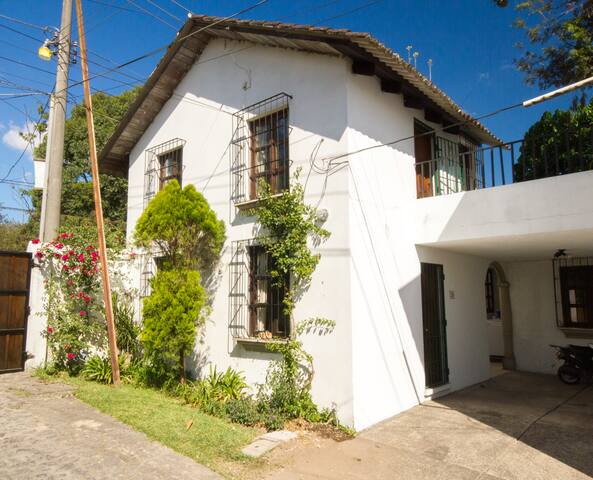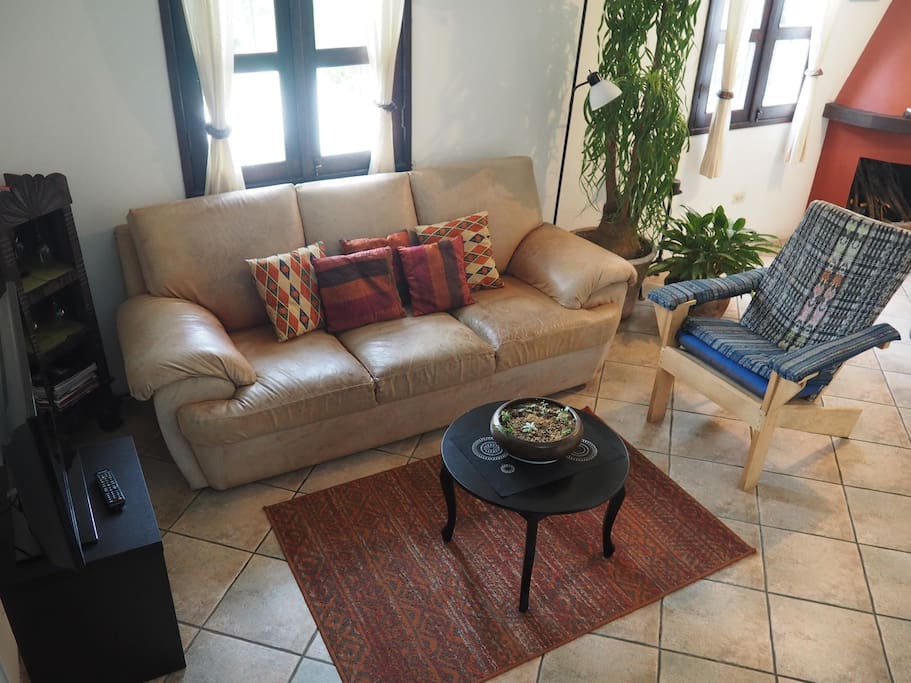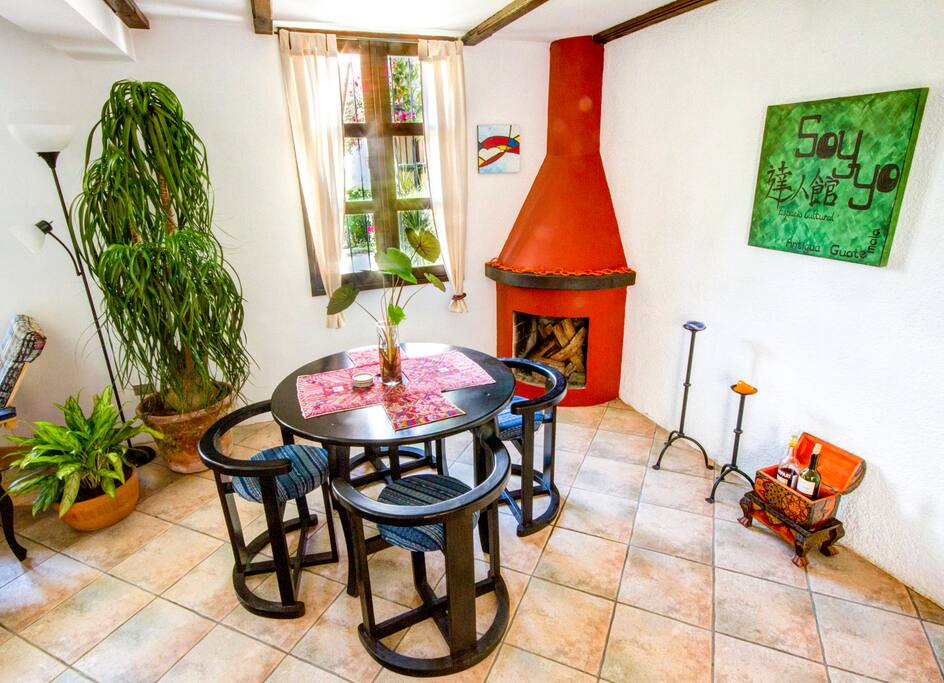 Just a 10 minute walk from Antigua's Central Park, this lovely townhouse is located in a small gated community with a beautiful pool! With two bedrooms (one with a Queen Bed, the other with a double bed), two levels, 1.5 bathrooms and a great upstairs terrace with volcano views -this is a casita rica!
---
This home was the perfect size for our family! It's location is just on the edge of town, close enough for our young children to walk without complaint. As the house is right next to the road, the car noise can be quite challenging at night for light sleepers. The shared pool and BBQ were great amenities to take advantage of! The security guards were very friendly and accommodating. Oh, and the views of Volcan Fuego & Acatenango are wonderful!
So glad you and your family enjoyed the house Michael. It is regrettable that Antigua's current road construction resulted in more traffic than usual having to use 9th Calle and thus more noise than usual. Hopefully/soon - we will get back to normal. Safe travels, and all the best to you and your family. George
---
This served as the perfect basecamp for a family trip to Antigua. George and Dahr were relaxed and attentive as we settled in and got the hang of the house and the town.
---
George met us on time to welcome us to the house. A few days in there was an issue with the hot water. Since we booked this place for a month and George was uncertain how long the city would be working on the pipes, he moved is to an upgraded place! At the new place there were some issues (gas tank ran out of gas or the sink drain got clogged for example) and George responded right away. He also secured transportation and tour info right away. And even when I thought there was an issue (I thought the tv channels were not clear but realized I had to make sure the DVD player was off to be clear), George swing by my place and patiently explained how to make the channels clear. He and his assistant Dahr also made sure we got another driver within 5 min when our initial driver who was supposed to take us to the airport was late. All in all George was a super host. Very responsive, helpful and patient!!
---
George was a great host. He greeted us at the house to give us a tour. Even after we were well settled, he was really quick to respond to emails and answer our questions/requests. I would rent from George again for sure.
---
Very welcoming experience to get me into the unit with Dahr, George's friend in Antigua, easily facilitating entry, exchanging of important information about the unit, explaining the security, keys, etc. One important thing to note as this is a very quiet and secure development of villas. I always felt safe. The main issues I had with my stay here were with the water tank and overall cleanliness of the floor. The instant gas-powered hot water tank did not function properly for maybe half of my stay. There is apparently a lot of the silt in the lines in Antigua and since this unit is the first one off the street, a lot of sand gets stuck in the hot water heater. Between cleaning the filter, getting a new water tank, and fluctuating pressure issues, it had to be looked at about 3 different times. I was in Guatemala for business and waking up early. It was not very pleasant that I had to take probably 4 ice cold showers at 5:30 AM. I get it that the silt issue is not their fault but it was frustrating, especially considering that for $70 a night I could have opted to stay in a pretty nice hotel which would not have had water issues. I would have preferred one of the electric "suicide" showers with the crazy wires than shower in cold water. The other issue was with the cleanliness of the unit. It did not seem like there had been a good cleaning of the unit for my arrival. I got the feeling that it had been sitting for while. There were dead flies in the corners, the floor was pretty dirty (just a few minutes with damp feet walking around upstairs and bottom of my feet were black), and the upstairs terrace had not been swept or sprayed off in a while. I really did not spend very much time in the days in the apartment, but the few times I sat upstairs doing work or enjoying the terrace I couldn't help but notice these things. It was great to be able to do a load of laundry, the wifi was decent for LATAM (About 3 Mbps down, 1.2 Mbps up, with a low latency), and I enjoyed being closed to the main square.
Hi Christian - As I mentioned in my voicemail to you... apologies again on the water situation you experienced at the house. It was really out of our control and I know Dahr responded to the 'series' of water issues as quickly as possible - but apologies again. I too had to have my water filters (at my house) cleaned and replaced when I returned home from being away. The entire Antigua Water System was problematic that week - with a number of 'shut offs' which added even more silt to everyone's water. As for the house cleaning issue - we've never had that complaint from any previous guests, but we certainly would have had the cleaning lady come over immediately to do a cleaning if you had mentioned this to us. Best regards/safe travels, George & Dahr
---