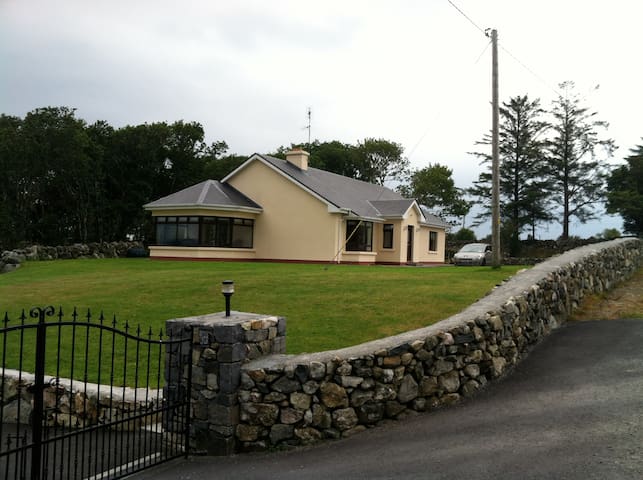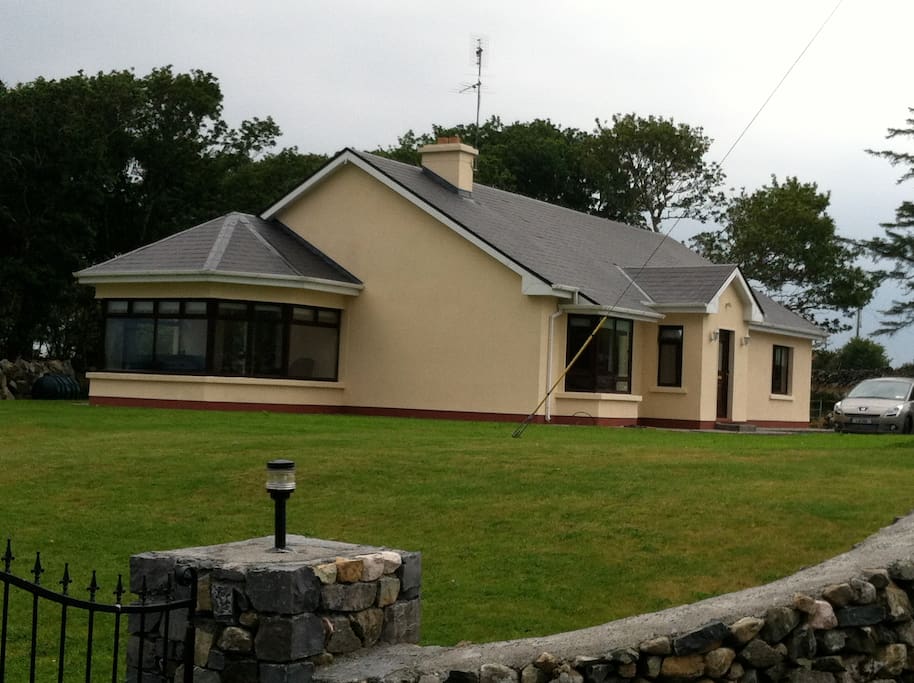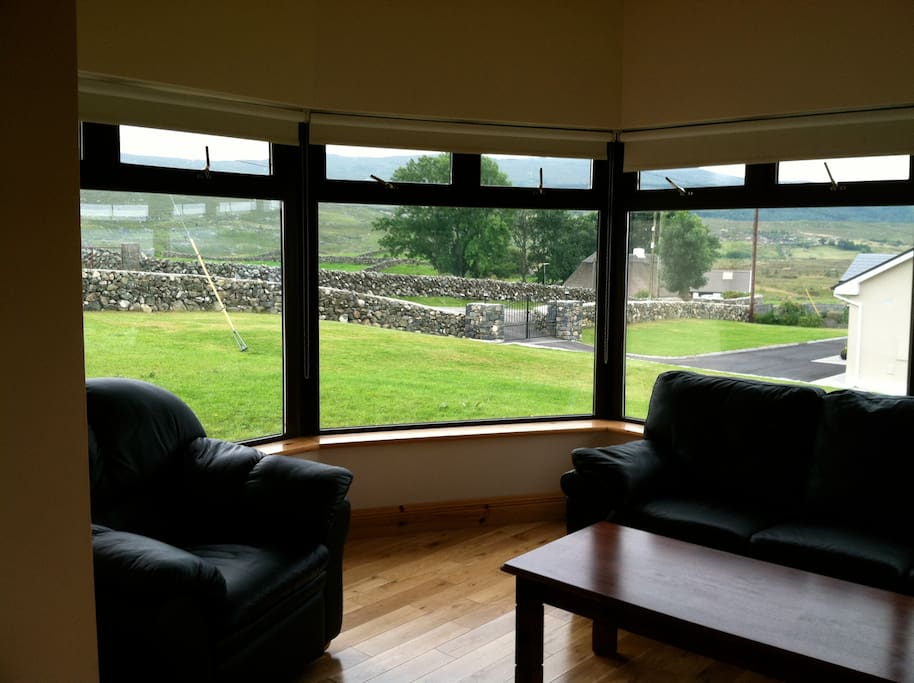 房源
Property characteristics
•New home located on the Rusheeney road, just outside Oughterard village.
•Three (3) Bedrooms: two (2) queen beds, two (2) twin beds.
•Three (3) full bathrooms (two en-suite)
•Sitting Room with fireplace and flat screen TV.
•Huge eat in kitchen with all new appliances, countertops, cabinets and fireplace.
•Sun room off kitchen with fantastic views of green fields and hills.
•Oil heat; separate utility room with washer and dryer and hardwood floors throughout house.
•Nearby activities: golfing, fishing, horseback riding, hiking, biking, walking, site seeing, and shopping.
** Towels and bed linens are provided
** A car is a must for this property as it is 1 1/2 miles from the town and necessary to enjoy exploring the area!
Oughterard is a traditional village in the West of Ireland nestled beside Lough Corrib at the start of the Connemara Mountain Range and only 11 miles from Galway City.
Its variety of attractions, accommodation and businesses make it the ideal location to experience a small Irish Village and a base from which to explore the breathtaking scenery surrounding it.
We loved our stay ! Stephanie was great- we just talked on the phone, but she was extremely helpful and flexible when it turned out that I had an extra person staying. Ann, who welcomed us, was wonderful as well, and the place itself was beautiful, quiet, roomy, and with a great backyard where the kids enjoyed playing. We could walk all around the surrounding countryside,which was beautiful. The town was only a few miles away, if we wanted a restaurant, groceries, etc, but then we could return to relax in a beautiful, comfortable setting. I would love to come back!
---
Beautiful, spacious home in the middle of quiet farm land and scenic landscapes! If you have a car, this a terrific launching pad for day trips up and down the west coast of Ireland. If you do stay here, don't forget to say hi to Blackie, the friendly Border Collie next door who keeps any eye on the baby sheep. Peter and Ann who live next door and have the keys to the property were very friendly and helpful. This property is highly recommended.
---
We had a great time staying in Oughterard at Stephanie's place. The house and grounds were in excellent condition and very comfortable....especially the sunroom! Very peaceful, rural setting with good food and music sessions in Oughterard. And it was a good location to go into Galway or explore much of Connemara. Stephanie was quick to respond to all communication and her aunt and uncle were next door and easy to contact if we needed anything. Thank you Stephanie (and Ann and Peter) for making our first trip to Ireland memorable.
---
We had a wonderful time on our first visit to County Galway. Our stay in Stephanie's relaxing, beautiful, and charming home in Rusheeney was part of what made this trip wonderful. Beautiful, spacious, and in the country away from the noise and lights of the city. And, the views from the sunroom were amazing! If we have the chance to return to County Galway, this is where I want to stay again!
---
Stephanie was easy to get in touch with and responded very quickly to any questions we had. Anne greeted us when we arrived, was warm and welcoming, shared information about the home and local attractions, and made it clear that she was available if we had any questions or concerns. Stephanie's home is new, spacious, comfortable and lovely! This is a beautiful, modern, 3 bedroom, 3 bathroom home with incredible views. We made use of the full kitchen and saved money on meals, and were grateful for the use of the washer and dryer during our stay. This beautiful, modern home is tucked into the idyllic Irish countryside. The rolling hills in so many shades of green, the traditional rock walls, the sheep, the cows, it was exactly how we pictured the Irish countryside to be. Absolutely beautiful! The sun room with surrounding views was a definitely a bonus and was a lovely relaxing room in which to sit and relax with a cup of tea. We enjoyed walks around the home and used this as our home base to drive out and explore the many sites in Southwestern Ireland. We stopped in Oughterard a few nights to enjoy a pint in the local pub and were able to pick up groceries and supplies here in town. Galway was only about 25 minutes away by car and it was well worth the bit of driving for the use of this beautiful home, the wonderful price, and the peace of the Irish countryside. I definitely recommend this home to travelers who want to slow down and get a true experience of rural Ireland!
---
Our stay at the Rusheeney Cottage was excellent! Ann, and her border collie, next door were very welcoming and informative. The house is pristine, bright and clean...and ample size for our family of five (3 teenagers). We enjoyed our visits to the town of Oughterard, 5 minutes away - especially Irish folk music on Saturday night at the Breathnach Bar (the owner, Dermot, was a peach) . Also, enjoyed touring around Galway (25 minutes away). Cheers!
---
Are you ready for the best vacation of your life?