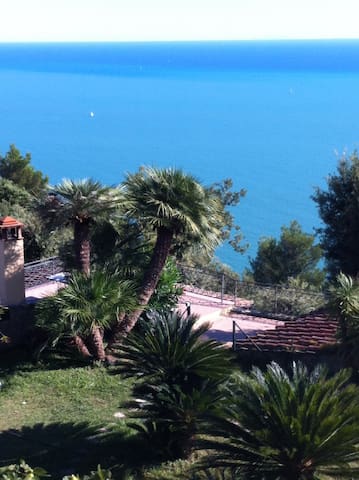 fantastic b&b in villa on the sea
房源
the location of this house is unique in a big mediterranean garden facing the sea if you are looking for peace in a very romantic place this is it!
the bedroom is big as tuo can see in the photos the bathroom is well equipped with shower and hairdryer .
there is a beach underneath with black sand and you can reach it following 700 steps and if you like trekking there are many others beaches and panoramic places to walkto.
with car or bus you can reach other beaches in Lerici or Bocca di magra where you can take a boat to Cinque terre or Portovenere.
the position is very cosy also to visit art city like Florence ( 100 km. ) Pisa ( 60 km.) Lucca ( 50 km.)
Breakfast is served in the patio but if you prefer you can cook by yourself or ask whatever you like to have.
We will be there to make you feel at home and help you .
The car park is free in the near square and when you arrive we will come to help you with the lugagge.
the village tipically "ligure" with it's narrow streets and stone or pink walls where you can find two restaurants and two shops for daily needs.
---
Valeria was such an amazing host! After struggling with Italian all week, it was great to have a proficient English speaker as our host. She welcomed us with fresh figs from her garden (delicious!) and foccacia bread. She was very helpful with our local plans (even phoned the ferry company to find out about transportation between the five towns of Cinque Terre). The house is very quiet and has a great view. It's an oasis amidst all of the touristy areas we visited during the day. The house was super comfortable, the WiFi better than my own at home and we had all of the amenities (towels, toiletries, etc) that we needed. For breakfast Valeria baked a cake with seasonal fruits and when I mentioned that my husband had been craving eggs in the morning, she went to the kitchen and scrambled a couple of eggs for him! If you have a car, this is a place that I highly recommend in visiting cinque terre. I was very impressed with Valeria's kindness and friendliness and I strongly recommend her place. Thank you Valeria! we had a great stay!
---
Non possiamo che ringraziare Valeria e Montemarcello per i bellissimi giorni passati. Solo la vista sul mare meriterebbe una valutazione a parte, fantastica. Valeria è una padrona di casa impeccabile, la casa bella, luminosa, piulita e accogliente. Nel bellissimo giardino, complice il bel tempo, abbiamo potuto paranzare e cenare sempre
---
Valeria was an excellent host. Together with wonderful Franco she cared from minute one and had allways time for a great suggestion, helped us to find the right places and recommended excellent places to visit, eat and relax. The place and especially the view was even better than in the pictures Valeria used so far - she just got new ones from airbnb by the way! In any case this is a very special location and we can only recommend it deeply! If you take the pathway to that wonderful beach below you even get your daily exercise with the bonus of a very special beach! :-))
---
500 Worte reichen nicht aus, diesen fantastischen Urlaub und diesen Ort zu beschreiben. Dieser Ort ist ein Paradies - liebevoll angelegt von Valerie und Ihrer Familie. Mein Zimmer - toll. Ich vermisse die Farben, die Terrasse und das Meer!!! Diese Familie hat mich mit einer Gastfreundschaft empfangen, die einmalig ist und die ich versuche ein bisschen zu beschreiben: Ich kam etwas zu früh - also vor 17:00 Uhr- an, aber das war kein Problem. Valerias netter und sympathischer Sohn hat mich und mein Gepäck am Parkplatz mit dem Auto abgeholt und zu diesem tollen Landhaus mit diesem sagenhaften Garten gebracht. Schon im Auto haben wir uns auf englisch unterhalten. Für mich war das schwerer, denn ich habe seit der Schule vor 27 Jahren kein Englisch mehr gesprochen. Aber es hat funktioniert, später dann auf ganz einfache Art und Weise mit Valeria, die wirklich alles auf englisch ausdrücken kann und mir immer weitergeholfen hat, wenn ich das richtige Wort nicht finden konnte. Es war das erste Mal, dass ich über Airbnb gebucht habe. So war es für mich absolut neu, in die Privatspähre - in das Haus einer neuen Person in meinem Leben aufgenommen zu werden. In der ersten Nacht habe ich mich noch fremd und unsicher gefühlt, hatte so etwas wie Heimweh. Habe mich gefragt, ob ich das richtige gemacht habe. Dieses Gefühl verflog aber ganz schnell am nächsten Morgen beim Frühstück. Da gab es italienischen Kaffee, den wundervollen selbstgebackenen Kuchen und Sonnenschein auf der Terrasse, dieser überdachten Patio mit dem Ausblick auf den wundervollen Garten und das Meer mit all seinen Farben, die sich von Stunde zu Stunde ändern und mich immer wieder zum Fotoapparat greifen ließen. Und dann ist da Valeria, die Dich nach nur einer Minute vergessen lässt, dass Du allein hier bist und in der Nacht noch ein befremdliches Gefühl hattest und unsicher warst, was Dich hier erwartet. Und es war einfach nur schön, wunderbar, fantastisch. Valerie gibt Tipps für die Gegend, Ihr Mann gibt Tipps für Fahrradtouren und Valerie übersetzt von englisch auf italienisch für Ihren Mann und wieder zurück von italienisch auf englisch für mich. Valeria ruft auch im Buchladen in La Spezia an, ob es dort deutsche Bücher gibt. Gab es - und ich habe 4 Stück dort gekauft. Ihr Mann spricht nur ein bisschen englisch. Gerne hätte ich noch mehr von ihm erfahren.... Nach nur wenigen Tagen habe ich mich dann so richtig zu Hause gefühlt, es entstand ein Vertrauen und eine gegenseitige Freude. Sie half mir mit meinem schlechten Englisch und ich werde versuchen, das zu Hause weiter zu verbessern. Denn die Sprache und die Kommunikation bringen die Menschen zusammen, und was habe ich mich oft geärgert, in der Schule nicht besser aufgepasst zu haben beim Englischunterricht. Wer die italienische Lebensart, Land und Leute kennenlernen will, ein Stück Paradies sehen und leben möchte der wird bei Valiera fündig. Ihr wundervolles Landhaus steht an einem magischen Ort. Die Famile ist liebevoll und offen. Ich war nicht zum letztem Mal dort.
---
hi I'm Valeria and my dream has always been to have a nice little hotel near the sea!
since the hotel is still a dream I will start practicing as host with a flat and a bnb.
I am a fulltime mother but I have a lot of different interests like painting, pottery, cycling, reading, learning languages and cooking.
If you come to my flat I'll be happy to taste my home made jam ,cakes and give you all information about this beautifull area where you can find relaxing beaches, visit the near cinque terre and artistic places like Florence and Pisa
If you want to try something new I can show you how to cook some tipical italian dishes or you can join a pianting course either in open air or in the studio of our professional friend Stefania. Just ask !!!
语言:
English、Español、Français