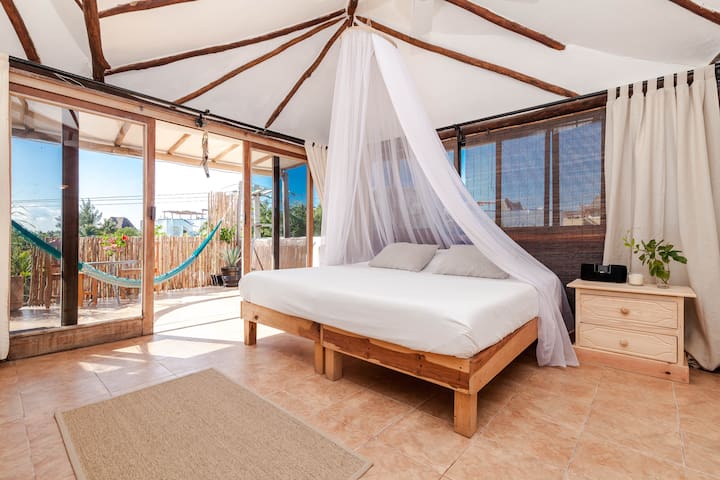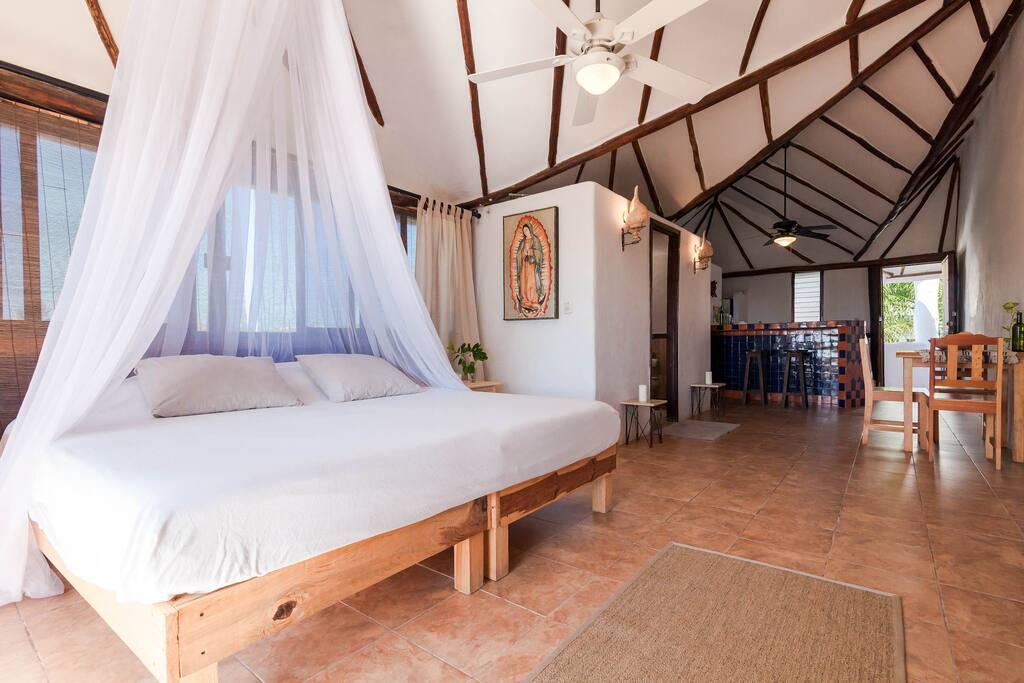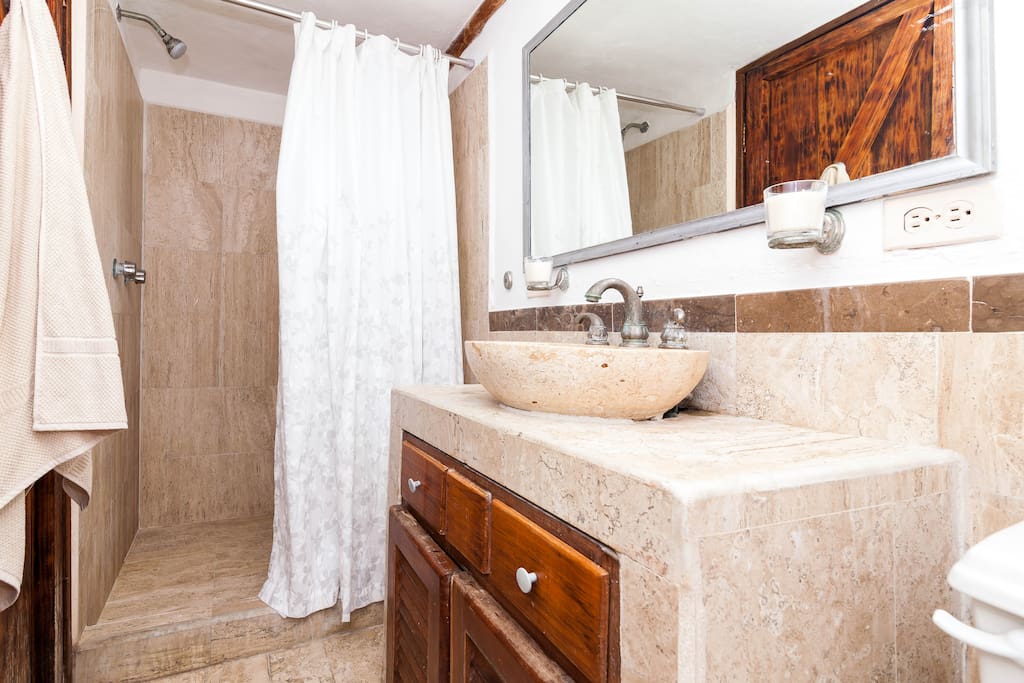 在沙滩和拉金塔之间,我的地方位于一个非常酷和安静的城镇。阳台俯瞰着与海滩相连的丛林丛林,带来了美丽的海风和美丽的日出。
Right between the beach and la quinta, my place is located in a really cool and quiet part of town. The balcony overlooks a jungle canopy that borders the beach bringing in a nice ocean breeze and beautiful sunrises.
房源细节
欢迎来到我的playa家位于1号和40号在新的一部分城镇的角落。这个开放空间非常适合夫妇或单身人士想要享有海景的宁静空间。作为一个playa的老建筑之一,它拥有一个质朴的海滩平房的魅力,而不是一家五星级酒店。门打开在一个漂亮的甲板上,俯瞰着丛林的树冠和距离大约25米的海洋。在建筑物的前面有一个公共游泳池一个门和停车场,任何人都需要它。 如果你想做饭,这个地方配备了一个设备齐全的厨房。你不应该... ... ... ... ... ... ... ... ... ... ... ... ... ... ... ... ... ... ... ... ... ... ... ... ... ... ... ... ... ... ... ... ... ... ... ... ... ... ... ... ... ... ... ... ... ... ... ... ... 在AC夜间保持冷静,或者只需将露台门打开,享受凉爽的海洋风。 请不要犹豫与我联系获取更多信息 Mi casa es su casa!
Welcome to my playa home located on the corner of 1st and 40th in the newer part of town. This open space is ideal for couples or a single person wanting a nice quiet space with an ocean view. Being one of playa's older buildings, It has the charm of a rustic beach bungalow rather than a 5 star hotel. Doors open on a nice deck overlooking a jungle canopy and the ocean about 25 meters away. At the front of the building there is a communal pool a gate and parking should anyone need it.
Should you want to cook, the place comes with a fully equipped kitchen. Should you not... The quinta avenida is a block away with many of the nicer restaurants around the corner.
Stay cool at night with the AC, or simply leave the patio doors open and enjoy the cool ocean breeze.
Please dont hesitate to contact me for more info
Mi casa es su casa!
房客使用权限
我的公寓是门厅公寓的众多之一。楼下有公共空间,设有游泳池和休息区。客人被要求保持该地区的安静和干净。它是一个很好的小点冲洗和一天后在沙滩上闲逛:)
My apartment is one of many in a gated condo complex. There is a communal space downstairs with pool and seating area. Guests are asked to keep the area quiet and clean. Its a great little spot to rinse off and hang out after a day at the beach :)
其他注意事项
如果你正在观看很多电视机,那么你在这里没有运气...我所有的都是一个苹果电视,设置在下雨天看Netflix :)互联网连接是强大的,但无限的使用。
If you're into watching lots of TV you're out of luck here... All i have is an apple TV set up for watching Netflix on rainy days :) The internet connexion is strong however with unlimited use.
The only real rule i'd like you to respect for your stay is to use the AC sparingly. Unfortunately i have to limit the use to 10 kw a day as previous guests have abused of the coolness :s consequently, I monitor the use from the counter outside and may deduct $ from the security deposit should i see its becomes an issue.. Andrea will show you where it is when she checks you in so you can keep track aswell. I had a large unit installed so it could cool the place quickly and get rid of the humidity for those sticky nights in the hot season. It isnt really necessary most of the year as we get a cool ocean breeze :)
Keep the place clean, quiet and enjoy yourselves!
Excellent location to the shopping strip with all the food locations you will ever needed. The surrounding area looks a bit rough but we were snug a bug in the condo. At first we were on high alert thinking something bad would happen but after a couple days we calmed down. Mainly because with had out 2 year old with us. The condo feels a little used/older but Everything is functional and gets the job done. The condo has a very nice style but is missing a place to sit and relax, such as a sofa or large chairs. We basically had to sit on the bed the whole. time. The unit is small (good for a couple, We had a 2 year old with us). There was some construction going but but minimal and not really an issue. The pool was dirty and mosquito got me good. ONLY at the pool not the condo. I didn't get bit once in the condo. We couldn't get the stove to work and the coffee maker only got warm. We turned the A/C off when we left for the day, turned it low when we left for a little while and left it on throughout the night. At it was fine. It cooled down pretty quick. But other then those small things we had a very very good time and would stay there again. We really only showered and slept there. We were on the go the whole time! Playa Del Carmen is very inviting and we had meaningful issues.
You should have contacted me about the issues jeffrey i would have explained how to work the stove and coffee machine :s i have all the info in the house manual aswell... also, the pool gets cleaned everyday. My maintenance guy took time off so some debree might have been in water. I'm here now and the pool is fine. If you decide to come back you'll see its normally not an issue. Either way, glad you enjoyed yourselves ;)
---
Ben's place is an absolute gem. Booking was quick, easy, and straightforward. Right before our stay, Ben was in contact about check-in directions and also sent (SENSITIVE CONTENTS HIDDEN) maps coordinates which made finding the place very easy for our shuttle driver. The whole complex is incredibly secure and in a very quite neighborhood right off of the main drag. The neighbors are quiet, the complex is beautiful and nicely planted, and the pool is great. When we first entered, we noticed that the photos are very accurate. The place was spacious and very clean. It has a simple, open layout with a clean fridge and a kitchen that is well-stocked with cooking utensils (and a complimentary 6-pack of coronitas and a gallon of water in the fridge). The bed is huge and very comfy. The best part is the patio, that overlooks a wooded, jungle area and has views of the ocean. We spent every late night outside drinking wine, enjoying the beautiful playa nights. To put it simply, the location is perfect. The apartment is 2 blocks to the beach, 3 blocks to oxxo (a nearby convenience store). It's very close to Quinta, as well as Calle 38, which has tons of hip, newer restaurants and some gems like Cueva del Chango and Los Trujillos. On our first night, Benoit sent a huge list via (SENSITIVE CONTENTS HIDDEN) of lots of great local restaurants to try. Overall, it was a fantastic stay and we will gladly stay at Ben's any day over an expensive resort.
---
The place was very pretty and looked just like the pictures. Benoit gave good restaurant recommendations, particularly Romeo's Italian, and his friend Andrea who checked me in was very nice. The beach was a little weedy but that may have been the weather. 5th Avenue is a block away, with lots of bars and souvenir shops if that's your thing. Overall I would definitely recommend this place to a friend. Much better than staying in a hotel. If you do visit Playa, make sure you take a day trip to the crystal clear beaches at Isla Mujeres and go snorkeling with Whale Sharks. Those were the highlights of my trip. And don't hail a cab on 5th, walk another block.
---
After a bad experience at another Airbnb, my bf and I quickly searched for an alternative. Benoit was quick to respond and accommodate us that same night. His place was perfect for what we were looking for: close to everything within walking distance, yet secluded enough that it was quiet at night. We could literally hear the ocean waves at night with the balcony doors open. Everything was as pictured. The only thing is that here was not hot water, but I did not message Benoit as he stated in his manual, because it was sooooo hot in Playa that the cold water was welcoming. We even recommend the place to friends!
---
Thank you Benoit and Andrea, my husband and I had a great stay at your penthouse. It was just as described, and your efforts to make it comfortable and accessible were appreciated. The suggestions Benoit provided of local places to eat and visit were appreciated, and it was a good starting point for getting to know the neighborhood. We hired a local chef named Tona with Chile Verde who came to provide a cooking class within the apartment. That was a unique experience and the kitchen was outfitted with a lot of useful tools and utensils. Our last night, there was a dance party on the beach all-night long, until 7:00 a.m.! Because we were not in the dancing mood, I wished I had earplugs. Otherwise it was very quiet and pleasant to be able to hear the music from the beach.
---
I'm from montreal but work in the arctic and live in playa :) I`ve set myself up for escaping most of the canadian winter and gladly share my place with the air bnb community while away at work. I`ve first arrived in playa almost 20 years ago and returned ever since. I know playa quite well and have lots to recommend :)
语言:
English、Español、Français