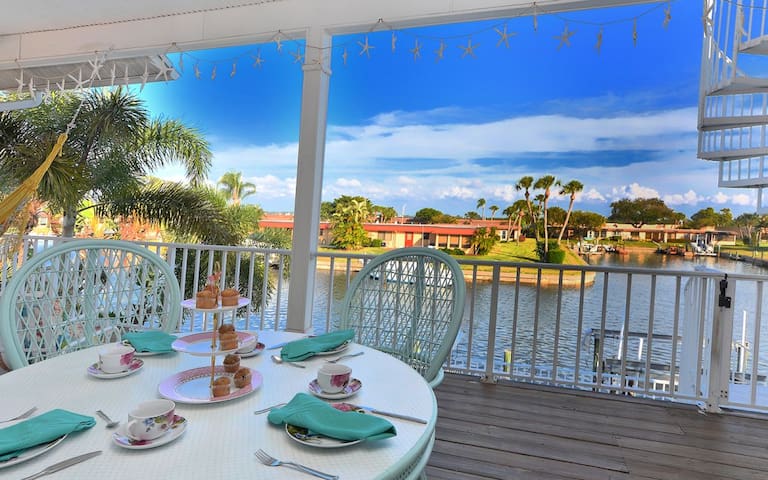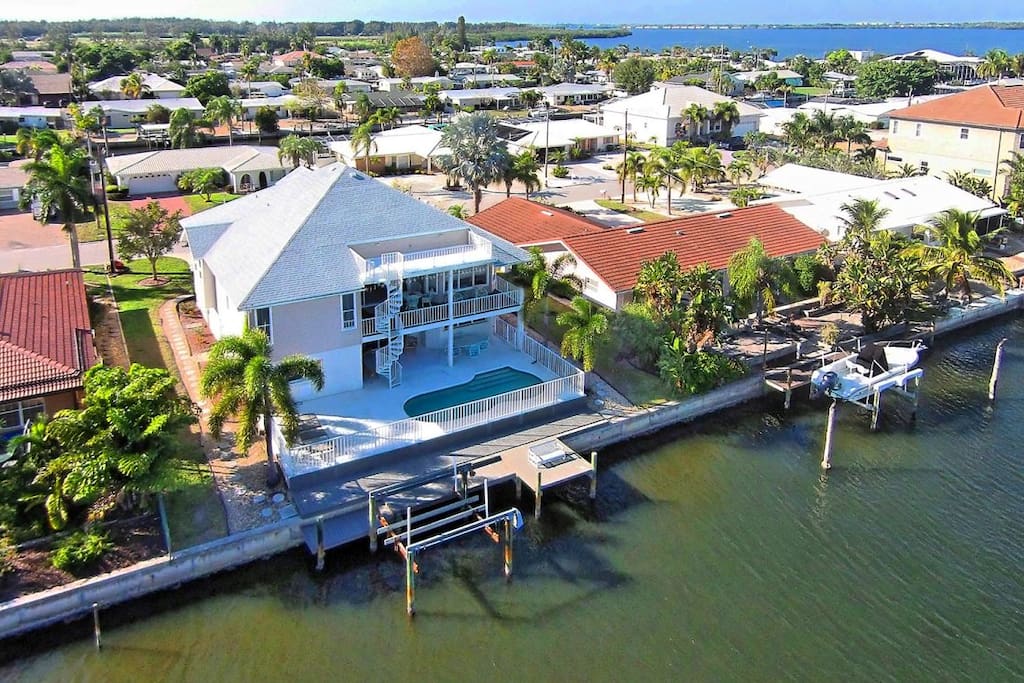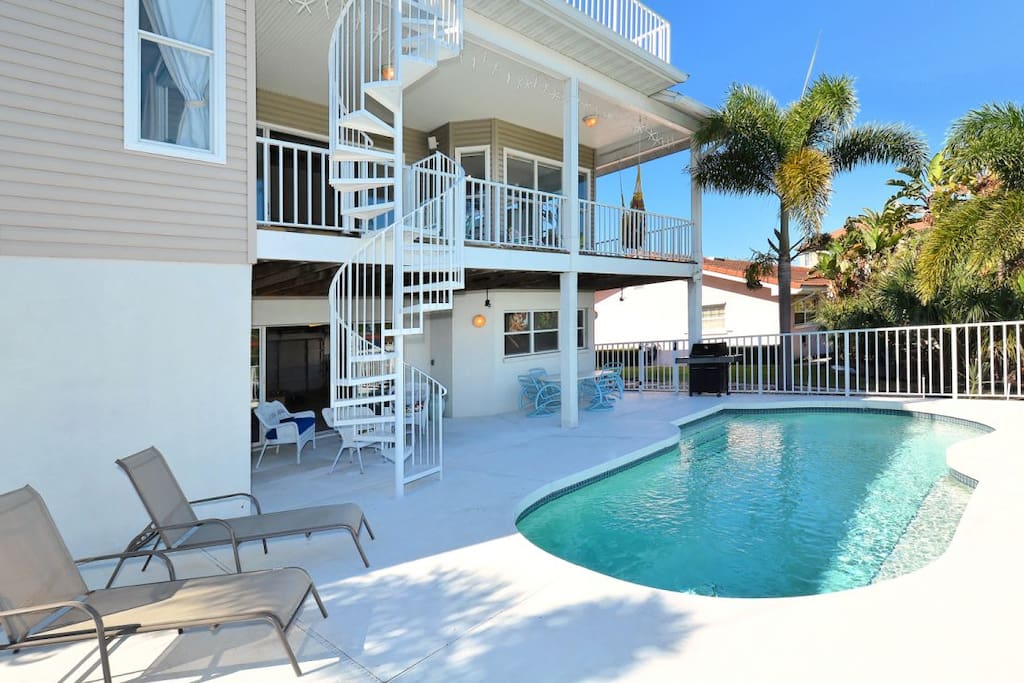 Spacious Beach Getaway on the Canal
This is a dream getaway for boaters and beach-lovers. This elevated canal-front home will sweep you away to paradise with its breathtaking views and relaxed coastal decor. It is also just 5 minutes from the beach.
房源
We fell in love with this property because, while being a beautiful waterfront home with incredible views, it's also centrally located to take advantage of the great beaches, restaurants, activities and shopping that Florida has to offer.
The Outdoor Space:
Located on a wide canal, this coastal getaway features three levels of beautiful outdoor living space. On the ground level you'll find the pool, complete with comfortable seating and lounging options. There is also a table and grill for poolside barbecues. Next to the pool there is a big dock, perfect for fishing and launching kayaks, as well as a boat lift. The canal leads out to Palma Sola Bay, which is a nice open space for water sports. From there you can continue out to the gulf or pull in to one of the many beach or restaurant docks.
The next level up features a big deck that flows right into the living room and kitchen, making it the ideal place to enjoy meals outside, overlooking the canal and pool. You can then follow the spiral staircase up one more level to the rooftop deck, where you can sip wine and enjoy an incredible view all the way out to the bay. As a side note, it's not uncommon to see dolphins jumping or manatees poking their heads out of the water right in the canal.
The Home:
Throughout the house you'll feel the relaxed, coastal ambiance. The open floor plan gives it very spacious feel, while making it seem like everyone is together. There are 2700 square feet of indoor living space, not counting the garage area on the ground floor. The living room features plenty of comfortable seating and a large 65 inch TV. The kitchen has a large farmhouse-style table that comfortably seats 8 people and overlooks the canal.
The master bedroom feels like something out of a resort with its comfy, canopied, king-sized bed. It also features a large closet with plenty of room for storage and a roomy master bathroom, with a large walk-in shower and two separate shower heads. The other two bedrooms feature fun coastal themes, queen-sized beds and large walk-in closets.
Above the living room you'll find the loft. The loft was designed to be a fun room for kids, but has plenty of space and comfort for adults. The large bunk bed has two full-sized beds. The futon is queen-sized and can be moved to any position from upright seat, to recliner, to lie-flat bed. There is also a table, which is a fun place to play one of the many board games in the wicker basket by the bunk bed.
Other Amenities:
-High-speed wireless internet that reaches throughout the house and pool area. This house is equipped the highest speed available for our area at the time of purchase (100 Mbps). Video streaming runs smoothly.
-Connected to the living room there is a laundry room with a large washer and dryer
-There is a second bathroom next to the laundry room that has a bathtub and shower
-The first floor consists of a very large garage with space for four vehicles inside and room for at least 4 more in the driveway
-The Entertainment center features a 65 inch Smart TV with a multitude of cable channels included as well as a Netflix subscription. There is also a Blue-Ray player that is capable of playing either Blue-Ray movies or DVDs, and an Apple TV. If you'd like to rent movies there are many options that can be purchased on the Apple TV.
-The kitchen is stocked with many cooking materials and spices for your cooking needs. There are many appliances including: programmable coffee-maker, toaster, toaster oven, large Foreman grill, large electric griddle, blender, food processor. There are also many pots, pans and utensils. Please don't hesitate to ask us about your specific needs.
-The pool is not heated. We have 5 life jackets (2 adult, 2 child and 1 baby)
-We have some items for guests with babies: crib, stroller, booster seat, 2 fences for stairs, outlet plugs, baby bath tub
-There are two tandem kayaks that can be used. If you really enjoy kayaking and want to take them out to great kayaking spots like Robinson Preserve, I recommend bringing a truck or renting one during your stay, as the kayaks are pretty big.
房客使用权限
Check-in is after 5pm
Check-out is before noon
-If you'd like an early check-in or late check-out, and it is available, there is a $25 fee. Sometimes we can't offer it because of other bookings and our cleaning schedule.
We will send you an email with house information and entry instructions about 1 week before your arrival.
The whole house will be open to guests, with the exception of a storage room in the garage and one closet in the master bedroom, that will be used for owner's storage.
Please exercise extreme caution around the pool, canal, and rooftop deck. Nothing will be closed off, but guests using those areas will do so at their own risk. It is not safe to jump off the 1st story deck or rooftop deck into the pool. It is also unsafe to leave the rooftop deck and climb onto the roof.
与房客的互动
We'd like to make ourselves as available as possible to our guests. Guests may contact us any time, day or night. However, we travel frequently, so we will also leave the information of family members that live in the area, should anything come up. Please don't hesitate to let us know if there is anything we can do to improve your stay. If anything is wrong, we'll do all we can to fix it.
其他注意事项
The house is listed as a 4-bedroom because we are counting the loft. As mentioned above, the loft is furnished with a bunk bed and a queen-sized futon.
About the beds:
8 total beds. Each can comfortably sleep two, though two adults may not want to share beds like the top bunk, sleeper sofas or futon.
-1 king in master bedroom
-2 queens, 1 in each bedroom
-2 queen sleeper sofas in living room
-Bunk bed in loft consists of a full bed over a full bed (2 beds)
-1 queen futon in loft
Thank you for stopping by to take a look at a house we're very proud to present. We look forward to providing incredible hospitality and a dream vacation for our guests.
---
---
---
---
No smoking or pets please. Additional fee for smoking or pets is US$1,000.
No parties of any kind.
---
---
---
---
Lovely house located on the canal. Very comfortable for 8 of us. Close to beaches and restaurants (about 3 miles away). Would definitely recommend. Be aware the 4th sleeping area is a mezzanine overlooking the lounge, we had to put the kids to bed in bedrooms and transfer them over as was too noisy otherwise. Didn't cause a problem but just something to consider.
---
We rented this property for a family vacation. 8 adults and 2 babies under 9 months old. We kayaked, enjoyed the pool, cooked and baked in the great, well equipped kitchen. Close to groceries, restaurants. We rented a boat at the marina for an afternoon and visited the fort. The adult kids went jet skiing while Grammy had everything she needed at home to watch the babies! Jay is awesome and a very attentive host. His recommendation for Holmes beach fit our needs perfectly! Best family vacation ever! Highly recommended!
---
The house was beautiful, well stocked with all the comforts of home, very clean. Location is great if your a boater or just like to relax. We saw dolphin and manatee playing behind the house everyday. The views from the roof top deck are beautiful. My family enjoyed it very much and we plan on returning. Jay is a great host.
---
An amazing setting and a lovely house, which is very tastefully decorated. We would certainly stay there again. Major plus points- - stocked with basic essentials; sauces, tea, coffee and more. Nice that all the cupboards aren't stripped bare on arrival. - view is great and the canal has plenty to see including manatees. Fishing is also pretty good, I caught 10 in an hour just using bread balls. - master bedroom is lovely, although worth noting it's far larger than the other rooms and the only en suite, so best to agree who's having that room before you arrive. - facilities are great, we loved having fishing tackle and kayaks to use. - not far from Cortez, where you'll find some great bars and restaurants. We really enjoyed lunch at the Starfish Company - buses available, 10 min walk away on the main road. - Jay was great and just the right level of attentiveness. Thanks for a wonderful stay :)
---
Vi tillbringade en vecka under juli 2017 i Jays hus och stormtrivdes. Huset är rymligt (gott om utrymme för fyra vuxna och fem ungdomar), har högt i tak och är inrett i ett härligt marint tema. På markplan finns ett väl tilltaget dubbelgarage som med lätthet rymde våra två stora hyrda Chevrolez. Huset har ett mycket bra läge i ett lugnt villaområde i Cortez/Bradenton. Vi åkte varje dag över bron till Anna Maria Island och dess fantastiska stränder - Holmes beach (ca 5 minuter med bil), Manatee Beach, Bradenton Beach, obs! missa inte att äta på the Sandman Bar och njuta av den underbara stranden där. På eftermiddagarna/kvällen hängde vi ofta hemma vid poolen. Den var kanske lite mindre och något äldre än vi först trott, men mycket välskött och ungdomarna älskade att hänga i den. I kanalen utanför såg vi flera gånger sjökor. Jay är en fantastisk hyresvärd som återkopplar direkt. Då vi t ex uppmärksammade honom på att det hade blåst in sand i poolen så var poolskötarna där nästa dag för att åtgärda problemet. //Sara & co från Stockholm
---
The place was beautiful! Exactly as described. The host was quick to reply to all our needs and wonderful to communicate with. It was perfect for our little one and had all the stuff you could need to accommodate. Bumbo seat, highchair, noise maker, gates, etc! It was in a wonderful area that was close to everything. We can't wait to come back!
---
Home was better than I expected. My first time using AirBNB so i didn't have any preconceived notions. The house was beautifully maintained and decorated. Host provided great and timely communication before Ann's during my stay. Pool toys for the kids were numerous and appreciated. Well appointed. Didn't need anything else while there. Timely response when the outside grill ran out of propane the first day. Didn't need anything else while there. Would definitely rent again.
---