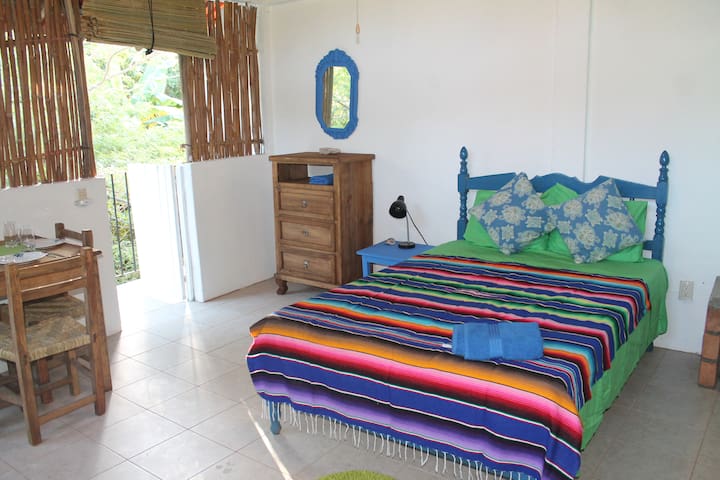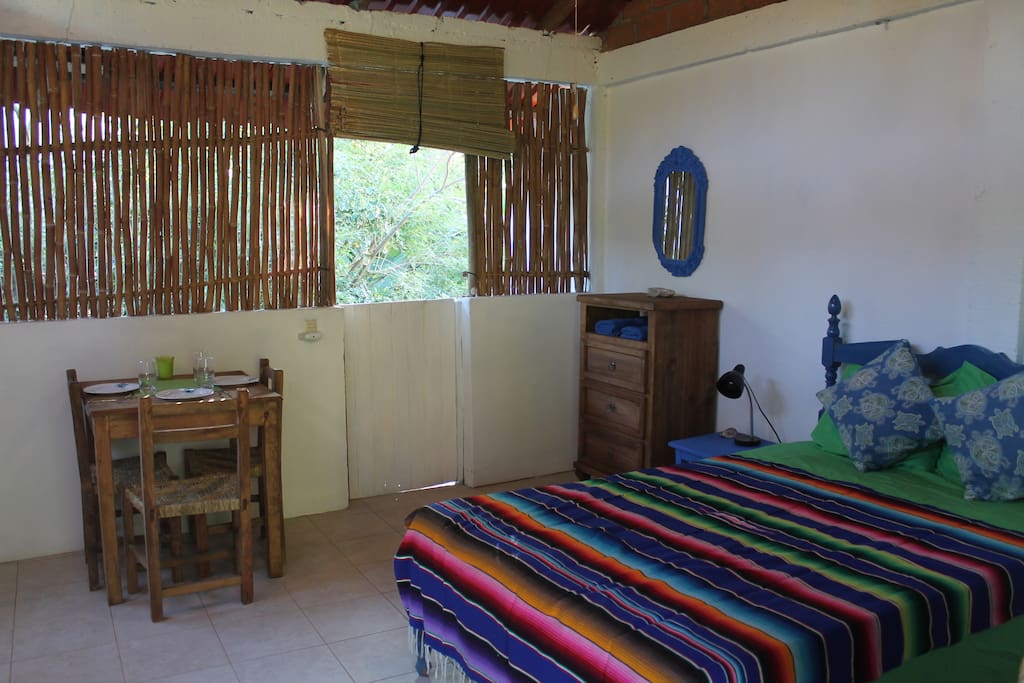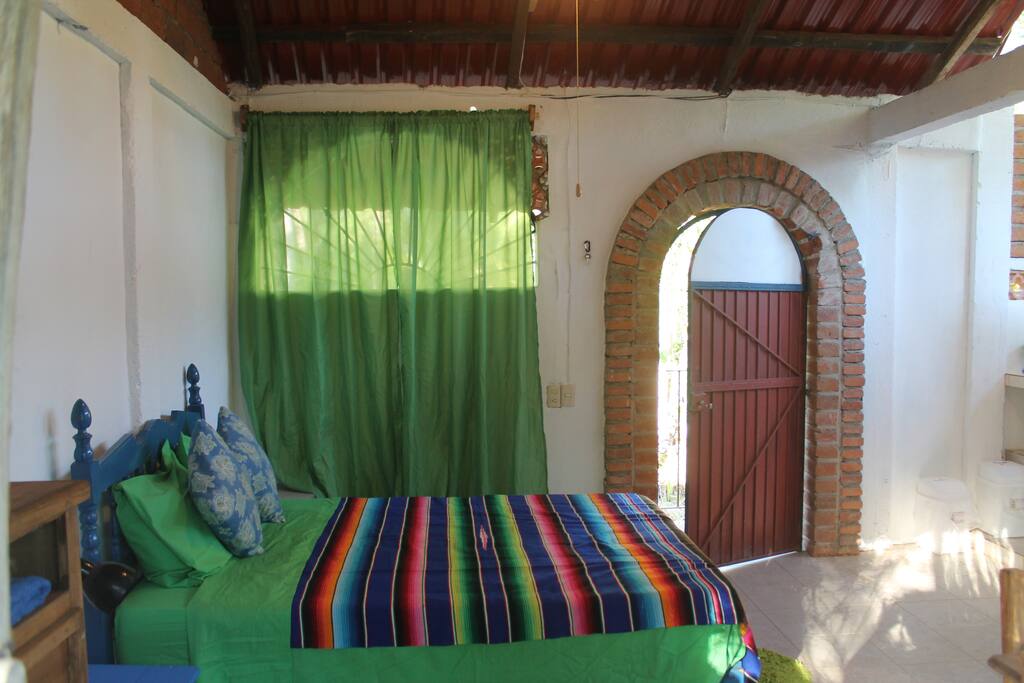 Casa Tortuga is a cozy beach retreat in the coastal town of Yelapa, Mexico. This quaint little getaway is located just steps away from the beach. You'll feel very at home in the tropical chic design of this retreat.
房源
This upstairs unit has an open studio layout with an open bedroom area shared with the dining area. There is one full size bed. Off this main room there is a full equipped kitchen (minus an oven), a bathroom with a spacious shower, and a balcony with seating. There is a built in safe to lock up valuables.
房客使用权限
Guests have full access to whole unit.
与房客的互动
I serve as the reservation manager and Chopo serves as an on-site property manager who greets guests at their boat and gets them settled. We keep a cell phone in the house so that Chopo can be contacted anytime if there are any needs.
其他注意事项
The rustic layout of the place means that there are no glass windows. Some windows have bars, some have nets, and some are just open. Critters & mosquitos can find their way inside. There are no closing doors inside the unit, but there are curtain doors to give some bathroom privacy. Yelapa is also a rural village so it is not unusual to hear roosters in the morning and the sounds of people on the path below.
---
---
Please do not smoke indoors.
Please do not take the bath towels to the beach. We have beach towels designated for that.
---
Great location !! You will get a true Yelapa experience. There is a safe in the room which is great, but honestly the town is so safe that we barely even used it. Crossing the river to get over to the other side of town was one of my favorite things about the trip. Just be mindful that it is not an enclosed room, so you will hear ATV's, donkeys, dogs and most of all, Roosters throughout the night (didn't get much sleep) but it's a great town and a great place to stay !
---
My mistake when I was looking at the reviews for Casa Tortuga Azul is that I didn't read all of them completely. I didn't click on the +More link. That is where I have discovered, since returning home, that more than one person has had the same complaints as I do. I booked nine nights at Casa Tortuga Azul and only stayed two. I did not get any of my money back but it was worth it to me to move because I was truly miserable. The first reason was the noise. While the casa is truly a one minute (or less) walk to the main beach, it is also surrounded by ATV and foot traffic at all hours of the day. Not to mention roosters, birds, and neighbors sometimes playing very loud music until after four AM. The photos are a completely accurate portrayal of the space, so as you can imagine, there is no buffer to the noise outside. I had not packed earplugs but I was able to use my headphones to cancel out some of the noise in order to sleep (not well). My second major complaint about this casa is that there were no extra blankets. What you see in the photos is what you get. If I had not packed for a previous trip in a colder climate and only for Yelapa I would have literally been shivering through the night. All of this being said, you do get exactly what you see in the photos. There are a couple of details left up to your imagination. The view from the balcony, for example, is somewhat of a trash heap. And the two burner "stove" has on/off switches for the burners but no way to adjust the temperature. This makes for very slow cooking. I was looking for a place to relax, write, read, and swim. Yelapa is that place, but not at Casa Tortuga Azul. If you just want a place to pass out, you sleep like the dead, and you bring plenty of warm clothes, then you will be all set. I stayed in two other places in Yelapa (15 days combined) and they were magical. The one that I primarily stayed at had the same nightly rate and the other was only minimally more expensive. They had beautiful views and were peaceful and quiet.
---
The apartment was exactly as described. It was clean and very close to the beach. I told Liz the purpose of our trip was a quiet get-a-way for my girlfriend and I. The biggest problem was the family next door. As this apt is open air you can hear the chickens and horses and kids playing outside. None of this was a problem as it was all part of our natural surroundings and was mostly in the daytime. The people she had rented to in the adjacent apartment had two small children who would scream and cry at all hours of the day and night with no adult response, whether it was to comfort or reprimand them. We were woken up and kept awake throughout most of our stay. This isn't the fault of the host but it is something to keep in mind if you are looking for a peaceful vacation. That being said you could have a completely different experience if you had different neighbors. I kind of wish when I told Liz what I was looking for she had told the apt next door was rented to a family with small children so I could have found my peaceful vacation with my girlfriend elsewhere. If you do stay I suggest bringing a deck of cards, Scrabble and download a couple movies to your tablet.
---
Casa Tortuga was so perfect for us!! Loved the location, literally 1 minute from the beach restaurants and centrally located to go exploring the town in all directions. Liz was on her phone to communicate our meeting and check-in, but the relaxed vibe of Yelapa makes nothing urgent. We chilled on the beach til we found her, and the place was ready and had everything we needed for a rural jungle vacation. Coffee maker, hot water, wine opener, beach towels, hammock, and wildlife setting the soundtrack. (Be prepared for roosters from like 3am-10am hahaha!!) Everyone is so friendly in this town and seem to know each other. It's very safe and people say "hola" and smile as you cross paths. We left the yacht club restaurant a little tipsy and not sure how to get home, and then an ATV "taxi" swept us up and knew exactly where Casa Tortuga was located. Bam! Liz and the locals are happy to explain how things work, how to get around, and offer suggestions of things to do. We loved Cafe Bahia for breakfast, great dinner and open mic night at the Yacht Club where we met Freddy who told us about the ATV taxis, watched a movie out in the open patio at hotel Oasis with Nancy and made friends with Hector at Tito's Oasis. In the morning we watched the restaurant crews unloading all the food and beer from a boat. So interesting that everything here was brought on boat! (Liz has towels from IKEA. Note: there is no IKEA in Yelapa!!) Two nights wasn't enough, and we're already planning our return!
---
Liz picked us up at the dock and walked my boyfriend and I to the apartment. The location was just one minute walking from the main swimming beach and restaurants which was great. Liz was also very helpful with recommendations and scheduling our visit to islas Marietas. We had some issues with water but that may be unavoidable in a small town like Yelapa. Overall a great experience in a beautiful place!
---
Chopo, the onsite manager/concierge was invaluable. He seemed to genuinely care about our comfort and was very helpful. He is a great asset. Positive is that the place is literally steps from the playa (no view) and a block from the river crossing. Also great to have bottled water, starter coffee, and TP provided. The safe was appreciated and the mosquito net was helpful. Bed was comfortable. Overall felt safe and secure. Unfortunately there were many negatives. No hot water though it was supposed to have it. The unit was bare bones and the kitchen not usable as such. It was fine for making coffee and a snack. No fridge so Chopo went to PV to get one. Noise was often unbearable! Location abuts a major cobble path for ATVS, mules and foot traffic. Some nights it kept up until the sun rose then the roosters and construction next door took over (electric saws, hammering, etc.) Chopo did negotiate with the host Liz to get us into the unit next door which was a tiny bit better as to noise and which had hot water for the shower (but not anywhere else). The interior was a bit rough in regards to paint and fixtures. Fresh paint would do wonders. The fan was wobbling so badly that we were certain it would fall down on us but it didn't. It was attached via a rope and nails to a 2x4 overhead, above the bed. Recommend providing more towels and wash clothes and extra blanket or two. In addition some hooks in the smaller unit would help because there is no closet and the dresser is not adequate. The cobble path in front of the unit (open air) was also loaded with piles of mule manure. The horse coop should rake this up daily (it is not raked at all) as it stinks and the odor wafts into the unit. This should be their responsibility as all horse traffic comes and goes this way. (I happen to be a horse lover) In my opinion the unit is over priced. There are many other places in Yelapa for much less and in a better location. If it hadn't been for Chopo we would have left the place, even without a refund, and found something else. The locals keep the Yelapa beach in tip top shape. Nice and clean as they rake it daily. Also trash bags on cobbled trails kept everything tidy. Lots of good places to eat and Coco Bar makes the best Margaritas. If you need anything in Yelapa, you can depend on Chopo or Hector at the Oasis on the playa.
---