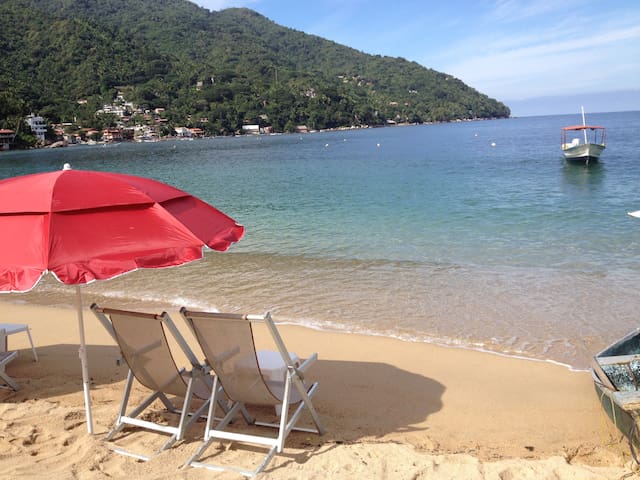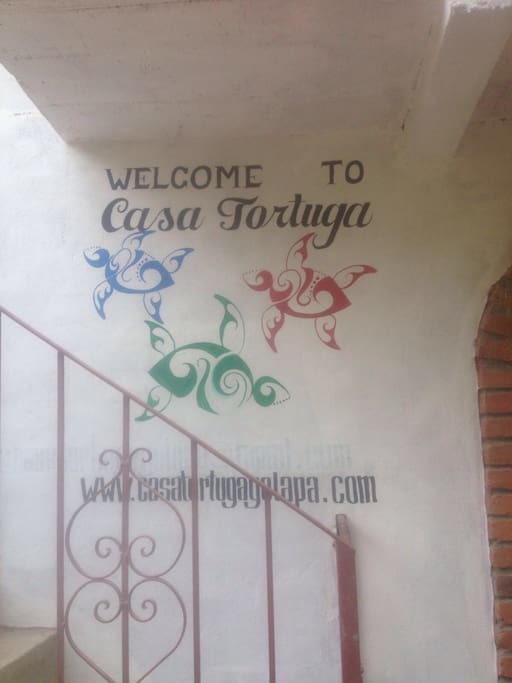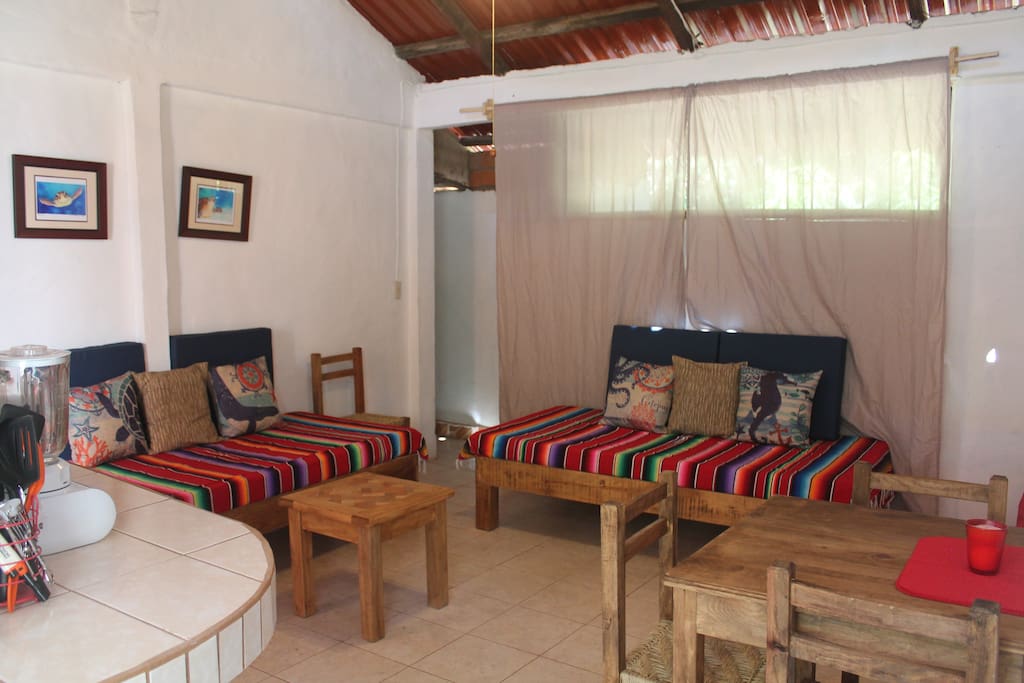 Casa Tortuga is a cozy beach retreat in the coastal town of Yelapa, Mexico. This quaint little getaway is located just steps away from the beach. You'll feel very at home in the tropical chic design of this retreat.
房源
This upstairs unit enters into the bedroom area where there is a full size bed and a desk. Off the bedroom is a small balcony with seating. The next room is the living room/dining area shared with the kitchen. There are two twin couch beds and a dining table. Off this room is a full equipped kitchen (minus an oven), a bathroom with a spacious shower, and a closet with a built in safe to lock up valuables.
房客使用权限
Guests have full access to whole unit.
与房客的互动
I serve as the reservation manager and Chopo serves as an on-site property manager who greets guests at their boat and gets them settled. We keep a cell phone in the house so that Chopo can be contacted anytime if there are any needs.
其他注意事项
The rustic layout of the place means that there are no glass windows. Some windows have bars, some have nets, and some are just open. Critters & mosquitos can find their way inside. There are no closing doors inside the unit, but there are curtain doors to give some privacy. Yelapa is also a rural village so it is not unusual to hear roosters in the morning and the sounds of people on the path below.
---
---
---
Please do not smoke indoors.
Please do not take the bath towels to the beach. We have beach towels designated for that.
---
---
Choppo was hours late leaving us stranded on the hot beach with all our luggage. Shack was disgusting, mildew, roaches, rotten eggs on the counter, rotting wood beams, the two fans didn't work, filthy - moldy bathroom and kitchen, bedding hadn't been washed from last guests, smelled like sewer, noise noise noise stray dogs barking, roosters crowing, ATVs, neighbors blaring loud loud loud music until 7 am. Just miserable. Actual town of Yelapa was great and we saw many good places to stay, this just isn't one. I'm sure I'll get a nasty review as revenge for this, but mine is honest and I took pictures upon arrival and departure just in case. It's also NOT on the beach but behind smelly horse stalls and 2 rows of restaurants.
---
The casa itself was cute and spacious. We liked the kitchen amenities, including the new toaster oven. The balcony was very small and had the gas tank on it. The location is definitely close to the beach, but tucked behind restaurants and horse stables. The two connected apartments were completely open at the top, you and your neighbors can hear each other quite clearly. The cacophony of birds in the morning on some days is really intense. As is the smell of horse manure, the street right outside is a thoroughfare. Overall, at some moments I regretted this choice, but it wasn't terrible if you spent most of your time enjoying beautiful Yelapa.
---
Casa Tortuga Roja is a well thought out space and a great value for the hardy tropical traveler. It's a budget-range accomodation with lots of amenities that might not be found in a similarly priced space. Choppo was an excellent local host - just ask him for anything you need and he'll be there with a smile. Liz did a great job keeping in touch with us and making sure we could check in independently when we arrived and the house manual is a great resource. Things that we loved: The kitchen was small but mighty: decent knives, tupperware, places to store food, nice fridge (though the freezer compartment may need to be defrosted when you arrive in order to fit ice in - it's just a natural hazard of the humid environment), big garbage cans and a sealed compost container (seriously, don't leave food or dishes out that will attract ants and other critters), toaster oven & hot plate meant that we were able to cook and store real food during our stay, reducing our food expenses considerably. The nearest grocery shop is very close (1-2 min walk) and though it's small, it carries a little bit of everything along with the dry goods including fresh produce, dairy, eggs, ice, beer and liquor. Other amenities that we really appreciated: details like plenty of electrical outlets, a night light making it nice to walk to the bathroom in the dark, a useful shower caddy, the closet is actually set up to store clothes (plenty of hangers, cubbies & bins), the twin beds in the main room were nice couches for lounging. Little things like finding several nails in the walls that were great to hang things on was something we don't often find in an accommodation of this price. The balcony is small, but shady in the mornings and a great place to bird watch with your coffee (pack your own coffee and tea if you're picky). Some other things to be aware of have been mentioned in other reviews: It's a lively residential area and there is plenty of noise: loud music from the neighbors, ATVs passing by (it's on the main path for the beach area) and roosters at dawn. Earplugs are a must. If you're ok with napping in the afternoons to catch up on sleep you'll be golden. The plus side is you're really in the middle of the beach action. If you haven't done much budget traveling in tropical areas you should be prepared that the loveliness of open-air living comes along with the outdoors coming inside. We liked that there was a broom always available outside the front door (used by two apartments) so we could sweep up the leaves and such that inevitably blow in. There was not daily housekeeping, but we like it that way. Yelapa is still rustic, and that's why we come.
---
An affordable place to stay, close to the beach. Liz was very friendly and accommodated us at check-in. She made sure that we had coffee and plenty of potable water. There is a nice handbook with many suggestions and ideas of things to do/places to eat in Yelapa: During the day, we hiked to a waterfall and drank piña coladas on the beach; at night we got dinner in town (Tacos y Mas is great). Town access is across river on the beach (during the winter). Community is friendly.
---
If you're ever in a pinch to find the perfect getaway and you happen to be near Puerto Vallarta, this is the perfect place. Liz was very accommodating and allowed for us to have the perfect escape from a city environment into Yelapa. Her property manager, Shopo was super helpful and made sure we had everything we needed from start to finish. Thank you so much!
---