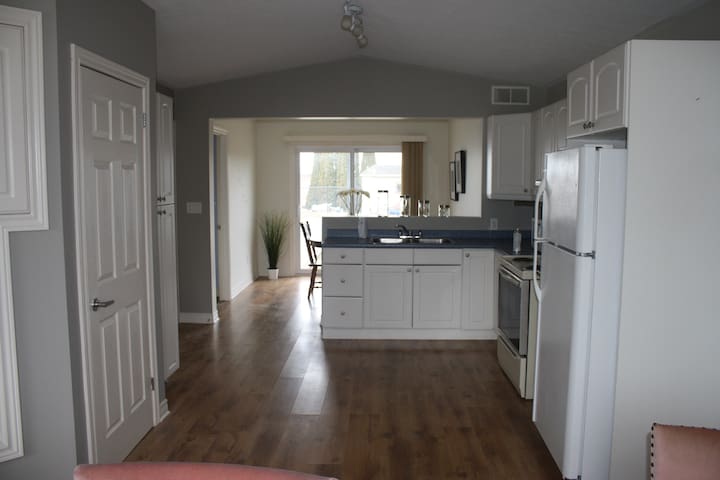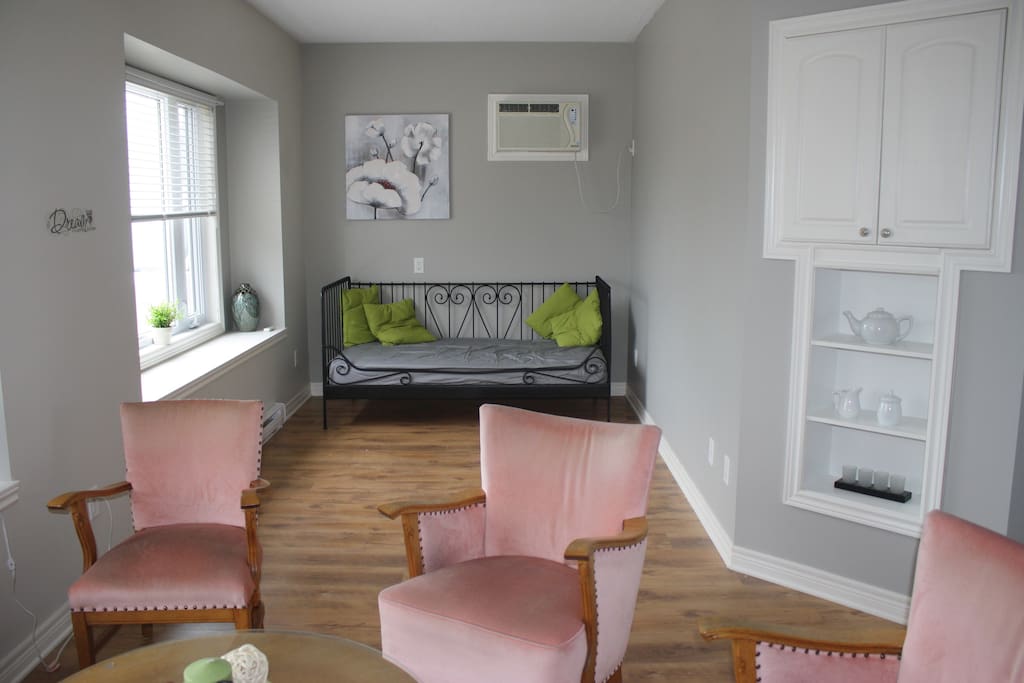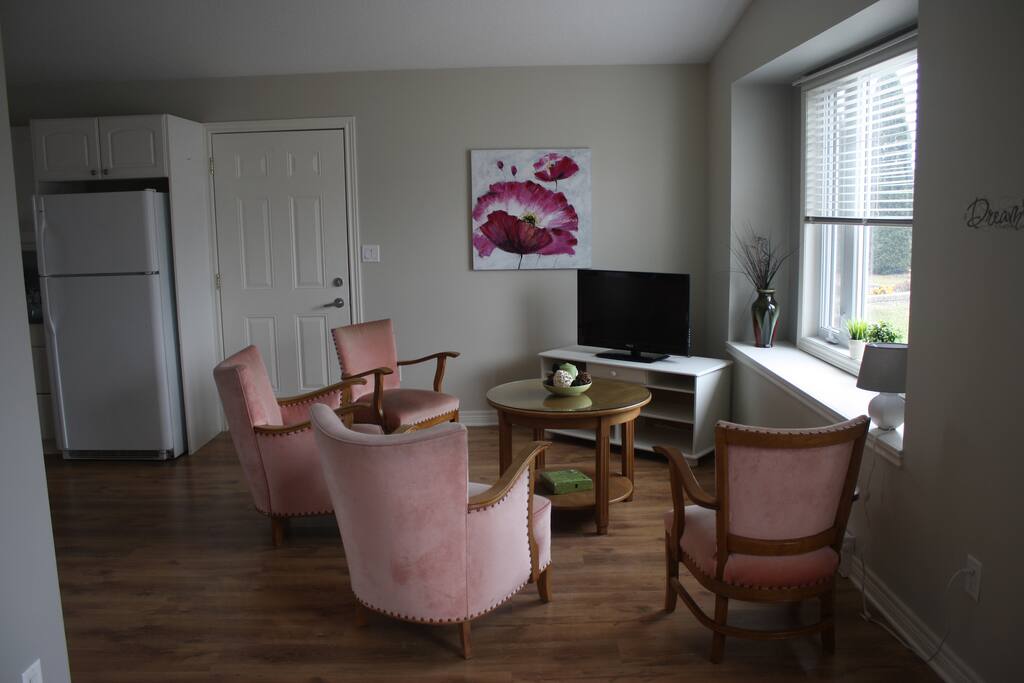 这间公寓(位于我们的房子,但完全分开)位于尼亚加拉葡萄酒之乡的心脏地带。我们被桃,樱桃和苹果园包围。我们院子里丰富的绿色植物吸引了许多鸟,松鼠和兔子。我们正好位于多伦多和尼亚加拉大瀑布之间,距离安大略湖仅几分钟路程。在我们家的路上有一家杂货店,圣凯瑟琳十分钟路程就可以到更多的购物和餐馆。
This apartment (attached to our house, but completely separate) is located in the heart of Niagara's wine country. We are surrounded by peach, cherry and apple orchards. The abundance of greenery in our yard attracts many birds, squirrels and bunnies. We are right in between Toronto and Niagara Falls, and minutes from Lake Ontario. There is a grocery store just down the road from our house and St. Catharines is ten minutes away for more shopping and restaurants.
---
---
---
---
The apartment, though attached to our house, is completely separate and sound proof. There is lots of parking space. The backyard/pool is shared with the owners, but our guests (and just our guests please) are welcome to use it too.
---
---
---
---
We lucked out finding this little gem. The space is clean, bright and spacious. Jetty our host was lovely & met us upon arrival even though we came later in the evening. Wonderful amenities such as air conditioning, washer & dryer as well as a pool, made staying here even more enjoyable as a family. While you are in a lovely country setting you are minutes from all amenities. We will definitely be back.
---
We stayed at Jetty's for a few nights and would definitely recommend it! It was spacious so we had a lot of room, very clean, and felt comfortable the whole stay. The area was quiet and relaxing and it was not far off of the highway so very good access. Jetty was pleasant and welcoming - even though we arrived later than initially expected for check-in so she was very flexible for which we were grateful! We would definitely stay again!
---
We had a wonderful stay here. Definitely worth it if you have a car. Only 30 mins away from Niagara Falls, and incredibly clean. Jetty was friendly and welcoming, greeting us at the door. The apartment is attached to the house but separate, stocked full of all the supplies you could need. All the rooms were spacious and lovely, cleaned very carefully. The neighborhood is quiet and agricultural, so no need to worry about noisy neighbors. It gets cold at night so get a jacket. Would recommend, worth the money.
---
This is in a residential area so not far shops and other amenities but a quiet location. The apartment is adjacent to Jetty's house and she was on hand to answer questions and give help if required. The apartment has loads of space and we enjoyed the pool. Wine tasting is nearby, this is in the Twenty Valleys wine area. Niagara Falls are only 20 minutes by car so you can get there early. Niagara on the Lake is a pretty town and is also close by.
---
Appartement très cosy, tres agréable avec une tres belle piscine. L'accueil de jetty et sa famille a été très convivial. Le logement est situé à une demie heure environ des chutes du niagara, et non loin également de Niagara on The lake, très joli village sur le lac Ontario. Nous avons passé un excellent séjour et je recommande vivement cette location.
---
We are a middle-aged couple with (mostly) grown children. My husband and three sons are busy with our greenhouse business where we grow hydrangeas year-round. We are the proud grandparents of five grandchildren.
I am a registered nurse myself and also do the bookkeeping for the greenhouse.
语言:
English、Nederlands