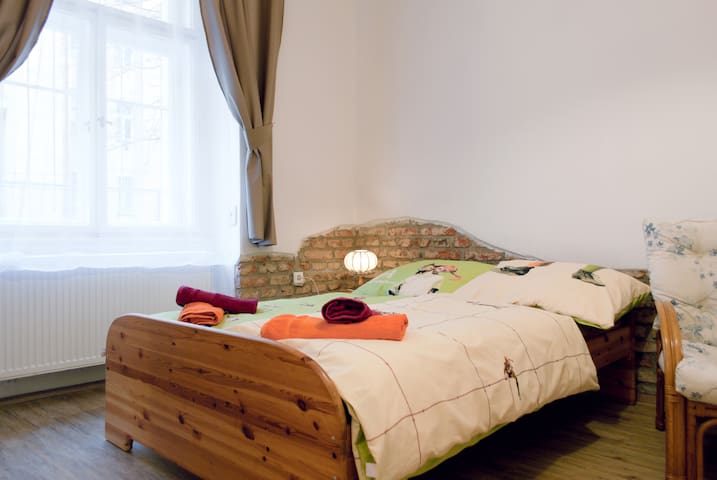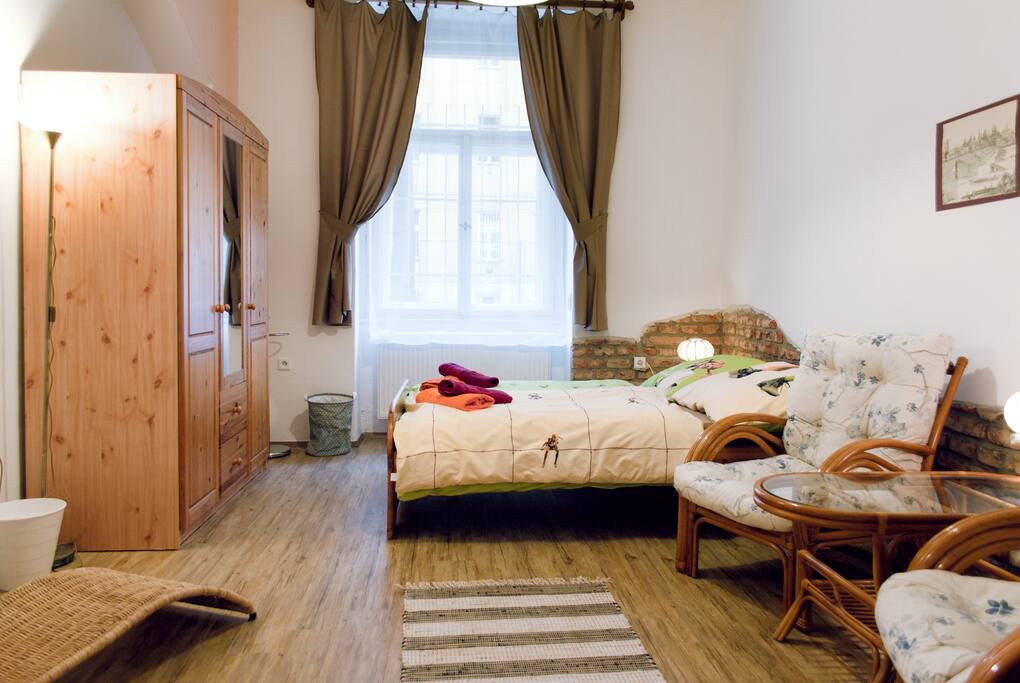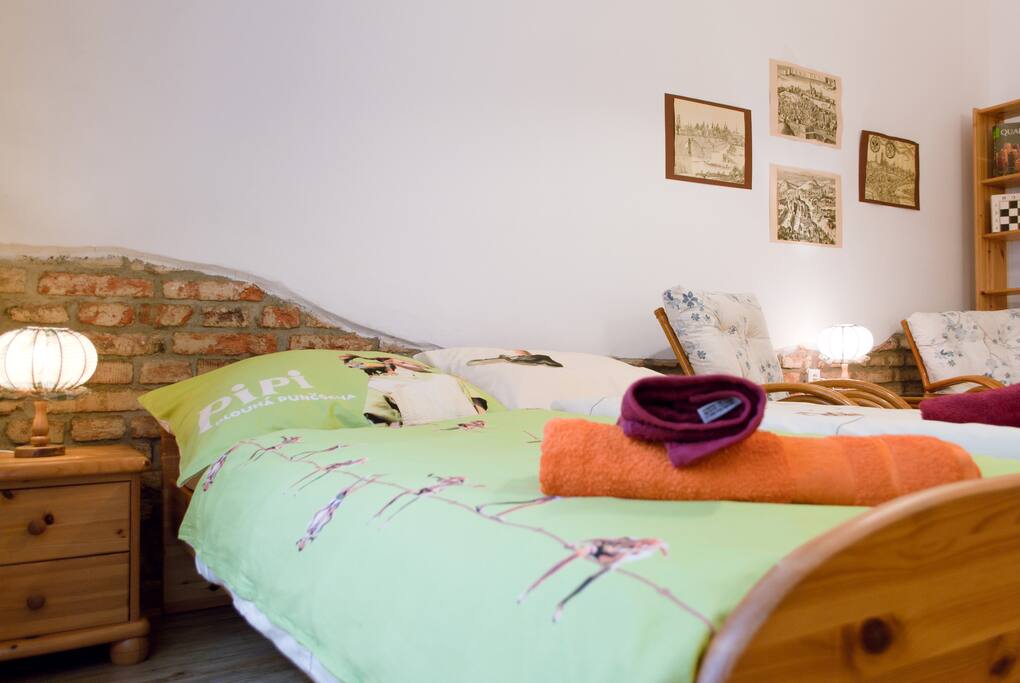 This is a fabulous location to stay. Centrally located, close enough to the city centre and far enough from the touristy rush. Situated right in between two gorgeous neighborhoods in Prague, you will get the best selection of all.
房源
Two minute walk from a local farmer market that provides a whole range of local seasonal fruit and vegetables, dairies, delis, pastries, both alcohol and non alcohol beverages, fresh juices or vegan meals.
房客使用权限
************ PRAGUE'S TOPS ************
For beer lovers: great news! A place called Beer Geek just 3min walk :) Beer Geek offers a beer selection from all over the world, about 10 beers on tap, other tens bottled.
For beer and meat lovers: even greater news! Right around a corner a local restaurant offers the most delicious traditional Czech food and micro-breweries beer selection. You will get addict to this place. Unless you are vegetarian.
For vegetarians: an awesome vegetarian restaurant (with vegan options too) right around the corner. Fairly large portions for 4-5EUR served all day long.
For shopping mall addicts: the second biggest shopping mall in Prague, Flora shopping mall, can be found at the end of our street :) About 10min walk.
与房客的互动
***** INTERACTION WITH GUESTS *****
I welcome my guests in person, I show you the apartment, provide you with a map, guide book, guest books (plenty of interesting tips to find in them), introduce you to other guests (if there are any) and tell you some information about Prague, sightseeings and practical stuff.
If I am not present in Prague when you are arriving, someone will meet you at my place and will provide you with the same high-quality welcome "ceremony" :)
其他注意事项
WANT TO STAY LONG TERM?
Toilet paper, paper towels, dish soap, washing powder, detergent and cleaning are not included in price for long-term guests.
What else..
..the room you are seeing on the pictures is super quiet. The apartment has two rooms and it is located in the basement. The flat is newly reconstructed and every single part is functioning and in a great shape :)
..you can leave the flat and have a direct access to the backyard
..you will love it :)
WIFI?
YESSS! Guaranteed 450MB cable speed.
You can either get connected via WiFi (W-Lan) or if you need so, I am able to provide you with a cable so your connection will never get interrupted.
---
---
---
不适合儿童(2-12岁)入住,或不能为儿童提供安全的住宿环境
Stay cool, don't mess around. If you are staying in the flat on your own, don't trash it. If you are sharing it, be considerate and respectful.
If something breaks, it breaks. I will not break your hand for breaking a lamp.. :) Just don't hide it. Tell me straight ahead so I can get a replacement.
Washing your laundry is available for those who stay longer that 3 nights.
Breakfast is not included but a kitchen is there, run your imagination and help yourself :)
Teas, coffee, spices and basic food, such as pasta, rice, legumes, butter, jam, etc. is provided. For free! Don't ask if you can have it. Yes, you can! :)
Need an airport service? No problem. If you need so, I will arrange a private airport service for you. The driver will be waiting with a sign and your name on it. The driver charges 23EUR.
您还必须确认以下情况
需爬楼梯
房源里不能停车
需公用某些区域
---
---
---
The room was in a great location, very close to the metro with tons of great restaurants, cafes, and bars a 5 minute walk from the building. Michaela was great about explaining tons of stuff to do around Prague and even marked out a map for us. Her other tenant was also super nice. I would definitely recommend staying here!
---
Michaela's apartment was great - it's in an awesome spot, really easy to get downtown, with lots of great coffee shops and restaurants nearby. We had problems with the shower and some of the plumbing, and Michaela had us fix it ourselves though it wasn't our fault - beware, if anything goes wrong Michaela wasn't very helpful. Otherwise our stay was very pleasant, we would recommend!
Hey Zac, I am glad you enjoyed the apartment and very thankful you managed to fix the shower issue. Let me add an explanation for future guests what had happened here. The "problem with the shower and some of the plumbing" means the shower outlet which has two layers (one on the surface and the other 5cm lower) got filled with hair so water couldn't flow away. I should have checked it before their check-in which I regularly do. The reason I forgot was Zac and his friend arrived about 3 hours prior to a regular check-in time and I was more concentrated about handling the key/suitcases situation. Zac demanded coming earlier, while guests who were leaving that morning, asked for staying until a regular check-out time. As a host, you don't want to kick out your guests earlier than guaranteed. On the other hand you understand new guests want to enjoy the city at it's maximum. Since I was trying to make everybody happy I was "fixing this problem" rather than checking out the shower drain. You are right, my bad. Zac, you texted me on Saturday 3pm when I was out of town and complained about water not flowing away. I answered your message immediately to navigate how to pull out the top shower grid. I expected you don't feel like waiting for a solution for 3 hours especially when wishing to shower, now :) If experienced, the fixing takes about 10 seconds. If not experienced, it takes 1 minute + 10 seconds getting a tool to pull up the grid. I was considering two possible solutions: explaining in 5 words to 2 adult men how to do it OR cancel my weekend trip and come back Prague to clean the drain. I am sorry for the choice I made, I didn't realize it would be such an issue for you. Saying "Michaela isn't very helpful when anything goes wrong" is unfair and little bit too much in this case. Besides, in 5 yrs of hosting ppl I never let anything just let go. I always take care of serious issues immediately (read my reviews:). If you are expecting a full service at any moment of your stay, you should rather stay in a hotel next time. This is someone's home, with his/her personal things to do. No reception desk to complain or a plumber in a corner waiting for a new task.. I would understand a worse rating for cleanliness but turning this moment into a real issue? That's rather funny and sad at the same time. Airbnb is about hospitality, kind approach, open-mind, local insights, personal recommendations and friendly relationship. If you feel like being taken special care of 24/7, this way of accommodation may not be the best for you. PS: in your review, I am kind of missing the information about your special Saturday morning request. You asked me for checking you in 3 hours earlier on Saturday and despite the fact that there were still other guests in the room and I had to get there really early to let you in, I did it and tried to make your stay easy and more comfy. If leaving a review like this is the way you say "thanks, we appreciate it", then I can only let other hosts to be aware.
---
Obwohl wir uns leider nicht persönlich kennen gelernt haben war Michaela uns via (SENSITIVE CONTENTS HIDDEN) für alle Fragen zugänglich! Die Antworten kamen sehr schnell. Die Anreise hat gut geklappt ihre Freundin hat uns den Schlüssel gegeben und und über Prag informiert. Die Wohnung ist im Erdgeschoss/ Keller - die Schlafzimmer haben ein grosses Fenster und sind deshalb heller. Bad und Küche waren ausreichend groß. Unsere Zimmer war wirklich sehr gross, das Bett gemütlich. Mit der Metro geht es am besten in die Stadt - jedoch wurden zu unsere Abfahrt Umbauarbeiten an der Metro angekündigt für die nächsten 5 Monate. Das ist aber kein Problem denn auch mit der Strassenbahn lässt sich die Altstadt innerhalb von 10/15 min erreichen und man sieht dabei die Stadt. Alles in allem hat alles reibungslos funktioniert und wir waren als Studenten mit der günstigen, zentralen und geräumigen Unterkunft sehr zufrieden! Danke! :)
---
Very nice room, glad I had the possibility to have my first airbnb experience there. A lot of thought seems to have been put into the design of the room and the kitchen especially, the bed was very comfortable, everything was very clean, it was very quiet, and the temperature in the room is good even when it's very warm outside. It is very easy to get to the city centre from there (by metro, but also by foot). Michaela was very nice, helpful, and flexible. She accepted very kindly some last-minute changes (other room, different time of arrival), and was very understanding when I unfortunately arrived a bit late (1h delay...). Would definitely recommend :)
---
The experience was very, very good. Michaela is a very competent host. Whenever I sent an email she came back very quickly with the response. She is a charming, vivacious lady. The room is better than advertised. It is listed as a basement room but it is actually on the ground floor as you can see from all the beautiful light coming through the window. the window looks out onto greenery and it is very, very quiet. The bed was comfortable, the shower was good. I highly recommend Michaela's apartment. But the best part is that it is not in the heart of the tourist district. You are living with Czech people and not surrounding by the hoards of noisy tourists. The city centre is very crowded, shoulder to shoulder in some places. Just one minute walk from Michaela's place there is, every day a great market You can buy fabulous bread, cheese. On Friday there was a brewer who sold a great IPA. Getting from MIchaela's place to the city is easy either by half hour walk but the best way is by train. It is only a few minutes walk away, cheap and very efficient. Take advantage of the pick up service from and to the airport. If you are fond of craft beer, just about a 5 minutes walk away is Beer Geeks. They have 13 taps and some excellent beers. There is a monastery on top of the hill which has a brewery run by monks, St Norbert's. Good beer and good food. If you go to the palace buy the A ticket if you can afford it. It gets you into the back of the cathedral which has dozens of alcoves, each more spectacular than the last. The art work tour is also good. You can take a free tour from Sandriman from the Old town. You should tip your guide. If you are lucky enough to get Christine you will find out about how Czech history has directly affected her family. It was fascinating. Have a good time and yes this is a very, very fine place to stay, much better than the touristy city centre.
---
I am a traveler. When I am not here, I am somewhere on the trip :) I love to listen to you so we can share our experience and learn and prevent doing the same wrong steps as the other had done :)
语言:
English、Français