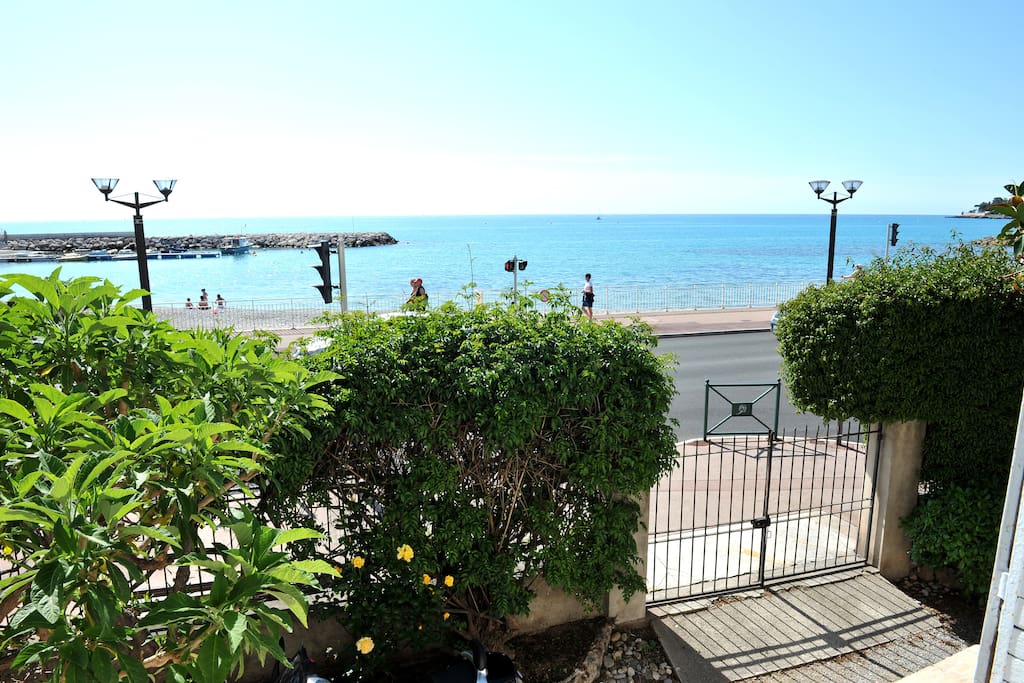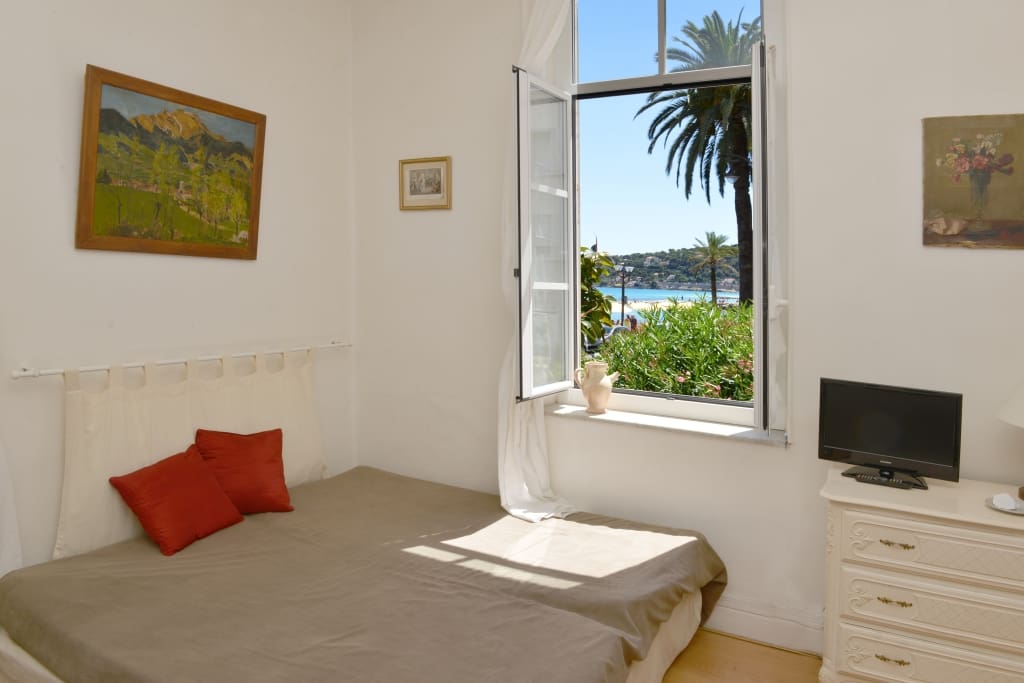 The apartment was as-described. This is a charming older place. It's not perfect but that's part of the charm. It was a lovely location with great views of the sea. The kitchen was very small and I would say don't plan to do a lot of cooking there. The motor bikes along the road were loud but we got used to it quickly and slept very well. Our main problem was that we got completely confused about the correct train stop and ended up arriving a little after 9PM when we had told Silja that our train would get in at 7:30PM. Our mobile phones don't work in France and we had no way of communicating with her. When we arrived, the apartment was dark and locked and there was no note. One of the neighbors eventually saw us (we are two adults, two kids) and told us that an American family lives above the apartment we were renting. We knocked on their door and they were very helpful and even gave us something to eat and drink. They contacted the owner of the apartment who contacted Silja, who came and let us into the apartment. Silja was very cross with us for not contacting her to tell her we would be late. It was a difficult situation, but we kept our cool and tried to apologize and explain what happened. Silja's email had told us to get off at "Roquebrune Carnoles" and the address is listed as "Roquebrune Cap Martin". I checked the emails and we had told Silja that we were arriving on the Thello train and did not have a mobile phone. It turns out that the Thello train only stops at the Menton station, not the smaller stations, so we spent 30 minutes changing trains (when it turns out it would have been quicker to just walk to the apartment from the Menton station). Then, once on the new train we got off at the "Roquerbrune Cap Martin" stop. We should have gotten off at the "Carnoles" stop, but we don't know the language and the "Roquerbrune" messed us up. The Roquerbrune Cap Martin stop left us a couple of miles from anyone (though we didn't know this at the time) and just among some big gated mansions. We had to walk along the shore path with all our luggage for over an hour to find our way to the apartment. This was our first time in France. At any rate, it was confusing, stressful, and difficult. I will not do Airbnb without a mobile phone again because I really think the entire system relies on instant communication among both parties from anywhere. Once Silja understood what happened to us, she softened, but it was quite upsetting to be chewed out by our host after our ordeal.
Dear Readers, I feel I must reply to this hurtfull commentary. Firstly, I have been waiting for Nathan and his familly 1.30 hours at the house and then left home. I got a phone call at 10.00 p.m (we normally do not late check-in our guests are arriving during the day) from the neighbour that our guests are waiting outside from the house. Secondly, on arrival the clients were happy I showed them the house, and I told them that it is important to inform the host or airbnb when there is any delay on leaving their behaviour was at the least unfriendly, they wrote to me then 1 hour before leaving the house, left the key on the table and left the apartment with the door open. I certainly would not recommend this clients as their departure was way above normal. I would ask any other perspective clients to read the other comments from this apartment,and to disregard this unfortunate entcounter.
---
Silja is warm and helpful, and a pleasure to meet. The apartment is located in a lovely older stucco structure that has been divided into a number of apartments. By day, the beach street bustles with locals and visitors to the area, and at night we embraced the sounds of motorcycles and other vehicles, and cooing birds greeted us each morning. Groceries and other necessities are within a ten minute walk, pizza and ice cream are across the street, and other restaurants attainable by car, bike, or a longer stroll in either direction on the beach road. The beach is covered with large pebbles, the sea water is chilly, and there is much to explore in all directions. We especially liked the charm of the old home with its old, beautiful shudders that open and close for ventilation and privacy, the balcony for enjoying the view and watching the passersby, along with the ease of walking to the beach. I would love to return someday, and if I do, I hope I remember to bring some shoes that are suitable for walking on the rocks and swimming.
---
We really enjoyed this place - it's real cute and right across the street from the beach. A few notes though - first, it's not actually in Menton. It's in the neighboring town of Roquebrune-Cap-Martin, which is fine, but it meant we got off at the wrong train stop and had to walk a ways. Roquebrune also has far less in the way of bars and restaurants. The house is also right on the street, which can be quite loud at night. Finally, we were asked for an extra 50 euros in cash to pay a cleaning fee (which we weren't told of in advance and we think isn't actually allowed on airbnb). Still, all that being said, we had a nice time at the house and would recommend it.
---
Nice little town house. Perfect near the beach. Ten min from train stadion,( Carnoles) and if you take the 110 buss from the Nice AirPort, the buss stopp is only 3 min from Silja's home( Le solenzara). The home has a wounderfull balcony, we spend many afternoon her. If you are locking for å nice, quiet evening near Menton. We can recomend this place
---
The Apartment is a gem right opposite the (URL HIDDEN) has everything you may need for a wonderful vacation even an beach umbrella. A special bonus is the lovely pizzeria Viva la mamma right across the road and the very kind owner Nino! Almost daily we had pizza and vino on the balcony with seaview.Although we did not meet Silja personally,she has been very kind,helpful and quick to respond,her friend Rosa who meet us to show us the apartment was also lovely. Would stay there again anytime. The only downside for us where the noisy scooters.
---