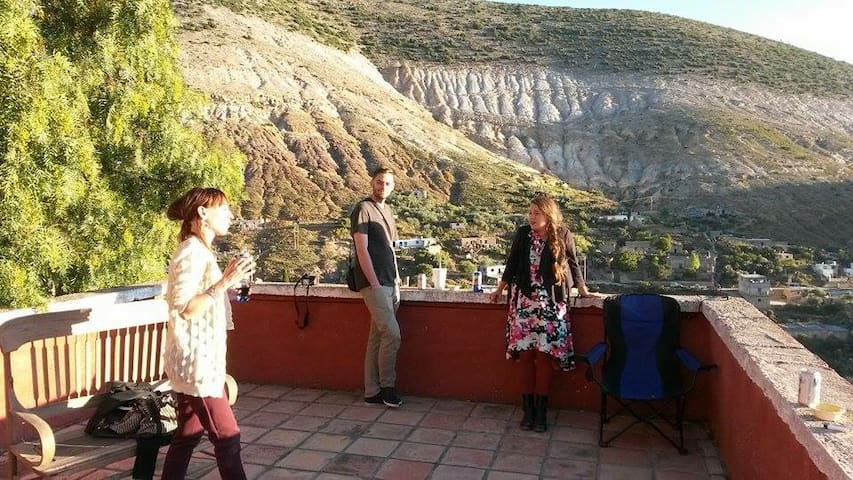 A roustique townhouse in the middle of Real De Catorce, with view over the mountains from the roofterrace. There is 4 rooms available in the house and one shared bathroom with hot water. It is an old house with spirit and charm. There is a shared kitchen where there is prepared a lot of beautiful food with the guests in the house and a patio for sharing stories and a cup of coffee in the morningsun.
---
Both Sula and her house are genuinely amazing. The house itself is a. Eautiful little nook, gorgeous in detail, tucked into one of the side streets of Real. There are several beautiful options for relaxing, eating, drinking outside including a roof top terrace, which, especially on cloudless nights offers a spectacular view of both the cathedral and the town. Sula herself is not only great to hang out and chat with, but has solid advice for all the local practicalities. Also: Hot water!!! Cool aesthetic Other great travelers (during our stay) Tips for travel beyond Highly rec for female travelers Couples: if available chose upstairs room on highest level
---
Como siempre, alojarse en casa de Sulahue es una experiencia innolvidable. Esta vez fue el turno de mis papás vivir una noche llena de silencio y mágia. El lugar es fiel a lo que representa vivir en Real de Catorce. Una casa encantadora que parece estar detenida en el tiempo; revitalizada, claro, por el encanto de Sulahue, y su decoración. Nunca duden en quedarse aquí.
---
Una casa antigua con una vista súper bonita, prácticamente de toda la ciudad. Sul nos atendió súper bien y siempre se preocupó porque la pasáramos bien. El único inconveniente (tal vez más porque los visitamos en Semana Santa y todo estaba lleno) es que solo hay 1 baño y medio, cualquier otro fin de semana no creo que haya problema.
---
Real Catorce is an magical place to visit and Sulahue's house is an ideal place to stay central and unique. With a picturesque views , great kitchen and hot shower. I was lucky to meet her mother who told me stories of how they built the house. Check before about which room you book as some are more rustic than others especially in winter.
---
I am a singer and artist currently living in my childhood home in Real De Catorce.
I grew up in this town untill I was 10 years old and then I moved with my family to Denmark.
A little more than a year ago I came back to my house and Real De Catorce after beeing away for 18 years. What was meant as a couple of days of vacation, quickly turned into my life. And I love every day here in the house and in the mouintains.
I love good conversations with a glass of wine while cooking. Long walks in the mouintain, poetry, getting to know peoples stories, my cat Puzz Puzz, writing songs, good coffee and mostly of all just existing in this magical place without time and hurry.
My new motto has become ' Caminando por la vida a ver que pasa' a little huichol girl told me that, when I asked what she was doing, and I found it very beautiful that her answer was 'Walking through life to see what happens'
语言:
Dansk、English、Español