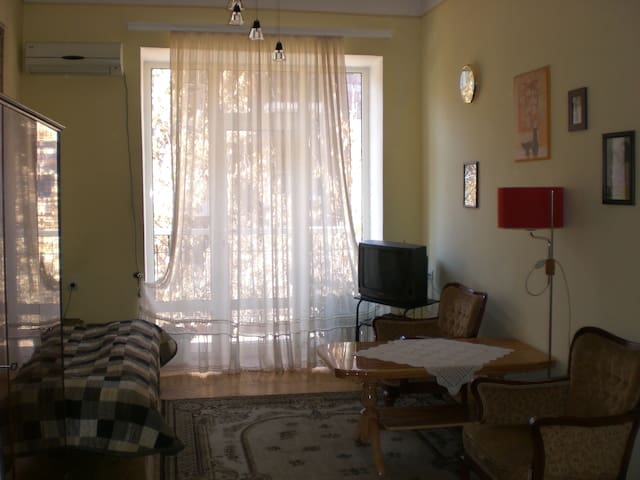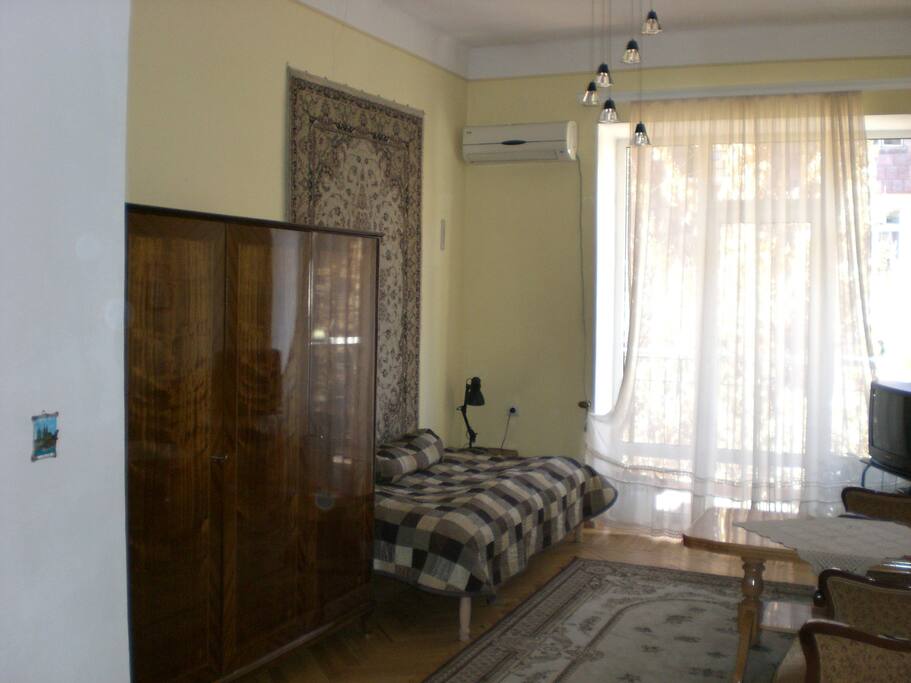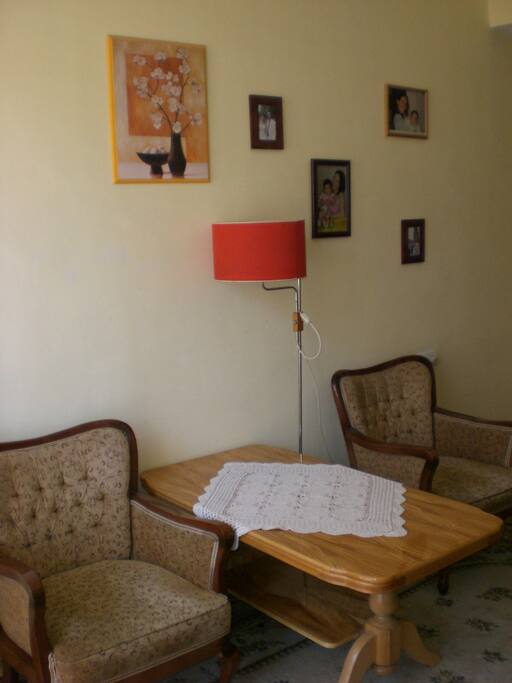 关于此房源
A bedroom with 2 beds in a 3-bedroom apt. 3rd floor. The center of the city, a quiet street. Supermarket, curr. exchange and taxi station are nearby. Washing mashine, air conditioner, wi-fi. Hosts: Arthur (68) and Lena(64) - musician and programmer.
房源
If you decide to rent our rooms, please write us a message first - just couple of words - wait till we answer you and then make your booking.
The price $28 is fixed for one person per day. If you stay more than a week, this will cost $150 per week for one person (21,4 per night) and $350 per month for one person (11,6 per night). If you come with your friend the price rises by $7 for night is any case - whether you stay couple of days, two weeks or three months.
You can also take a look to another room in the same apartment that we rent out and book if it is free:
https://www.airbnb.ru/rooms/755904
1.The apt is located on 3-rd floor. This means that there are 46 steps to go up.
2.We have a washing mashine, and our guests usually use it, but we dry our clothes in the balcony - most of people in Yerevan do not have dryers - the equipment is too expensive and one has to spend too much time to find it in stores. Besides the electricity expences are high, so people used to dry clothes outside or in the house - the climet is quite dry, and this doesn't take long. The same is with dishwashing mashines.
3. Wi-Fi is provided.
4. All the utilities are included - the conditioner - you will need it in Summer, the washing mashine, telephone.
5. We provide towels and bed clothes and they are ironed!
6. The rent is flexible. It is 28 for night, but if you book a room for more than a week it becomes aproximatly 22 for a day (21,4). Maybe the site will charge you for some commission.
7. You can use the kitchen - everything there - the fridge, the coffee-pot, the kettle, the sink, the plates, cups etc.
8. We suggest hot breakfasts (my mom will cook them) - this includes 1 cereal (oat-meal, semolina or buckweet - all with milk) some eggs, fruits, jam, bread, butter, coffee, tea and milk - or you can ask for any other products you prefer. All this cost $7 for one.
9. The Opera House is in 3 min by foot.
10. We just ask not to smoke in the room - that's all the limitation.
11. Also we provide the transfer from airport - $10 for day time, and $20 for night. The car is comfortable - Toyota Funcargo.
12. My father can take you to show the Armenia -the countryside, the monasteries, the lake Sevan, mountain Aragatz etc. He knows all the ways and roads.
13. My mom speaks a little English. My paretns speak mostly Russian with each other.
For Cristmas and New Year's eve prices change a little.
You can also take a look to another room in the same apartment that we rent out:
https://www.airbnb.ru/rooms/755904

Be careful with the adress: Parpetsi st.28. apt 5
It is just on the corner of Parpetsi and Toumanyan streets. There is another Parpetsi 28 also!
Then remember the entrance door code - 3 and 8.
Also two words about taxi prices. The distance from airport is not too long - just 20-25 min by car. Taxi drivers usualy cheat and ask too-o-o much. In Yerevan taxi is quite cheap at all - 25 cents for 1 km. The biggest price you can offer them is $10. Do not pay more! If one does not agree - go to another one until you find a man who will take you to Parpetsi street for $10.
We would like to be informed about the time of your arrival when known, please.
You can check-in whenever your airplane arrivers, even if it is too late or too early - just let us know about it.
Here is a privite recomendation that one of our guests - Christian Poeck gave to me after his departure:
Anna, you wrote me: "There is another Parpetsi 28 also!" Now, I know what you mean because I took the wrong entrance the night I came and had a little meeting with the people from the third floor there. Ooops. :-)
The silly taxi driver (first he even couldn't find the number itself, so I had to tell him the right side of the street, means the other side of Toumanyan, because I still had it in mind. I usually do checking out locations and areas just let me out in front of the wrong door and I for myself was too tired at 5am in the morning so I couldn't think straight. You should maybe write more clearly, that the building No. 28 has two seperate entrances. The left one very close to Toumanyan, just on the side of the cafe called Gemini, is the right one. It's the first entrance of a house from the street corner. I just don't want your parents get trouble with their neighbours from the other No. 28 because of an alien standing in the middle of the night in their sleeping room. ;-)"

If you have any questions when you are in the city - places to go, food etc. - be free to ask me. My mom speaks a little English and you can also communicate.
The apartment is located in the heart of Yerevan, the capital of Armenia. It is a stone building, warm. The apartment has two bathrooms - one for the host and the other for guests. If there are other guests in the second room that we also rent out, then you would have to share the guest bathroom with them. Wireless internet is available. Kitchen is quite big. We can provide a breakfast or lunch or both, depending on prior agreement. There is a cafe just near the building and a big food store. There are many pubs on the Parpetsi street. It is the very centre of the city. The Centeral Post Office of Yerevan and the Centeral Square (Republic Square) is in 15 minuites from our place by foot. The nearest bus station is in 2 minuites.
The apartment is smoke-free.
There is an air-conditioner in the room, and belive me - this is very actual in Summer, which is very hot in Yerevan. If you put on the conditioner all the time, there will be extra charge for electricity (something like $20 per month). But if you stay a couple of days or a week we will not charge you for that.
In Winter we use heater - it makes the same money as the air-conditioner.
I do not know anybody who uses laundry-services in Yerevan. There are some maybe, but our guests can wash their clothes in our washing-mashin - we have no problems with this. This is included in the rent price.
It is kind of artistic atmosphere in the apartment. There is a big concert piano and lot of books in the house. The host family is very communicative and well-wishing.
The weather is a little too hot in Summer in Yerevan, but it is marvelous in Spring and Autmn. September and October are the best months of the year for this city - even other months are also sunny, warm and beautiful. Rains are not longlasting - the sun comes out soon. One can say that the weather is not damp in Yerevan.
Wish you a good journey and looking forward to seeing you!
房客使用权限
A bedroom with 2 beds, a separate bathroom, wi-fi, soap, towels, paper rolls and bedclothes - are yours
The kitchen (fridge, washing mashine, sink, coffee-mashine, teapot, dishes) - are common
We ask not to smoke in the apartment - you may use balcony for this purpose.
与房客的互动
Hosts like to communicate with guests if the guests want to. You can be invited to a dinner with close friends or relatives.
其他注意事项
Be careful with the address: Parpetsi street 28. It is right on the corner of Parpetsi and Toumanyan streets. The next door is also Parpetsi 28! How could this happend we do not know ourselves, but it is a fact. So do not break into our neighbours place! They will not greet us next day.
---
---
---
---
We ask not to lay down on wool blankets and not to smoke in the flat. You can use the balcony for these purposes - your room has one and the sight is nice!
---
严格
旅程开始前的7天之前取消预订可以获得50%的退款。如果在旅程开始前7天内取消预订,该预订将不可退款。
---
Квартира расположена в самом центре города. Все достопримечательности Еревана в пешей доступности. Совсем рядом супермаркет, хорошая обменка, неплохие ресторанчики. В квартире всё понравилось, было комфортно. В комнате есть свой балкон с выходом на небольшую улицу. Хозяева замечательные и интересные, очень было приятно и легко общаться. Два раза ездил с ними на индивидуальные экскурсии по Армении.
---
I live in Saint-Petersburg with my husband and two children. This is my parent's room in Yerevan, which they asked me to give for rent. So I will try to introduce them.
My father is musician, an organ-player. He is really a very good artist and educator. He played in almost every big city of fomer Soviet Union and he is the honnored teacher in Yerevan State Concervatory - the biggest and most prestigious musical university in Armenia. So we have a big concert piano in our home. My father connot live without his music and my mother.
My mother is programmer. To those who think that the programming is youth's bussiness my mother will show that they are mistaken.
They both are not very common, they mostly speak Russian instead of Armenian, and they like a European way of life and values. They are very open-minded, they love reading very much (there are lot of books in the house in Russian) always try to understand other people that are not similar. And they love to socialize.
My father's favourite book is "The Glass Bead Game" by Hermann Hesse.
My mother loves everything she reads at the moment. They watch Cultural TV - a Russian TV broadcast and the news. Well, and some movies they download from Internet by themselves. No more TV! They can go walking through the whole city and not feel tired.
These are my parents.
语言:
English、Français、Русский