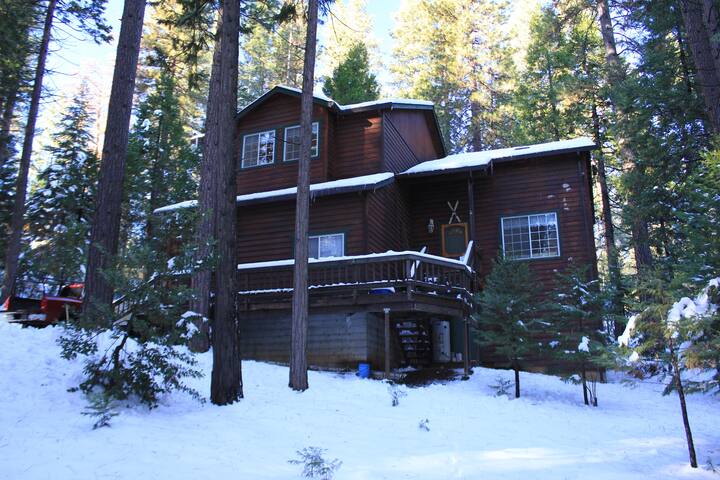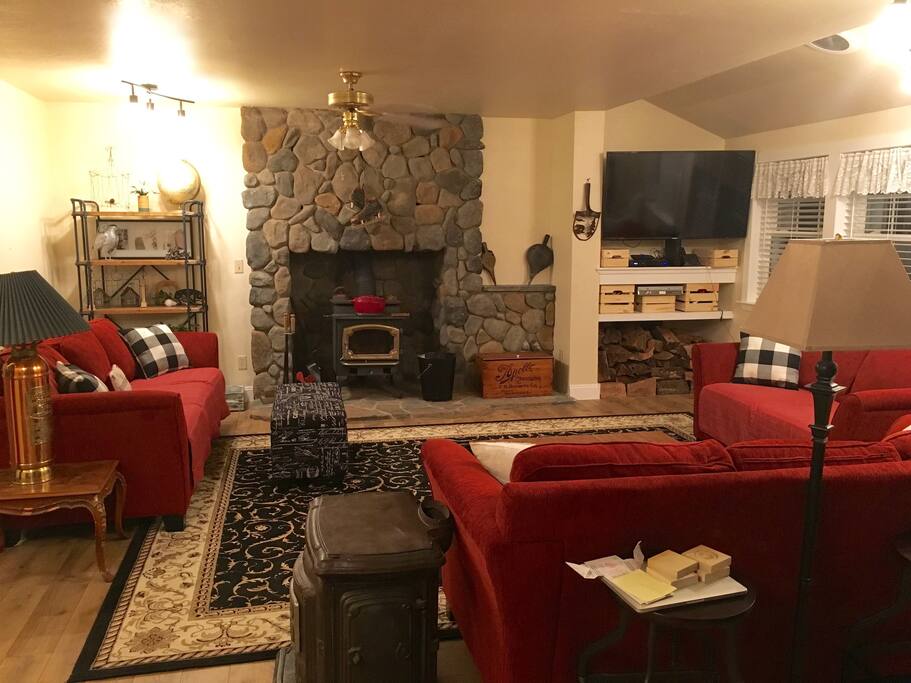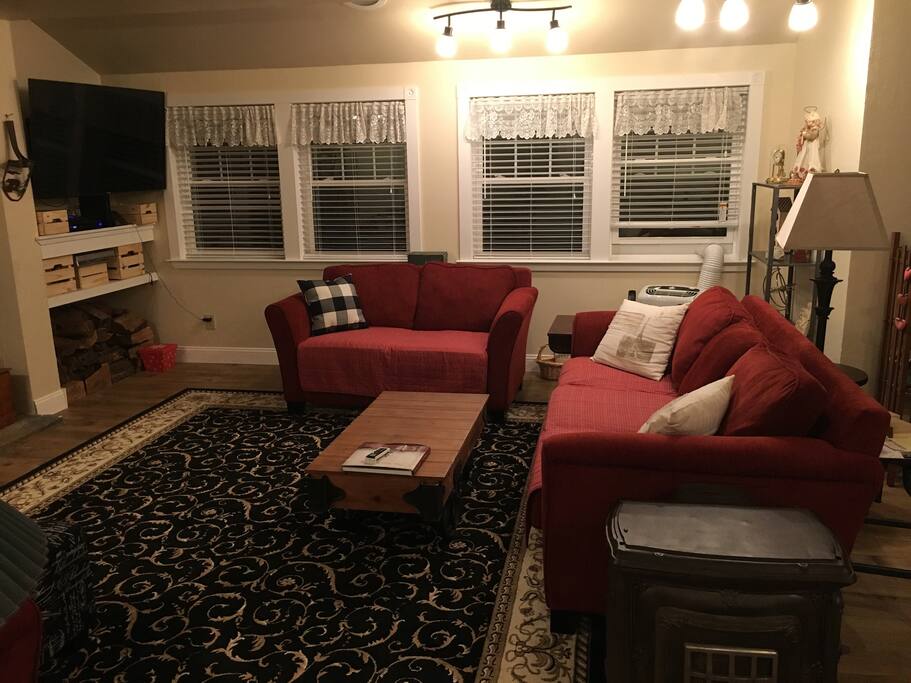 RECENT REMODEL. Larger Great Room, new laundry/mudroom, new counter tops in kitchen and all new wood floors on main living area. Which season is best? In Winter skiing is just 30 minutes away at Mt Reba/Bear Valley. Summer is a perfect time to swim in the outdoor pool or the lake at the Rec. Center just a 1/2 block walk away. Spring and Fall are beautiful, peaceful and no crowds.
房源细节
A lovely Country Cottage with lots of amenities. There are wooded view from every window. The back deck is nestled up to the Stanislaus National Park, so no houses behind you to block the view. PERFECT FOR FAMILIES OR FRIENDS STAYING TOGETHER. KID FRIENDLY. Fully furnished and fitted out with everything you need for a comfortable stay. The kitchen is fully fitted. We have provided a welcome package of things necessary to get you started like coffee and teas and water in the refrigerator. We have recently added A KEURIG POD COFFEE MAKER. There are also spices, oil and vinegar and basic condiments. We supply paper towels and napkins, soaps and shampoos to get you through the first week at least. The washer and dryer will have laundry soap and dryer sheets for several loads of wash. We have tried to think of all the little things you will need to make the most of your time relaxing and enjoying yourselves. Please do not attempt to attach or add-on to our electrical or plumbing systems. You are welcome to bring your own computers, hairdryers, curling irons, and any medical equipment you may need, but other items must have the owners approval. The living room and dining room are open to the kitchen. There is a wood burning fireplace for ambience, a 55 inch flat screen TV only in the living room currently, wireless internet access, Expanded cable TV and DVD.
420 Law. Although California has recently passed legislation allowing the personal use of marijuana, the use of any recreational drug is against our HOUSE RULES. Observing the use of marijuana on the decks or in front of the building will call unwanted attention from the neighbors who to this point have not had issues with our Airbnb arrangement. We want to keep it that way and so if you must use, please find another listing that has more lenient house rules. Thanks for your understanding and compliance.

In the bathrooms and bedrooms you will find freshly laundered robes for your use while you are here. There will be plenty of towels for your use in both kitchen and bathrooms. There is also a supply of toiletries that you are welcome to use if you have forgotten anything. If you don't use it, please leave it for the benefit of the next guest.
Please wipe up any spills and leave us a note of any issues. We are happy to shampoo a spill before it attracts dirt and looks unsightly. We can tell the difference between an accident and vandalism. We won't charge you for minor accidents that you have reported to us. We want to be able to offer every guest a perfect place to come home to and if we do not know for example that the coffeemaker has stopped working, the next guest will be inconvenienced unnecessarily.
This Cottage accommodates up to 12 persons comfortably and that is the maximum persons allowed. Please do not allow guests who are not on the list you have provided to us to stay over with you.
Water, electricity and gas are a huge part of the expense of operating a rental/housing share. Please help us to keep the costs to you down by turning off appliances, the lights, air-conditioning and heat when you aren't using them and when you leave. Eventhough we have had a wet winter we have been experiencing a drought and the wells are very low and take a few years to replenish. We are being asked to make cut backs on water usage. We are not asking you to not take a shower or bath, but please keep them short and turn off the water when not actually using it.
You are welcome to use the washer and dryer. We provide the laundry detergent. But please try to use full loads when possible.
At the end of your stay, please please take dirty towels and used bathrobes and place them by the washer and dryer. The housekeeping staff will do the laundry that has been placed there. Anything left hanging will be considered unused.
Upstairs there are 4 bedrooms. One queen ensuite, one queen and twin bunk room, two bedrooms with queen beds, and one queen hide a bed on the first floor in the game room.
WE DO NOT HAVE WHOLE HOUSE AIR-CONDITIONING. We do have a room air-con in the Great Room that works well along with the fan to keep the downstairs cool. Turn it on by 11:00 am if the day before was hot and you think today will be also. It is easier to keep cool than get it cool. Upstairs we have 20 inch box fans in the windows of 3 of the bedrooms. We have learned over the last 30 years that during the day if you turn the fans in the direction that sucks the hot air out of the room and then reverse the fans after 8:00 pm to suck the cooler air outside in, the upstairs will stay reasonably cool.
Our cottage is child friendly, but we do not have a port-a-crib at the moment.
There are a minimum of 8 steps to get into the Cottage. Bedrooms are upstairs. There is a hide-a-bed sofa on the first floor and a powder room also on the first floor.
房客使用权限
We have installed a keyless lock. Your code will be sent to prior to your stay. The code will be good from 4:00 pm on the day of arrival until 11:00 am the day of departure. No keys to lose! FOR YOUR SAFETY AND THE SAFETY OF THE NEXT GUEST, PLEASE LEAVE THE LIGHTS ON AT BOTH THE FRONT AND BACK ENTRANCES WHEN YOU LEAVE.
Guests have access to all unlocked parts of the cottage except locked owner's closets. There are spaces for 2-4 cars off-street. Kayaks in the garage are not for the use of guests. We have a snow blower in the garage. The directions are near the snowblower. We will try to make sure that there is gas to run it, but we cannot guarantee that previous guests haven't used it all. If so, you will need to get some gas in town using the red gas can near the snowblower. If you will send me a copy of the bill I will reimburse you.
There is wood stored in the wood shed at the top of the driveway. You can refill the wood box from there. Please be sure the latch/lock is fully closed for security reasons. There is outdoor patio furniture stored in the garage. If it is not out, please feel free to move it to the deck. Please store the cushions in the gargae before you leave. In the garage you will find a couple of innertubes and swim noodles that you are welcome to use if you wish. The BBQ is stored off season in the shed at the top of the driveway. Please let the gas run another 15 minutes after you are finished cooking in order to get the worst of the stuck on foods off. We have provided a couple of grill brushes. The next guest will really appreciate that.
The Blue Lake Springs Recreation Center is just a half block away. No need to drive. There is a family $30.00 daily or $150.00 weekly fee for guests to use it. You must bring the plastic card for guests kept near the clock in the dining room with you.
There are lots of spices and staple items in the cabinets and refrigerator that you are welcome to use. If you use the last of something, please consider replacing it. PLEASE DO NOT LEAVE FOODS IN THE REFRIGERATOR THAT CAN SPOIL IF THE POWER GOES OUT. It is very expensive to replace the refrigerator when the mold spores have passed through the air circulation system. You will find bottled water and a Britta Water Filter in the refrigerator.
We provide linens for all beds and kitchen and bath towels. There are grey wash cloths in both bathrooms for removing make up. Please don't use the white towels for make up removal. You will find beach towels in the linen closet at the top of the stairs just outside of the master bedroom. There are also a few more white towels. If you wash the white towels or white linens, please wash them separately from any others.
Under the stairs is a closet containing a Mighty Mite hand held vacuum. There is also a mop and bucket as well as cleaning pads and cleaning product. The broom and dust pan are on the right side of the refrigerator.
To help the housekeeper get the linens clean and beds made, please wash the first 2 or 3 sets of white sheets into the washer with 1/4 cup detergent and some bleach. In the winter it really important as the housekeeper cannot get sheets for 4 or 5 beds washed and dried during her time allowed to clean and the cabin must be winterized to avoid freezing damage. As long as guests help out with starting the wash, we will not have to ask our guests to bring their own linens.
与房客的互动
We do not live locally, but have a very competent housekeeper who can help if you have questions or problems.
We can always be reached by phone, but contact the housekeeper first.
其他注意事项
We have two internet connections. The first is Cabin and the password is (PHONE NUMBER HIDDEN). That is also the cabin phone number. Cell reception is not good here. The second connection is NETGEAR39 and the password is redgadfly768.
IN CASE OF EMERGENCY, CALL 911. In case of fire, use the fire extinguisher provided and stored under the sink. But if it is extensive, GET OUT AND CALL 911 AND LET THE PROFESSIONALS DO THEIR JOB.
Remember that there are several contact numbers and persons who you can call if you need us. Please do not wait until the end of your stay to tell us that the stay was ruined by something we could have fixed if we had been made aware of it. Our checklist for the housekeeping staff is extensive, but mistakes will happen and we want to make them right, so your help will be invaluable to us to that end.
Our attention to detail and amenities package is our way of making your stay so great that you just can't stop telling us and everyone on Airbnb how fabulous your stay in our Bear Country Cottage was and encouraging them to make us their first choice of place to stay when they are in the Arnold Area.
There is a room airconditioner in the living room only, but it does a good job of keeping the living areas on the main floor if you will remember to shut doors and windows to the outside it will do a good job. Turn it on early enough that the cottage doesn't get too warm.
The maximum number of guests is 12. Please do not exceed the maximum. There is a $10.00 per person charge for all guests over 6. No smoking, drugs or wild parties. No pets of any kind as our grandson is highly allergic.
No shoes in the cabin. Please remove your shoes at the tiled entry by the front door or in the mud room. We have provided baskets for them.
Trash needs to be crushed and bagged and put into the garbage cans at the bottom of the driveway. This is a bear proofed container, but it must be closed carefully and the latch secured to keep the bears and local dogs out. If the garbage gets out of the can and into the street, the home owners association will charge us to clean it up. That cost will be passed onto the guest.
您还必须确认以下情况
需爬楼梯 - There are stairs into the cottage as well as stairs to the bedrooms and bathrooms on the second floor.
可能会有噪音 - On Saturday evenings in the summer the Blue Lake Springs Recreation has free movies in the open amphitheater. There may be noise around 11:00 pm .
便利设施缺陷 - Guests are welcome to use the facilities at Blue Lake Springs and Fly In Lake. The 2017 charge is $150. week for the family. Limited cell reception.
The house is in a great location - you can walk to the Rec Center which made our lives pretty easy. You can hear cars throughout the day (the house is close to a busy road), but they were out in the distance and it didn't bother us a bit. The house was organized - we had plenty of room for two families. Patsy provided linens, towels, soap and shampoo and more. The pantry was well stocked with basic staples. We were there when it was HOT (over 100 degrees in some days) - the room air-conditioning in the main living space was enough to keep us cool. Patsy also had a system for working out the fans in the bedrooms that worked out well for us. I also appreciate that Patsy and Roger are great communicators - we had all the info we needed before we arrived. Whenever we had a question, they were prompt in replying. I'd definitely stay over in this special place in Arnold.
---
Great quiet property that had plenty of room for multiple families/large family. Very clean with everything you could think of in terms of living needs for over a week. Patsy (host) takes much pride in her home and tremendous at communicating when we had any questions. Kids had tons of fun swimming and playing basketball at the rec center which is right down the hill - walking distance.
---
Let me begin by saying that we had a positive experience staying at Patsy's cabin. Our group of 4 found the cabin easily. We stayed here for a ski weekend at Bear Valley. The roads were clear and the drive was a quick 35 minutes to the ski lodge each morning from the cabin. This was my first Airbnb experience, though I have used other vacation rental sites in the past. This may have been why I was a little thrown off at first. Before arriving we were warned by the host that the freezer was rather full. No big deal, we weren't planning on any meals that required freezing. We were also asked to bring our own sheets for all the beds, not just the twins. Luckily since we found this out a day before our trip Patsy was kind enough to let us use the extra linens at the cabin, though we did bring our own. First impressions: all of the knick knacks and collectibles were a rather overwhelming. There were many personal items of the owners still in each of the rooms so you felt as if you were crashing at a friend's house for the night. We eventually got over this and were able to enjoy the cabin experience. It was cozy and comfortable and enjoyable. The stove works great. The garage is very crowded so don't plan on storing ski gear in it overnight. On the plus side, the kitchen was fully stocked with all types of utensils and spices which made cooking meals a breeze. Patsy was very helpful and quick to respond to any questions or concerns that arose. We had no/limited cell service with both AT&T and Verizon carriers so plan on using the in home wifi. The couches all had blankets covering them unlike the photos, the kitchen counters were much more cluttered than the photos, but the rooms are adequately depicted by the photos. Overall, the cabin was very spacious and provided plenty of room for the four of us. We had a positive experience and would recommend a stay at Patsy's cabin!
Thank you John for your constructive criticisms. We have taken the cabin off of Airbnb until we can implement your suggestions. They were always in the plan. We were just overwhelmed with the response we got when we put the place on Airnbn. We thought it would take some time to get our names and faces out there. I was sure wrong on that one. I'm afraid I let the cart get in front of the horse. When we re-offer, you will not recognize the place. Thanks again and also for the wifi info, though I didn't understand a word of what you said. I will check with one of my kids to translate. Patsy
---
Description was accurate and home was spacious and clean inside. Host was accommodating and flexible.
---
This could have been a great experience, as house has charm and very well stocked, however it is really needing some basic TLC when renting it out. First and foremost, it is listed as a 4 bedroom, however it is NOT. It's 3 bedrooms, with a tiny front room sitting area with a couch, which I was told by owner is a pullout. I don't consider this to be a bedroom. There is no privacy, no door, it's next to kitchen and front door. I was very disappointed. When I am renting 4 bedrooms, I want to have 4 bedrooms. There are no curtains nor blinds in the house, so wake up at 6:30am is guaranteed with first daylight. Not what I wanted on my getaway. This house is well loved by owners and it shows. More then I wanted to see. I can live with personal pictures on night stands, but no room in the closet to hang our things was unpleasant. Kitchen is so well stocked that there is absolutely no room in the cabinets where we could have put our food things. Absolutely none. Freezer was also completely full, as well as third of fridge. sigh. I hate counter clutter, but there was nothing we could do. The shower door was leaking badly and both TV's were unhooked so kids could not use them. We were told to take all of our garbage back home with us or get charged per bag per day.....I found that unusual, and frankly, who wants to bring garbage home??? That was unpleasant. We did not use fireplace as it was warm, but it was also odd that owner asked us to remove ashes from the fireplace and refill the wood, should we burn any. We also had to bring our own bedding and towels, mind you we did pay $150 for housecleaning. The deck was littered with disintegrating tarp and dirt, and was overall unpleasant to grill on, and there were boxes of stuff in both bedroom and on the main entrance which I had to move. Overall, this house was not ready to be rented out. We felt like owners just stepped out and we accidentally entered a wrong property. Once those issues are taken care of, this property will be a gem, as couches are comfortable, and house has it's charm.
Victoria If the TV was an issue, why didn't you email me so I could take care of the problem which you were still there? During the winter there isn't enough time to do laundry, remake the beds and winterize the cottage between the 11:00 check out and the 3:00 check in for the next guest. That is why guests are asked to bring their own linens. It is clearly stated in the listing and I emailed you the same info and you said no problem. My listing also clearly states that guests must remove their own garbage. Also that if you want to leave it for the housekeeper then you can do so and I told you what the charges are. Both requirements are pretty standard in the Arnold area. But if you were upset by the requests, why did you book? I offered you a refund as it was obvious you were unhappy, but you refused my offer. Patsy
---
My family of 5 had a wonderful time staying at this cabin during a 3 day weekend. The house was the perfect size and had all the accomadations we needed and more. We felt very at home and loved relaxing in the beautiful and peaceful neighborhood. The location is great. It was only 10 minutes from a fun place to go sledding near Camp Connel and a few minutes from town to run errands. Patsy was great at communicating with me throughout our stay and made sure to leave us with detailed instructions. I would definitely stay here again the next time I visit Arnold.
---
San Francisco California USA. Love to travel and meet and talk to people about travel. Retired teacher, travel agent and grandmother to two wonderful boys.
We care very much about the people who come to stay with us. We want them to feel at home and welcome. We try to anticipate their needs and provide some extra treats they were not expecting.
We passionately believe that travel does not have to be expensive to be incredible. The hidden gem of a restaurant or a hiking trail that only the locals know about is what makes travel memorable. We try to give you that information about our City so you too will fall in love with it.
语言:
English