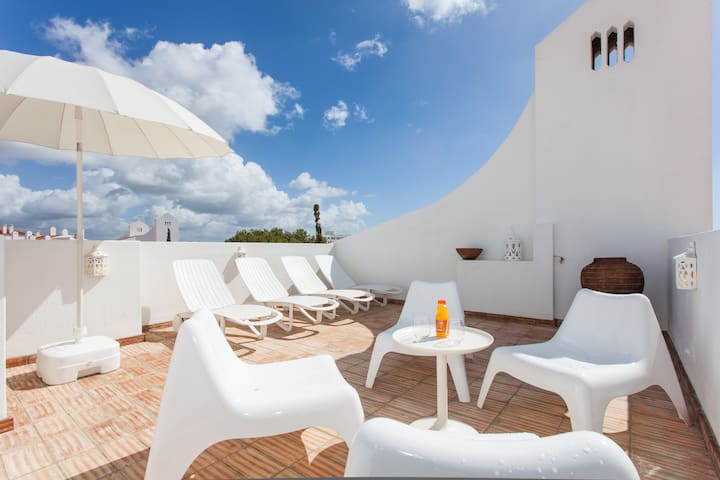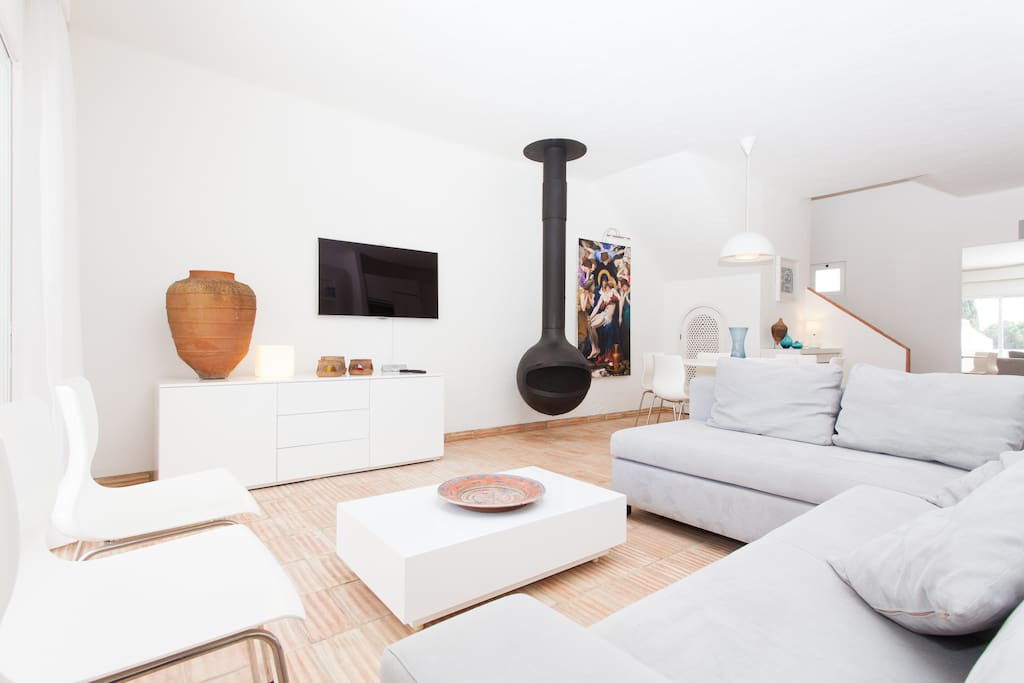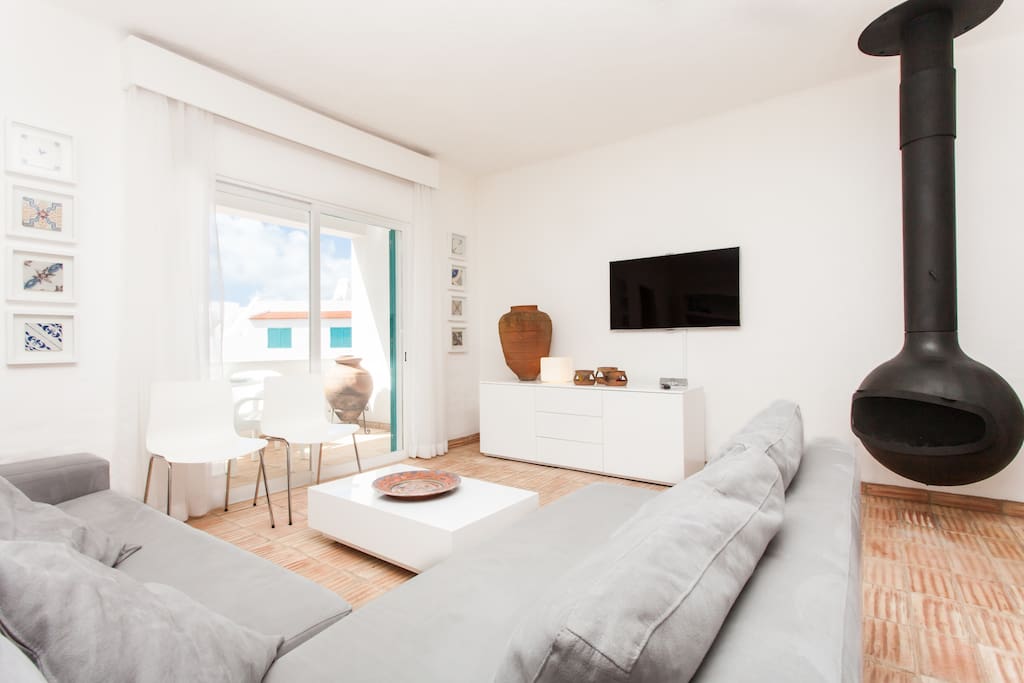 Luxury T3 Duplex Apartment Prainha
房源
This 3 bedroom duplex apartment is within a safe peaceful complex. The apartment has a large open area with living room with balconies, fully fitted kitchen, dining room and toilet. On the middle floor are 3 bedrooms. Master bedroom with en-suite and the other 2 rooms share a bathroom. On the top is a large terrance with panoramic sea view.
A short 3 minute walk to the beach. Several restaurants on site together with supermarket. A health spa in the main hotel has an indoor pool, jacuzzi, steam and sauna rooms, gym and exercise classes. There are three outdoor pools, one on the cliff top, one by the hotel and one in the new development. Childrens playground. Tennis courts available to hire, Football court. You can hire bicycles from the reception and ask for any info.
Prainha Village is located by the sea, stretching around 35ha of green lawns and cozy constructions along the cliff, with direct access to the beautiful beach Três Irmãos and Prainha. The idyllic views, perfect gardens and range of accommodation make Prainha Village the perfect place for your holidays in family, friends or simply to relax. Here, all the details have been carefully thought to provide you with a unique atmosphere that you can only find at Prainha.
Surrounded by gardens, lawns and flowerbeds. All motor vehicles have limited access to the complex to assure that you can take pleasant and peaceful walks without living the complex.
For your entertainment, Prainha Village offers you a wide range of high quality services and facilities such as 3 outdoor pools for adults and 2 outdoor pools for children, an indoor pool, the Atlantic seawater pool over the cliff with breathtaking views over the ocean, the elevator built in the rocks (unique in Algarve) that gives you access to the beach, 5 restaurants of divers specialty and high quality, tennis court, heath club e much more!
The surrounding area is calm, although is close to the best golf courses in the region and only 2km away from the fishing village Alvor and from Praia da Rocha, two different places but famous by their restaurants
---
---
---
---
PRICE GUARANTEE
Once you have made a booking and paid a deposit, we guarantee that the cost of your holiday will not change, no matter what happens to exchange rates or aviation fuel costs. The only exception is Government imposed cost increases such as VAT.

DAMAGES & BREAKAGES
Any damage caused by clients, or any third party invited by them to the accommodation, shall be the joint and several liability of the clients. Liability under this clause shall be the cost of replacement and/or reinstatement, which will be deducted from the breakage deposit. Should the amount of breakages/damages costs exceed the amount of the deposit, an invoice for these costs together with any administrative charge and/or legal expenses incurred will be raised. Delivery of our invoice representing the costs of replacement and/or reinstatement shall be deemed to be accepted by the clients as their liability to us under this clause. When final payment is made by debit/credit card, the breakage deposit will be excluded from the final payment, but we will have authority to deduct up to the value of that breakage deposit through the account holder's debit/credit card, should breakages/damages occur during the client's occupation of their property. Clients who do not pay by credit/debit card must send a cheque for £500 with their final payment as their damage deposit. Should the amount of breakages/damages costs exceed the amount of the deposit, an invoice for these costs together with any administrative charge and/or legal expenses incurred will be raised. Delivery of our invoice representing the costs of replacement and/or reinstatement shall be deemed to be accepted by the clients as their liability to us under this clause.

BOOKING ALTERATIONS
If you wish to change your holiday after it has been confirmed, we shall do what we can to satisfy your requirements, but this may involve a minimum charge of £20 per booking change.

FORCE MAJEURE
Neither party shall be liable in damages or have the right to terminate this Agreement for any delay or default in performing hereunder if such delay or default is caused by conditions beyond its control including but not limited to Acts of God, Government restrictions (including the denial or cancellation of any export or other necessary license), wars and acts of terrorism (including the cancellation of flights as a result thereof), insurrections and/or any other cause beyond the reasonable control of the party whose performance is affected, or the failure of third parties (such as suppliers and subcontractors) to perform their obligations to the contracting party.

PUBLIC SUPPLIES OR UTILITIES
We accept no liability for failure of public supplies or utilities such as water, gas or electricity over which we have no control, nor of sewage systems, plumbing or mechanical equipment in villas, but shall use our best endeavours to arrange prompt repairs where possible. Nor shall we accept responsibility for the failure of a third party supplier or their employees to provide or deliver their service where we have no direct control over that supply or delivery or the monitoring of that service.

DEATH, BODILY INJURY OR ILLNESS
We do not accept responsibility in respect of death, bodily injury or illness of, or to the signatory to the contract and/or any other named person on the booking form, except when caused by the negligent acts and/or omissions of our employees, agents, suppliers or, sub-contractors while acting within the scope of or in the course of their employment, agency, contract of supply or sub-contract. We shall afford every assistance to a client who through misadventure suffers illness, personal injury or death during the period of the holiday arising out of an activity which neither forms part of the foreign inclusive holiday arrangements nor forms part of an excursion offered through us. Such assistance shall take the form of advice, guidance and initial financial assistance.

BEHAVIOUR
We reserve the right in our absolute discretion to terminate your holiday or any holiday services if your behaviour is likely, in our opinion or that of our employees, Villa Representatives or suppliers, to cause distress, damage, annoyance or danger to our employees or to any third party, we reserve the right to refuse any bookings that we think will be a nuisance to the owner. This would normally apply where a very large group of persons seek to book which we feel may affect the enjoyment of other holidaymakers in the location or cause undue wear and tear to the property.

LAW AND JURISDICTION
Your contract made under the terms of this agreement is subject to Portuguese Law and Jurisdiction.

SECURITY
Crime does occur and you need to have the same responsibility for your personal safety and belongings as you do at home. Be sure to close and lock the apartment windows, shutters and doors at night and set the security devices when you are away from the villa during the day or at night time when you are in bed. In the event of theft, report this to your Villa Representative who will assist you with the local police. Be sure you obtain a police report covering the incident or loss, in order to make a claim on your holiday insurance. Please note we do not offer compensation resulting from activities of theft or accept any responsibility for such matters.

LOCAL ACCOMMODATION CHANGE
Upon arrival, if the client wishes to change the accommodation we do not accept any responsibility to offer alternative accommodation.

RESPONSIBILITY
By completing and returning the Booking Form, you and all members of your party acknowledge full awareness of these Booking Terms & Conditions and agree to accept and abide by the terms stated. We act as booking agents on behalf of named owners of the properties featured on our website.
---
---
---
---
Hey there,
I am Single and living in the wonderful cities of Alvor and Vilamoura, Portugal.

I love to travel to new and exciting destinations. I am a Dental Surgeon and have a Clinic in Portimão and Vilamoura.

You are welcome to send me a message with any question you might have and I will respond to you as quickly as possible.

Kind regards,
Harold
语言:
English、Português