暂停至 4月30日。 为了保护爱彼迎社区的健康,所有爱彼迎体验都会因新型冠状病毒(COVID-19)疫情而暂停。 请在预订前访问帮助中心了解最新信息。
Guided tour in the Land where the Mountains meet the Sea
暂停至 4月30日。 为了保护爱彼迎社区的健康,所有爱彼迎体验都会因新型冠状病毒(COVID-19)疫情而暂停。 请在预订前访问帮助中心了解最新信息。
Guided tour in the Land where the Mountains meet the Sea
Every day a new adventure on board of the mythical Italian scooter-the symbol of La Dolce Vita-at the discovery of the hidden beauties of a less known, nevertheless sensational Tuscany. From the sea across luxuriant hills planted with olive trees, as far as villages suspended in time and art towns. We will twist hilly roads and whizz along mesmerizing coastal strips, and the sense of freedom will be overwhelming. We will reach marvelous historical towns as Lucca, or Pietrasanta, and enjoy a challenging ride into Versilia's hearth, as far as a tiny magic village, with splendid views over the sharp peaks of the Apuan Alps, and the so-called Monte Forato (the Pierced Mountain). We will delight our palates with local delicacies, and enjoy a kitchen whose recipes can't be found in the chef's manuals. So ... wear your helm, hop on your flaming Vespa and let us guide you into our amazing Tuscany experience! Requirements to book this tour: - Minimum age: 21 - Valid driving licence for car. - Passport or Identity Card. - Driving experience on scooters - Deposit of € 500,00 per Vespa upon Vespa delivery in the form of a pre-authorization by credit card (VISA or Mastercard). - Acceptance and signature of a standard rental contract upon delivery - Vespa is delivered with full thank PLEASE NOTE: The 2nd person riding on the back of the Vespa (Passenger) enjoys a discount of € 250
Hello, we are Marta & Elena. Marta is a professional tourist and nature guide who, besides a deep love and knowledge of the territory has an uncontainable passion for scooters and bikes, which she's been riding since over 20 years . Elena is the manager of an established Tuscan Tour operator, "That's Tuscany" , as well as licensed tour leader. She started her company in 1996 and is being leading it succesfully for over 20 years. She's been on an epic ride ever since, irrestibly attracted by new challenges and tourism trends, which she faces thanks to her determination and deep attachment to her Land. She used to ride scooters since she was a teenager and never gave up. In 2011 she opened a Vespa Scoter division, and since then she creates ultimate experiences by Vespa sharing fun and love for her Land with her hosts.

2晚酒店房间住宿

2 晚餐, 1 午餐, 1 试吃菜单

葡萄酒, 水, 鸡尾酒, 咖啡

入场费

3趟轻型摩托

安全设施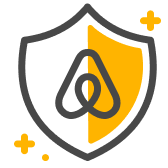 房客安全
每趟冒险之旅都谨遵行业准则。 我们携手探险旅行业的领军机构「探险旅行同业公会」,定义保障安全的最佳实践和标准。
最多可有6位年满21周岁的参与者参加。 这项探险体验属于轻松活动。 Driving experience on scooter. Valid Driving licence ( cat B, for car)
您将需要拍一张自拍照,自拍照需要与您身份证件上的照片相匹配,以帮助爱彼迎确认真正将要参加体验的是谁。这个步骤您只需要做一次就可以了。
这项体验内容里包含烈酒,但只向达到法定饮酒年龄的参与者提供酒精饮料。
Accommodation is based on shared double rooms in BB treatment. Breakfast is buffet style. Please wear comfortable clothing and sport shoes during activities. Bring sun glasses, sun cream, and a jacket in case of wind or light rain. The order of visits and itinerary is subject to changes.
由热爱事业、热爱家乡的当地人开展。

小团深度游,拒绝随大流。

每项体验都需要通过资源独家性方面的审核。
3日多天探险体验
VERSILIA & LUCCA BY VESPA